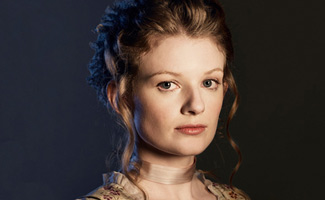 Meegan Warner, who plays Mary Woodhull on AMC's TURN, talks about her character's unique traits, her love for her costumes, and working with a baby.

Q: TURN is your first period drama. What has your experience on the series been like?
A: It's my first big job of any kind, so the whole experience has been wonderful. To be able to work with such fantastic actors and for a fantastic network — I feel very lucky to be a part of it.
Q: Mary describes herself as simply "a wife and a mother." What do you think are the most unique traits of her character?
A: I think she may not come across as strong at first, but she does develop into a much stronger character, and I think that's one of her unique traits. She's a woman of the time and doesn't seem to offer much of an opinion, but she has an amazing strength about her.
Q: Costume Designer Donna Zakowska mentioned Mary's clothing as some of her favorite to work on. Do you have a favorite piece that you wore?
Continue reading "TURN Q&A – Meegan Warner (Mary Woodhull)" »