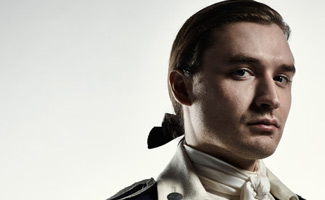 Seth Numrich, who plays Ben Tallmadge on AMC's TURN: Washington's Spies, talks about his character's relationships with Caleb and Sackett and how his theater experience has helped him onscreen.
Q: In the Season 2 premiere, during a brawl, Caleb comes to Ben's rescue and declares, "No one hits my friend but me!" How would you sum up the relationship between Ben and Caleb? In what ways is it similar to your personal friendship with Daniel Henshall?
A: [Laughs] I think there are some similarities in our relationship. I really love Daniel, he's a wonderful guy and actor. I think people get cast in certain roles because there's at least some hint of who they are in the character, and we have fun falling into our roles with each other. Ben and Caleb are really close to each other, and they always have each other's backs in different ways. The way Ben comes to Caleb's rescue is always going to be slightly different than how Caleb comes to Ben's rescue.
Q: Ben is committed to doing all he can to protect George Washington and root out traitors in an attempt to keep the Patriots united. What do you admire most about Ben as a leader?
A: I've always been in admiration of Ben and his commitment. Now, as we see him growing as a character, I think what's really cool is that he's learning things are not always that simple. He's becoming more of a man, and sees the bigger picture. He takes other people's safety into account now. It's the classic coming of age story, how to fight for what you believe in and also take care of the people around you. What I love abut Ben is that he's hard, but he's willing to admit when he's wrong in order to move forward.
Q: Talk about the scene in Episode 203 in which Ben and Caleb get a tour of Nathaniel Sackett's spycraft workshop. Was the set as cool in person as it looks on TV?
Continue reading "TURN: Washington's Spies Q&A – Seth Numrich (Ben Tallmadge)" »