Midseason Finale Sunday 9/8c

July 24-27

Press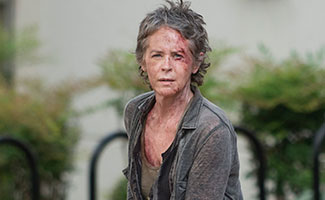 This week, Melissa McBride chats with Entertainment Weekly about last week's episode, while Robert Kirkman previews the midseason finale with The Hollywood Reporter. Plus, Steven Yeun does a Funny or Die skit. Read on for more:
• Entertainment Weekly interviews Melissa McBride, who says she loved the theme and title of "Consumed" because "I love what it symbolizes, and even the dreamy music of Bear McCreary was just beautiful. And I don't think I've seen an episode where so much of it is underscored."
• The Hollywood Reporter learns from Robert Kirkman that there will be "some pretty unexpected events in our midseason finale, which is as it should be. On a scale of one to 10, I'd say [the midseason finale] is pretty deadly."
• Steven Yeun shows up in his very own Funny or Die skit titled "What's Eating Steven Yeun," according to ComicBook.com.
Continue reading "Melissa McBride Chats With EW; Robert Kirkman Previews Midseason Finale to THR" »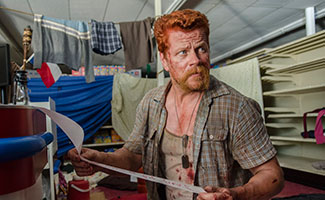 This week, Michael Cudlitz and Josh McDermitt deconstruct the latest episode, "Self Help," while Entertainment Weekly speculates that this season may be The Walking Dead's best ever. Plus, Danai Gurira is this month's Bello cover story. Read on for more:
• Michael Cudlitz and Josh McDermitt give TVGuide.com the scoop on "Self Help," with Cudlitz noting Abraham and Eugene's "very interesting symbiotic relationship. Let's not forget that Eugene saved his life. At some point, I'm hoping Abraham will realize that."
• Entertainment Weekly gets intel from Michael Cudlitz about Abraham's flashbacks and how "I think we've successfully captured the emotion of what went down with his family, and then also what has spurred him into action from taking his own life, when he has nothing left to live for."
• Entertainment Weekly speculates that Season 5 "could be shaping up to be the best Walking Dead season ever" and explains why.
Continue reading "Michael Cudlitz, Josh McDermitt Deconstruct Newest Episode; EW on Dead's "Best Season"" »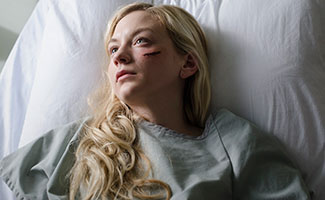 This week, Lauren Cohan and Steven Yeun show up on Halloween to rescue Kelly Ripa and Michael Strahan from the zombies, while TV Guide, The Hollywood Reporter and Entertainment Weekly get the scoop on "Slabtown" from Emily Kinney. Plus, Michael Cudlitz talks with Fortune. Read on for more:
• Lauren Cohan and Steven Yeun show up on Live With Kelly and Michael's Halloween special to warn the morning co-hosts of the zombie apocalypse.
• TV Guide interviews Emily Kinney, who characterizes Beth as a person who "can feel the emotions, but still fight to survive. She's got a very strong will to survive."
• Fortune interviews Michael Cudlitz, who says, "Playing a very iconic alpha male character on what happens to be the number one show in the world has brought a lot of eyeballs on me."
Continue reading "Lauren Cohan, Steven Yeun Appear on Kelly and Michael; Emily Kinney Talks "Slabtown"" »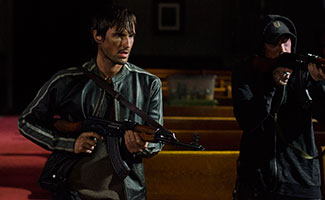 This week, Andrew Lincoln and Andrew J. West discuss Gareth's death, while Steven Yeun and Lauren Cohan talk about what frightens them. Plus, Sonequa Martin-Green speaks with The Hollywood Reporter about the brutal church scene. Read on for more:
• TV Guide interviews Andrew Lincoln, who says Gareth's death was "a brutal killing, but I was very keen for it not to be an indulgent moment. You just see a man getting exhausted by it. It wasn't an emotional moment. This is about squashing this and getting rid of the threat."
• Andrew J. West talks to The Hollywood Reporter about viewer reaction to Gareth: "I hope there are some conflicting feelings about how much they despise or dislike this character. I would have loved to have seen more of Gareth's backstory and to see him ride off into the sunset." Asked by Entertainment Weekly about his The Walking Dead experience, West says, "There won't ever be a job like it. It's a special, special thing: The fan base, the construction of the story, the way the show is executed — it's unlike anything I've ever seen, and it was a dear experience for me."
• Steven Yeun talks to USA Today about things that scare him, a list that does not include The Walking Dead because "at this point, we know the zombies by actual name, so it's like, 'Oh that's Brian.' We're jaded about it."
Continue reading "Andrew Lincoln, Andrew J. West On Gareth's Death; What Scares Steven Yeun" »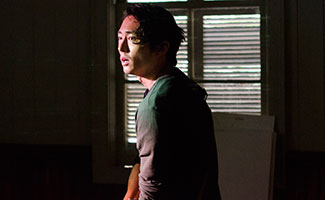 This week, Steven Yeun and Michael Cudlitz are interviewed by Entertainment Weekly, while TV Guide discusses "Strangers" with Andrew J. West. Plus, Alexandra Breckenridge joins the Season 5 cast. Read on for more:
• Steven Yeun, talking to Entertainment Weekly, says, "I think that's what's cool is Glenn holds out hope for humanity and for redemption and for salvation for people, but this world keeps screwing it up."
• Entertainment Weekly interviews Michael Cudlitz, who talks about the group going to D.C. and how "if he was able to convince them all to come with him that would be fantastic and a coup on his part. But it is not necessary to the mission: The mission comes first."
• Andrew J. West discusses cannibalism with TV Guide and explains, "What is much more important to Gareth — more so than vengeance, certainly more so than some sort of sadistic impulse, which I don't think is a part of his persona — is survival."
Continue reading "Steven Yeun, Michael Cudlitz Chat With EW; TV Guide Talks Cannibals With Andrew J. West" »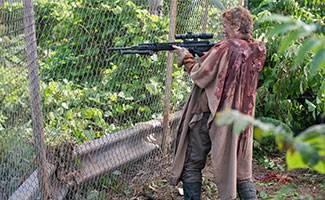 This week, Scott Gimple discusses Morgan's presence with both Entertainment Weekly and The Hollywood Reporter, while the ratings for the Season 5 premiere were impressive on every level. Plus, Robert Kirkman teases the next episode, "Strangers." Read on for more:
• Entertainment Weekly talks to Scott Gimple about Morgan's appearance in the season opener and how "it does seem like he is following something, like he's walking towards something, that it's the start of something." Gimple also tells The Hollywood Reporter, "There's a Morgan story to tell. It's the beginning of something, but I'm not going to say what it is, or how involved it is."
• The Season 5 premiere ratings set a new record, according to Vulture, with 17.3 million viewers, 11 million of whom fell into the 18 to 49 demographic. Entertainment Weekly adds that the show was the most talked-about episode ever, with more than 1.32 million tweets, and is also "one of the only shows in Twitter history to take up all 10 trending topics in the U.S. at once." The New York Times notes that the show "shattered its own previous record as the most-watched drama in cable television history."
• Robert Kirkman teases the next episode to Entertainment Weekly, saying that "we're possibly going to meet some new people, and we're going to see a new iconic location that's a big deal in the comics, so that's some juicy spoilers right there, right? And, uh, and everyone dies."
Continue reading "Scott Gimple Discusses Morgan With EW, THR; Season 5 Premiere Shatters Records" »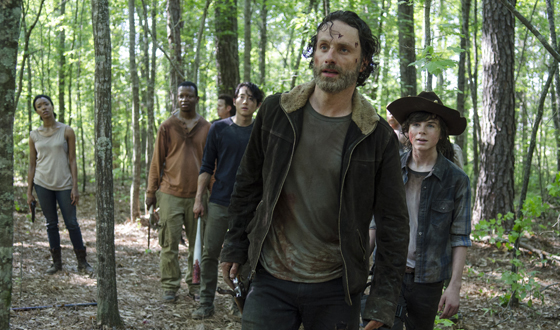 The Season 5 premiere of AMC's The Walking Dead delivered the highest ratings in series history. The episode was watched by 17.3 million viewers and 11 million adults aged 18-49, increases of 7% and 6%, respectively, over the Season 4 premiere, the previous record-holder. The Walking Dead continues to be the No. 1 show on television among adults 18-49. Last night's episode outperformed everything else on television in this key demographic, including Sunday Night Football, by over 2.5 million adults 18-49. With time-shifted playback, the Season 5 premiere should exceed 22 million viewers.
"It's a Dead man's party. Who could ask for more?" said Charlie Collier, AMC president. "Enormous thanks to our friends and executive producers Robert Kirkman, Scott Gimple, Greg Nicotero – who also directed last night's terrific premiere – Gale Anne Hurd, Dave Alpert and Tom Luse and all of their fellow producers, cast and crew for everything they do to make the #1 show on television such a unique and incredible experience for the fans. The Walking Dead is one of those increasingly rare shows today that can command a live audience not significantly cannibalized by time-shifted viewing. Who would have thought that cannibalized television could be curtailed by cannibal-ized television?"
The previous ratings record for an episode of The Walking Dead was 16.1 million total viewers and 10.4 million viewers 18-49 for the season four premiere, live/same day. With seven days of DVR playback included, the Season 4 premiere delivered 21.1 million total viewers and 13.9 million adults 18-49, becoming the most highly-rated episode in cable television history.
Talking Dead, the live aftershow of The Walking Dead, also enjoyed record ratings last night, as its fourth season premiere on Sunday was the highest-rated premiere in series history with 6.9 million viewers and 4.5 million adults aged 18-49. That is an increase over last year's premiere of 34% and 35% respectively. Each week, Talking Dead features host Chris Hardwick and fans, actors, producers and other TV enthusiasts discussing that night's The Walking Dead premiere. The premiere episode featured series' showrunner and executive producer Scott M. Gimple, executive producer Greg Nicotero and Conan O'Brien.
Watch the full episode of the Season 5 premiere on amc.com.
Continue reading "AMC's The Walking Dead Returns With Highest-Rated Episode In Series History" »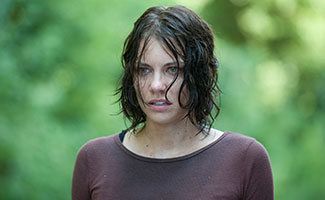 This week, Jimmy Kimmel hosts Norman Reedus, while Lauren Cohan does a photo shoot for GQ. Plus, Entertainment Weekly has a one-minute refresher of The Walking Dead and several cast and crew interviews. Read on for more:
• Norman Reedus shows up on Jimmy Kimmel Live! to talk about his fans, calling them "my people," and describes an interaction with two women who took his breath back to Japan.
• Lauren Cohan, as part of a GQ photo shoot, shares, "I'd always fantasized about playing a southern role."
• Ahead of the new season, Entertainment Weekly provides a one-minute refresher of Season 4.
Continue reading "Norman Reedus Appears on Jimmy Kimmel; Lauren Cohan Talks to GQ" »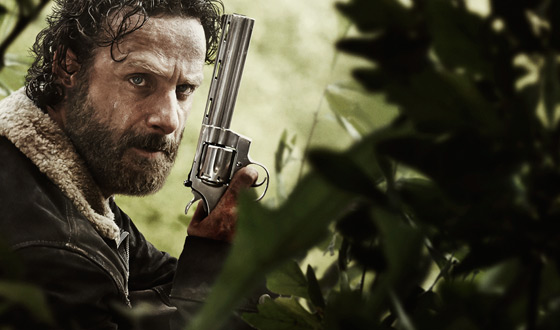 Days away from its Season 5 premiere, AMC announced today that it has renewed The Walking Dead, the No. 1 show on television among adults 18-49 for the last two years and most highly-rated show in cable television history, for a sixth season. The Season 5 premiere is this Sunday, Oct. 12, at 9/8c, followed by the live season premiere of Talking Dead at 10/9c with host Chris Hardwick and this week's guests Scott M. Gimple, Greg Nicotero and Conan O'Brien.
"We could not be more excited for October 12th as we share new episodes of The Walking Dead with fans around the globe," said AMC President Charlie Collier. "In advance of Sunday's season five premiere, AMC proudly confirms a sixth season order of this extraordinary series. Thank you to Robert Kirkman, Scott Gimple, the terrific executive producers, and the entire team who brings this compelling world and these rich characters to life. There's plenty more Dead ahead thanks to their impressive, collective effort."
Continue reading "Days Before the Season 5 Premiere, AMC Renews The Walking Dead for a Sixth Season" »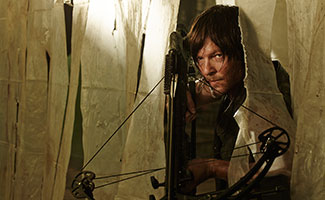 This week, Scott Gimple talks to Entertainment Weekly about Season 5, while Norman Reedus talks about The Walking Dead's appeal in GQ. Plus, Entertainment Weekly asks several cast members — including Melissa McBride, Michael Cudlitz and Norman Reedus — about the new season. Read on for more:
• Entertainment Weekly learns from Scott Gimple that Rick in Season 5 "doesn't blink to protect people who he loves. He does not blink and he can get pretty scary pretty quick."
• In GQ's cover story, Norman Reedus talks about how The Walking Dead remains appealing, saying, "As long as we keep it moving and keep it fresh and interesting, it'll stay fresh and interesting." Reedus is GQ's example of looking good in your 40′s, a time when "you know who you are, and you call the shots. It's called maturity. Congratulations, you've arrived."
• Reviewing the Season 5 premiere, Variety applauds the show, which "finds itself in a very good place, from the current makeup of its ever-evolving cast to the latitude it has earned to take unexpected detours. Given the hype surrounding the series, it's still impressive to see the producers deliver such a feast."
Continue reading "Scott Gimple Talks New Rick in Season 5; Norman Reedus Graces GQ Cover" »