Press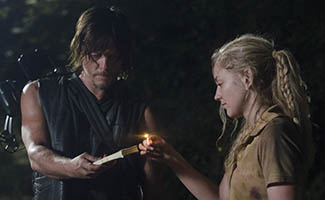 This week, The Hollywood Reporter gets Norman Reedus's take on "Still," while Emily Kinney gets quizzed by Entertainment Weekly. Plus, Time wonders why there aren't more The Walking Dead imitators. Read on for more:
• Norman Reedus chats with The Hollywood Reporter about the ending of "Still," when "there's hope, which is something we've never seen in any of our episodes before. They have a little spring in their step at the end of it and it's a beautiful thing to watch."
• The Wall Street Journal also talks to Norman Reedus about playing Daryl "like he's had his back up against the wall, that's his reason for fighting," and The Huffington Post interviews Reedus about the The Walking Dead death that hit him the hardest.
• Access Hollywood talks to Norman Reedus about Beth hugging Daryl in "Still": "Daryl, feeling her hug him from behind was larger to me than a face-to-face hug. It was the support."
Continue reading "Norman Reedus Talks "Still" With THR; Emily Kinney Takes EW's Pop-Culture Personality Test" »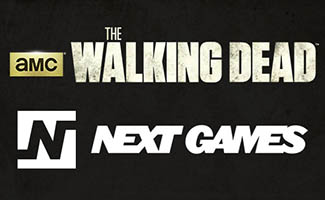 Next Games and AMC today announced that the Finnish games company is in production of a mobile game based on AMC's incredibly successful TV series The Walking Dead. The Walking Dead is, for the second season in a row, the No. 1 show on U.S. television among adults 18-49 and incredibly popular around the world. The mobile game will be the first time players see this iconic and enormously popular TV series come to life through gameplay exclusively developed for smartphones and tablet devices.
AMC and Next Games will join forces on the marketing of the title as the game launch coincides with Season 5 of The Walking Dead TV series. The project will be global at scale with distribution and marketing across continents in collaboration with the best local partners.
"We chose to team up with Next Games because of their outstanding creative and technical talent, as well as a willingness to re-imagine the unique and compelling world of The Walking Dead, which has built a significant and passionate global fan community," said Charlie Collier, AMC president. "We're thrilled to be part of this next wave of games innovation and participating in a project that – like the show itself – is in service of the fans."
Continue reading "Next Games and AMC to Develop a New The Walking Dead Mobile Game" »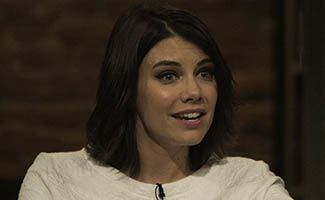 This Sunday at 10/9c, AMC airs an all-new episode of Talking Dead, the live after show for The Walking Dead hosted by Chris Hardwick. Joining Hardwick this week will be Maggie Greene and Sasha — actresses Lauren Cohan and Sonequa Martin-Green. They'll be taking questions LIVE during the broadcast, so go to TalkingDead.com now to submit your queries. During the show, be sure to vote in the online poll and stay tuned for Chris Hardwick to announce the results on-air. Then come back to TalkingDead.com the next day to check out exclusive video and photos from the episode.
Click here to visit TalkingDead.com
An all-new episode of Talking Dead airs this Sunday at 10/9c immediately following The Walking Dead on AMC.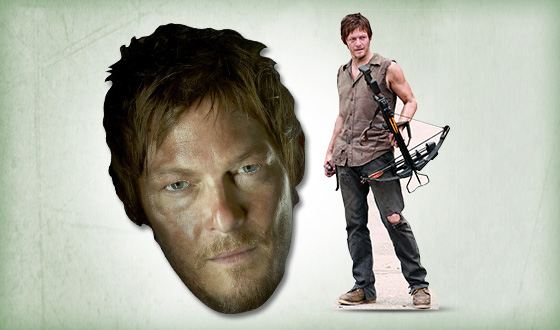 Are you a Daryl Dixon superfan? Prove your devotion by visiting ShopTheWalkingDead.com, where you'll find all manner of Daryl paraphernalia available for order. As an added bonus, from now until March 7, every purchase of a Daryl item comes with a free Daryl Dixon mask. Now's the time to get your hands on some recently-added swag, including a life-size cardboard standee, 10-inch action figure, mini-bust, T-shirts, crossbow mugs and more.
Click here to visit the official The Walking Dead store.
Don't miss an all-new episode of The Walking Dead this Sunday at 9/8c on AMC.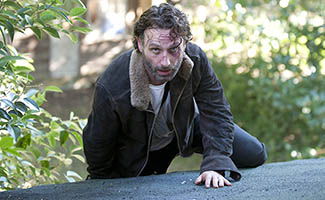 This week, TheWalkingDead.com gets Robert Kirkman's thoughts on "Claimed," while Norman Reedus talks to the New York Post and Live With Kelly and Michael. Plus, Danai Gurira and Charlie Collier show up on CNBC's Squawk Box. Read on for more:
• Robert Kirkman discusses "Claimed" with TheWalkingDead.com and shares that one of the marauders (played by Jeff Kober) who invaded the house when Rick was napping is "definitely going to be returning again and it will happen when you least expect it."
• Profiled by the New York Post, Norman Reedus reveals, "People think I'm this angry, surly, ready-to-start-a-fight guy, but I'm kind of a pussycat."
• OntheRedCarpet.com shares the highlights from Norman Reedus's visit to Live With Kelly and Michael.
Continue reading "Robert Kirkman Dissects "Claimed"; NY Post, Kelly and Michael Interview Norman Reedus" »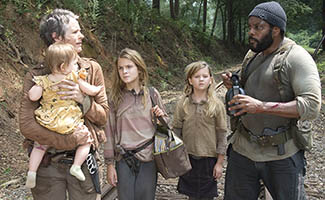 This week, Michael Cudlitz talks to TV Guide and The Hollywood Reporter about what's to come for Abraham, while Gale Anne Hurd discusses the back half of Season 4. Plus, Entertainment Weekly gets Emily Kinney's take on "Inmates." Read on for more:
• Great curiosity surrounds the introduction of Abraham, Eugene and Rosita in "Inmates," and Michael Cudlitz tries to provide some answers to TV Guide, The Hollywood Reporter and TV Fanatic.
• Yahoo TV learns from Gale Anne Hurd that the rest of Season 4 will focus on "how the loss of the prison, how the loss of Hershel, affects everyone, in addition to their hope of reuniting."
• Emily Kinney tells Entertainment Weekly that "Beth feels very alone and Daryl isn't the most open person in the world, so even though she has a partner in this, she still feels extremely alone."
Continue reading "Michael Cudlitz Discusses Abraham; Gale Anne Hurd Previews the Rest of Season 4″ »
This week, several members of the cast and crew deconstructed the Mid-Season Premiere with Entertainment Weekly and Vulture, among other publications, while the cast hobnobbed with Conan O'Brien. Plus, The Walking Dead returned to ratings that surpassed even the Olympics. Read on for more:
• Entertainment Weekly discusses the Mid-Season Premiere with Andrew Lincoln, Danai Gurira and Robert Kirkman, who penned the episode.
• Meanwhile, Vulture.com gets Scott Gimple's take, who calls the episode "maybe one of the quietest episodes since the pilot. I'd say next Sunday's episode ain't so quiet. There's a lot of loud in it." Gimple also talks to The Hollywood Reporter.
Continue reading "Cast, Crew Talk Mid-Season Premiere With EW, Vulture; Conan Hosts The Walking Dead" »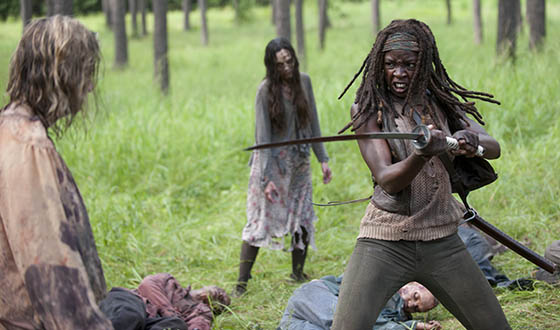 AMC's The Walking Dead returned last night with the Mid-Season Premiere of its fourth season, delivering 15.8 million viewers and 10.4 million adults 18-49. It was the #1 telecast for the night among adults 18-49, including the Sochi Winter Olympics. The Walking Dead continues to be the #1 show on all of television among the coveted 18-49 demographic. With time-shifted playback, last night's premiere should exceed 20 million viewers.
"With a number of high-profile choices on television last night, for The Walking Dead to deliver record ratings is remarkable. Thanks to the fans, who have been so supportive of this show in so many ways. We share your passion for this world," said Charlie Collier, AMC president. "Thanks also to the terrific team of writers, starting with Scott Gimple and Robert Kirkman, who with our outstanding executive producers, cast and crew pour their hearts into this series, always with the fans in mind. I speak for everyone at AMC in expressing my sincere appreciation and our shared excitement for the journey ahead. Chocolate pudding for all!"
Following the 9/8c premiere of The Walking Dead, AMC presented Talking Dead at 10/9c, which became the highest premiere in series history with 5.9 million viewers, including 3.9 million adults aged 18-49. Hosted by Chris Hardwick, Talking Dead features Hardwick and fans, actors, producers and other TV enthusiasts discussing and dissecting that night's Dead premiere. The Mid-Season Premiere featured guests Greg Nicotero and Dania Gurira.
Continue reading "The Walking Dead Mid-Season Premiere Delivers 15.8 Million Viewers" »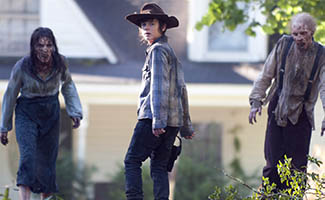 This week, Andrew Lincoln, Norman Reedus and Danai Gurira tease the rest of Season 4 to Entertainment Weekly, while Chandler Riggs wins kudos from TVLine. Plus, Gale Anne Hurd talks Carol with Us Weekly. Read on for more:
• Andrew Lincoln talks to Entertainment Weekly about where Rick is at when Season 4 returns, calling him "physically weak, spiritually he's lost, mentally he doesn't quite know where to begin because he's just seeing his home demolished. He's in the worst place he's been."
• Entertainment Weekly learns from Norman Reedus that the upcoming episodes are "our best eight episodes yet. The storylines, the acting, and the directing, and the writing are top of our food chain."
• Faced with the trauma of the events of the Mid-Season Finale, Danai Gurira tells Entertainment Weekly that Michonne is facing "a question of going back to the old her or going on a different path."
Continue reading "EW Previews Season 4 With Andrew Lincoln, Norman Reedus, Danai Gurira; TVLine Applauds Chandler Riggs" »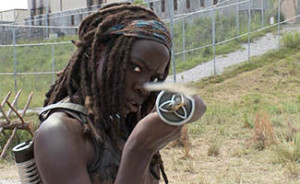 This week, Danai Gurira speaks with the AP about how fans respond to Michonne, while Steven Yeun says what he can about Glenn and Maggie's storyline. Plus, a film starring Yeun wins a prize at Sundance. Read on for more:
• Danai Gurira talks to The Associated Press about how the time she spent in Africa influences her work — and how girls respond to Michonne by telling Gurira "you make me feel strong."
• Previewing what's going to happen to Glenn and Maggie in the rest of Season 4, Steven Yeun tells Refinery29, "I think people are really going to see the true love those two characters have for each other at the second half of the season."
• I Origins, a film starring Steven Yeun, won the Alfred P. Sloan Feature Film prize at the Sundance Film Festival, according to Indiewire. The film's worldwide rights have been bought by Fox Searchlight Pictures, Cinelinx says.
Continue reading "Danai Gurira on Michonne's Fans; Steven Yeun Previews Glenn/Maggie in Rest of Season 4″ »