Press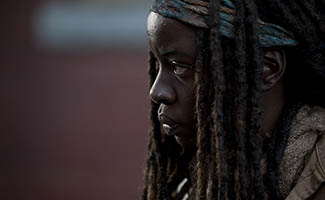 This week, Season 5 is called "dire" and "intense" by Danai Gurira, while MTV gets the scoop on The Walking Dead's Negan from Robert Kirkman. Plus, Steven Yeun can be seen in the trailer for I Origins. Read on for more:
• Teasing Season 5 to Access Hollywood, Danai Gurira says, "I can tell you that it's gonna be dire and it's gonna be intense. It's all the things you tune in to see. It'll be that and then some."
• MTV learns from Robert Kirkman that it's "a 99% lock" that Negan, a character from the graphic novel, will eventually be on the TV show — although it's unlikely he'll be played by Mad Men's Jon Hamm.
• Catch Steven Yeun at mxdwn Movies to see him in the trailer for I Origins, a movie directed by Mike Cahill that won the Sundance Film Festival's Alfred P. Sloane Prize earlier this year.
Continue reading "Danai Gurira Teases "Dire" Season 5; Robert Kirkman Talks Negan With MTV" »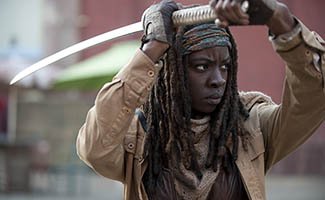 This week, the Season 4 finale is deemed one of the week's top moments by TV Guide, while The Hollywood Reporter gets Andrew Lincoln's take on what it's like biting into someone's neck. Plus, Variety is enamored of The Walking Dead's opening credits sequence. Read on for more:
• One of TV Guide's top moments of the week is the discovery that "all roads may lead to Terminus, but that proves to not be a good thing on The Walking Dead's season finale."
• The Hollywood Reporter asks Andrew Lincoln what it was like to take a bite out of Jeff Kober's neck in the Season 4 finale. (He calls it "the gnarliest thing I've ever had to do.")
• Variety considers The Walking Dead's opening title sequence to be one of the best on TV because it "perfectly captures the sense of dread and urgency the show seeks to conjure." Continue reading "TV Guide Touts Season 4 Finale; Andrew Lincoln Talks to THR About Biting Into Necks" »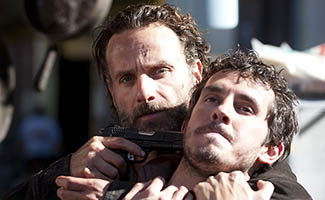 This week, Robert Kirkman and Scott Gimple deconstruct Season 4 and discuss what might happen in Season 5, while Andrew Lincoln charts Rick's evolution. Plus, TV Guide asks some questions about Terminus. Read on for more:
• The Hollywood Reporter gets Robert Kirkman and Scott Gimple's take on what to look forward to in Season 5, including "a more capable and prepared Rick Grimes coming out of what he's experienced in this episode."
• Robert Kirkman gives Entertainment Weekly his take on the Season 4 finale: "We knew that Terminus was going to be a great place to leave things. We kind of wanted to leave this season with a little more punch than we've left it in past years." TheWalkingDead.com asks Kirkman about Gareth, while TVLine gets his view on the cannibal question.
Continue reading "Robert Kirkman, Scott Gimple Tease Season 5; Andrew Lincoln Describes Rick's Evolution" »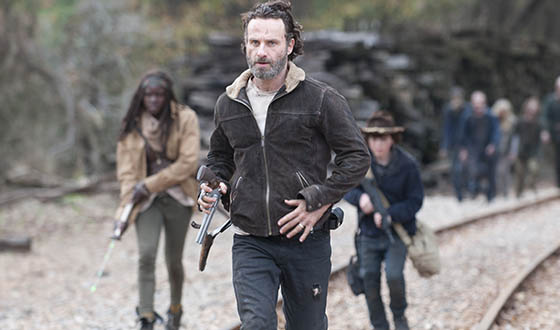 Last night's Season 4 Finale of The Walking Dead set a new finale record, delivering 15.7 million viewers and 10.2 million adults 18-49. The dramatic episode anchored a record-breaking night on AMC, with the live Talking Dead after show delivering a series record 7.3 million viewers and 4.7 million adults 18-49. To cap the night, the Season 3 Finale of AMC's Comic Book Men at Midnight was watched by 1.1 million viewers and 715,000 adults 18-49.
Season 4 set a new viewership record for The Walking Dead, averaging 13.3 million live/same day viewers per episode and 8.6 million adults 18-49, an increase of +24%/+22% over the Season 3 average.
"The linear television business is Dead and well," said Charlie Collier, AMC president. "Thanks to Robert Kirkman, Scott Gimple, the other terrific executive producers and the entire cast, crew and network for working together to bring the fans (myself included) another unforgettable season of The Walking Dead. To see this show serve as the centerpiece of a truly historic night on AMC is truly gratifying. So many played a role in this success, across all three shows, in giving the fans a reason to continue to return in ever-greater numbers. And so we say, until next fall, 'Welcome to Terminus.'"
Following the 9PM premiere of The Walking Dead, AMC presented Talking Dead at 10PM. Hosted by Chris Hardwick, the most-watched Talking Dead episode in series history featured Executive Producer and Show Runner Scott Gimple and, for the first time on the show, Andrew Lincoln. Continue reading "The Walking Dead Season 4 Finale Breaks Finale Records With 15.7 Million Viewers" »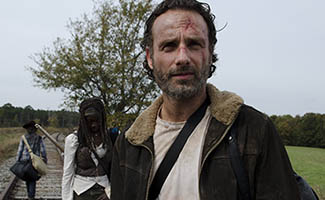 This week, Robert Kirkman and Greg Nicotero tease what's coming up on the Season 4 finale, while Danai Gurira gives some insight into Michonne's relationship with Rick and Carl. Plus, Kirkman reveals much in a Reddit AMA. Read on for more:
• Entertainment Weekly looks ahead to the Season 4 finale with Robert Kirkman, who says "there are some big questions that are asked that are going to be answered in this final episode."
• "Terminus could be what it is on face value or it could be hiding something darker," Robert Kirkman tells TheWalkingDead.com about "Us."
• Talking to The Hollywood Reporter, Greg Nicotero adds, "Everyone gets to Terminus and smiles and thinks, 'Maybe the world isn't all a bad place.'"
Continue reading "Robert Kirkman, Greg Nicotero Preview Season 4 Finale; Danai Gurira On Michonne, Rick & Carl" »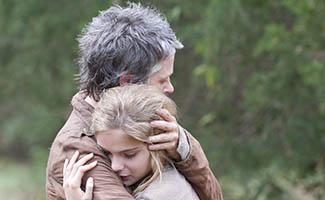 This week, Melissa McBride, Scott Gimple and Robert Kirkman all talk about the harrowing happenings of "The Grove." Plus, Lauren Cohan and Norman Reedus do the talk show rounds. Read on for more:
• Melissa McBride tells The Hollywood Reporter she was "overwhelmed and devastated" when she found out what Carol had to do in "The Grove." McBride shares with Entertainment Weekly, "Looking at the flowers will never be the same for me now." She also discusses the episode with Access Hollywood.
• Entertainment Weekly chats with Scott Gimple, who says the camera was on Carol, not Lizzie, during the scene where Lizzie dies because "this is fulfilling a big part of Carol's story in a very tragic way." Continue reading "Melissa McBride Talks Carol's Harrowing Episode; Scott Gimple, Robert Kirkman Deconstruct "The Grove"" »
This week, Robert Kirkman and Lauren Cohan share their thoughts on "Alone," while Norman Reedus visits The Tonight Show With Jimmy Fallon. Plus, Reedus and Steven Yeun take on zombies on E!'s The Soup. Read on for more:
• Robert Kirkman tells TheWalkingDead.com about Maggie "definitely coming unhinged" and how the writers are changing Bob's character vs. the comic book.
• Discussing "Alone," Lauren Cohan tells The Hollywood Reporter why "overall this is maybe the most romantic episode of The Walking Dead so far."
• Entertainment Weekly gets Lauren Cohan's take on "Alone" and how this is "really the first time we've seen Maggie outside of the family Greene and without Glenn."
• Norman Reedus, visiting The Tonight Show With Jimmy Fallon, reads relationship texts aloud, shoots a laser out of his titanium eye socket and reveals, "We have a crazy finale."
Continue reading "Robert Kirkman, Lauren Cohan Talk "Alone"; Norman Reedus Appears on Tonight Show" »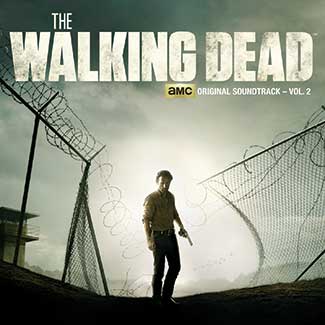 AMC and Republic Records' The Walking Dead Original Soundtrack Vol. 2 — Season 4 is now available for purchase  in stores and digital retailers across the U.S. Head over to ShopTheWalkingDead.com to get your copy of the exclusive music from The Walking Dead and instantly receive downloads of two songs from the soundtrack: Portugal. The Man's "Heavy Games" and American Idol winner Lee DeWyze's "Blackbird Song" – featured during Bob's flashback in Episode 13, "Alone."
Click here to purchase the soundtrack on ShopTheWalkingDead.com.
Don't miss the Season Finale of The Walking Dead this Sunday, March 30 at 9/8c on AMC.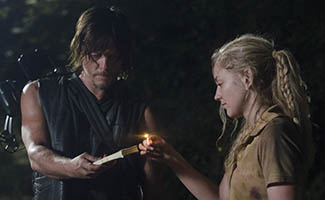 This week, The Hollywood Reporter gets Norman Reedus's take on "Still," while Emily Kinney gets quizzed by Entertainment Weekly. Plus, Time wonders why there aren't more The Walking Dead imitators. Read on for more:
• Norman Reedus chats with The Hollywood Reporter about the ending of "Still," when "there's hope, which is something we've never seen in any of our episodes before. They have a little spring in their step at the end of it and it's a beautiful thing to watch."
• The Wall Street Journal also talks to Norman Reedus about playing Daryl "like he's had his back up against the wall, that's his reason for fighting," and The Huffington Post interviews Reedus about the The Walking Dead death that hit him the hardest.
• Access Hollywood talks to Norman Reedus about Beth hugging Daryl in "Still": "Daryl, feeling her hug him from behind was larger to me than a face-to-face hug. It was the support."
Continue reading "Norman Reedus Talks "Still" With THR; Emily Kinney Takes EW's Pop-Culture Personality Test" »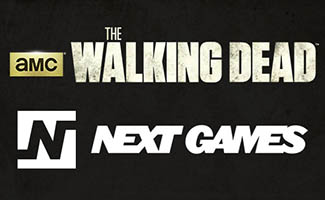 Next Games and AMC today announced that the Finnish games company is in production of a mobile game based on AMC's incredibly successful TV series The Walking Dead. The Walking Dead is, for the second season in a row, the No. 1 show on U.S. television among adults 18-49 and incredibly popular around the world. The mobile game will be the first time players see this iconic and enormously popular TV series come to life through gameplay exclusively developed for smartphones and tablet devices.
AMC and Next Games will join forces on the marketing of the title as the game launch coincides with Season 5 of The Walking Dead TV series. The project will be global at scale with distribution and marketing across continents in collaboration with the best local partners.
"We chose to team up with Next Games because of their outstanding creative and technical talent, as well as a willingness to re-imagine the unique and compelling world of The Walking Dead, which has built a significant and passionate global fan community," said Charlie Collier, AMC president. "We're thrilled to be part of this next wave of games innovation and participating in a project that – like the show itself – is in service of the fans."
Continue reading "Next Games and AMC to Develop a New The Walking Dead Mobile Game" »