Press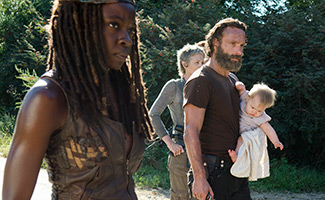 This week, Andrew Lincoln and Danai Gurira discuss Alexandria, while Flaunt features Norman Reedus in a photo shoot. Plus, Ross Marquand provides some insight into Aaron and talks about playing the show's first gay male character. Read on for more:
• Talking to The Hollywood Reporter about the group's ability to fit into Alexandria, Andrew Lincoln says, "That's the landscape that we're investigating: whether these people are able to integrate anymore. Whether they are social animals; whether they can be recognized as social human beings anymore."
• TV Guide interviews Danai Gurira, who points out that Michonne trusted Aaron because the group is "in a dire circumstance and she can see that. It's dire in terms of the literal conditions, but aspects of the humanity of the group were also starting to concern her."
• For a Flaunt photo shoot, Norman Reedus explains, "I have to say that as far as my working life, I became really at ease and comfortable and proud of my work when I got to Georgia. It all kind of fell into place there."
Continue reading "Andrew Lincoln, Danai Gurira Discuss Alexandria; Flaunt Features Norman Reedus" »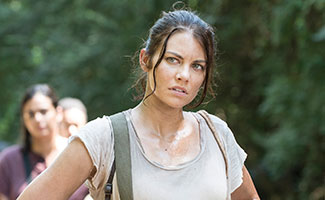 This week, Lauren Cohan and Sonequa Martin-Green discuss last Sunday's episode, "Them," and grieving for their on-screen siblings, while Ross Marquand talks about Aaron with Entertainment Weekly. Plus, MTV is moved by Rick's "We Are The Walking Dead" speech. Read on for more:
• The Hollywood Reporter talks to Lauren Cohan, who says Aaron's introduction "brings about some unexpected sides of characters you think that you already knew. Those who are skeptical definitely put Aaron to the test and…we still have members of the group that are reticent to trust."
• TV Guide interviews Sonequa Martin-Green about Sasha's grief and learns from her that "the only thing that she has is this present moment, and she's going to go all the way in the opposite direction of her brother because it's the only thing that she thinks she can do."
• Ross Marquand talks to Entertainment Weekly and says Aaron's "been tracking the group for a while and getting a vibe from them and getting the dynamics of leadership from them and how they work together—and that's extremely important to him."
Continue reading "Lauren Cohan, Sonequa Martin-Green Discuss Grieving; Ross Marquand Talks Aaron With EW" »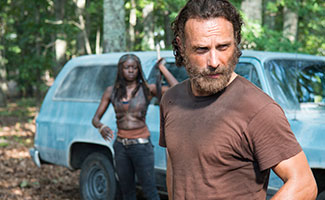 This week, Scott Gimple teases what's ahead for the survivors, while Greg Nicotero and Chad L. Coleman discuss the midseason premiere. Plus, Gale Anne Hurd talks about Noah's guilt and says, "a certain kind of love" will develop between Rick and Michonne. Read on for more:
• Looking ahead, Scott Gimple says to Entertainment Weekly that the survivors have "made the decision to go somewhere, but like we have seen, nothing is just simple and easy so they have a fight in a real, practical, physical way and they have a fight in an emotional way."
• Greg Nicotero talks to Variety about Tyreese's death affecting Sasha, how there's "one beautiful moment at the end of the script when everybody is shoveling dirt into the grave and you see Daryl hold up the shovel to Sasha — the look on her face, you can tell something has died in her."
• Gale Anne Hurd, also interviewed by Vulture, talks about Rick and Michonne, that viewers will "see something very interesting develop between them. Very interesting, and incredibly unexpected. You'll see a certain kind of love."
Continue reading "Scott Gimple Teases What's Ahead; Greg Nicotero, Chad Coleman On Midseason Premiere" »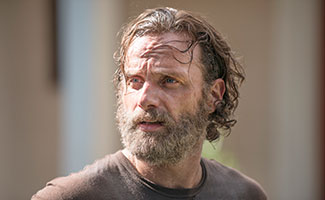 This week, the cast of The Walking Dead sits down for a conversation with the New York Times TimesTalks series, while a Jimmy Kimmel Live! sketch spoofs the show to promote the limited-edition Dead-themed "Carnage Asada" Slim Jim. Plus, Entertainment Weekly's new cover features Norman Reedus. Read on for more:
• ComicBook.com has the highlights of The New York Times discussion with Scott Gimple, Andrew Lincoln and Steven Yeun, with Yeun sharing, "There's some stuff coming up that we had so much fun choreographing. We are just idiots, smiling idiots! We're so happy to hack and slash!" Blastr, The Daily Beast and Fansided have tidbits from the talks. Ahead of the panel, BuzzFeed gets tips from the trio on surviving a zombie apocalypse.
Continue reading "Scott Gimple, Cast Tease Dead in NYTimesTalk; Jimmy Kimmel Live! Spoofs Dead for Slim Jim" »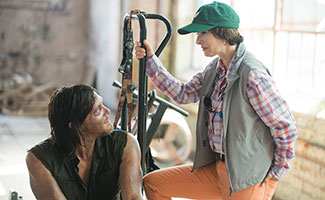 This week, Gale Ann Hurd is honored with the David O. Selznick Award at the Producers Guild of America award ceremony, while Josh McDermitt talks Season 5 with The Huffington Post. Plus, Den of Geek highlights The Walking Dead's webisodes. Read on for more:
• At the Producers Guild of America awards ceremony, Edward Norton presented Gale Anne Hurd with the David O. Selznick Award, which recognizes a producer's outstanding body of work and in the past has been given to Steven Spielberg, Clint Eastwood, Billy Wilder and many more distinguished producers. While presenting the award, Norton highlighted Hurd's work on The Walking Dead and confessed, "At night when my wife is sleeping, I sneak into the living room, get my iPad, put on some headphones and watch The Walking Dead. It's kind of an addiction," according to Deadline.
• Josh McDermitt talks to HuffPost Entertainment and reveals that the rest of Season 5 is "just gonna get a little darker and a little crazier."
• Den of Geek highlights webisodes, from shows like The Walking Dead, that "seek to extend the value of their most popular shows – and ramp up their engagement with viewers."
Continue reading "Gale Ann Hurd Wins Producers Guild Award; Josh McDermitt Talks Season 5 With HuffPost" »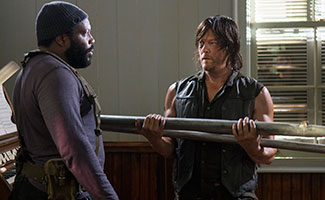 This week, Norman Reedus discusses Beth's death with TV Guide, while Los Angeles Magazine talks about The Walking Dead's influence on fashion trends. Plus, Metro looks at Season 5′s biggest shocks. Read on for more:
• Norman Reedus tells TV Guide.com that, in the wake of Beth's death, Daryl is "full of grief at this moment and he'll probably shut down a bit."
• Los Angeles Magazine takes note of The Walking Dead's influence on this season's trends, even though the show "seems an unlikely source of inspiration for fashion."
• Metro ranks the biggest shocks of Season 5 so far, from Bob's leg being eaten to Morgan's return.
Continue reading "Norman Reedus Discusses Beth's Death With TV Guide; LA Mag Talks Dead's Fashion" »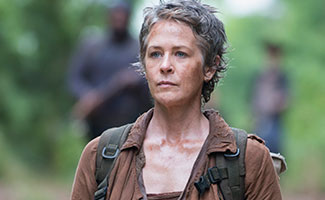 This week, Boston.com deems Carol one of TV's top characters, while the newest teaser creates buzz at TheWrap, Time and more. Plus, The Walking Dead is honored with multiple make-up and special effects award nominations. Read on for more:
• Boston.com counts Carol as one of TV's top characters, citing "Melissa McBride's astonishing transformation of once-meek Carol into the cold-bloodedly decisive woman of action."
• TheWrap checks out the new Season 5 teaser, which proclaims, "Surviving together is all that matters." Time notes the trailer doesn't have any plot spoilers, but "rest assured: there's plenty of drama and mayhem ahead in Season 5," while TV Guide describes the trailer as "heartfelt." Cinema Blend observes that "it is oddly comforting to see Rick and his people reunited… even if they all look pretty unhappy…" USA Today declares, "Looks like the group's not out of the woods yet, figuratively and literally."
• The Los Angeles Times reports that The Walking Dead received two nominations from the Make-Up Artists and Hair Stylists Guild for the "TV and New Media Series Contemporary Make-Up" category and the "TV and New Media Series Special Make-Up Effects" category.
Continue reading "Boston.com Deems Carol One of TV's Best Characters; New Teaser Creates Buzz" »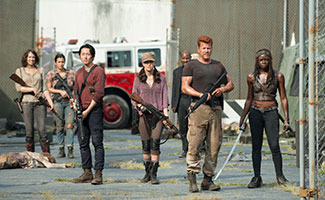 This week, Forbes and others consider The Walking Dead one of the best things about 2014, while TODAY awaits the Feb. 8 midseason premiere. Plus, the show is up for one of the U.K.'s National Television Awards. Read on for more:
• Forbes considers The Walking Dead one of 2014′s top series, calling "The Grove" the "best hour in the show's history and one of those singular episodes that will be remembered for decades, a Sophie's Choice of the Post-Apocalypse."
• Under the Radar's top TV show of 2014 is The Walking Dead, which is credited for "delivering, hands-down, some of the best entertainment of the year."
• TODAY is looking forward to The Walking Dead's Feb. 8 return, when " Rick, Daryl and the rest of our beloved, bloody bunch will start taking down walkers again."
• The Independent reports that The Walking Dead is up for one of Britain's National Television Awards in the multichannel category.
Continue reading "Forbes Lists Dead Among Best TV of 2014; TODAY Awaits Midseason Return" »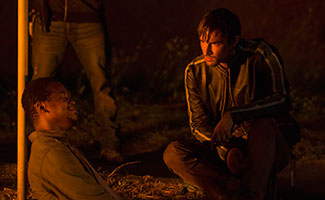 This week, BBQ Bob is named Entertainment Weekly's most shocking TV moment, while E! Online calls The Walking Dead one of the TV winners in 2014. Plus, the drama is hailed as the best show on TV by several publications. Read on for more:
• Entertainment Weekly's most shocking TV moment of 2014 is when Bob discovers that Gareth and the Termites are eating his leg. The scene from season 4, in which Carol tells Lizzie to "look at the flowers" ranked as one of the year's Most Memorable.

• E! Online names The Walking Dead, which "has managed to break its own insane ratings record, with the season five premiere attracting 17.3 million viewers, the show's highest ratings ever," one of TV 2014′s winners.
• The Hollywood Reporter's year-end list of the top 10 shows includes The Walking Dead, saying "this creatively underappreciated existential zombie series has always been greater than its gore."
Continue reading "BBQ Bob Named EW's Most Shocking TV Moment; E! Calls Dead TV Winner" »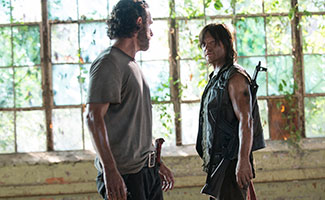 This week, Andrew Lincoln talks to TV Guide about the possible fate of Father Gabriel, while Norman Reedus discusses Daryl's mental state with The Hollywood Reporter. Plus, The Wall Street Journal ranks the "Tainted Meat" scene as one of the best TV moments of 2014. Read on for more:
• TV Guide asks Andrew Lincoln and Scott Gimple whether Father Gabriel will stay with the group.
• Asked by The Hollywood Reporter about Beth's death, Norman Reedus replies, "I think it puts him into a depression."
• The Wall Street Journal's best TV moments of the year includes when "Gareth had a few human-flesh recipes up his sleeve and tried one out on Bob."
Continue reading "Andrew Lincoln Talks to TV Guide; Norman Reedus Chats With THR" »