Press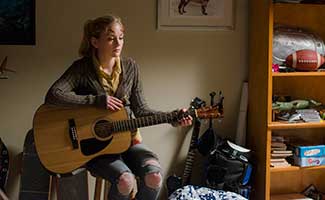 This week, Robert Kirkman teases Rick and Morgan in Season 6, while Greg Nicotero is interviewed by Empire's podcast. Plus, Emily Kinney tells The Hollywood Reporter about the difference between playing Beth and her The Flash character. Read on for more:
• According to TheWrap, Robert Kirkman teases that Rick and Morgan's reunion will be "the spine of Season 6," adding there's "questions of how they're going to interact, how they're going to work together — if they're going to work together — and what comes from those interactions…"
• Greg Nicotero, speaking with the Empire podcast, says, "The thing about The Walking Dead now is that we've all been in the trenches so hard together and so long that we would take a bullet for each other, so I think that camaraderie and that dedication and devotion to the show starts with Scott Gimple and goes all the way through."
• Emily Kinney, interviewed by The Hollywood Reporter, compares Beth with her new role on The Flash, saying, "On The Flash they're always trying to fix my hair and make me pretty, while on Walking Dead they go, 'oh good, you look worse!'"
Continue reading "Robert Kirkman Gives Season 6 Clues; Emily Compares Beth to her The Flash Character" »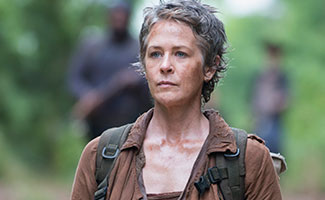 This week, Norman Reedus and Daryl's crossbow make a surprise Saturday Night Live appearance, while Melissa McBride explains Carol's actions to Forbes. Plus, Gale Anne Hurd talks to Zap2it about the walker threat. Read on for more:
• People spotlights the cameo that Norman Reedus and his crossbow made on Saturday Night Live's "Weekend Update," when Reedus "seemingly slayed" Pete Davidson.
• Melissa McBride speaks with Forbes, saying, "A lot of people say she's a badass, that she's coming back like Rambo, I don't see it that way. I see her making tactical decisions. She's just Carol doing these things. And I love it."
• Zap2it interviews Gale Anne Hurd, who notes that walkers "are the overwhelming majority now. The world is overrun. That's why I think seeing for the first time a walker within the gates of Alexandria may very well be a portent of things to come."
Continue reading "Norman Reedus, Crossbow Appear on SNL; Melissa McBride Explains Carol's Actions" »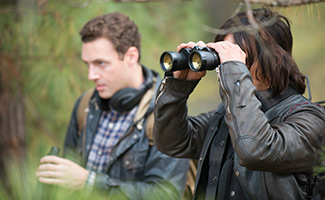 This week, Lennie James discusses Morgan's return, while Norman Reedus, Andrew Lincoln, Gale Anne Hurd and Steven Yeun break down the Season 5 finale. Plus, the finale ratings break a new record. Read on for more:
• Lennie James, interviewed by USA Today, points out that Rick is the "only person on the planet Morgan knows" because he "lost his wife and child, the only other people he had a connection to in the post-apocalyptic world."
• Lennie James teases to TVGuide.com that there's "an origin story to the Morgan we meet in the season finale. I don't know which way it's going to be told, but I am pretty sure that origin story will in some way, shape or form will come to light in Season 6 and explain who this Morgan is."
• Talking to Variety, Lennie James says that Morgan's "never been part of a group. The biggest his group ever got was him and his son. It will be very interesting to see who he is, who he'll become, what he might do and what he might not do in the company of others."
Continue reading "Lennie James On Morgan's Return; Norman Reedus, Andrew Lincoln Talk Finale" »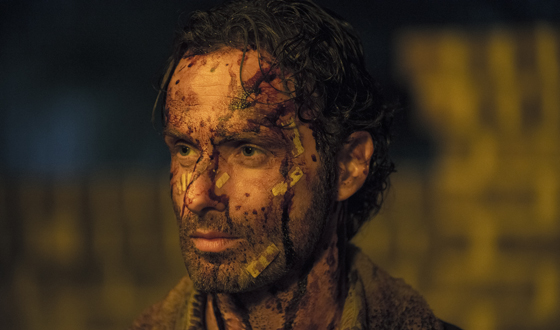 The special 90-minute Season 5 Finale of The Walking Dead last night was the highest-rated finale in series history, delivering 15.8 million viewers and 10.4 million adults 18-49. The episode capped the show's strong fifth season with all 16 episodes ranking in the top 20 entertainment telecasts across all of television this broadcast season among adults 18-49. When including sports and specials, all 16 episodes of The Walking Dead season five rank in the top 50 telecasts across all of television among adults 18-49 – the first time a series has achieved this in cable history. With time-shifted playback added in, this Season Finale of The Walking Dead should exceed more than 20 million viewers and 14 million adults 18-49.
The Walking Dead remains the #1 show in all of television among adults 18-49. Despite formidable competition from the NFL in the first half of its season and special event programming in the second half, such as the Oscars, the Grammys, the Saturday Night Live 40th Anniversary Special and the NBA All-Star Game, the show's fifth season has delivered an average of 14.4 million viewers and 9.4 million adults 18-49 live/same day across its 16 episodes, an increase of 9% season over season in adults 18-49.
Also last night, Talking Dead achieved its highest-rated episode in series history, drawing 7.5 million viewers and 4.9 million adults 18-49. Each week, the live Talking Dead aftershow features host Chris Hardwick and fans, actors, producers and other TV enthusiasts discussing that night's The Walking Dead premiere. Last night's Season Finale featured Norman Reedus (Daryl), Melissa McBride (Carol) and Lennie James (Morgan).
Click here to watch The Walking Dead Season 5 Finale and other Season 5 episodes on amc.com, then click here to watch the Talking Dead Season 5 Finale.
Continue reading "The Walking Dead Season 5 Finale Is Highest-Rated Finale In Series History" »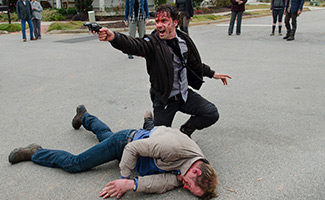 This week, Andrew Lincoln and Corey Brill discuss Rick and Pete's knockdown, drag-out fight with Entertainment Weekly, while Jimmy Kimmel hosts Norman Reedus, Melissa McBride and Steven Yeun. Plus, Greg Nicotero signs a new deal with AMC. Read on for more:
• Andrew Lincoln speaks with Entertainment Weekly about Rick's "epic" fight with Pete, a scene that "could have been, and we spoke about it, it could have been the season finale just because of what happened in the context of the story."
• Entertainment Weekly also talks to Corey Brill, who's says that shooting Pete's fight with Rick "was like the best day of my working life. I've never had so much fun and worked so hard at the same time—fantastic."
• ComicBook.com posts clips of Norman Reedus, Melissa McBride and Steven Yeun on Jimmy Kimmel Live!, including Reedus saying that it's easy to eat on set despite the show's gruesomeness because "you're starving. You get used to it. And plus there's zombies around you eating too."
Continue reading "Andrew Lincoln Discusses Rick's Fight With EW; Jimmy Kimmel Hosts Dead Trio" »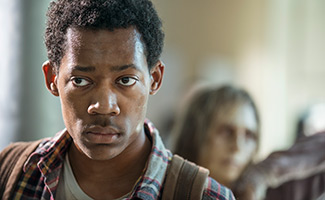 This week, Steven Yeun and Tyler James Williams discuss Noah's exit, while E! Online ranks the show's horrifying deaths. Plus, Entertainment Weekly declares "Spend" the show's most ambitious episode. Read on for more:
• Entertainment Weekly gets the scoop from Steven Yeun on Noah's death scene, "a gnarly thing to prepare for. Tyler [James Williams] was so great being right there connected with me the entire time."
• EW also talks to Tyler James Williams, who says that "what I loved about Noah is there was nothing that he actually did wrong. He was just getting terrible breaks in the world."
• Talking to The Hollywood Reporter about Noah and Glenn's camaraderie, Tyler James Williams says, "Noah's death gave Steven [Yeun] everything he needed to take Glenn to where he needs to go next."
Continue reading "Steven Yeun, Tyler James Williams Discuss Noah's Demise; E! Online Ranks Dead's Deaths" »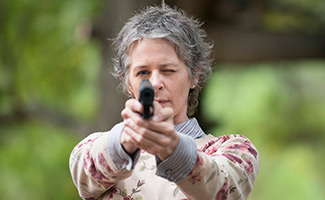 This week, Norman Reedus and Melissa McBride discuss Alexandria with various news outlets, while Lauren Cohan talks to People about her scaredy-cat tendencies. Plus, Steven Yeun salutes The Walking Dead's women in Cosmopolitan. Read on for more:
• Norman Reedus says to Entertainment Weekly that Daryl's wary of Alexandria because "I don't think he trusts people right off the bat. There's another element to it: I don't think Daryl would have liked living in a suburban housing development even before the zombie apocalypse."
• Interviewed by Entertainment Weekly about Carol threatening Sam, Melissa McBride declares it's "not unlike her teaching the children how to protect themselves. This child is unaware of this threat that is out there. They're sheltered. They don't know what's going on."
• People interviews Lauren Cohan, who says Maggie "is in support of the group finding peace in this town [Alexandria] and a safe hold."
Continue reading "Norman Reedus, Melissa McBride Discuss Alexandria; Lauren Cohan Talks to People" »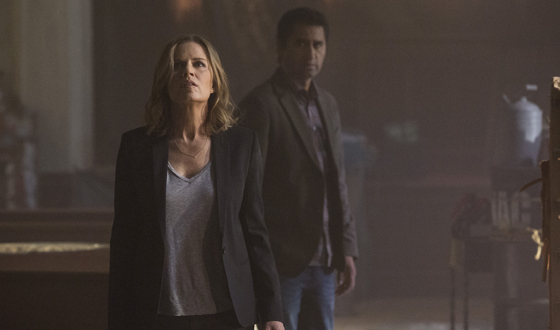 AMC today announced that it has placed an initial two-season order for a companion series to The Walking Dead, the #1 show on television among adults 18-49 for going on three seasons.
The new series (title to be announced) will be set in Los Angeles and focused on new characters and storylines. The show's first season will consist of six one-hour episodes and premiere on AMC in late summer. The show's second season will air in 2016.
Robert Kirkman, Gale Anne Hurd, Greg Nicotero and David Alpert from The Walking Dead are executive producers of the new series, which, like the original, is being produced by AMC Studios. Dave Erickson (Marco Polo, Sons of Anarchy), who co-created and co-wrote the pilot with Kirkman, is an Executive Producer and Showrunner. The series will star Cliff Curtis (Missing, Gang Related), Kim Dickens (Gone Girl, Sons of Anarchy), Frank Dillane (Harry Potter and the Half-Blood Prince) and Alycia Debnam Carey (Into the Storm).
Continue reading "AMC Announces Two-Season Order for The Walking Dead Companion Series" »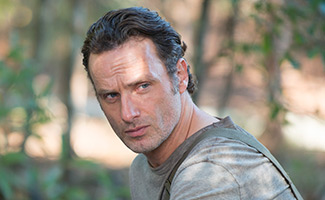 This week, Andrew Lincoln teases the possibility of Negan to The Hollywood Reporter, while Norman Reedus pays a visit to Conan O'Brien. Plus, Greg Nicotero and Tovah Feldshuh discuss Sunday's episode, "Remember," with Yahoo TV, Entertainment Weekly and other publications. Read on for more:
• Andrew Lincoln teases to The Hollywood Reporter, "There are astonishingly brilliant and thrilling characters that I am convinced we would be idiots not to meet in our journey; I would be very surprised if we don't see Negan on the horizon in the not-too-distant future."
• Norman Reedus goes on Conan to reveal that he wanted to eat the worm in "Them" but "there were some animal activist groups, civil rights groups there, and they had to watch me spit it out and watch it wiggle."
• Greg Nicotero tells Yahoo TV that, in Alexandria, "Rick's entire motivation is he's going undercover. He's becoming the person that he thinks they want him to become so he can move around the community without question."
Continue reading "THR Reports Andrew Lincoln Wants to See Negan; Norman Reedus Visits Conan O'Brien" »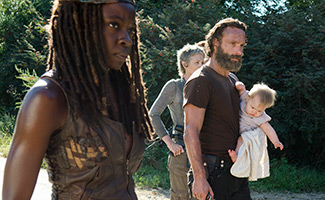 This week, Andrew Lincoln and Danai Gurira discuss Alexandria, while Flaunt features Norman Reedus in a photo shoot. Plus, Ross Marquand provides some insight into Aaron and talks about playing the show's first gay male character. Read on for more:
• Talking to The Hollywood Reporter about the group's ability to fit into Alexandria, Andrew Lincoln says, "That's the landscape that we're investigating: whether these people are able to integrate anymore. Whether they are social animals; whether they can be recognized as social human beings anymore."
• TV Guide interviews Danai Gurira, who points out that Michonne trusted Aaron because the group is "in a dire circumstance and she can see that. It's dire in terms of the literal conditions, but aspects of the humanity of the group were also starting to concern her."
• For a Flaunt photo shoot, Norman Reedus explains, "I have to say that as far as my working life, I became really at ease and comfortable and proud of my work when I got to Georgia. It all kind of fell into place there."
Continue reading "Andrew Lincoln, Danai Gurira Discuss Alexandria; Flaunt Features Norman Reedus" »