Returns October 12

July 24-27

Dispatches From the Set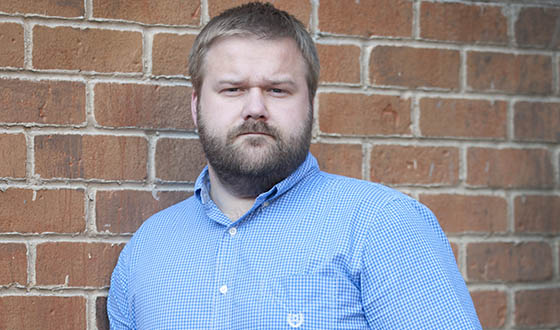 The Walking Dead Executive Producer and Writer Robert Kirkman talks about revealing Michonne's backstory and which characters from the comic he'd love to see on the show.
Q: Tell us about the first few weeks on set. What's excited you the most?
A: Well, the things that excited me the most I cannot talk about! There are a couple of big set pieces that were built from scratch and it's amazing to see Grace Walker work his magic. I will say that the worst thing about going back to set is that our prison has been dismantled. I kind of wish I had spent a little more time in it. It sucks to see that gone, but moving on, we've got cool stuff going on in this season. The secrecy has been fun. There are some really great things coming.
Q: You wrote Season 4, Episode 9, "After" where we get a peek at Michonne's past life and her family. Can you tell us more about what went into writing those scenes?
A: That had always been a story that was present in the comic book series, but had never really been established in the show — this idea that those pets she was walking around with were actually people she knew. One of the cool things about the show is how we adapt things and improve on them. I think coming up with this emotional story about her lover and her lover's best friend who had actually caused, in a roundabout way, the death of her child was a pretty big add-on that has enriched Michonne's character immensely. It's really cool to be able to play with these characters in two different worlds. That was a big episode for Michonne and it was a lot of fun to write.
Q: Episode 9 was probably the single most faithful adaptation of one issue of your comic than any other episode so far. Will we see anything like that level of faithfulness in Season 5? Continue reading "Dispatches From the Set – Executive Producer and Writer Robert Kirkman on Season 5″ »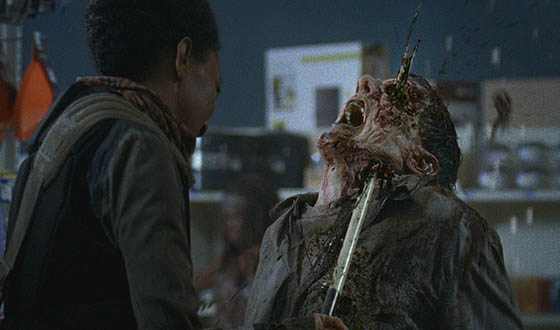 Over the past four seasons, The Walking Dead cast and crew have seen their fair share of action: deadly weapons, zombie splatters, massive explosions, it's all in a day's work when you're bringing the apocalypse to life. In this new video from The Walking Dead Season 5 set, the cast and crew recount their favorite action moments from the last four seasons. Watch the video now to see which of Glenn's myriad walker kills rates highest for Steven Yeun, which walker Lauren Cohan (Maggie) prefers, and which explosion Sonequa Marin-Green will never forget.

Don't miss the The Walking Dead "Dead, White and Blue" full series marathon beginning Friday, July 4 at 9AM/8c on AMC.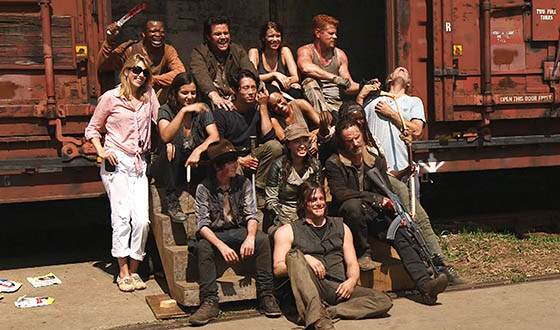 The Walking Dead cast and crew have been busily filming Season 5 since the spring. Now that it's officially summer, it's time to take your first look at what they've been up to. In this all-new, behind-the-scenes video from the set, The Walking Dead producers Scott M. Gimple, Gale Anne Hurd and Denise Huth join stars Andrew Lincoln, Norman Reedus, Steven Yeun, Lauren Cohan and others to give fans a taste of what lies ahead in Season 5. Watch the video now to find out why Andrew Lincoln calls the Season 5 Premiere "the most ambitious first episode I think we've attempted… and if this is anything to go by for the season, I think it's going to be the best season yet."

Don't miss the The Walking Dead "Dead, White and Blue" full series marathon beginning Friday, July 4 at 9AM/8c on AMC.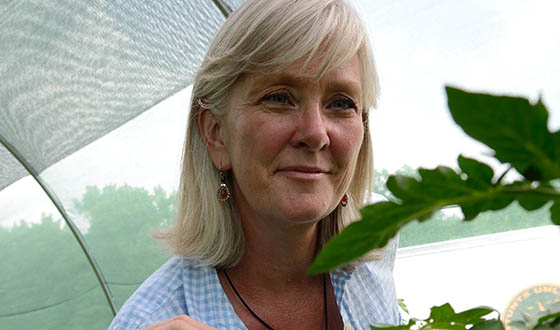 The Walking Dead's producer Jolly Dale talks about growing tomatoes on-set and which character she'd want on her team during the apocalypse.
Q: You started off as a production supervisor on this series. What are the main differences in your role as a producer now?
A: Being production supervisor is very "nuts and bolts." It's about numbers, keeping track of the budget, hiring crew, getting equipment… I'm freed up a little bit from that now. I sometimes think of myself as the mom of the crew. I run the internship program here and we have a relationship with a couple of different universities. I get to interact with other people more.
Q: A The Walking Dead internship? That sounds amazing.
A: Yeah, it's a coveted position! We had so many applicants.
Q: You're spearheading an effort to "go green" on set. What does that entail?
A: Every year, we try to build on what we established the year before. During Season 2, we tried to address how much paper we were using and encouraged people only to print when they had to or to print on double-sided paper; or to use an electronic device to retrieve their information. So, we started there and then really got into the recycling efforts. It's a challenge. There are people who don't understand, I think, all the reasons why recycling is such a good idea. We try to make it as attractive as possible and as easy as possible to do it, but sometimes people just don't want to do it. To that end, we've tried to have a "green" representative from each department to be the cheerleader.
Q: What's been the coolest or most innovative way in which you've re-used something? Do any of these efforts make their way into what we're seeing on screen? Continue reading "Dispatches From the Set – Producer Jolly Dale on Season 5″ »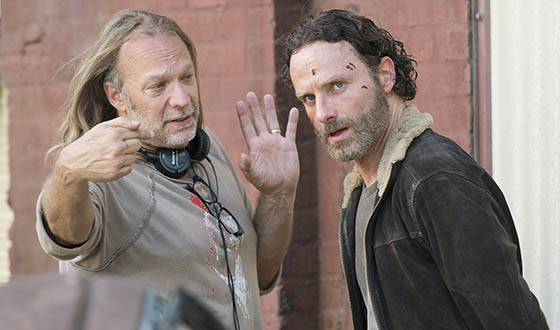 The Walking Dead Executive Producer and Special FX Makeup Designer Greg Nicotero talks about a zombie look he's always wanted to try and his process for creating Hershel's walker head.
Q: Executive Producer Gale Anne Hurd said we'll be seeing some frightening walkers this season. What new tricks do you have up your sleeve?
A: I have many new tricks and a very long sleeve! Just like last season where we were able to introduce a new walker look by having the infected walkers with the bleeding eyes, we've taken the makeup one step further. While on set, even some of the actors were looking at the makeup and had noticed that we refined and modified our technique even further. For people who have been looking at our makeup for years now, when they still have that level of excitement, it means we're keeping it fresh. That's what's most important to me.
Q: What can you tell us about the state of decay walkers are in, now that we're in Season 5?
A: These walkers have been around for what we estimate to be a year and a half, so there's a lot more exposed bone and skin falling off. We've got a whole new look on some of these featured walkers. It's exciting.
Q: Is there any zombie makeup effect you haven't yet done that you really want to do? Continue reading "Dispatches From the Set – Executive Producer and Special FX Makeup Designer Greg Nicotero on Season 5″ »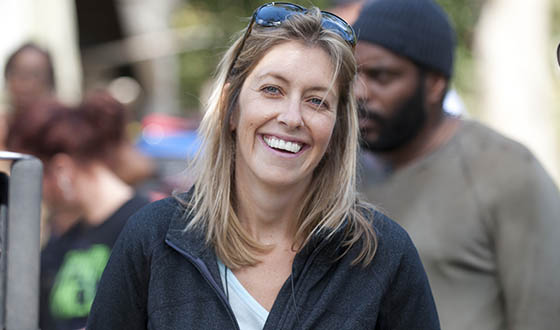 The Walking Dead's Co-Executive Producer Denise Huth talks about portraying the Governor's wife and her No. 1 tip for surviving the apocalypse.
Q: After four seasons of The Walking Dead, what aspects of production still manage to surprise you?
A: That it never gets easier! [Laughs] You'd think it'd become routine at a certain point — and it doesn't — it just gets bigger and harder. It's great and it makes the show fun. It always feels like a new challenge and not just another day on The Walking Dead.
Q: How is the location scouting going? Can you tell us about any new locations for this season?
A: We're out of the prison and we're on the road; and we will see a little more of Terminus. The [survivors] don't have a space to get back to, like the prison, so this year will be really brand new, which is exciting.
Q: We saw a photo of you as The Governor's wife during Seasons 3 and 4. Did anyone actually recognize you? Continue reading "Dispatches From the Set – Co-Executive Producer Denise Huth on Season 5″ »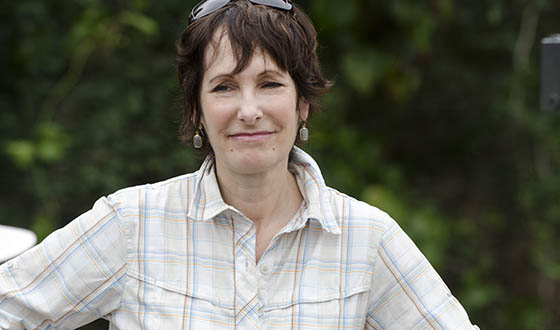 The Walking Dead Executive Producer Gale Anne Hurd talks about frightening the cast with Season 5′s new walkers and how she celebrates "Skull Friday" with the crew on set.
Q: Season 5 is officially in production! How are things going on set?
A: Everything is fantastic! We're knocking on wood — it's been gloriously sunny and while it's been hot, it at least hasn't been too humid. So, Georgia is breaking us in a little slowly. It feels like being in elementary school the first day you're back after summer break. Everyone is so excited and they're hugging… we really do have one big family. We've already, not surprisingly, worked with a few walkers. We've really hit our stride now. All of our crew members are completely prepared, our cast is top-notch and confident, the scripts are coming in and we have such fantastic directors.
Q: Tell us about the first day back on set: Any memorable moments stick out for you?
A: Let me see… what can I share?
Q: There's a better question…
A: [Laughs] Well, we try not to be too flashy with some of our camera work, but we had a super technocrane and being a technology buff myself, it's really fun when we get to use the big toys.
Q: What's the biggest lesson you learned from Season 4 that's being carried into Season 5?
Continue reading "Dispatches From the Set – Executive Producer Gale Anne Hurd on Season 5″ »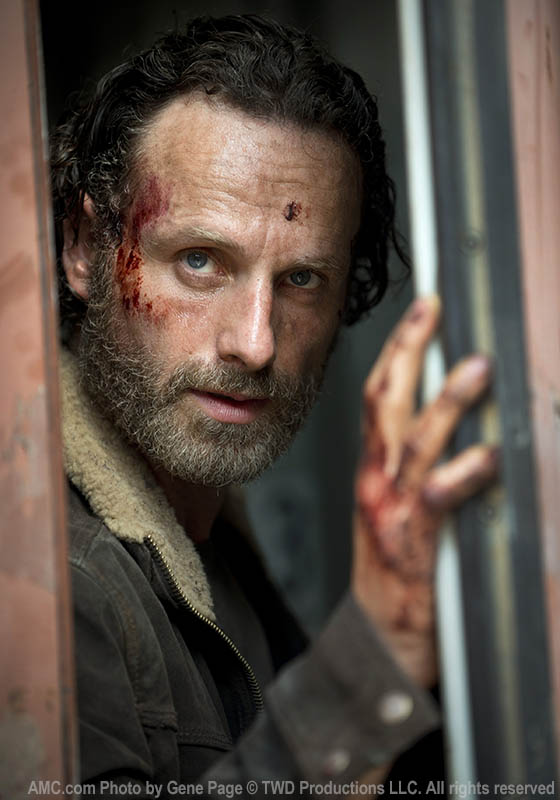 AMC has released a first look photo from The Walking Dead Season 5, featuring Rick Grimes (Andrew Lincoln). The award-winning series, whose Season 4 Finale in March delivered 15.7 million viewers and 10.2 million Adults 18-49, is currently in production in Atlanta, GA and returns this October on AMC.
Join The Walking Dead social community on Facebook and Twitter for custom content and access to the talent.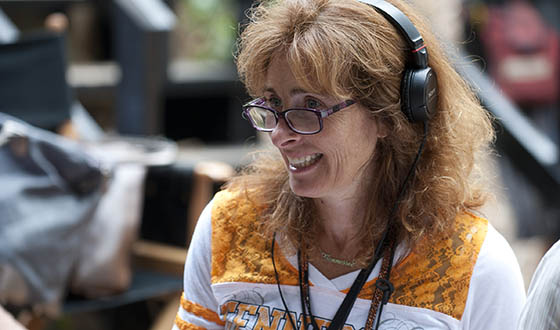 The Walking Dead's script supervisor Amy Blanc Lacy talks about keeping track of cuts, weapons and wardrobes and what she's learned from staring at zombies.
Q: One of your main responsibilities is ensuring the continuity of the show. Has that gotten easier or more difficult over time?
A: This is the number one the hardest job I've ever done in my life. We may have two units going at once shooting two or three episodes, on any given day. You have to communicate between all those stages, and have the notes, and remember what characters had a split on their nose or wrist or blood on their left arm, and what hand they had the gun in. Were they carrying a knife or did they throw that one out? And it's a lot of people to keep track of in one scene.
Q: When you're on set, how do you catch all these small things?
A: I take continuity pictures. And some characters have certain set wardrobes; Maggie, for example, has an engagement ring, so I always know to look for that, and other characters carry certain guns or knives.
Q: Any particular characters that are the most challenging in terms of continuity?
A: I dare not tell! I might not make it until next season.
Q: Do the actors help you out? They must know what their character is supposed to carry and wear…
A: The good thing about all the actors is that it's like a team. I don't have any problem going up to Andy, and saying, "Put this in your left hand," and him going, "Oh yeah! Thank you." If I miss something, and the prop team comes up to me and is like, "Amy, you forgot this." It's like alright, let's make it right. That happens sometimes, but I'm happy to say not often.
Q: What about walker scenes — are those joyrides or nightmares for you on set?
Continue reading "Dispatches From the Set – Amy Lacy (Script Supervisor)" »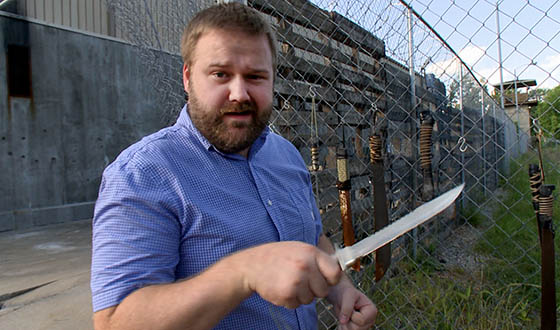 When The Walking Dead premieres this October, viewers will be able to see first-hand just what Rick, Daryl and the other survivors have been up to since the Season 3 Finale. In short: a lot. And in this new behind-the-scenes video, The Walking Dead's writer and executive producer Robert Kirkman takes you on a tour of the prison set to show off some of the changes that have taken place between seasons. Check out the video now to see all-new pig pens, gardens and a wall of knives strategically placed so that, as Kirkman explains, "if a zombie is nearby, you just grab your knife and you're ready to do some zombie killing."

The Walking Dead returns Sun., Oct. 13 at 9/8c on AMC.