Dispatches From the Set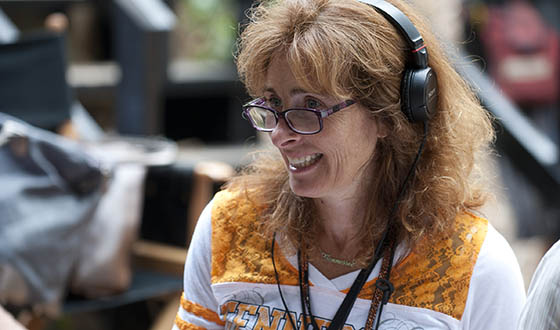 The Walking Dead's script supervisor Amy Blanc Lacy talks about keeping track of cuts, weapons and wardrobes and what she's learned from staring at zombies.
Q: One of your main responsibilities is ensuring the continuity of the show. Has that gotten easier or more difficult over time?
A: This is the number one the hardest job I've ever done in my life. We may have two units going at once shooting two or three episodes, on any given day. You have to communicate between all those stages, and have the notes, and remember what characters had a split on their nose or wrist or blood on their left arm, and what hand they had the gun in. Were they carrying a knife or did they throw that one out? And it's a lot of people to keep track of in one scene.
Q: When you're on set, how do you catch all these small things?
A: I take continuity pictures. And some characters have certain set wardrobes; Maggie, for example, has an engagement ring, so I always know to look for that, and other characters carry certain guns or knives.
Q: Any particular characters that are the most challenging in terms of continuity?
A: I dare not tell! I might not make it until next season.
Q: Do the actors help you out? They must know what their character is supposed to carry and wear…
A: The good thing about all the actors is that it's like a team. I don't have any problem going up to Andy, and saying, "Put this in your left hand," and him going, "Oh yeah! Thank you." If I miss something, and the prop team comes up to me and is like, "Amy, you forgot this." It's like alright, let's make it right. That happens sometimes, but I'm happy to say not often.
Q: What about walker scenes — are those joyrides or nightmares for you on set?
Continue reading "Dispatches From the Set – Amy Lacy (Script Supervisor)" »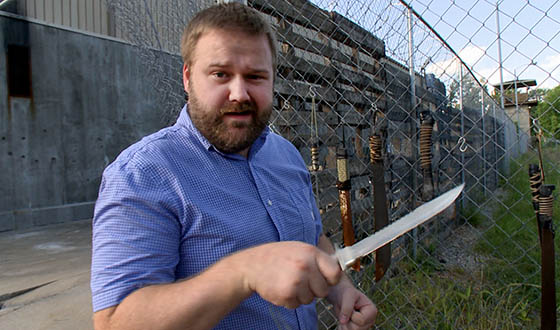 When The Walking Dead premieres this October, viewers will be able to see first-hand just what Rick, Daryl and the other survivors have been up to since the Season 3 Finale. In short: a lot. And in this new behind-the-scenes video, The Walking Dead's writer and executive producer Robert Kirkman takes you on a tour of the prison set to show off some of the changes that have taken place between seasons. Check out the video now to see all-new pig pens, gardens and a wall of knives strategically placed so that, as Kirkman explains, "if a zombie is nearby, you just grab your knife and you're ready to do some zombie killing."

The Walking Dead returns Sun., Oct. 13 at 9/8c on AMC.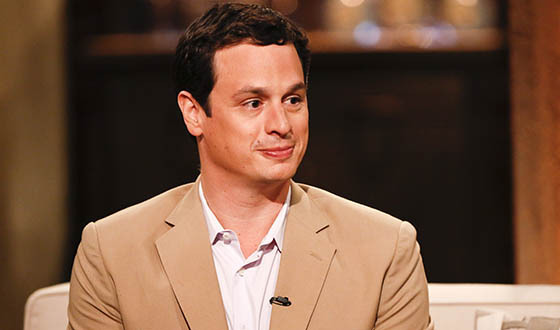 The Walking Dead's executive producer David Alpert talks about Season 4 threats and the scene from Season 2 that still gives him chills.
Q: If Season 3 was about the human threat, what would you say Season 4 will be about?

A: What we really have here in Season 4 is we dangle the carrot that civilization can be rebuilt… The notion that there's civilization and the notion that there's the possibility of there being laws and a sense of normalcy. I think we're going to see an evolution in the walkers — there's a whole bunch of new walkers — and we'll see an evolution of the threat of human-on-human. Dangling the possibility of civilization will make people much more desperate and willing to do things that would have previously been unthinkable.
Q: What's it like to go from producing 13 episodes per season to 16?
A: The show is an incredibly physical show to produce. It is super hot and super humid out here, and the crew is just like a group of Marines. They have no fear… Shooting 16 episodes outdoors in Georgia? It's a lot, and at the end of the season, everybody could use a little R&R to get back into shape. But I have to say going from six episodes to 13 to 16, I feel like we now know how to plan for it.
Q: How's the location scouting going? What can you tell us about new locations?
A: There's been some real changes in the prison itself, so seeing how it's evolved from the last episode of Season 3 to the opening of 401, the prison looks totally different… We've also been looking at woods and a couple stretches of highway to find some interesting angles to showcase some unique action sequences that I can't tell you anything about.
Q: Now that The Walking Dead is in its fourth season, has the production been attracting more attention from local Georgians?
Continue reading "Q&A – David Alpert (Executive Producer)" »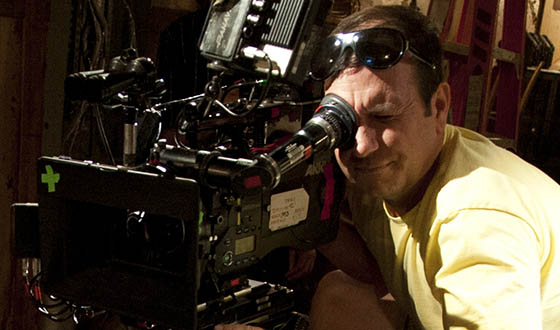 The Walking Dead's director of photography Michael Satrazemis describes Season 4′s massive walker herds and which actor would make the best cameraman.
Q: First question: are walkers photogenic? 
A: The way [Executive Producer and Special FX Makeup Designer Greg] Nicotero does the walkers, they're very photogenic. Especially the full-time walkers, because we have three levels of walkers and not all of them can be shot. But the ones that Greg has designed are highly photogenic.
Q: Can you tell us about shooting walker herd scenes? We heard there were going to be a bunch this season….
A: There's going to be a good deal this season, more than we've ever seen. It's great to shoot those. We can put on the widest lens we have and fill it with information —  people and walkers. And it's crazy to see that many walkers. The amount of work that Greg and those guys had to do this season to get it together is pretty mind-blowing. But yeah we have some massive herds, and it becomes pretty overwhelming. 
Q: What are some of your favorite types of scenes to shoot?
A: I've always been attracted to the show because of the story. So any time we isolate a couple of characters and get to tell the story that's underneath this comic book, apocalyptic show, that's fun for me.
Q: How many comic book references or callbacks do you incorporate into the show?
A: We always try to find graphic frames, like close-ups with a wider lens. There's a lot of references in the way we frame things. And as far as lighting, I'm trying to go a lot darker than the comic books. A lot of the show is set in the daytime, it doesn't mean that it has to be a bright sunny day everywhere. There are very few bright sunny days for our characters.
Q: Are there any other sources of visual inspiration that you draw from and bring to The Walking Dead?
Continue reading "Dispatches from the Set – Michael Satrazemis (Director of Photography)" »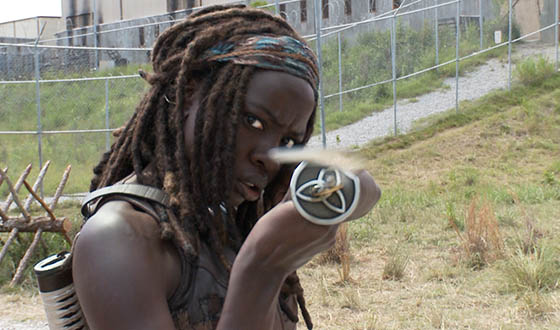 Last month fans got their first look at footage from the new season of The Walking Dead via the four-minute Comic-Con trailer. Now, go behind the scenes of Season 4 with this all-new video interview with the cast and producers, in which Executive Producer and Writer Robert Kirkman hints at a new threat besides walkers and other humans "that could be more deadly than the other two combined." Check out the video now.

The Walking Dead returns Sun., Oct. 13 at 9/8c on AMC.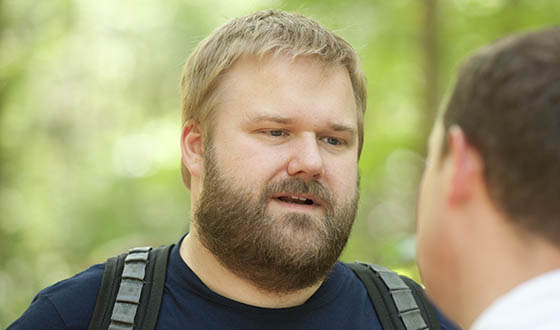 Robert Kirkman, the executive producer and writer of AMC's The Walking Dead, talks about the new season's more optimistic direction and why the character from the show that he's most like is already dead.
Q: Which episodes are you writing this season?
A: I've written Episode 3… I'm also writing Episode 9. Episode 9 will probably be the episode that's closest to a direct adaptation from the comic book aside from the premiere episode. It's been a lot of fun for me working on them because I'm basically just rewriting something I've already written, which means I get to go back in and go, "Woah, what'd you do there? Let's fix that."
Q: How has working on the show affected the way you write the comic, if at all?
A: One of my hugest efforts in this entire ordeal is to make sure that the show doesn't change how I do the comic… I want to keep the comic pure. I don't want anybody to say, "Oh, well the comic was really good and then the show came along, and then the comic got different," because I want to maintain that consistency. But I will say that working in the writers' room with all the other writers and working on the show as long as I have, I feel like I'm maybe a little bit better of a writer, I hope… I'm having a lot of very cool and interesting experiences on the show… and I feel like I'm able to put that to work in the comic that makes it better than it ever would have been otherwise.
Q: How would you compare Season 3 to Season 4? How are they going to be different?
A: I can argue that this season has a higher level of optimism than the show has had thus far, so that gives me something to look forward to. And also I'll say that when you get to Season 4 on a show, especially a show like The Walking Dead, you realize that you've been around for a while and people may start to think, "I've got this show figured out. I know how they do things on this show." And a tremendous amount of effort has been put towards keeping the audience guessing and doing newer and more interesting things and changing what The Walking Dead is, in a way that's very true to everything that people love about The Walking Dead but that brings in a lot of very cool new and unexpected elements.
Q: What was your favorite moment from Season 3?
Continue reading "Dispatches From the Set – Robert Kirkman (Executive Producer/Writer)" »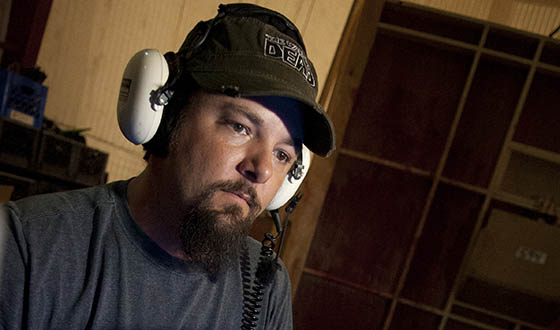 The Walking Dead's production sound mixer Michael P. Clark, CAS talks about what you can hear during the apocalypse and shares an unforeseen challenge from the set this season.
Q: What does the apocalypse sound like?
A: It's dead! [Laughs] There are no planes, no trains, no traffic. It's an interesting sound. And that's something I have to create by eliminating sounds on the day of. We also have post-production for getting rid of any sounds we can't get rid of when we shoot the show. It's nice when you hear some birds or crickets or frogs at the pond in the background. When they stand out during the dialogue tracks, it's actually pleasing. Apparently the zombie apocalypse doesn't affect animals, although I've always thought it would be cool to have birds that dive bomb everybody because they've turned into walkers.
Q: Are there any aural obstacles that you simply can't get around on set?
A: Not really. The post-production team does an amazing job. One of our biggest issues is the generators that have to run for power out on location. And working with the sound levels is always a challenge. I remember my first day on this show was the episode where Rick sees the ghost of Lori for the first time. And it went from a small whisper to complete screaming chaos. We actually mic'ed him with two different mics: one for his whispers and one for his screams. So when we deal with dynamics like that, we can't just adjust on the fly.
Q: What were some particular challenges this season?
Continue reading "Dispatches From the Set – Michael P. Clark, CAS (Production Sound Mixer)" »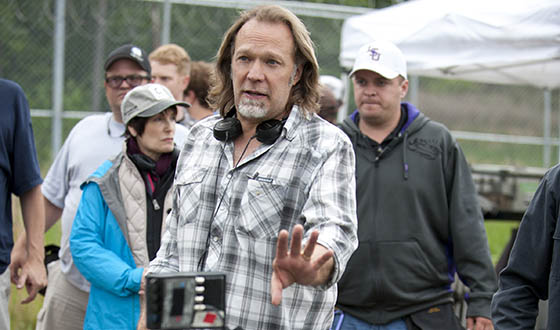 Greg Nicotero, the Executive Producer and Special FX Makeup Designer for AMC's The Walking Dead, talks about new zombie tricks for Season 4 and bowling with Norman Reedus during the off-season.
Q: You directed the Season 4 Premiere episode. What is it like to be back?
A: What's nice about the first episode is that they always supersize it and give you an extra day, because they know that the script is going to be insanely filled with great drama and great action, and we certainly didn't skimp on anything in this one.
Q: Sounds like there's a lot going on in Season 4…
A: The story arcs and the script this season are astoundingly detailed, and every single nuance is there for a reason. It's really fascinating when you step back as a director and you deconstruct a script in your head. When you're shooting this scene because, for example, Hershel says one word, then the next cut has to feature what he's saying, that intent follows through.
Q: The weather has been really rainy in the South. How has that affected shooting?
A: As a matter of fact, one of the locations that I picked for the first episode, our first day of shooting, the place was underwater. So we literally had to scramble and pick a new location… They had Porta-Potties and all this stuff set up for where the crew was going to be, and I guess they floated away. [Laughs]
Q: What are the challenges of directing the Premiere?
Continue reading "Dispatches From the Set – Greg Nicotero (Executive Producer and Special FX Makeup Designer)" »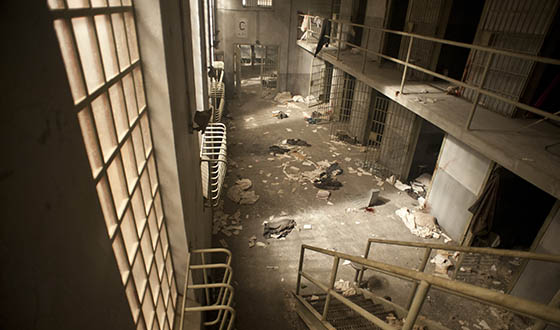 The Walking Dead's production designer Grace Walker talks about cleaning up the prison for Season 4 and the secret to making it look like the world has ended.
Q: What projects have you been working on for the new season?
A: We're trying to form better conditions for the survivors at the prison. We figured because we had a lot more people coming in — like the people coming from Woodbury — that the cellblocks were starting to overflow, so we made more room for them. We had to have better shelter, and conditions where they can now eat outside.
Q: Last season, which episodes were more difficult for you: those that took place at Woodbury or the prison?
A: I think we learned a lot with the Woodbury stuff. We only used to have, like, three hours to get it set up. We'd get in there early in the morning and put up our big barriers and the walls and get everything all ready in the main street area. We'd go like crazy and then we'd shoot for a day, and then we'd have to pull it all down again. And if we went back the next day, we'd have to do it all over again. The exteriors were kind of easy, and we were fortunate enough to have a couple buildings within the town where we'd build out a set, as well.
Q: What are some tricks you've learned on the show that have made set construction easier?
A: With the prison, the interiors have worked really well, as we go into them time and time again. We've got it down now where we can remove walls from the cells a lot faster than when we did the first episode there. The main block has 18 cells; nine below and nine above. And we can shoot in any of those cells and take out all the walls, including the rear walls on the second floor as well. We've got mobile towers that we quickly put in. We're just completing a new cellblock for this season, and it's looking almost better than the others. But like everything, we're not quite ready — there's always a moment when we're nervous and trying to get things done. But we always do, and it looks great!
Q: Are there any sets you dreamed up that never ended up getting built?
Continue reading "Dispatches From the Set – Grace Walker (Production Designer)" »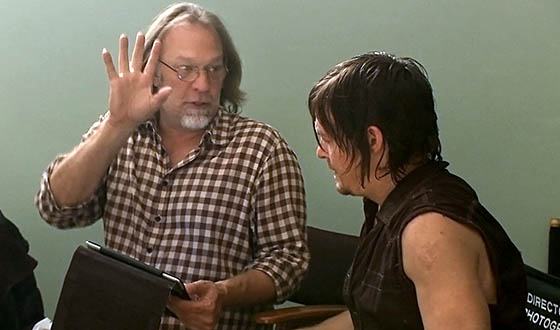 Production on Season 4 of The Walking Dead is well underway, and cast and crew are hard at work preparing to deliver fans what Executive Producer Greg Nicotero promises to be "our best season yet." In this new video interview, The Walking Dead producers Nictotero, Robert Kirkman, Gale Anne Hurd and Denise Huth describe the filming of the Season 4 Premiere and share how a trip in an elevator almost cost Nicotero the chance to direct the episode. Check out the video now and see why this Premiere is "bigger than any script we've done before."

The Walking Dead returns Fall 2013 on AMC.