Dispatches From the Set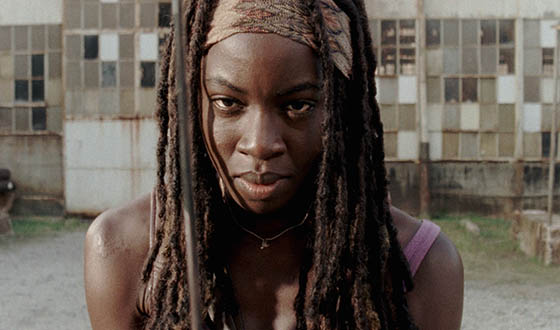 Living through a zombie apocalypse can be a surreal experience — and as Danai Gurira can attest, playing a character who's living through one is eerily similar. In this all-new video from The Walking Dead Season 5 set, Danai Gurira talks about what it's like to have her own action figure and describes her strategies for releasing aggression. (Hint: "Sounds familiar to a character I play," she laughs.) Check out the video now, then get ready for The Walking Dead's return on Sunday, October 12 at 9/8c on AMC.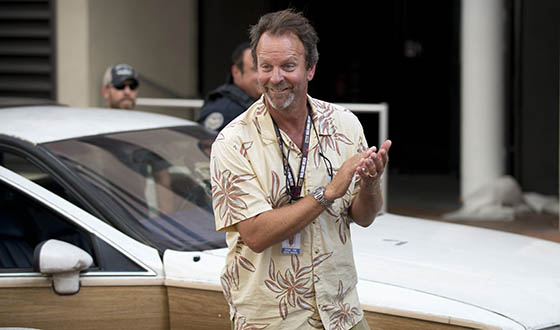 On a show as action-packed as The Walking Dead, knowing how to fall down can mean the difference between life and death. Enter Stunt Coordinator Monty Simons, who in this new video from the Season 5 set describes exactly what goes into choreographing fights and training walkers. ("When you get shot on The Walking Dead, you drop straight to the ground," he explains.) Check out the video now to see just how a walker is trained to get brained and get a glimpse at a season that, according to Simons, will be "bigger than all the other seasons put together."

The Walking Dead returns Sunday, October 12 9/8c on AMC.
Catch up on The Walking Dead Season 4 with full episodes on amc.com. (Log-in required)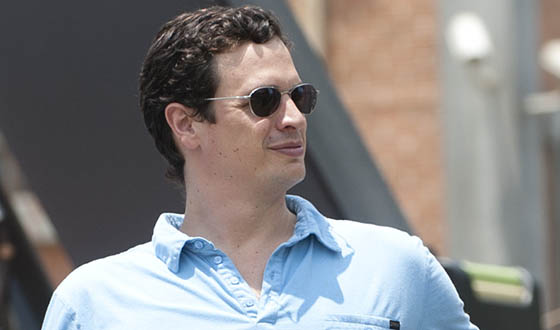 The Walking Dead's Executive Producer David Alpert shares his favorite moments from the show and the comic character he can't wait to introduce.
Q: You've known Robert Kirkman for over 12 years now. What still surprises you about the stuff he comes up with in the show and comic?
A: The thing that surprises me most is that he still has the same shirts from 12 years ago. [Laughs] In all honesty, the thing that gets me about what Robert does is really finding the humanity in these insane situations. So many creators and writers get wrapped up in the pyrotechnics and the setting. Robert always finds the character and the spark.
Q: Last year, you mentioned Season 4's theme related to the possibility of civilization. What would you say the theme for Season 5 is?
A: I think with Season 4, Scott Gimple really focused on whether you can get away from the things that you've done. Can you turn your back on your past? I think Season 5 is a response to that, in that you are what you've done, where you've been and where you're from.
Q: You're working on a new sci-fi movie, Air, starring Norman Reedus. Is this going to be Daryl Dixon in space? Continue reading "Dispatches From the Set – Executive Producer David Alpert on Season 5″ »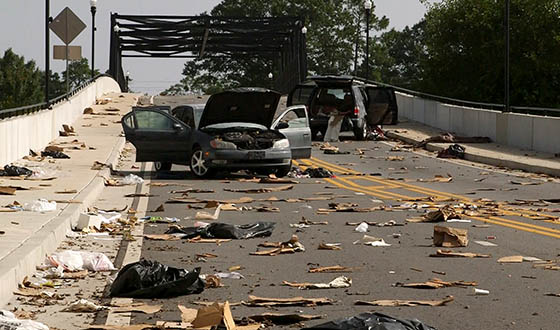 Surviving the apocalypse is a herculean task, but as the crew of The Walking Dead can attest, creating one can be just as difficult. In this new video from the Season 5 production, Location Manager Michael Reilly describes the process of transforming a pristine Georgian environment into one suitable for the end of the world. "To us, it's about controlling where we are," he says. "Everything has to be trashed and burned out." Check out the video now to see what he's talking about, and to get a glimpse at some of locations featured in the upcoming season.

The Walking Dead returns Sunday, October 12 9/8c on AMC.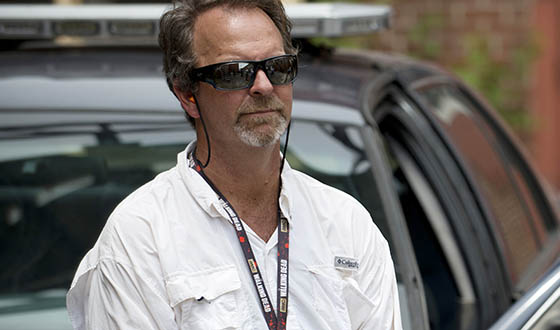 The Walking Dead Stunt Coordinator Monty Simons talks about the art of falling like a zombie and which character would make a great stunt actor.
Q: This is your first season on The Walking Dead production. How did you get into the swing of things?
A: I jumped in feet-first on the Premiere. It's probably one of the biggest stunt-heavy episodes ever filmed. I didn't have a whole lot of time to sit around and think about how to properly get into gear. We had to hit this gear immediately.
Q: How different is The Walking Dead from other series you've worked on?
A: This show is different in a lot of ways. When I first got involved with the show, I went back and watched the series from the beginning. It's so unique in that each day you sit down to watch, you're mentally involved. Your favorite character could die at any moment. It's not The Cosby Show, it's not Full House… this is the show that killed Hershel! Scott Gimple and the producers on this show are some of the bravest in Hollywood. [Laughs] It's not a zombie show — the zombies move the story forward — but it is about people living in extraordinary circumstances and learning to cope with this new society and the lack of protection. They're basically starting their lives over.
Q: What stunts from previous seasons do you find the most impressive? Continue reading "Dispatches From the Set – Stunt Coordinator Monty Simons on Season 5″ »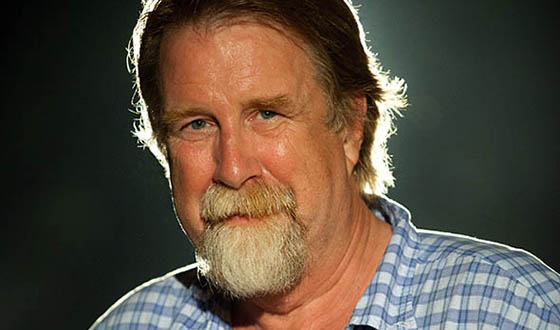 The Walking Dead's Executive Producer Tom Luse talks about what fans can expect in Season 5 and where he'd hide out during an apocalypse.
Q: How do you prepare yourself for another season of The Walking Dead? Does it get easier or harder for every new season?
A: I would say that it has become a 52-week-a-year job for us. Sometimes we prepare the new season before the previous season is over. As we're traveling, we have to prepare new locations. Zombies do not provide lawn services or leaf blowers — and the goal is to have our world look as if the world has been shut down for a couple of years — so in a way, we're making a period film. We have to keep that world fresh for our audience. In order to do that, we have to be planning ahead.
Q: What is your favorite aspect of the production?
A: Change. That's all it is. Nothing ever stays the same very long on The Walking Dead. You have to constantly adapt.
Q: You've worked on other horror productions like Jeepers Creepers I and II. Are you a big horror buff?
A: I'm a romantic comedy guy. I'm a lightweight, but the process of working on a genre film is a lot of fun. It's given me a real appreciation for horror films and an understanding the genre. Some of the classic horror films growing up like Psycho and Poltergeist really scared me. I was the kid who would hide behind the seat during scary movies.
Q: You're originally from Georgia. Has working on the The Walking Dead given you a sense of hometown pride? Continue reading "Dispatches From the Set – Executive Producer Tom Luse on Season 5″ »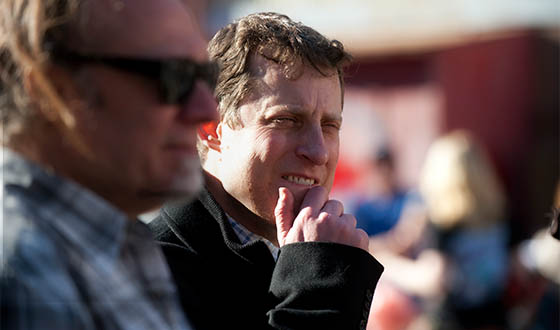 The Walking Dead's Showrunner, Executive Producer and Writer Scott M. Gimple shares his favorite moment from the Season 4 Finale and the perfect food for surviving the apocalypse.
Q: You wrote the Season 5 Premiere. What aspect about it are you most excited for fans to see?
A: We ended on a cliffhanger, and I'm just excited to deliver the answers to the questions they've been waiting all summer for!
Q: Are you approaching this season any differently than the previous ones? What have been some of the challenges?
A: Every episode, the show reinvents itself. We've always approached it like we've got a brand new paradigm in 8 episodes. The pleasure of the show is taking all of these different characters' stories and interweaving them so that they affect one another. That can be a challenge. As far as production challenges go, it's a very ambitious season in terms of scope. We've been battling all of the elements — and not just Georgia weather. It's totally self-inflicted, but everyone has been up to it.
Q: How do you decide who will survive and who won't this season?
A: It's never an easy decision, but it's always in service to the story. When characters do die, the story led to that point. Sometimes it can seem shocking and totally random, but it all has to add up. It's an aspect of the show and a reality of the world.
Q: If you could write yourself into the show, what kind of role would you play? Continue reading "Dispatches From the Set – Showrunner Scott M. Gimple on Season 5″ »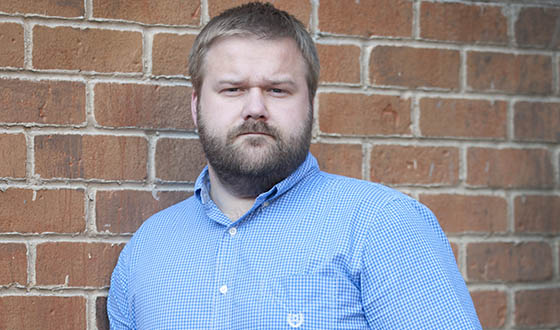 The Walking Dead Executive Producer and Writer Robert Kirkman talks about revealing Michonne's backstory and which characters from the comic he'd love to see on the show.
Q: Tell us about the first few weeks on set. What's excited you the most?
A: Well, the things that excited me the most I cannot talk about! There are a couple of big set pieces that were built from scratch and it's amazing to see Grace Walker work his magic. I will say that the worst thing about going back to set is that our prison has been dismantled. I kind of wish I had spent a little more time in it. It sucks to see that gone, but moving on, we've got cool stuff going on in this season. The secrecy has been fun. There are some really great things coming.
Q: You wrote Season 4, Episode 9, "After" where we get a peek at Michonne's past life and her family. Can you tell us more about what went into writing those scenes?
A: That had always been a story that was present in the comic book series, but had never really been established in the show — this idea that those pets she was walking around with were actually people she knew. One of the cool things about the show is how we adapt things and improve on them. I think coming up with this emotional story about her lover and her lover's best friend who had actually caused, in a roundabout way, the death of her child was a pretty big add-on that has enriched Michonne's character immensely. It's really cool to be able to play with these characters in two different worlds. That was a big episode for Michonne and it was a lot of fun to write.
Q: Episode 9 was probably the single most faithful adaptation of one issue of your comic than any other episode so far. Will we see anything like that level of faithfulness in Season 5? Continue reading "Dispatches From the Set – Executive Producer and Writer Robert Kirkman on Season 5″ »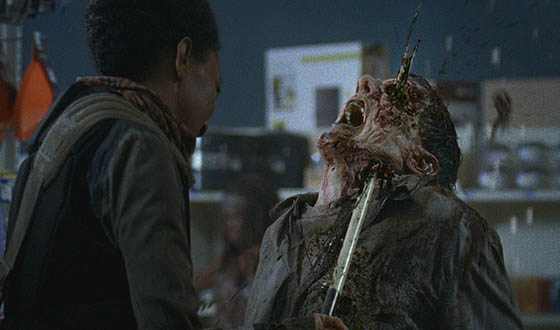 Over the past four seasons, The Walking Dead cast and crew have seen their fair share of action: deadly weapons, zombie splatters, massive explosions, it's all in a day's work when you're bringing the apocalypse to life. In this new video from The Walking Dead Season 5 set, the cast and crew recount their favorite action moments from the last four seasons. Watch the video now to see which of Glenn's myriad walker kills rates highest for Steven Yeun, which walker Lauren Cohan (Maggie) prefers, and which explosion Sonequa Marin-Green will never forget.

Don't miss the The Walking Dead "Dead, White and Blue" full series marathon beginning Friday, July 4 at 9AM/8c on AMC.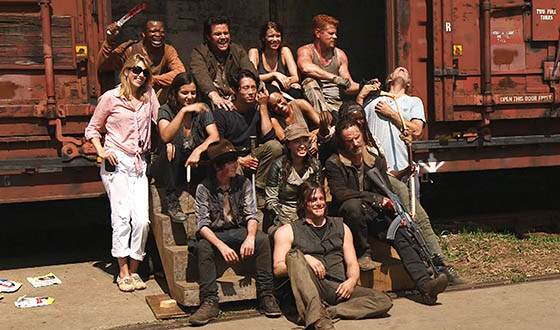 The Walking Dead cast and crew have been busily filming Season 5 since the spring. Now that it's officially summer, it's time to take your first look at what they've been up to. In this all-new, behind-the-scenes video from the set, The Walking Dead producers Scott M. Gimple, Gale Anne Hurd and Denise Huth join stars Andrew Lincoln, Norman Reedus, Steven Yeun, Lauren Cohan and others to give fans a taste of what lies ahead in Season 5. Watch the video now to find out why Andrew Lincoln calls the Season 5 Premiere "the most ambitious first episode I think we've attempted… and if this is anything to go by for the season, I think it's going to be the best season yet."

Don't miss the The Walking Dead "Dead, White and Blue" full series marathon beginning Friday, July 4 at 9AM/8c on AMC.