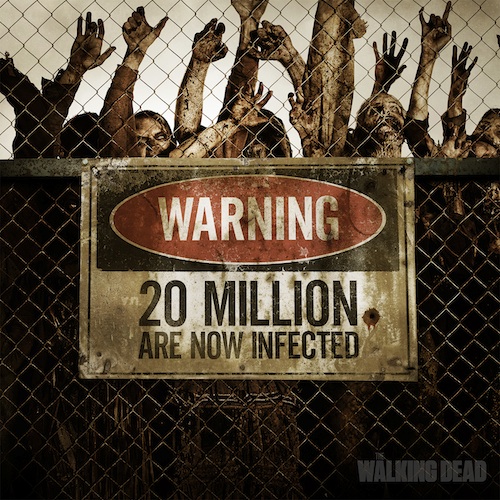 AMC's The Walking Dead has surpassed 20 million Facebook fans following the highly anticipated Season 4 Premiere. To celebrate the milestone, AMC is thanking fans with an exclusive graphic that warns: "20 Million Are Now Infected."
Additionally, AMC released the social initiative #BiteMe, an upgrade to The Walking Dead's "Dead Yourself" app that allows fans to "bite" and "infect" their Facebook friends, turning them into photo-realistic walkers. Fans simply need take or import a photo of their friend, edit the photo using the incredibly realistic zombie eyes, mouths, parts and props from the actual show (including new parts from Season 4) and then share the new portrait on social media and within the app's Walker photo gallery. The app also includes a leaderboard for America's Top Biters and a Heat Map that populates new infections and bites by location.
Don't miss an all-new episode of The Walking Dead this Sunday at 9/8c on AMC.