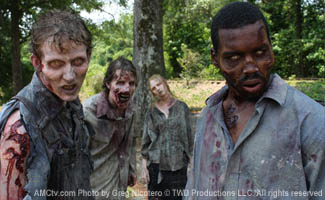 This week, top publications such as The Hollywood Reporter, Entertainment Weekly, the Los Angeles Times, Salon and more call The Walking Dead one of the year's best TV shows. Plus, Lost's co-creator Damon Lindelof talks with Collider.com about The Walking Dead's success. Read on for more:
• The Walking Dead is one of The Hollywood Reporter's top shows of the year: "Season three firmly elevated this series to the upper tier of television. Massively popular and acclaimed, it is hitting its creative stride. A series you should not miss." The Hollywood Reporter also names "cable breakouts" like The Walking Dead as one of this year's TV winners.
• Entertainment Weekly names The Walking Dead one of 2012′s top 20 TV shows, remarking that the drama's reason for existence — the question "what does it mean to be human?" — is "intact, throbbing with life."
• The Los Angeles Times includes The Walking Dead in its "Year of Awesome," as the drama "shattered ratings" in the first half of Season 3.
• Salon's Blue Glow Awards ranks The Walking Dead at No. 7 (tied with HBO's Game of Thrones).
Continue reading "The Hollywood Reporter, EW, L.A. Times and Salon Say The Walking Dead Among Year's Best" »