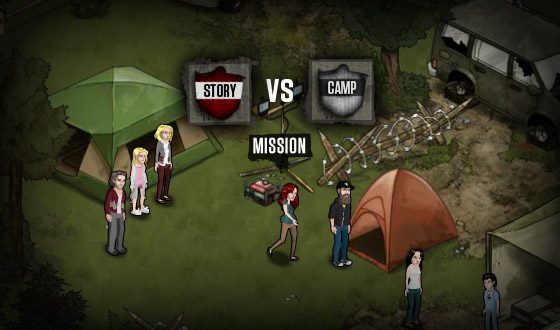 When considering your next mission in The Walking Dead Social Game, it's worth knowing the difference between camp missions and story missions. A camp mission costs less energy and requires no supplies. In fact, gathering fuel, ammo, and equipment is the point! Your success in these types of missions better prepares you for any story missions ahead. Story missions, for their part, further the narrative within the game and let you get to the next level. While you'll need to use supplies and expend more energy to get ahead, you'll also be building your skills at hunting walkers (like in the mission to track down Trucker's backpack) or escaping tricky situations (like the mission in which you help Felipe find parts for his car). As to the TV missions, these show-based challenges see if the skills that you've built up from Camp and Story Missions put you at the same level as characters from the series.

Posted by AMC.com
November 13, 2012 9:22 AM
Features
Scott Wilson, who plays Hershel Greene on AMC's The Walking Dead, talks about how the show has eclipsed his other iconic roles and his recommended reading list for the apocalypse.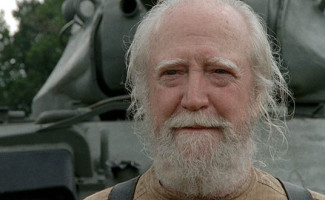 What will the group miss most now that Hershel is gone? Vote now then tune in to the Talking Dead Mid-Season Finale Sunday at 10/9c to see the results.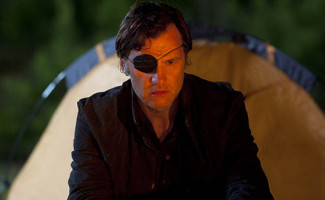 David Morrissey, who plays the Governor on AMC's The Walking Dead, talks about some presidential inspiration for his character and psychoanalyzes what's really going on in the Governor's head.
Recent Activity on AMC for
The Walking Dead
The Walking Dead Categories
online staff
Mac McKean, SVP, DIGITAL MEDIA

Drew Pisarra, VP, DIGITAL MEDIA

Monica Bhatia, DIRECTOR OF TELEVISION EVERYWHERE

Nick Bridger, DIRECTOR OF ENTERTAINMENT APPLICATIONS

Lee Dayton, SENIOR PRODUCER

Tim Dirks, SENIOR EDITOR & FILM HISTORIAN

John Frankfurt, DIRECTOR OF ONLINE DEVELOPMENT

Erica Kelly, COORDINATOR OF DIGITAL MEDIA

Khalilah Martin, MANAGER OF DIGITAL PRODUCTION

Steve Marzolf, DIRECTOR OF DIGITAL VIDEO

Clayton Neuman, DIRECTOR OF DIGITAL CONTENT

Evan Scott, MANAGER OF DIGITAL VIDEO

Ashley Shaw, MANAGER OF DIGITAL MEDIA

Yoshitaka Ito, DEVELOPER
blogs
Editors
Cory Abbey
,
Elizabeth Cline
,
T Sahara Meer
Contributors
Shavonne Bell
,
Christine Fall
,
Lee Helland
,
Mina Hochberg
,
Carolyn Koo
,
Faran Krentcil
,
Daniel Mangin
,
Eli Rosenberg
,
Robert Silva
,
Alex Zalben
More on AMC
RSS Feeds
Visit More AMC Blogs