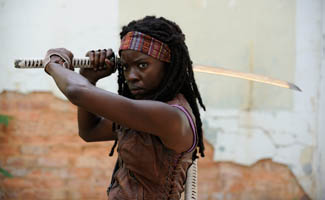 This week, Entertainment Weekly expands on its coverage of The Walking Dead, speaking to Danai Gurira, David Morrissey, Norman Reedus, Michael Rooker, and Andrew Lincoln. Plus Reedus and Jon Bernthal crack jokes on a Fan Expo Canada panel. Read on for more.
• Entertainment Weekly speaks with Danai Gurira, who describes Michonne: "She's the quintessential survivor."
• Entertainment Weekly talks to David Morrissey, who shares his thoughts on the difference between the TV and comic-book versions of the Governor: "I think he has more complexity."
• Comic Book Resources and The Huffington Post report on Jon Bernthal and Norman Reedus talking about The Walking Dead at last week's Fan Expo Canada. For the record, Bernthal doesn't like zombies: "They don't scare me, they just make me mad." Just Jared has a video of the panel.
• Norman Reedus and Michael Rooker sit down with Entertainment Weekly to discuss the Dixon brothers' reunion.
Continue reading "EW Speaks With Michonne and the Governor; Jon Bernthal, Norman Reedus Joke Around" »