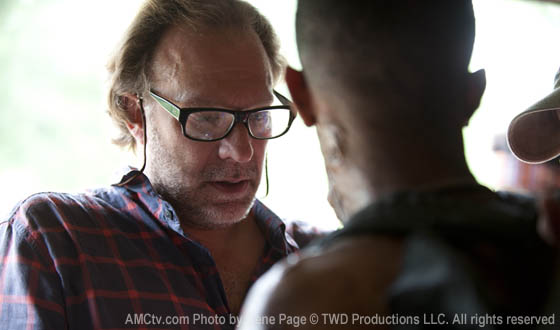 The Walking Dead's makeup master Greg Nicotero describes zombie torso decomposition, his own plans to play an undead terror this year and what Season 3 has in common with Jaws.
Q: From Day 1, everyone has been excited to get to the prison. Now that you're there, does it live up to its expectations?
A: The prison is certainly the beacon for things to come. When you reach that milestone, we know we've turned a corner and now we know that different and bigger things are coming. It's like watching Jaws and seeing the little yellow barrel and saying, "OK, that's the yellow barrel, so I know the shark is somewhere around here." It's just a question of when he's going to surface.
Q: You're now directing your second The Walking Dead episode after last season's "Judge, Jury, Executioner." What can you tell us about it?
A: I tend to get these really good dramatic bits in my episodes… I got the script and I read it and it's huge. Every single character in the show has something to do, something to say and there are great dramatic moments. I also had several key moments from the graphic novel that fans will recognize that I had to establish and set up in Episode 5 that will play out through the rest of the season. And then there's a lot more zombie action in my episode. Actually there's a lot more zombie action in every episode this season.
Q: Tell us about the zombie decomposition that's happening in Season 3. How are you changing the ways the zombies are portrayed from season to season?
Continue reading "Dispatches From the Set – Special FX Makeup Artist and Co-Executive Producer Greg Nicotero" »