Returns February 8 Sundays 9/8c

July 24-27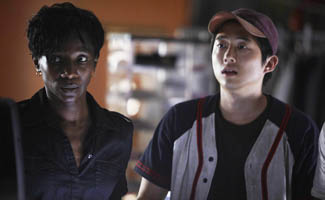 The Walking Dead will get the action figure treatment later this year. Meanwhile, Deadline reports the drama is hiring a staff of five writers led by Season 1 scribe Glen Mazzara.
• MTV has news that The Walking Dead is getting an action figure treatment, including Rick, Daryl and zombies, to be released in September and November: "Damn, September just can't come fast enough!"
• Deadline reports that Season 1 writer Glen Mazzara is joining The Walking Dead as Frank Darabont's No. 2 Executive Producer and will put together a staff of five writers.
• Jeryl Prescott (Jacqui) tells TV Guide to watch The Walking Dead Episode 6 "over and over and over again" to discover if her character makes it out alive from the CDC.
• The Walking Dead will appear at PaleyFest next month — and TV Guide writes, "It's good to be dead." (No Link)
• Women watch horror and The Walking Dead is no exception, with the drama's "strong character development and dramatic storyline" drawing female viewership of more than 40 percent of the show's total audience, according to Multichannel News. (No Link)