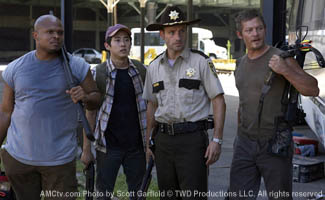 Even with The Walking Dead marathon encore presentations coming up on Tue., Jan. 18 and Wed., Jan. 19, the show's fans are still buzzing this week about what they'd like to see happen in Season 2 — from revisiting certain characters to following the narrative of the comic book.
• "Shane should get either shot in the arm or bitten, not severely. Bitten on the arm or leg." — bellastylemusings
• "'Vatos' was my second favorite episode. What happens when the elderly die from natural causes? I was really invested in the characters and hope the show revisits them at some point…" — Quirkydi
• "I've been thinking a lot lately about the relationship between Andrea and Dale. There's no certainty that the show will follow what happens in the [graphic novel] but I have the feeling that it will, and I hope it does too." — Rob
Log onto the Talk forum to join in this conversation or start a topic of your own.
Posted by Carolyn Koo
January 6, 2011 9:00 PM
Features
Check back after each new episode to see which new areas have been added.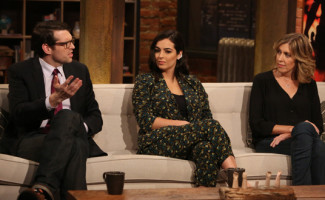 Watch these exclusive video highlights from the latest Talking Dead episode, featuring Chris Hardwick and his guests, Alanna Masterson (Tara), Executive Producer Denise Huth and actor Timothy Simons (Veep).
The newest actor from The Walking Dead actor talks about keeping his role on the show a secret and whether the group should trust Aaron.
Recent Activity on AMC for
The Walking Dead
The Walking Dead Categories
online staff
Mac McKean, SVP, DIGITAL MEDIA

Hannah Bae, COORDINATOR OF TELEVISION EVERYWHERE

Monica Bhatia, DIRECTOR OF TELEVISION EVERYWHERE

Lee Dayton, SENIOR PRODUCER

Tim Dirks, SENIOR EDITOR & FILM HISTORIAN

Kevin Dreyfuss, VP, DIGITAL CONTENT

John Frankfurt, DIRECTOR OF ONLINE DEVELOPMENT

Mark Heggen, DIRECTOR OF ENTERTAINMENT APPS

Khalilah Martin, MANAGER OF DIGITAL PRODUCTION

Steve Marzolf, DIRECTOR OF DIGITAL VIDEO

Clayton Neuman, DIRECTOR OF DIGITAL CONTENT

Annmarie Nye, DIRECTOR OF DIGITAL MEDIA

Evan Scott, MANAGER OF DIGITAL VIDEO
Contributors
Shavonne Bell
,
Christine Fall
,
Lee Helland
,
Mina Hochberg
,
Carolyn Koo
,
Faran Krentcil
,
Daniel Mangin
,
Eli Rosenberg
,
Robert Silva
,
Alex Zalben
More on AMC
RSS Feeds
Visit More AMC Blogs