Returns October 12

July 24-27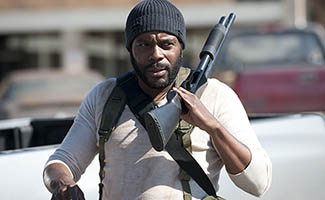 This week, The Walking Dead cast and crew takes over Comic-Con, while Scott Gimple talks to TV Guide about what to expect in the new season. Plus, Chad L. Coleman discusses Lizzie's death with TheWrap. Read on for more:
• USA Today has an account of The Walking Dead's Comic-Con panel, as well as the Season 5 trailer shown there, and reports that Scott Gimple says of the show, "Everyone alive has done unspeakable things…Who do they become?" ABC News, Digital Spy (which shares the news of Seth Gilliam joining the show to play Father Gabriel) and HitFix live-blog the event, while The Hollywood Reporter was also there. Flickering Myth has a video of the entire panel.
• Scott Gimple tells TV Guide that, going forward, the survivors are "going to be facing some pretty heavy stuff that is going to define who they are as people moving forward." [No Link] Wetpaint has more details from the interview.
• Chad L. Coleman, chatting with TheWrap, discusses how Lizzie's death "beautifully captured how this crazy world twisted this little girl into something that, probably, is the most dangerous person in that world."
Continue reading "Walking Dead Thrills Comic-Con Fans; Scott Gimple Teases Season 5 With TV Guide" »