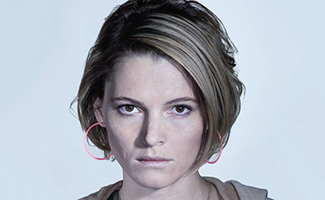 Actor and director Amy Seimetz, who plays Danette Leeds on AMC's The Killing, talks about her love for difficult women, being a defiant teenager, and what she learned about directing while on set.
Q: You've talked about picking parts for the ways they depict women. How does your decision to be on The Killing fit with that desire?
A: I love difficult women! It's interesting to me to play somebody who's stereotypically not what you would expect a mom to be. If there's a deadbeat dad, it's much more accepted than a deadbeat mom who doesn't have the instincts to be completely selfless. I find that it's really interesting to find a character who's not innately maternal. In a lot of stuff around Hollywood, women are completely maternal or there for support, and there's not much room to go deeper and understand where all this stuff is coming from.
Q: How deeply did you inhabit Danette's mind? Did you ever stay in character off set?
A: It's funny, because a lot of times, acting is really fun and really easy. With acting, sometimes you show up, you do your job, and you leave. You don't even have to pack up equipment. But with someone like Danette, you're digging up some dark stuff and it's hard to shake it when you go home. I'm not an actor that can just turn on the anger and then suddenly be like, "OK, I'm going to go to craft services now." There were some times where I would get really emotional in scenes, and then I would be talking to someone and it would be really hard for me to not talk in an angry way. Somebody would be like, "Do you want some coffee?" and I'd be like, "I don't know!" So there was a lot of me learning to find a corner and brood in it.
Q: What did you do to get yourself worked up for those emotional scenes? What choices did you make about the physicality in them?