Interviews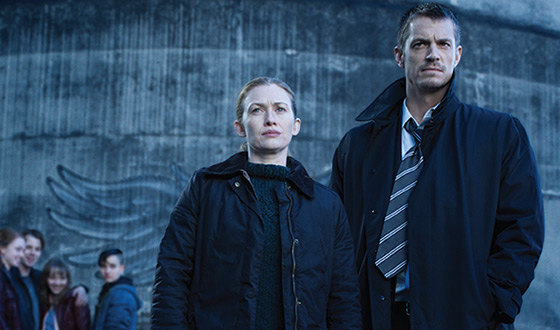 A great way to go deeper into The Killing's third season is to check out AMC's online interviews with the cast. Below is a sampling of what the actors had to say about their characters. Click on their names to read the full interview.
"She's willing to put the importance of the case above herself." – Mireille Enos (Sarah Linden)
"If you've ever felt jealousy, envy, anger, hate, sadness, and self-loathing, maybe you could play Ray Seward." – Peter Sarsgaard (Ray Seward)
"With someone like Danette, you're digging up some dark stuff." – Amy Seimetz (Danette Leeds)
"Bullet knows who she is and can accept herself for it, even if others can't or won't." – Bex Taylor-Klaus (Bullet)
Continue reading "The Killing Season 3 Interviews With the Cast" »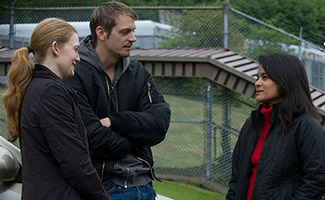 In Part II of her interview with fans, The Killing Executive Producer Veena Sud talks about the biggest complement the show has ever received and whether Linden and Holder will ever kiss.
Q: Did aspects of the storyline for this season change based on the actors' performances or input? – Alina
A: It's inevitable that when you write a show, you write for the actor's voice as they inhabit the character. All of us had worked with Joel and Mireille for two seasons, so we definitely have a feeling into how they speak and how they inhabit their characters. We really wanted to build on them as individuals and them as a team. We start out with characters like Bullet or Seward, and when the actors show up, they bring so much of his or her own spirit and cadence to a role. And that character evolves over time, and we write towards that.
Q: How do you go about picking the music and sounds of the show in order to build the dark ambiance it has? — Star
A: We have an incredible composer, Frans Bak. He's Danish and he has this beautiful, haunting and unique sound. He was the composer for the original Danish series, and hands down without a doubt I always knew that I wanted him to do ours. His sound is so incredibly unique. Sound design is very important to me, and we don't just rely on songs. We'll purposely seek out sounds like foghorns or seagulls, or the noises from creatures that live in the rafters of abandoned buildings. My editors and my post–production team are very aware of how important that sound is. And we have an amazing post-production team.
Q: Are Linden and Holder ever going to kiss for real? — Nina D.
Continue reading "The Killing Executive Producer Veena Sud Answers Fan Questions (Part II)" »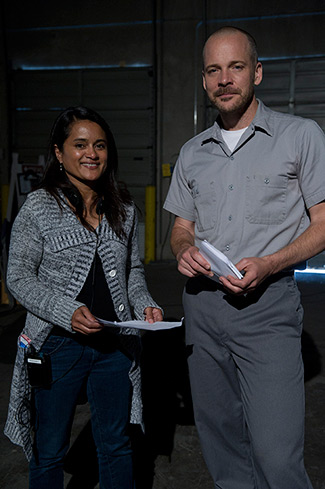 In Part I of her interview with fans, The Killing Executive Producer Veena Sud discusses the inspirations for Season 3′s storylines and the experts who were consulted for the series.
Q: How did you come up with the storyline for Season 3? — Melissa H.
A: From the beginning of this show, I knew I wanted to tell a story related to a past case for Sarah Linden. That's why in the Pilot we planted the drawing that Adrian drew of the trees and the lake. I wanted to tell the story about a past case of Sarah Linden, and I wanted to talk about a killer like the Green River killer, who killed upwards of 50-plus women who were prostitutes in the Seattle-Tacoma area. I've also been a lifelong fan of the photographer Mary Ellen Mark's work, especially her photos of street kids in Seattle, and that is where the inspiration for the street kid story came from.
Q: What takeaways from the first two seasons did you have in mind when you were creating this insanely awesome third season? — Charles S.
A: Clearly the dynamic and the friendship between Linden and Holder was a such a key element of the show. It's such a beautiful relationship with so many twists and turns. We knew that coming into Season 3, it would be really interesting to have separated these partners for over a year. They haven't seen each other, they haven't spoken to each other. In fact they had kind of switched positions; Holder had moved up the food chain and Sarah was living a life of escape. And since Holder has a new partner at the beginning of the season, the question for us was how to get them back together. We loved the idea of Holder's partner being really competitive with Sarah and both of them at war over Holder's soul.
Q: How do you approach writing such a deep, multilevel mystery? Do you write the outline of the story first and then work in the details and clues? – Star Unknown
Continue reading "The Killing Executive Producer Veena Sud Answers Fan Questions (Part I)" »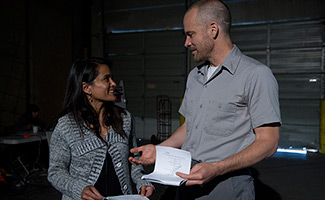 Got any questions about Season 3 of The Killing? Here's your opportunity to get the inside scoop on the show straight from Executive Producer Veena Sud. Post your most burning queries in the comments section below by Mon., Aug. 5 at 5pm/4c. Then check out Veena's fan Q&A, which will be posted exclusively on AMC.com later in the week, to find out if she answered yours.
The 2-hour Season 3 finale of The Killing airs this Sun., Aug. 4 at 9/8c on AMC.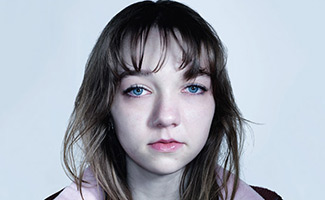 Julia Sarah Stone, who plays Lyric on AMC's The Killing, talks about her playlist on set and shares some things she learned from her character.
Q: At 15 years old, you're one of the youngest actors on set. Has anyone helped mentor you at all?
A: Definitely. I find everyone is really nice. No one really treats me any differently, just because I'm younger. It's a really friendly environment. The whole cast and crew were so generous and really helpful. I didn't get to work a lot with Joel or Mireille, but I did hang out a lot with Bex [Taylor-Klaus] and Max [Fowler] and Ben [Charles Watson], who plays Rayna. We'd just hang out at my place and make cookies and watch movies.
Q: You're obviously familiar with the mind of a teenager in 2013. Did you give the writers or directors any input on your character?
A: Not really. I found that Lyric was really well written and believable. Even in her circumstances, where she's on the streets and she has to face a lot of things that teenagers have to come across, she has the same feelings and emotions that other kids have.
Q: Have you ever known anyone like Lyric or the street kids she hangs out with?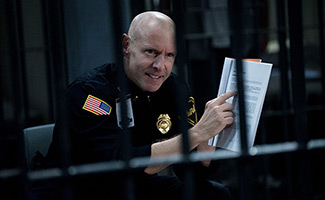 Hugh Dillon, who plays Francis Becker on AMC's The Killing, talks about playing such a dark role and compares acting to rock and roll.
Q: Becker is as tough as the guys he's in charge of locking up. What do you think made you apt for such a role?
A: I think Veena looked at my reel, so she's seen the types of characters I've played. From a punk rocker — Quentin Tarantino picked up a movie I did years ago called Hard Core Logo, for example — there are some pieces on my reel, of me beating the crap of out some people, of me shooting guns, just whatever. So I think that gave her some sense of what she was looking for.
Q: What were your favorite parts of playing Becker? What were the hazards of the role?
A: There were two sides of it: There were some very explosive moments, which I really loved, and there were some really vulnerable moments. It was that combination. As you watch the show, you see how damaged and tortured this guy is. It was tough to stay in the darkness for so long. When we wrapped, I was ready to go home. No matter what you say, on some level you're carrying that darkness. After months of it, it does weigh on you.
Q: What kind of extracurricular preparation did you do to prepare?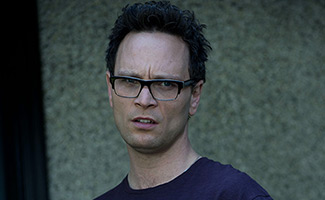 Ben Cotton, who plays Pastor Mike on AMC's The Killing, discusses holding a knife to the throat of Mireille Enos and the secret he hid for the first three episodes.
Q: How did you prepare for  Pastor Mike?
A: I did a lot. I didn't know what would be coming up in terms of the details, so I was reading the Bible. And there were some people who I looked at and was like, "I'll sort of be like that" — but I don't know if I'm allowed to say who. I wasn't terribly familiar with the world of runaway teens, but I went to YouTube and typed in "heroin" and "documentaries" and watched enough hours that I started to have a response to it. I felt I had to manufacture the story with the girl in Tempe in my mind.
Q: Have you ever known anyone like Pastor Mike?
A: Yes, I have. Not in a direct way, but there were people when I was young and in my teens who were trying to help kids, and they did help. There are people who without whom I don't know where I'd be today. And I think that's what Pastor Mike is ultimately trying to do. He's trying to save lives and be compassionate, in a system that doesn't really allow it. I have a friend who's a schoolteacher who was telling me how you're not allowed to hug the students anymore, and I think that's just unbelievable. I understand it, I get it, but I had teachers when I was growing up who were so kind and supportive. It was wonderful.
Q: Tell me a little bit about the car scene with Mireille Enos.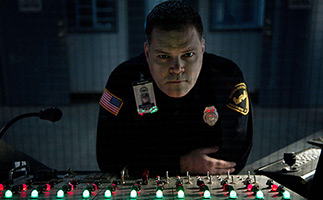 Actor Aaron Douglas, who plays prison guard Evan Henderson on AMC's The Killing, discusses his character's backstory and how his background in sports translates to acting.
Q: Did you do any research into the world of prisons in preparation for your role?
A: I watched a documentary about life on death row. One of my best friends from high school is a prison guard and my wife is a probation officer, so I had hands-on accounts from people that are very close to me. My buddy tells me a lot of interesting stories about what goes on in prison — it just makes my head spin about what they deal with on a day-to-day basis.
Q: You've previously played a sheriff, an FBI agent, and a police union leader. What makes you so well-suited for law enforcement roles?
A: I'm a chubby middle-aged white guy with short hair. I think that's it really. I kind of have a look. Right now, I'm not fat enough to be the fat friend, but I'm not thin enough to be the leading man, so I look like a cop. I was going to get fit and try and expand my universe, but then when I got the part as a sheriff on Hemlock Grove, they said, "No, no. You are where we want you to be." And I said to myself, "Now I have to go to the bar instead — damn it!"
Q: You also played Chief Galen Tyrol on Battlestar Galactica. Is being a chief on a Battlestar at all similar to being a corrections officer on death row?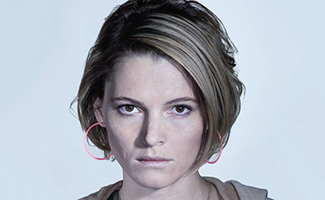 Actor and director Amy Seimetz, who plays Danette Leeds on AMC's The Killing, talks about her love for difficult women, being a defiant teenager, and what she learned about directing while on set.
Q: You've talked about picking parts for the ways they depict women. How does your decision to be on The Killing fit with that desire?
A: I love difficult women! It's interesting to me to play somebody who's stereotypically not what you would expect a mom to be. If there's a deadbeat dad, it's much more accepted than a deadbeat mom who doesn't have the instincts to be completely selfless. I find that it's really interesting to find a character who's not innately maternal. In a lot of stuff around Hollywood, women are completely maternal or there for support, and there's not much room to go deeper and understand where all this stuff is coming from.
Q: How deeply did you inhabit Danette's mind? Did you ever stay in character off set?
A: It's funny, because a lot of times, acting is really fun and really easy. With acting, sometimes you show up, you do your job, and you leave. You don't even have to pack up equipment. But with someone like Danette, you're digging up some dark stuff and it's hard to shake it when you go home. I'm not an actor that can just turn on the anger and then suddenly be like, "OK, I'm going to go to craft services now." There were some times where I would get really emotional in scenes, and then I would be talking to someone and it would be really hard for me to not talk in an angry way. Somebody would be like, "Do you want some coffee?" and I'd be like, "I don't know!" So there was a lot of me learning to find a corner and brood in it.
Q: What did you do to get yourself worked up for those emotional scenes? What choices did you make about the physicality in them?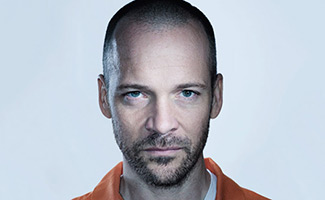 Peter Sarsgaard, who plays Ray Seward on AMC's The Killing, talks about getting into the mind of his character and what drew him to the series.
Q: The question of whether Ray Seward is innocent lingers over the show. Did you wonder about that yourself?
A: That doesn't really matter, because he's a person that is filled with a lot of self-loathing. I knew from [Executive Producer] Veena [Sud] whether he was literally guilty or innocent of the crime for which he was in jail, and that this is a guy that in some ways does not believe he deserves to live.
Q: Ray Seward is soft-spoken but tormented, angry but calm. What is the secret to playing a character who's strongest emotions are largely internal?
A: People think that you have to actually imagine yourself killing someone or pulling someone's eyeball out to play some of these characters. Well, you can have wanted to pull someone's eyeball out. I've only been in one fight in my life, and the guy was much larger than me — I was furious at him because he had made fun of an epileptic friend of mine who was having a seizure. The amount of hate that I felt for him is like the amount that you need to play Ray Seward. If you've ever felt jealousy, envy, anger, hate, sadness, and self-loathing, maybe you could play Ray Seward.
Q: Did you and Veena have any back-and-forth discussions about the specific vision you each had for the character?