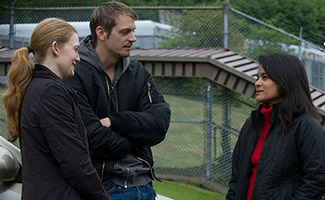 In Part II of her interview with fans, The Killing Executive Producer Veena Sud talks about the biggest complement the show has ever received and whether Linden and Holder will ever kiss.
Q: Did aspects of the storyline for this season change based on the actors' performances or input? – Alina
A: It's inevitable that when you write a show, you write for the actor's voice as they inhabit the character. All of us had worked with Joel and Mireille for two seasons, so we definitely have a feeling into how they speak and how they inhabit their characters. We really wanted to build on them as individuals and them as a team. We start out with characters like Bullet or Seward, and when the actors show up, they bring so much of his or her own spirit and cadence to a role. And that character evolves over time, and we write towards that.
Q: How do you go about picking the music and sounds of the show in order to build the dark ambiance it has? — Star
A: We have an incredible composer, Frans Bak. He's Danish and he has this beautiful, haunting and unique sound. He was the composer for the original Danish series, and hands down without a doubt I always knew that I wanted him to do ours. His sound is so incredibly unique. Sound design is very important to me, and we don't just rely on songs. We'll purposely seek out sounds like foghorns or seagulls, or the noises from creatures that live in the rafters of abandoned buildings. My editors and my post–production team are very aware of how important that sound is. And we have an amazing post-production team.
Q: Are Linden and Holder ever going to kiss for real? — Nina D.
Continue reading "The Killing Executive Producer Veena Sud Answers Fan Questions (Part II)" »