Press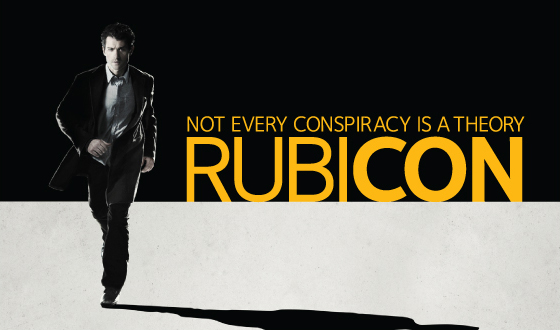 Rubicon has nabbed a 2011 Emmy nomination for Outstanding Main Title Design. The nomination is one of 29 total picked up by AMC this year, with Mad Men receiving 19 nods, The Killing receiving six, and The Walking Dead receiving three.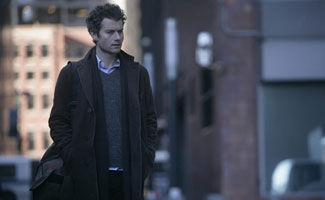 It's the time of year for top 10 lists, and Rubicon earned spots on many of those lists. The media also praised James Badge Dale for offering one of the year's best television performances. Read on to see the many reasons Rubicon is being hailed.
• Time magazine commends Rubicon for its "moody aesthetics and love of old-fashioned analysis," and The Houston Chronicle ranks Rubicon the third-best TV show of 2010, calling it one of the "tensest and smartest television dramas this year (if not the smartest)."
• On its top 10 list, The New York Times gives Rubicon an honorable mention for being "gratifyingly intelligent and not quite like anything else on TV."
• Time magazine praises James Badge Dale for offering up one of the year's best performances, "pulling off the difficult job of creating an action hero, most of whose action takes place between his ears." TV Guide singles out Dale as well, calling him one of the top breakout stars of 2010.
• Also including Rubicon on their best of the year lists are the Los Angeles Times, The Washington Times, Pittsburgh Post-Gazette, HitFix, TV.com and the Vancouver Voice.
• In a roundup of AMC's shows this year, TV Squad suggests Rubicon "continue in graphic-novel form," with spinoffs for Truxton Spangler and Kale Ingram. Meanwhile, Crave Online includes Rubicon on its list of shows that deserve another chance.
• Both TV Squad and TV Overmind declared Truxton Spangler and Kale Ingram to be two of the greatest television characters in 2010, with TV Squad declaring that "Michael Cristofer made Spangler the most interesting character of the year."
• Poptimal reflects on the loss of Rubicon, calling it one of the best canceled shows of 2010. "That one hurt the most," the website bemoans.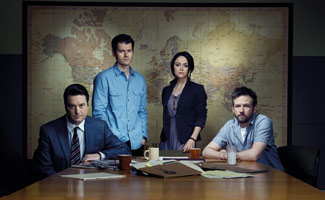 AMC will not be renewing original series, Rubicon, for a second season. Rubicon premiered on AMC on August 1, 2010 and was produced by Warner Horizon Television.
Following is a statement on behalf of the network:
"Rubicon gave us an opportunity to tell a rich and compelling story, and we're proud of the series. This was not an easy decision, but we are grateful to have had the opportunity to work with such a phenomenally talented and dedicated team."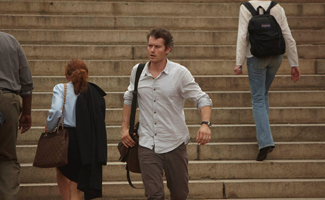 This week, Henry Bromell shares his ideas for Season 2 and The New Republic calls the show "a definitive spy story." On a lighter note, a fan treks around New York City in search of Kale's apartment and other Rubicon locations.
- Executive producer Henry Bromell opens up to TV Guide about what Season 2 holds in store if the show gets renewed. "Will's going to go through a whole series of reactions," he says. "He can't even work at API if Truxton is doing these things and he thinks no one's going to stop him."
- The New Republic hails Rubicon as "a definitive spy story" for the current era, praising the series for showing "how the official intelligence community is actually made up of flawed, limited human beings, who always remain two steps behind the enemies they are trying to fight."
- An avid Rubicon fan takes it upon himself to hunt down the real-world locations where Rubicon scenes were shot.
Continue reading "Rubicon Hailed as "Definitive Spy Story"; Henry Bromell Talks to TV Guide" »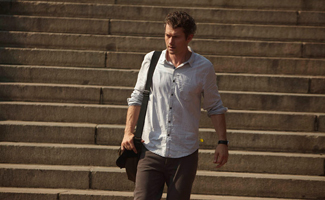 This week, praise abounded for the Rubicon season finale and the entire first season. Plus, interviews with Michael Cristofer ("Truxton Spangler") and Executive Producer Henry Bromell.
- TV Guide, the New York Daily News, TV OverMind, The Medium Is Not Enough and The Buffalo News are all singing the praises of Rubicon. Technorati calls it the "best show on television that you're not watching,", while Entertainment Weekly describes it as a "crackerjack thriller."
- A.V. Club and NPR interviewed executive producer Henry Bromell, who reveals some interesting behind-the-scenes facts as well as influences behind the show. "A little bit John Le Carre, Graham Greene, a little bit of the BBC, Tinker, Tailor, Soldier, Spy," he tells A.V. Club.
- In an interview with TV OverMind, Michael Cristofer shares his thoughts on Truxton Spangler: "I think that he, to my mind, is a very contemporary version of a tragic figure. I truly believe that he thinks everything he does, he's doing for the good of the country."
Continue reading "EW Calls Rubicon a "Crackerjack Thriller;" Q&As with Henry Bromell and Michael Cristofer" »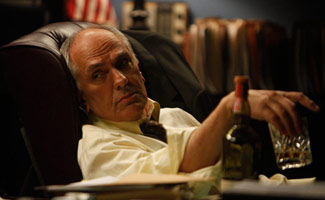 This week, Michael Cristofer spoke about playing Truxton Spangler, and critics bubbled over with praise for the latest Rubicon episode.
- TV Fanatic interviewed Michael Cristofer about playing Truxton Spangler. "He's a lot like Dick Cheney," he says of his character. "There was also a man named William Shawn who ran The New Yorker in the 1950s. … He really did eat corn flakes."
- Critics are over the moon for Episode 11. A.V. Club gives it a solid "A" and Time declares, "Rubicon may have taken its time, but man, has it become a ride." For more thoughts on the episode, go to HitFix, Daemons TV, TV Fanatic and the L.A. Times.
Continue reading "Michael Cristofer Interviewed by TV Fanatic; Critics Smitten With Episode 11″ »
This week, Kale Ingram is hailed as one of the best characters on television. Also, fans in the media are invoking all the reasons why Rubicon deserves a second season.
- >TV Squad lists six good reasons to keep Rubicon on the air. Among them: "It's one of the most distinctive-looking shows on TV," and Kale Ingram (Arliss Howard) "is one of the best TV characters of all time."
- CliqueClack sings Kale's praises, as well, calling him "one of my favorite characters on television right now. He's slick, smarter than everyone else, and… he's a complete bad ass." The site also declares that Rubicon is hitting its stride: "The research and espionage is fascinating."
Continue reading "TV Squad Calls Kale Ingram "One of the Best TV Characters of All Time"" »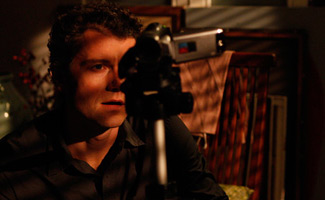 Rubicon got a lot of love this week, both from the media and from a certain celebrity musician. Read on to see if you agree with their reasoning, and to see which cast member charmed TV Guide.
- In its recap of Episode 9, Entertainment Weekly professes its love for Rubicon, calling it a series "that just gets better, more intriguing and witty each week." Read more recaps and reviews from the L.A. Times, Time, AVClub.com, New York, HitFix.com, TVOvermind, Daemon's TV and TV Fanatic.
- In a feature that includes an interview with executive producer Henry Bromell, the Chicago Tribune hails Rubicon as a brilliant show that fills the void left by 24. "Is Rubicon — the excellent AMC spy drama where characters puzzle things out rather than blow things up — too smart for TV?" the paper asks.
- TV Guide cheers Annie Parisse, who plays the mysterious neighbor Andy, for steaming up Rubicon with a sexy plot line.
- Apparently singer-songwriter Aimee Mann is in love with Rubicon. "I like that it's got that old-timey Three Days of the Condor, 1970s thriller intrigue without, like, car chases," she tells the Minneapolis Star Tribune.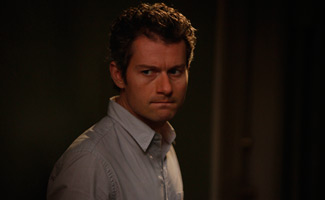 This week, Jessica Collins talked to one of her home state newspapers, Hit Fix called called Rubicon one of their favorite shows on television, and numerous outlets had great things to say about Episode 8, "Caught in the Suck."
- The Houston Chronicle gave Rubicon lots of ink this week, including an interview with Texas native Jessica Collins about her role as Maggie Young and her strong ties to the Lone Star State; an inclusion of Rubicon in their roundup of espionage thrillers airing on TV this fall, and a
light-hearted look back at Episode 6, "Look to the Ant."
- Hit Fix took the time to "throw a little love" at Rubicon, calling it one of their "favorite shows on television," and also posted a recap of Episode 8.
Continue reading "Houston Chronicle Interviews Jessica Collins; Hit Fix Throws Rubicon A Little Love" »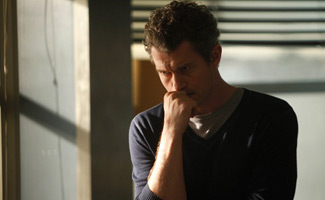 This week, TV Guide and Entertainment Weekly sang the praises of Rubicon, The Detroit News cited Rubicon as an example of how spies are taking over the small screen, and outlets including Time, Hit Fix, and A.V. Club had nothing but good things to say about Episode 7.
- TV Guide gave Rubicon a cheer "for giving Dallas Roberts a role he can run with."
- TV Guide also talked with Michael Cristofer, calling him a "renaissance man" who is "currently kicking keister on Rubicon."
Continue reading "TV Guide Cheers Rubicon and Talks to Michael Cristofer" »