Unscripted
Freakshow
Didn't get a chance to catch Morgue's bed of razors stunt or watch Jessa the Bearded Lady break a world record? If want to re-watch all of this season's freaky moments, or even if you've never seen Freakshow before, you're in luck: Full episodes of Season 2 are now available on amc.com, now through July 22.
4th and Loud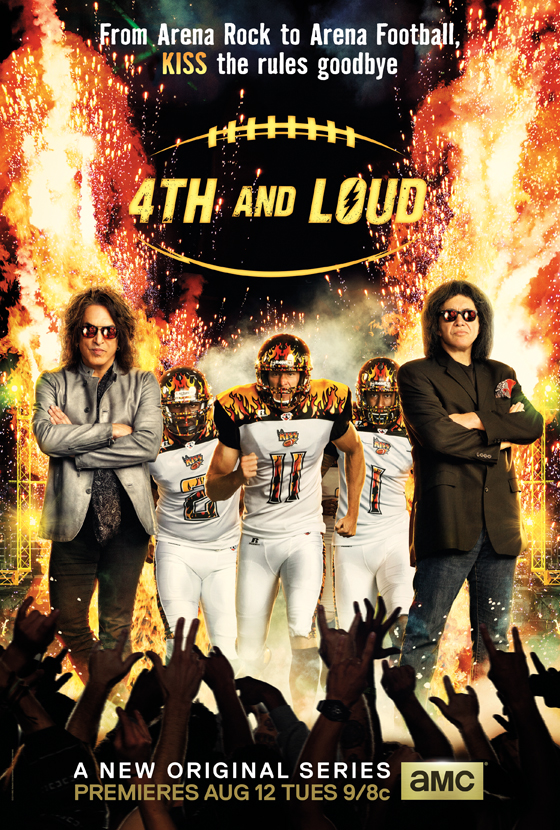 AMC has released the official poster for its new docu-series 4th and Loud. The artwork features Paul Stanley and Gene Simmons, of KISS fame and three of LA KISS's key arena football players with the tagline, "From Arena Rock to Arena Football, KISS the rules goodbye".
Watch a series premiere trailer for 4th and Loud and be sure to like the show on Facebook and follow it on Twitter.
4th and Loud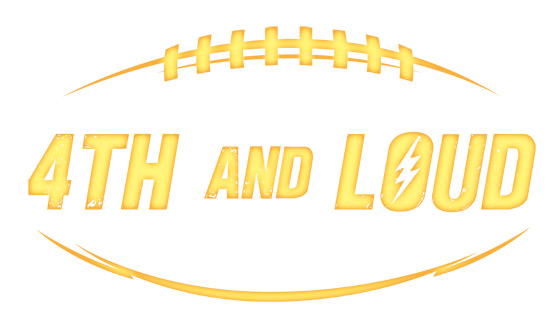 AMC today announced that its docu-series 4th and Loud, which follows the inaugural season of the LA KISS Arena Football League team, will premiere on Tuesday, August 12 at 9/8c. The 10-episode (60-minute) series will follow team owners Paul Stanley and Gene Simmons, of KISS fame, along with additional owners, long-time KISS manager, Doc McGhee, managing partner/owner, Brett Bouchy and president/owner, Schuyler Hoversten, as they and the dedicated players and coaches work to turn LA's first professional football team in years into a winning franchise.
4th and Loud is produced by Thinkfactory Media (Gene Simmons Family Jewels, Hatfields & McCoys), with Adam Freeman, Adam Reed, Chris Gillen, Erin Kelly and Leslie Greif serving as executive producers.
Take a look at the 4th and Loud series premiere trailer.
Freakshow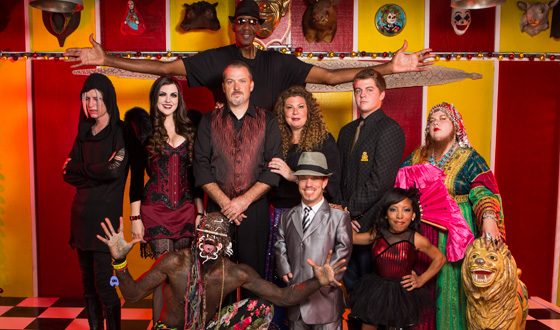 Season 2 of Freakshow has come to an end, but let's see how well you remember the outstanding feats and amazing performers from the past 16 episodes. Can you recall what Boobzilla does with her 44R cup breasts? Or where Todd wants to open up a new Freakshow? Step right up and test your memory skills by playing the Freakshow Season 2 Ultimate Fan Game now.

Small Town Security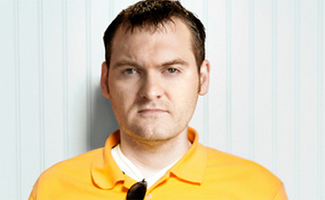 What's up all you cool people? Have you enjoyed the seven awesome episodes of Small Town Security Season 3 so far? Did this episode make you curl up in the fetal position under the covers? Wanna know more about the madness of Episode 8? If you answered yes to any of these questions then come on in, the water's fine, as you're about to be doused with some inside knowledge on the Season 3 Finale, "Hail to the Chief"!
I think I may have said this in the past, so excuse me if I sound repetitive, but Chief is obsessed with three things in life and they are in order: Sex, food, Beverly Hills. She will stop at nothing to obtain these things, and not even radiation stopped her from going to Beverly Hills. After surgery this was all she talked about. She HAD to go.
Originally it was just going to be Dennis and Chief in L.A. as Irwin wanted to stay in Ringgold and get caught up on some things, but Chief wouldn't have it. She said she wanted her "Daddy" to come with her too, LOL. Apparently, this became Irwin's pet name ever since poor Chief went into the hospital. He became her "Daddy" as he was always there for her. Seeing all the footage of those three in and around L.A. was entertaining to say the least.
Continue reading "Small Town Security – Brian Taylor on Chief's Alien Origins in the Season 3 Finale" »
Freakshow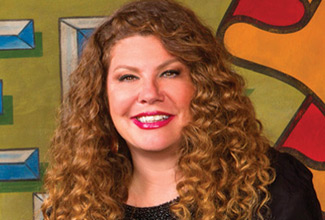 Freakshow Mama, Danielle Ray talks about becoming an "empty nester" and her husband Todd's plans to expand the Freakshow outside of Venice Beach.
Q: You mentioned feelings of "empty nesting" this season. What are your thoughts on Asia and Phoenix growing up and starting their own lives?

A: Obviously, I know that Phoenix and Asia are getting older and I want them to do their own thing. But at first, it made me so sad, only because I feel like my whole existence is about them. When Asia told me she was getting her own apartment, it took me by surprise. I was like "No, I don't want my baby to leave!" But having the extended Freakshow family there helps. Asia, Ali, and I will go out to lunch, go to the movies. Over time, I realized that now it's getting back to me and Todd, which is good for us. We can do more things that we want to do as a couple.
Q: What's on that list of things you want to do with Todd now that the kids are getting older?
A: [Laughs] Well, there are some things that I've wanted to do or didn't have the time to do. I want to be adventurous and travel. When he goes and looks for [exotic] animals and stuff, I want to go with him. I want to be able to go out or go away for a night and not have any responsibilities.
Continue reading "Freakshow Q&A – Danielle Ray" »
Small Town Security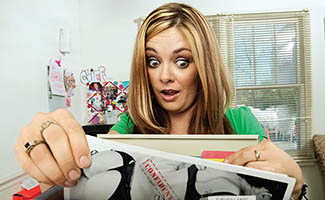 Christa Stephens, star of AMC's Small Town Security, talks about her burgeoning hip-hop career, the mud-bogger incident, and the musical sensation that is "Speecy Spicey Meatball."
Q: Can you tell us a bit about your rap debut?
A: That whole little ordeal just kind of happened. The guy who is rapping on the song is Chris Levar. He [was on] America's Got Talent. His music producer is a huge fan of the show. One thing led to another and they were like, "let's make a jingle!"
Q: Would you ever want to record an album?
A: Oh my god, yes.
Q: What do you think about Joan's song, "Speecy Spicey Meatball"? Continue reading "Small Town Security Q&A – Christa Stephens" »
Small Town Security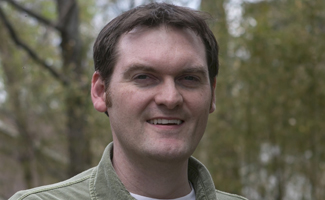 What's up, gang?! This week, your boy Brian is here to lay the straight dope on all you care to know about Season 3, Episode 7, "The Belly of the Beast." (Make sure you say the title in a deep, echo-y voice for the full effect.)
Pretty crazy episode, eh? Dennis took his troops to the dragon's den, Irwin and I tried to slay a hungry beast, and Christa was fighting… well, she was being Christa.
This was a fun episode for me to watch as this was the first time I got to see what REALLY went on in the cave and what Christa did when left alone at the office. The cave would have been fun to hang out at, as I don't mind caves, except I'm too tall for them so I generally steer clear, as I've hit my head on too many things over the years. The cave they ventured in was at Raccoon Mountain in Chattanooga, Tennessee. This is yet another fun, adventurous destination here in our area and you should check it out if you're in our neck of the woods. From what I've heard, there's miles of passageways to explore in those caves besides the camping and hiking you can do there.
As for Christa, I can't believe she tore up the office over a flipping cricket! If I was there, I would have captured those damn crickets with a lot less mess. So glad Sgt. Baynes got there when he did or Christa would have destroyed the office beyond repair.
Continue reading "Small Town Security – Brian Taylor on Forcing the Chief to Diet in Episode 307″ »
Freakshow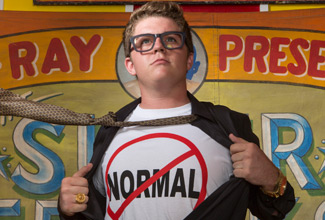 Phoenix Ray, co-owner of the Venice Beach Freakshow, talks about dating, his plans for the future and his role in carrying on the legacy of the Freakshow.
Q: In episode 212, "Freaks Hanging By a Wire," you went on some dates. Is it hard trying to date when you're part of the Freakshow?
A: Yeah, it is. It's just a weird thing to say, "I work at a freakshow… You can go there and see a sword swallower." It's just a weird thing to throw out there to a girl.
Q: How do you feel about your parents, Todd and Danielle, giving their two cents on your love life this season?
A: It's just stressful that they treat me like I'm 13. But they're just looking out for me. I understand what they're saying.
Q: This season your dad showed you how to "talk" in order to bring crowds into the sideshow. When did you first become interested in "talking"?
Continue reading "Freakshow Q&A – Phoenix Ray" »
Freakshow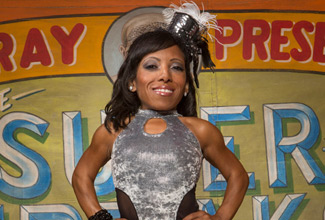 Freakshow's Amazing Ali talks about performing new stunts, her ongoing health struggles and having her marital ups and downs aired on the show.
Q: This season you learned a fire breathing stunt. Were you nervous before the performance?
A: It was definitely a little scary. I didn't want to make the wrong move where I could get hurt. I was really concerned about [the flame] looking big, even though it was coming from someone so little. It was definitely a great challenge and it was awesome pushing myself to do something a little daring.
Q: Would you ever attempt the stunt again?
A: I definitely plan on doing more fire-breathing at the Freakshow. Maybe not so much inside, that could be a bit dangerous. But maybe outside.
Q: You seemed very nervous going into your hip surgery this season. How did the Freakshow family help you get through it?
Continue reading "Freakshow Q&A – Amazing Ali" »