Unscripted
4th and Loud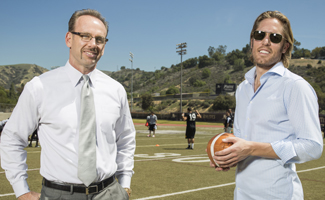 LA KISS president/co-owner Schuyler Hoversten and managing partner/co-owner Brett Bouchy, stars of 4th and Loud, talk about working in the Arena Football League with rock stars Paul Stanley and Gene Simmons.
Q: Have you guys painted your faces, donned black spandex, and joined the KISS Army?
Schuyler Hoversten: No, I became a fan of KISS after having worked for Gene and Paul. And actually, I had never gone to a full-blown KISS concert until the Forum in Los Angeles just a couple of weeks ago. Prior to that, I was just a fan of Gene and Paul. I was just blown away with how they approached business and the entertainment business.
Brett Bouchy: [Schuyler] obviously grew up in a different time than I did. I was born in '69, and my older brother… was a huge KISS fan. I'll never forget in 1979, he went to go see them in concert, and my parents deemed me too young at 10 to go, and I literally thought about running away. My brother called me when they announced their reunion tour, and he said, "Listen, I'm going to get tickets in the first couple of rows, and we're going to fly to Detroit to see the first concert." It was in Tigers Stadium. He talked me into going. It was in 1996, it was sold out, 50,000 people. So I went to that concert, and I'll never forget it. To be working with the guys [in KISS] almost 20 years later is crazy.
Q: How did each of you end up working with the LA KISS? Did you receive a phone call from Paul and Gene, or was it something more formal?
Continue reading "4th and Loud Q&A – Schuyler Hoversten and Brett Bouchy (LA KISS Co-Owners), Part I" »
4th and Loud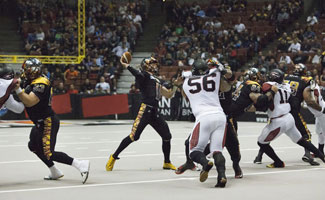 This week, Gene Simmons and Paul Stanley discuss 4th and Loud with TV Guide, while Variety positively reviews the series premiere. Plus, The Wall Street Journal takes an early look at the show. Read on for more:
• Talking to TV Guide about 4th and Loud, Gene Simmons says, "You don't have to create drama because there's so much going on in the growing pains of launching a brand-new sports team."
• Variety, reviewing 4th and Loud, says that "the premiere delivers an unexpectedly solid kickoff."
• The Wall Street Journal debuts a clip from the show where Paul Stanley and Gene Simmons present themselves to the Arena Football League owners "and bring that on-stage confidence they've cultivated for over 40 years into a stuffy board room."
Continue reading "Gene Simmons, Paul Stanley Talk Drama With TV Guide; Variety Applauds 4th" »
4th and Loud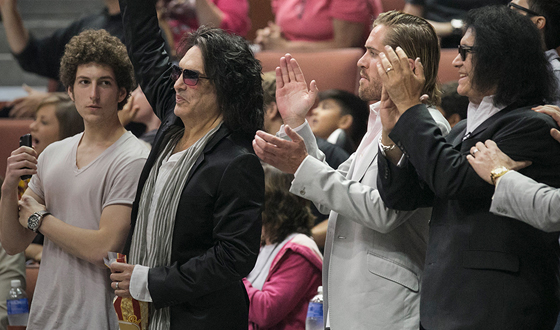 Paul Stanley, Gene Simmons and the rest of the LA KISS gang burst onto the Arena Football field Tuesday night with the premiere of 4th and Loud. Whether you missed it or just want to relive every bone-crushing tackle, AMC.com has you covered. Watch the 4th and Loud Series Premiere full episode, now streaming online, with no login required on amc.com.

4th and Loud airs Tuesdays at 9/8c on AMC.
4th and Loud
The name of the game may be the same, but there are some big differences between the National Football League and the Arena Football League. For example, did you know that punts aren't allowed in an AFL game? So, football fans, before tuning in to the kick off of AMC's new docu-series 4th and Loud, which follows the AFL's LA KISS, check out the cheat sheet below to to learn more ways in which the sport varies between the two leagues.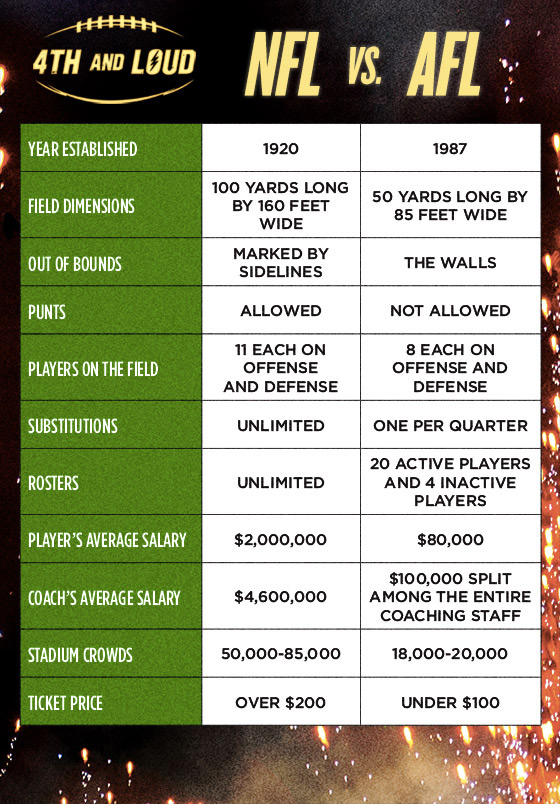 4th and Loud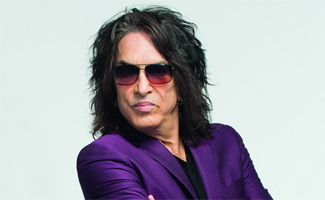 The KISS frontman, star of 4th and Loud and co-owner of the LA KISS Paul Stanley discusses the parallels between managing a rock band and managing a football team and the time he got tackled by an LA KISS player.
Q: You and Gene Simmons have said that you're really trying to shake things up in the AFL. Do you feel like sports in general could learn from what you guys are doing to draw in fans?
A: What we're really trying to do is to turn a sporting event into something much larger, something that you can bring your kids to, into something that someone who has no real knowledge of sports can come to and have a great time at. We have amazing dancers… We also have BMX bike riders, we have pyro, we have a live band. It's an event to be there. Clearly just the concept resonated with people because initially we sold 8,000 season tickets, so people were waiting and clamoring for something like this.
Q: You and Gene are pretty hands-on with the team. What skills from being in KISS are you bringing to running the team? Has there been a learning curve?
A: I think whenever you set out to do something, you have to believe that you can do it, and if you're smart, you surround yourself with people who can help you accomplish it. A great president is dependent upon a great cabinet. And for us to believe that we had the necessary skills to run a team would have been naive at best. So, between Brett Bouchy, who's been involved in AFL football for decades, and Schuyler Hoversten who worked with the Dodgers among others, and Bob McMillen who's been coach of the year in the AFL and on from there, we made sure we brought in the best people possible.
Q: You personally designed the uniforms. What goes into that?
Continue reading "4th and Loud Q&A – Paul Stanley (LA KISS Co-Owner)" »
4th and Loud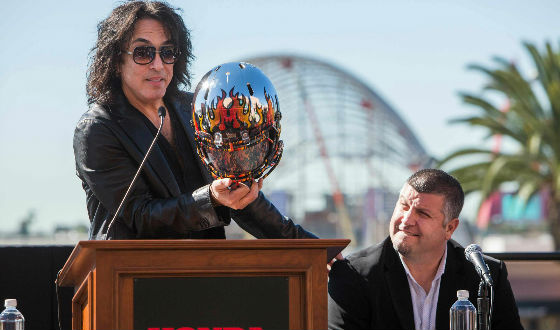 Ready for some football? Starting Tuesday at 9/8c on AMC, 4th and Loud has you covered with action on and off the field. Can't wait until then to catch up with KISS's Paul Stanley, Gene Simmons and the rest of the LA KISS? Here's a seven part pre-game show to give you a head start:
1. Acquaint yourself with the LA KISS in three webisodes introducing Paul Stanley and Gene Simmons, as well as Coach Bob McMillen and a young QB hopeful.
2. Get hyped with the latest 4th and Loud trailer, then check out three more trailers.
Continue reading "Seven Ways to Get Ready for the 4th and Loud Premiere This Tuesday at 9/8c" »
4th and Loud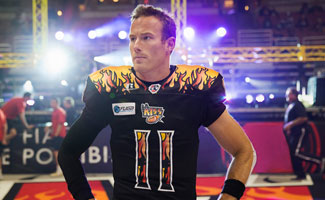 This week, Gene Simmons talks to The Wall Street Journal. Plus, Loudwire checks out 4th and Loud's webisodes. Read on for more:
• The Wall Street Journal interviews Gene Simmons, who shares the LA KISS game plan and assures viewers, "When you tune in, you're going to see real stuff. Some of it gets ugly, some of it heartwarming."
• Loudwire posts the first three companion webisodes to 4th and Loud, featuring Paul Stanley, Gene Simmons and the LA KISS players and coaches.
• The Orange County (Calif.) Register includes 4th and Loud's August 12 debut on its list of best TV bets. [No link]
Continue reading "Gene Simmons Talks to Wall St. Journal; Loudwire Features 4th and Loud Webisodes" »
4th and Loud
<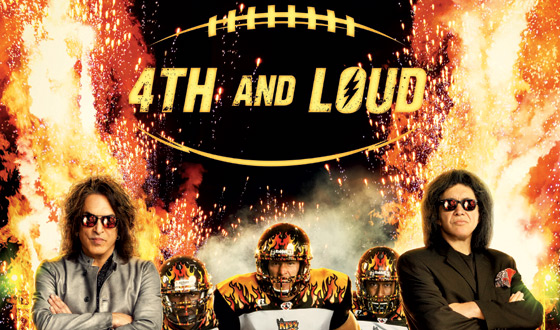 If you're looking for an extensive introduction to AMC's new docu-series 4th and Loud, look no further. AMC's digital press kit for 4th and Loud's inaugural season is just the thing. While this content is usually only available to the press, amc.com is making it available online. The digital experience includes action-packed photos, video trailers, information about the Arena Football League and more. Check out the press kit here.
4th and Loud premieres Tue., Aug. 12 at 9/8c on AMC.
4th and Loud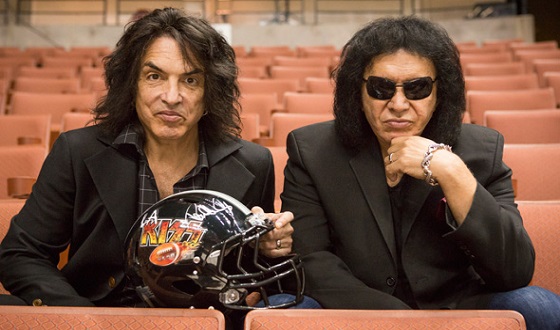 As 4th and Loud prepares for kickoff, you might be wondering what's in store when KISS legends Paul Stanley and Gene Simmons own an Arena Football League team. Now you can get a taste of what's to come with three new webisodes introducing the owners, the coaching staff and a quarterback hopeful looking to become the LA KISS's on-field leader.
Meet the Owners: Catch up with KISS superstars Paul Stanley and Gene Simmons, the superstars who want to bring the rock 'n' roll to football.
Meet the Players: Acquaint yourself with Colt Brennan, the "Superman" who has the ability to destroy the field — if it doesn't destroy him first.
Meet the Coaches: Get to know the staff behind Los Angeles's only football team, including Head Coach Bob McMillen, who has never had a losing season.
4th and Loud premieres Tuesday, August 12 at 9/8c.
4th and Loud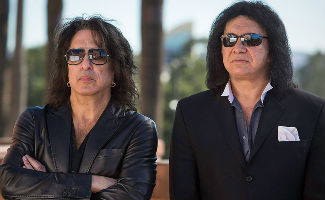 This week, The Washington Post previews 4th and Loud, which premieres Aug. 12, while TheWrap showcases a trailer with Gene Simmons, Paul Stanley and the LA KISS players. Plus, Gene Simmons tells Zap2it that 4th and Loud will put arena football on the map. Read on for more:
• KISS's Paul Stanley says of 4th and Loud that viewers are "going to meet some very, very interesting characters and stars in their own right that we want to come to the forefront," according to The Washington Post.
• TheWrap features a 4th and Loud clip of Gene Simmons and Paul Stanley, where "the self-proclaimed kings of the night time world (and rock-related marketing) whip their players into a frenzy."
• Zap2it reports that Gene Simmons is intent on putting arena football on the map via 4th and Loud, saying, "We're the Tiger Woods of golf. Before Tiger Woods, nobody cared about golf."
Continue reading "Washington Post Previews 4th and Loud; TheWrap Features New Trailer" »