The Pitch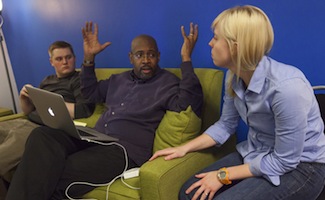 This week, Zap2it takes a look at The Pitch's season finale. Plus, last week's episode is deconstructed by Marketing Pilgrim. Read on for more:
• Zap2it previewed the Season 2 finale, framing it as "two Chicago ad agencies vying to bring an extremely old-school company — Fuller Brush — into the 21st century."
• Marketing Pilgrim discusses the "very different" approaches taken by both ad agencies in last week's Episode 7, "1-800-FLOWERS.com."
• The Houston Chronicle includes The Pitch's Season 2 finale in its list of what to watch on TV in October.
• The Guelph Mercury highlights the Fuller Brush Co.'s attempt to "reboot its brand" in the Season 2 finale of The Pitch.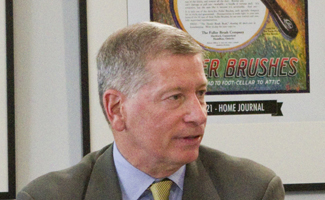 In the Season 2 Finale of The Pitch, two ad agencies competed to win the business of The Fuller Brush Company. So why did Fuller Brush CEO David Sabin select The Monogram Group's campaign?
"They really understood the Fuller Brush brand and exactly where we're heading," explains David. "They were really great about doing focus studies and they understood our consumer."
David's esteem for The Monogram Group began with his visit to their offices. "We had the opportunity to meet the full team, not just [partners] Jackie, Harold and Scott. That whole team came across to us as a collective personality that I felt our team would work best with. At some point you have to blend the personalities between both organizations."
The pitch itself presented an usual set of circumstances when both teams presented the same tagline, "Live Fuller." So what was it about Monogram's presentation that attracted David to their campaign? "I think we understood the plan of action that Monogram came up with. We felt that the Monogram team did a better job of presenting it to us."
David also felt the fact that both agencies presented the same tagline was a bonus. "It made us feel really good, because it made the tagline they created stronger. The fact that both agencies came up with it gave more support to the prospect of using it."
Click here to read an interview with The Monogram Group's Scott Markman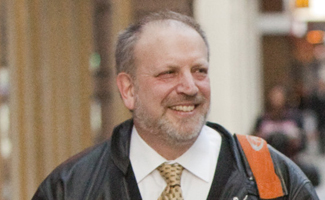 In the Season 2 Finale of The Pitch, The Fuller Brush Company chose The Monogram Group as the winning agency. Monogram President Scott Markman talks about his relationship with his partners and having the same idea for a tagline as the competition.
Q: What made you decide to have The Monogram Group appear on The Pitch?
A: A few reasons: First, we just thought the experience would be a gas — this was like beer stories for ten years, just diving into the journey and the creative challenge. The second reason was the opportunity to gain a lot of exposure for our agency in ways that we couldn't replicate without blowing gigantic amounts of money, along with the prestige that comes with appearing on this series. The third reason was to try to win a piece of business.
Q: Your business partners, Harold and Jackie, are two of your closest friends. What's the key to balancing each relationship successfully, both personally and professionally?
A: A lot of it is the fact that we have permission to disagree about all kinds of stuff, to push each other, to argue. I'm not saying that happens all the time. But we're so secure in our personal relationships that dates back 35 years that we kind of don't worry about it. We laugh a lot, we get along really well. We don't sit there and stress over, "Geez, if I tell Jackie that I think she's full of crap over something, she's going to take it personally." We have a life outside of business that has survived decades.
Q: The three of you have been working together for a long time. How has your relationship evolved over the years from when you first started?
Continue reading "The Pitch Q&A – Scott Markman (The Monogram Group)" »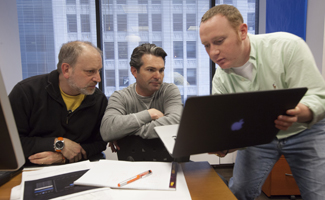 In the Season 2 finale of The Pitch, client The Fuller Brush Company has to choose between Central Coast ("Live Fuller" sketch-based video) and The Monogram Group ("Live Fuller" with an updated Fuller Brush Man, Fuller B. Rushman). Did they make the right choice? Now it's your turn to decide: Which presentation did you prefer?
Cast your vote now!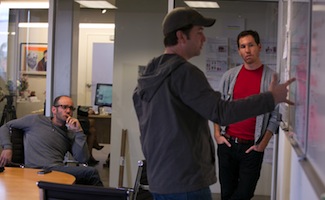 This week, MediaPost discusses the results of last night's episode of The Pitch. Plus, New Republic mentions The Pitch as an example of a show that uses ad agencies for dramatic fodder. Read on for more:
• MediaPost reports on 1-800-FLOWERS.com choosing ONE/x, an ad agency based in Culver City, California, in this week's episode of The Pitch.
• In its review of CBS' The Crazy Ones, New Republic cites The Pitch as an example of TV shows relying on advertising agencies for drama.
• Daily Herald speaks with Stacey McClenathan, the owner of Bee-line Communications, about competing in Season 2, Episode 5 of The Pitch.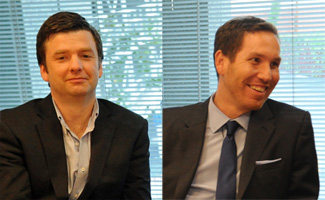 In Season 2, Episode 7  of The Pitch, 1-800-FLOWERS.com chose ONE/x as the winning agency. ONE/x CEO Ben Tiernan and Partner Tom Westrum talk about their company's name and their hands-on approach to research.
Q: Where does the name One/x come from?
Ben: It's not something we talk about often. It's a little nerdy. But One/x is formally the number "1″ over "x," so it's a mathematical inversion. When you multiply an equation by 1/x it inverses the equation. It essentially turns the equation upside down so you can look at it differently. And that's what we do as an agency.
Tom: As you can imagine, the explanation is a big hit at cocktail parties.
Ben: Yeah, it's a little dorky. But we think it's descriptive of what we do. We use a lot of math and analytics as we approach our problems, so we thought that was an appropriate name.
Q: When you heard the 1-800-FLOWERS brief, what did you think was going to be the biggest challenge? In the end, what was?
Tom: The actual pitch in and of itself, while challenging, wasn't something that we would look at and go, "Oh, my. This is above and beyond us." It was definitely what we do. I think the biggest challenge of the brief was the notion of social gifting. There's not a lot of agreement on what that even means, let alone about how best to bring awareness to social gifting and then tie it back to 1-800-FLOWERS. So in that respect it was a challenge, but also a fantastic opportunity for us to help define what social gifting is and associate it to the brand.
Ben: Absolutely. It kind reminded me of my early days working on energy drinks — there was no sense of what an energy drink was. So this was very similar, developing a whole cultural understanding around what is this thing all about before you can even start to sell it. In this case, it's a totally new way of gifting, a totally new way of using social technology, and a totally new way of relating with your friends. Ultimately, yes, it was about the product. But it was also about the education, understanding and relevance that we had to develop to get to the point where we say, "And 1-800-FLOWERS.COM is the brand you should use for social gifting."
Q: You volunteered at a flower shop as part of your research. Are you both usually that hands-on in your research?
Continue reading "The Pitch Q&A – Tom Westrum and Ben Tiernan (ONE/x)" »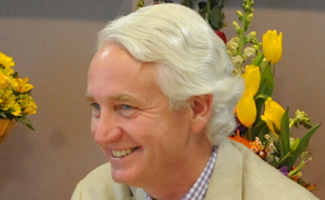 In Season 2, Episode 7 of The Pitch, two ad agencies competed to win the business of 1-800-Flowers.com, Inc. So why did President Chris McCann select ONE/x's campaign?
"The One/x team gets it," explains Chris. "They got the concept we were looking for. They got us. I loved the fact that they knew a lot about us. They clearly had done their homework. Not just the history, but who we are. They already knew what our DNA was like. Aside from getting us, they also get where the consumer is going. I thought that was very important."
That feeling of mutual understanding began with Chris's visit to ONE/x's offices. "I loved when I met with the broader team. The conversations just flowed so easily with the team that was involved with the whole social area, especially the gentleman who was involved with deep data and analytics. They view things through the same lens that we do. We speak the same language. We approach things from a social, mobile first perspective. My brother and I felt that simpatico feeling right away with them."
However, Chis does admit having a slight moment of hesitation about ONE/x's actual pitch. "When they first introduced the concept, when they said, 'OK, we're going to build a whole concept around the just because occasion,' it didn't ring my bell right away. 'Just because' has been an occasion of ours for a long time. But as soon as they put the social spin on it, like adding the hashtag [#justbecause], I loved that. It's something that's been in our roots for a long time, and they elevated it to the current marketplace. I thought that was just brilliant."
What sealed the deal for Chris was ONE/x's take on creating a deeper connection between client and consumer. "We do a good job at connecting with people emotionally on the key holidays. But the challenge we gave them was trying to get all of our brands connecting to people emotionally every day. I think they hit that. Anytime you want to connect with a consumer, you have to approach it from an anthropological starting point, and they did that. They talked about the United States being a nation of gifters, of givers. The simple act of giving a gift for all of these small 'just because' reasons that ultimately make someone smile, and the profound impact that has on your life and on the world, is tremendous. And that just connected so well with us."
Click here to read an interview with ONE/x's Tom Westrum and Ben Tiernan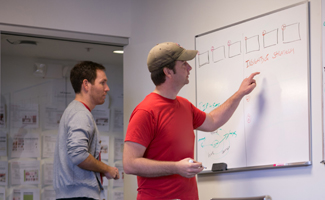 In Season 2, Episode 7 of The Pitch, client 1-800-FLOWERS.COM, Inc. has to choose between COR ("Make Your Presents Felt") and ONE/x ("#justbecause"). Did they make the right choice? Now it's your turn to decide: Which presentation did you prefer?
Cast your vote now!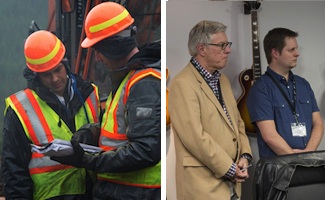 This week, Owner's Manual's finale is previewed by Zap2it, while a rap video is being shot for an episode of The Pitch, according to Chicago Business Journal. Plus, Channel Guide Magazine checks out photos from Owner's Manual's final episodes. Read on for more:
• Owner's Manual's last two episodes are highlighted by Zap2it, which says Marcus and Ed are "going out with a bang" in the season finale, "Rock Quarry."
• Chicago Business Journal reports that Monogram Group/Chicago is planning to shoot a rap video tied to their upcoming appearance on The Pitch.
• Channel Guide Magazine showcased photos from the final two episodes of Owner's Manual, observing that Ed and Marcus "couldn't repress their affinity for fun" even when they were about to blast a mountain.
Continue reading "Zap2it Features Owner's Manual's Final Episodes; The Pitch Firm to Do Rap Video" »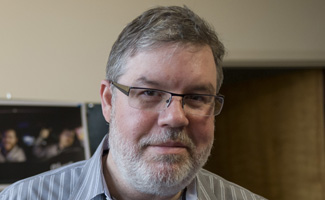 In Season 2, Episode 6 of The Pitch, Gibson Brands chose DBD as the winning agency. DBD Creative Director Phil Mowrey talks about working with his son David and his on-camera past.
Q: DBD is a family business. Where does the name DBD come from?
A: The name Daniel Burton Dean — those are middle names. My middle name is Dean. My dad's middle name is Daniel, he started the business in 1976. His dad, the Burton, gave my dad the money to start the business. But my mother and my father were the original partners in 1976.
Q: How did you start off in the company?
A: I started off on the drawing board — I was an illustrator. Then I started working with clients, then I started learning the entire scope of the business. I became senior management in '89, then my father finally retired in '95.
Q: You now work with your son, David. What's that like?