Small Town Security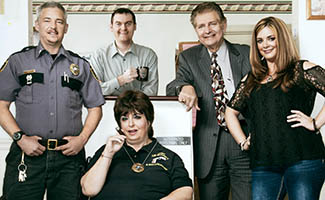 GLAAD has announced the nominees for their 2014 Media Awards, and for the second straight year, AMC's Small Town Security has been nominated for Outstanding Reality Program. The series will face off against Fuse's Big Freedia: Queen of Bounce, WE tv's Cyndi Lauper: Still So Unusual, Sundance Channel's Dream School and Lifetime's Project Runway for the award.  The GLAAD Media Awards recognize and honor media for their fair, accurate and inclusive representations of the lesbian, gay, bisexual and transgender community and the issues that affect their lives.
The GLAAD Media Awards will be held in Los Angeles on Sat., Apr. 12 at the Beverly Hilton and in New York on Sat., May 3 at the Waldorf Astoria.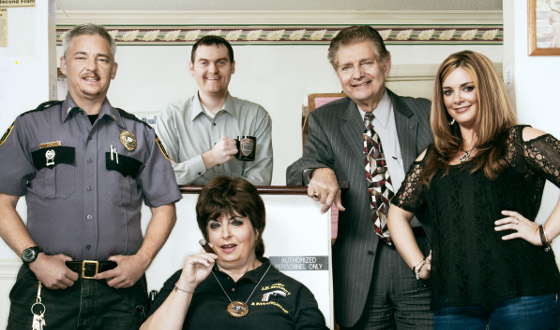 AMC announced that it has greenlit a new unscripted series, Game of Arms, a look inside the raw and highly competitive world of American arm wrestling. The series hails from Matt Renner and Ethan Prochnik, Emmy Award-winning producers of Deadliest Catch, and Dan Ilani, a partner in Undertow Films, their recently-formed company. Game of Arms will follow the members of five arm wrestling clubs, and their friends and families, as they hit the road and wager their rent money, reputations and even their relationships in pursuit of victory. The 10-episode, one-hour series will premiere in the first quarter of next year, timed to the second half of the fourth season of The Walking Dead.
The network also announced that it was renewing its unique and acclaimed series Small Town Security for a third season. Small Town Security will air with the previously announced second season of Freakshow in the second quarter of 2014.
Continue reading "AMC Greenlights New Unscripted Series, Game of Arms, and Renews Small Town Security" »
This week, Small Town Security is described as "original" by TheWrap and "quirky" by The San Francisco Appeal. Plus, a TV blog applauds the reality show as "legimately worth watching." Read on for more:
• Ahead of this week's Season 2 finale, TheWrap describes Small Town Security as "one of the most original takes on American life on TV."
• The San Francisco Appeal calls Small Town Security "a quirky This American Life segment that has come to life, become self-aware, and figured out how to replicate itself into twenty-two minute chunks."
• A blog called Television in the Age of DVR describes Small Town Security as "a reality TV show legitimately worth watching."
• The Mount Airy (N.C.) News reports that the Showville episode featuring the town will now air on July 11, instead of July 4.
• Zap2it previewed "San Marcos, Texas" from last week, observing that "belly dancing is harder than it looks."
• Zap2it shared photos from last week's Episode 7, "All Hands on Deck," while Shockya shared an exclusive preview clip.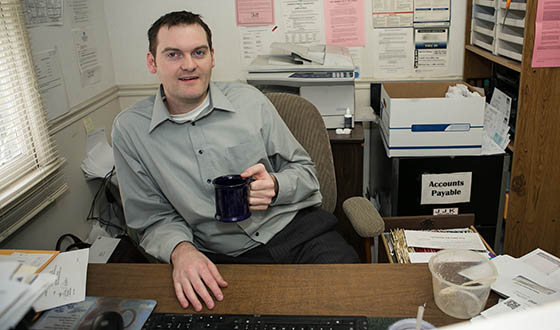 Hey gang it's me Brian Taylor, aka "The Island of Consistency," to fill you in on what's been going on with JJK Security & Investigations.
Another season of Small Town Security has come to a close and it's been one hell of a fun ride, kids. We've gotten love from all over the place from fans and well-wishers — it's been unbelievable.
A lot of you have been laughing, crying, and having a great time watching us be… US. There have been SO MANY of you telling us through social media, email, AND by picking up the good 'ol fashioned telephone to tell us how great we are and that you can't get enough of the show. Well let me be the first to tell all you STS watchers that WE can't thank you all enough for watching us!
We at JJK can't swing a cat without running into someone telling us how great Season 2 is, so I thought I'd recap this swell season by adding some additional insight from each episode you probably didn't know existed.
Episode 1: "The Wicked Witch of Georgia"
The title of this episode actually came from a caller who left us a 3+ minute voice mail ranting about us — well, mostly to Joan. He really did call her "The Wicked Witch of Georgia" as well as a bunch of other crazy stuff. Yet he wished us all good health, even to Joan (it was so weird). I couldn't tell you how many times we played that entire voice mail, we laughed so hard every time we played it. Continue reading "Brian Taylor Shares the Inside Scoop on Small Town Security Season 2″ »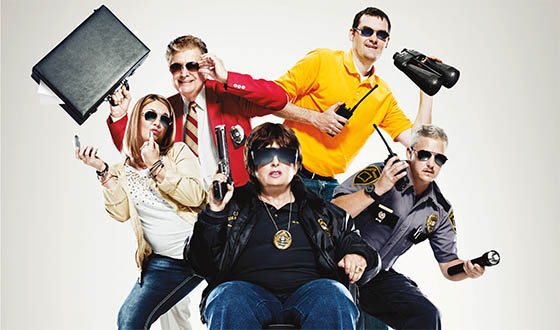 Small Town Security's Season 2 Finale airs this Thursday night at 11/10c. Looking for ways to distract yourself until then? Here are ten ways to get ready for Episode 8, "The Man Makes the Suit":
1. Watch a sneak peek video for the Season 2 Finale.
2. Check out sneak peek photos from Episode 8.
3. Listen to NSFW audio clips of the cast's best one-liners with the Small Town Security Sound Board.
4. Flip through the Small Town Security Family Photo Album.
5. Read Season 2 interviews with Joan Koplan, Dennis Starr, Irwin Koplan, Christa Stephens, and Brian Taylor.
Continue reading "Ten Ways to Get Ready for the Small Town Security Season 2 Finale This Thursday" »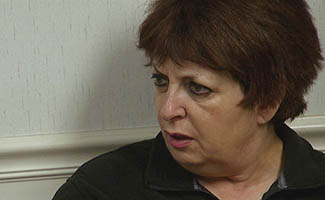 Small Town Security's Joan Koplan shares workplace wisdom in her "Ask Joan" advice column. This week, Joan talks about how to prepare for an interview and the key to inspiring loyalty.
Q: What is the key to inspiring loyalty from the people that you work with? – tsk_tsk
A: Without sounding conceited — and I've said this to other people — if everyone in this world were like me, this world would be a very good place. Because I've always been the type of person that if somebody is good to me, then I'll be good to them. People need to be nice to each other. Honestly, I can't even watch anything bad on the news without crying. I just think I'm a wonderful person. So there are a lot of people who love me because I try to be good. My employees know that and so they work hard for me. They love me, because they know I love them.
Q: I've been out of work for almost three years now, watching my kiddo. I'm thinking of getting a new job but worried about the interviews. How should I prepare myself? – Kristina Martinez
Continue reading "Ask Joan – Small Town Security's Chief on Acing an Interview and Inspiring Staff Loyalty" »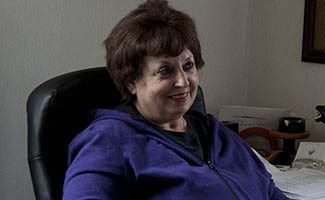 Small Town Security's Chief Joan Koplan shares workplace wisdom in her "Ask Joan" advice column. This week, Joan fields questions about how to deal with office hoarders and setting standards for your staff.
Q: How do you deal with a hoarder? Some people I know have all the office papers on their desk and I am thinking: Get a match and go for the burn. What do you think? -- ms_do_little
A: As you know my husband is a big hoarder. Well, let's be honest. He's one of the biggest pigs in the world. It's hard working with him, but I have to. I don't like him half the time, but I still love him. [Laughs]. But I lay down rules. For example, he is not allowed to use anything of mine. I tell him, "No.You can't sit in my office to make a phone call, because then you're just going to leave your crap in there and make a mess." Hoarding is a sickness, really. They have to stop infecting the office. It's just disgusting. Nobody should have to work with that. Well, unless you're me and you've been married to the sick piggy for 44 years.
Q: I totally screwed up a project I was in charge of at work. What's the best way for me to recover? – Catherine Cantieri
Continue reading "Ask Joan – Small Town Security's Chief on Office Slobs and Screwing Up on the Job" »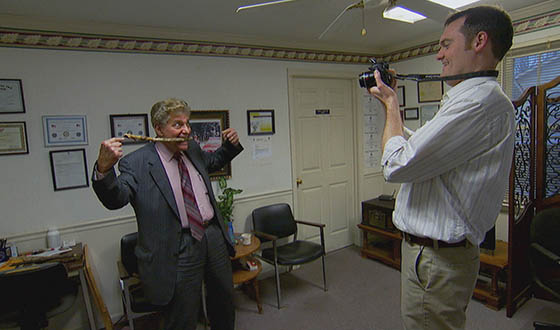 Editor's Note: Last month, following the airing of Small Town Security Season 2 Episode 3, "JJK for Sale" on AMC, the show's Brian Taylor posted on eBay several items of JJK swag featured in the episode. Now, Taylor describes the outcome of the auctions on AMC.com.
It was a shocking, surprising, CRAZY auction as we had no idea we would have this kind of loyal turnout!
Things got crazy early on with Chief's lipstick that she wanted to auction off. Within 3 days it had cruised well over $110! Unfortunately, the suits (eBay's legal team) made us take it down because you can't sell "used" cosmetics. (Sorry to all those who bid on that item. Maybe down the road we'll find a way to get rid of it.)

Irwin's Poop Sticks were highly sought after, as he came across 4 at the house and office recently and wanted to give the fans want they want. We didn't want to freak too many people out so we made it a strict limit of 4. That super low number got many folks bidding in a frenzy as the 2nd Edition ended up going for $102.50 (33 bids)!! The 3rd & 4th Edition went for $46.00 (35 & 24 bids respectively), and the 5th Edition finished at $34.99 (38 bids). This proves how dedicated our fans are — truly unbelievable!
Next up were the JJK Security Writing Pens. A lot of kids wanted these relics as 25 Bids were put on the board for a total of $56!!
Our lovely One Of A Kind Wall Clock had 40 bids and finished up being the highest item sold at $167.50!!! What's better is that it's heading to our good neighbors up north in Canada. The winning bidder wanted to make sure we all sign the clock so we're happy to oblige as Canada loves Small Town Security and we Love Canada!! (FYI, we are quickly becoming Canada's favorite obsession as we're getting all kinds of love from them.)
Last but not least is the little engine that could, a/k/a The JJK Security "Broken" Mug. This little fella has no handle, but that didn't stop 23 bidders jacking up the price to an orgasmic $105! Well played kids, well played.