Small Town Security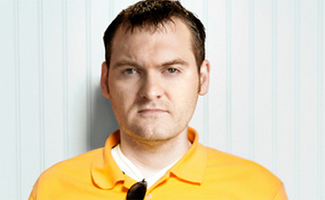 What's up all you cool people? Have you enjoyed the seven awesome episodes of Small Town Security Season 3 so far? Did this episode make you curl up in the fetal position under the covers? Wanna know more about the madness of Episode 8? If you answered yes to any of these questions then come on in, the water's fine, as you're about to be doused with some inside knowledge on the Season 3 Finale, "Hail to the Chief"!
I think I may have said this in the past, so excuse me if I sound repetitive, but Chief is obsessed with three things in life and they are in order: Sex, food, Beverly Hills. She will stop at nothing to obtain these things, and not even radiation stopped her from going to Beverly Hills. After surgery this was all she talked about. She HAD to go.
Originally it was just going to be Dennis and Chief in L.A. as Irwin wanted to stay in Ringgold and get caught up on some things, but Chief wouldn't have it. She said she wanted her "Daddy" to come with her too, LOL. Apparently, this became Irwin's pet name ever since poor Chief went into the hospital. He became her "Daddy" as he was always there for her. Seeing all the footage of those three in and around L.A. was entertaining to say the least.
Continue reading "Small Town Security – Brian Taylor on Chief's Alien Origins in the Season 3 Finale" »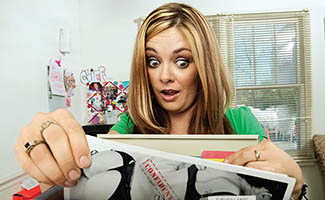 Christa Stephens, star of AMC's Small Town Security, talks about her burgeoning hip-hop career, the mud-bogger incident, and the musical sensation that is "Speecy Spicey Meatball."
Q: Can you tell us a bit about your rap debut?
A: That whole little ordeal just kind of happened. The guy who is rapping on the song is Chris Levar. He [was on] America's Got Talent. His music producer is a huge fan of the show. One thing led to another and they were like, "let's make a jingle!"
Q: Would you ever want to record an album?
A: Oh my god, yes.
Q: What do you think about Joan's song, "Speecy Spicey Meatball"? Continue reading "Small Town Security Q&A – Christa Stephens" »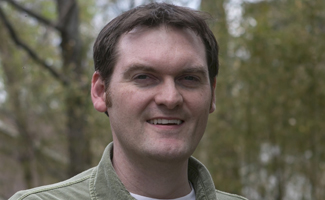 What's up, gang?! This week, your boy Brian is here to lay the straight dope on all you care to know about Season 3, Episode 7, "The Belly of the Beast." (Make sure you say the title in a deep, echo-y voice for the full effect.)
Pretty crazy episode, eh? Dennis took his troops to the dragon's den, Irwin and I tried to slay a hungry beast, and Christa was fighting… well, she was being Christa.
This was a fun episode for me to watch as this was the first time I got to see what REALLY went on in the cave and what Christa did when left alone at the office. The cave would have been fun to hang out at, as I don't mind caves, except I'm too tall for them so I generally steer clear, as I've hit my head on too many things over the years. The cave they ventured in was at Raccoon Mountain in Chattanooga, Tennessee. This is yet another fun, adventurous destination here in our area and you should check it out if you're in our neck of the woods. From what I've heard, there's miles of passageways to explore in those caves besides the camping and hiking you can do there.
As for Christa, I can't believe she tore up the office over a flipping cricket! If I was there, I would have captured those damn crickets with a lot less mess. So glad Sgt. Baynes got there when he did or Christa would have destroyed the office beyond repair.
Continue reading "Small Town Security – Brian Taylor on Forcing the Chief to Diet in Episode 307″ »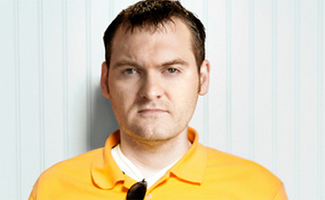 Another week, another episode of Small Town Security to dissect. This week, let's talk about Season 2, Episode 6 "Watch Dogs."
This is a good title for this episode, but if it were up to me, I'd call it: "Winston is THE MAN!" Winston Cavendish is such a unique individual with a fascinating background, it's hard to not like the guy. He has more stories than the Empire State Building and a soothing speaking voice that can calm down the rowdiest group of crumb snatchers. Yes, he can be a little long winded, but it never bothered me. I was all ears whenever he had something to say. I guess you could say I'm a McGruff groupie.
Continue reading "Small Town Security – Brian Taylor on McGruff the Crime Dog's Visit to JJK in Episode 306″ »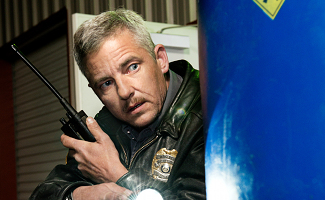 Dennis Starr of AMC's Small Town Security discusses how his relationship with Joan has changed over the years, his relationship with fans, and what he would do if he took over JJK.
Q: How's your dating life going?
A: I've been pretty tied down close to home lately. I haven't had any other dates really since the ones that were filmed.
Q: What's the funniest thing that's happened while filming this season?
A: When we were filming the training video, I thought it was quite funny that one of my officers decided to do a sexual harassment maneuver where he leaned over a counter to look at a young lady and went "Mmm-mmm" to her butt. We thought that was pretty hilarious.
Q: How was it working on the training video with Joan and the staff?
Continue reading "Small Town Security Q&A – Dennis Starr" »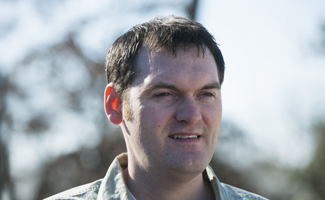 Well, hello there, once again kids. Thanks for stopping in to get a little extra insight into Season 3, Episode 5 "Heady Times: Part 2."
I know you didn't like the way "Heady Times: Part 1″ ended last week and left you hanging, as only Chief likes things that "hang." Hey, I had to throw in some innuendo after that emotional roller coaster from the past two episodes. Chief wouldn't have it any other way.
Anyways…
The cat's out of the bag, as you all finally learn that Chief had a brain tumor. For us, this news was a mixed bag. It was promising, because at least we knew what was causing Chief to act all cuckoo. We couldn't figure out if her current medication was no longer effective or if it was a lack of medication, as it was frustrating us all. Chief had been fibbing to us off and on for a while, whether she had even taken her meds or not. She used to be so consistent with her meds, but all of a sudden she stopped taking them as prescribed. Apparently, as this tumor grew on her brain it started effecting her decision making. This was the scary part of that "mixed bag" I mentioned. Hearing that one you love has to have their brain worked on is frightening news to hear. When you hear someone say, "We're gonna cut through the skull to get to the brain tumor," that isn't the "routine procedure" most docs talk about. Dr. Frankenstein and mad scientist stuff was the first thing that came to me when Irwin hit us with the grim news. However, "routine procedure" was exactly what the doctors told us, so we just held our breath and believed them.
Continue reading "Small Town Security – Brian Taylor on Joan's Surgery and the Funniest Moment in Episode 305″ »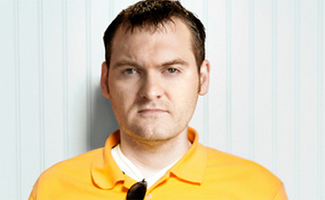 What's up, gang!? I'm back for the attack, to fill you in on Season 3, Episode 4 "Heady Times Part 1"!
Chief MIA? Gilbert Gottfried on Joan Koplan's Forum? Brian looking for another job? To Be Continued….? What the hell is going on!?
Who would've thought Small Town Security was going all "After School Special" on your ass and leaving you with a "cliffhanger" that Sly Stallone couldn't handle? It surprised us too, let me tell ya. Unfortunately, I can't go into any detail this week, you're gonna have to wait for Part 2 my friends.
As you probably know, trying to get Chief to go to the doctor is no easy feat. She can be one tough, stubborn lady, as you can't make her do anything that's necessary or important. It can be sooo frustrating at times, as she truly is like a little kid. According to Chief, she's been this way since she exited the womb over 60 years ago. That's how I coined the phrase: "She's a little girl with big girl needs."
Continue reading "Small Town Security – Brian Taylor on Gilbert Gottfried's Appearance and the Episode 304 Cliffhanger" »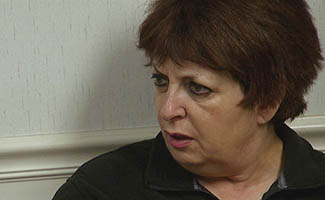 This week, The People's Couch watches Small Town Security. Plus, Project Q Atlanta applauds Dennis Croft. Read on for more:
• The People's Couch enjoys an episode of Small Town Security, and one person calls it "my favorite show."
• Project Q Atlanta observes that Dennis Croft and Small Town Security "continue to break new ground for reality TV and they do it with their own brand of rough-edged eloquence."
• Christa Stephens tells Nooga.com that the locals are coming around to Small Town Security, saying, "Now that they see so many people actually enjoy the show, people are actually giving it a chance that live around here."
To stay up-to-date with all the latest Small Town Security news, sign up for the The AMC Weekly.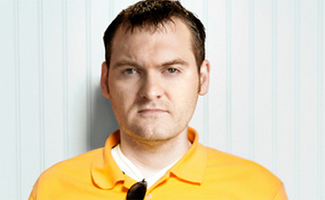 Hey, what's up!? I'm back again to fill you in on a few tidbits from Season 3, Episode 3 "Lambchop's Last Bite."
Losing "The Lamb" was a tough pill to swallow. Everybody here at JJK are animal lovers and we all have pets, so we all mourned in our own way when Lambchop passed. Lambchop was having some health issues for a while, but I thought she had at least a good one to two years left. I was totally STUNNED the day Chief decided to put Lambchop down. I knew Lamb was old and that she would go into that great doggie park in the clouds eventually, but I never thought I would see that day.
I knew we were filming that day and I was minding my own business as I walked in the office on that sad day and saw Dennis in his dress uniform. When Dennis told me he's taking Lambchop to the vet for the last time, it didn't register at first. It's hard to explain. I wasn't given a "heads up" or anything. I didn't realize the cameras filmed that interaction between Dennis and myself until Dennis walked out of the office. I'm telling you folks, me walking into the office was how I found out about Lambchop. That was it.
Continue reading "Small Town Security – Brian Taylor on Lambchop's Last Day in Episode 303″ »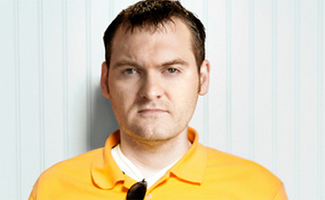 Hey there, boys and girls. It's me, Brian T. Back to fill your head with some insight involving Season 3, Episode 2 "The Dragon Takes Flight". This has got to be the best title for any episode ever on TV, as we all know dragons kick ass!
OK, for those wondering, Sherry Dee Allen really did do that entire mural on her own throughout the filming of Season 3. There was no "art department," nor did she get any assistance. There wasn't much I really knew about the mural during its inception, other than that Dennis wanted to "spruce up" his area to impress the prospective ladies, but that was it. I wasn't aware of all the meaning and symbolism until I saw the episode. It really turned out great. I also never sneaked a peeked while Sherry was working on it, as I wanted to wait 'til the end.
There was even a day when Sherry scared the p!$$ out of me. I was at my desk, allegedly all alone, as everyone was off filming somewhere and I was minding my own business, when she came from the back to take a break (the wolf was giving her fits as it didn't look right to her). I had NO freaking idea she was in the back working on the mural! I nearly jumped out of my chair when I heard her close the door. Oh, what good times.
Continue reading "Small Town Security – Brian Taylor on Dennis Dating and the Chief's Massager in Episode 302″ »