Small Town Security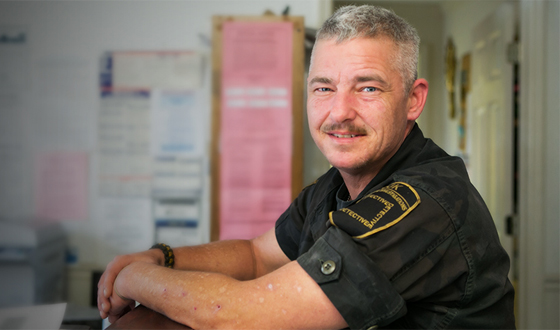 AMC's provocative, preposterous, and unflinchingly real Small Town Security returns for a third season on Tuesday, May 6 at 11/10c, but you don't need to wait until then to reunite with Joan, Dennis, Irwin, Christa and Brian. Fans can watch the premiere episode right now on amc.com. But do so quickly, the episode will only be available for a limited time.

Small Town Security premieres Tue., May 6 at 11/10c on AMC.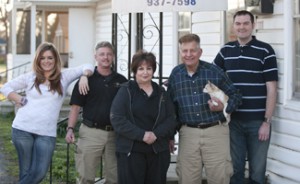 This week, The Huffington Post is excited about Small Town Security's May 6 opener. Plus, TV.com says Season 3 will see new characters. Read on for more:
• The Huffington Post trumpets the return of Small Town Security, with a cast that "wants even crazier story lines."
• TV.com reports on the return of Small Town Security in a Season 3 that will "see several new characters join the cast."
• Zap2it showcases a Season 3 promo where Small Town Security's employees "celebrate the returning season with — what else? — a foot massage day."
To stay up-to-date with all the latest Small Town Security news, sign up for the The AMC Weekly.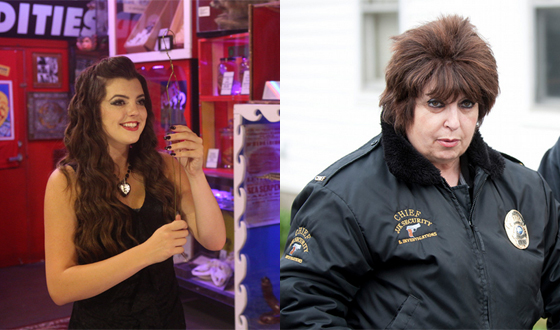 AMC announced today that its unique and unexpected unscripted series Freakshow and Small Town Security will premiere new seasons on Tue., May 6 at 10/9c and 11/10c, respectively, as part of AMC's new "strangest night on TV." Freakshow, will double the freak quotient with 16 new episodes, debuting two back-to-back at 10/9c and 10:30/9:30c, immediately followed at 11/10c with the Season 3 Premiere of Small Town Security, which will consist of eight half-hour episodes. Freakshow is executive produced by Todd Ray from Living Wonders and Greg Johnston from Endemol USA, and Small Town Security is executive produced by Ken Druckerman, Banks Tarver and Mike LaHaie of Left/Right Films.
Season 2 of Freakshow continues to explore the lives of Todd Ray and his Freakshow family, but delves deeper than just inside the doors of their Venice Beach business. The new season will cover the scouting of new talent, and cameras will take viewers inside the personal lives of Morgue, Asia and others, documenting their real, everyday struggles of balancing life, love and the Freakshow.
In the new season of Small Town Security, the unorthodox universe of JJK Security, the small, family-run security and private investigation company in Ringgold, GA, continues to expand as several new, out-of-this-world characters join the cast. Chief Joan Koplan, along with Dennis, Irwin, Christa, Brian and Joan's beloved dog Lambchop are also forced to contend with a series of unexpected shocks and developments — from dwindling business and serious health issues to Dennis's continued gender transformation and Joan's "speecy spicy" meatball musical performance. In Season 3, these curve-balls force our cast to lean on each other like never before.
Click here to learn more about Freakshow.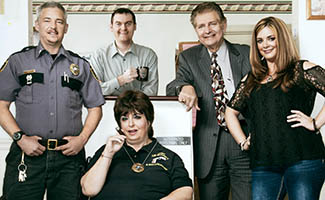 GLAAD has announced the nominees for their 2014 Media Awards, and for the second straight year, AMC's Small Town Security has been nominated for Outstanding Reality Program. The series will face off against Fuse's Big Freedia: Queen of Bounce, WE tv's Cyndi Lauper: Still So Unusual, Sundance Channel's Dream School and Lifetime's Project Runway for the award.  The GLAAD Media Awards recognize and honor media for their fair, accurate and inclusive representations of the lesbian, gay, bisexual and transgender community and the issues that affect their lives.
The GLAAD Media Awards will be held in Los Angeles on Sat., Apr. 12 at the Beverly Hilton and in New York on Sat., May 3 at the Waldorf Astoria.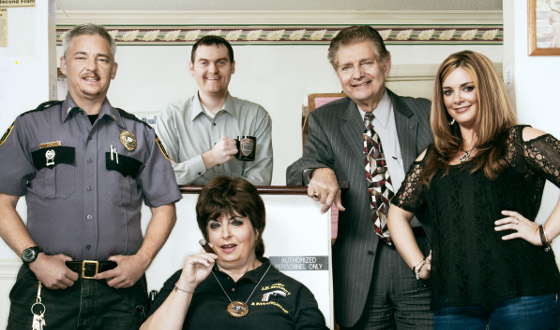 AMC announced that it has greenlit a new unscripted series, Game of Arms, a look inside the raw and highly competitive world of American arm wrestling. The series hails from Matt Renner and Ethan Prochnik, Emmy Award-winning producers of Deadliest Catch, and Dan Ilani, a partner in Undertow Films, their recently-formed company. Game of Arms will follow the members of five arm wrestling clubs, and their friends and families, as they hit the road and wager their rent money, reputations and even their relationships in pursuit of victory. The 10-episode, one-hour series will premiere in the first quarter of next year, timed to the second half of the fourth season of The Walking Dead.
The network also announced that it was renewing its unique and acclaimed series Small Town Security for a third season. Small Town Security will air with the previously announced second season of Freakshow in the second quarter of 2014.
Continue reading "AMC Greenlights New Unscripted Series, Game of Arms, and Renews Small Town Security" »
This week, Small Town Security is described as "original" by TheWrap and "quirky" by The San Francisco Appeal. Plus, a TV blog applauds the reality show as "legimately worth watching." Read on for more:
• Ahead of this week's Season 2 finale, TheWrap describes Small Town Security as "one of the most original takes on American life on TV."
• The San Francisco Appeal calls Small Town Security "a quirky This American Life segment that has come to life, become self-aware, and figured out how to replicate itself into twenty-two minute chunks."
• A blog called Television in the Age of DVR describes Small Town Security as "a reality TV show legitimately worth watching."
• The Mount Airy (N.C.) News reports that the Showville episode featuring the town will now air on July 11, instead of July 4.
• Zap2it previewed "San Marcos, Texas" from last week, observing that "belly dancing is harder than it looks."
• Zap2it shared photos from last week's Episode 7, "All Hands on Deck," while Shockya shared an exclusive preview clip.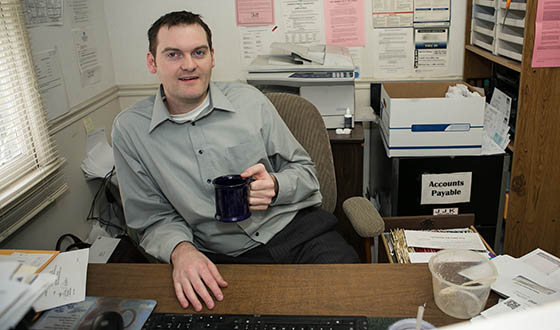 Hey gang it's me Brian Taylor, aka "The Island of Consistency," to fill you in on what's been going on with JJK Security & Investigations.
Another season of Small Town Security has come to a close and it's been one hell of a fun ride, kids. We've gotten love from all over the place from fans and well-wishers — it's been unbelievable.
A lot of you have been laughing, crying, and having a great time watching us be… US. There have been SO MANY of you telling us through social media, email, AND by picking up the good 'ol fashioned telephone to tell us how great we are and that you can't get enough of the show. Well let me be the first to tell all you STS watchers that WE can't thank you all enough for watching us!
We at JJK can't swing a cat without running into someone telling us how great Season 2 is, so I thought I'd recap this swell season by adding some additional insight from each episode you probably didn't know existed.
Episode 1: "The Wicked Witch of Georgia"
The title of this episode actually came from a caller who left us a 3+ minute voice mail ranting about us — well, mostly to Joan. He really did call her "The Wicked Witch of Georgia" as well as a bunch of other crazy stuff. Yet he wished us all good health, even to Joan (it was so weird). I couldn't tell you how many times we played that entire voice mail, we laughed so hard every time we played it. Continue reading "Brian Taylor Shares the Inside Scoop on Small Town Security Season 2″ »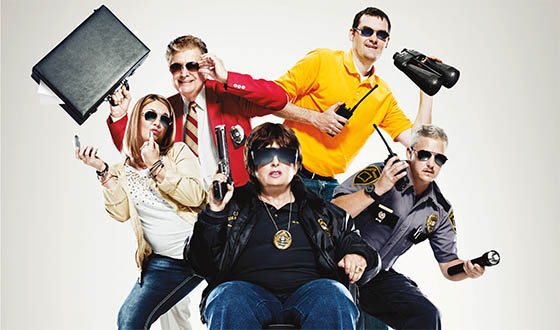 Small Town Security's Season 2 Finale airs this Thursday night at 11/10c. Looking for ways to distract yourself until then? Here are ten ways to get ready for Episode 8, "The Man Makes the Suit":
1. Watch a sneak peek video for the Season 2 Finale.
2. Check out sneak peek photos from Episode 8.
3. Listen to NSFW audio clips of the cast's best one-liners with the Small Town Security Sound Board.
4. Flip through the Small Town Security Family Photo Album.
5. Read Season 2 interviews with Joan Koplan, Dennis Starr, Irwin Koplan, Christa Stephens, and Brian Taylor.
Continue reading "Ten Ways to Get Ready for the Small Town Security Season 2 Finale This Thursday" »