Owner's Manual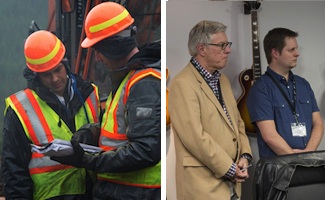 This week, Owner's Manual's finale is previewed by Zap2it, while a rap video is being shot for an episode of The Pitch, according to Chicago Business Journal. Plus, Channel Guide Magazine checks out photos from Owner's Manual's final episodes. Read on for more:
• Owner's Manual's last two episodes are highlighted by Zap2it, which says Marcus and Ed are "going out with a bang" in the season finale, "Rock Quarry."
• Chicago Business Journal reports that Monogram Group/Chicago is planning to shoot a rap video tied to their upcoming appearance on The Pitch.
• Channel Guide Magazine showcased photos from the final two episodes of Owner's Manual, observing that Ed and Marcus "couldn't repress their affinity for fun" even when they were about to blast a mountain.
Continue reading "Zap2it Features Owner's Manual's Final Episodes; The Pitch Firm to Do Rap Video" »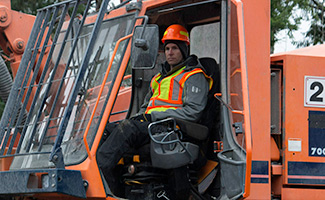 Owner's Manual co-host Marcus Hunt discusses his behind-the-scenes experience blowing up a mountainside at DK Quarries in Oregon.
Boom! Did we get to wire 5,000 pounds lb of explosives? YES! Did we get to blow thousands of tons of rock off the mountainside? YES! Did we get to use huge machines and crushing grinders to process 100 tons of rock? YES! This was a big kid's dream.
Massive drilling rigs that drill three-inch holes up to 60 ft deep, excavators, front loaders and rock-crushing jaws are just a few of the things that we got to play with. But first and foremost: Safety. Before we were even allowed to step foot near the quarry, the entire crew took a four hour safety course following MSHA rules. You've probably heard of OSHA — the Occupational Safety and Health Administration… Well, the mining industry has MSHA — the Mine Safety and Health Administration — and they're even more hardcore than OSHA. We had a rep, Kim, on site every day to make sure that we were adhering to the rules, and he turned out to be both awesome and helpful. Standing there looking at the 300-400 ft wall of rock surrounding us was almost overwhelming. There was a wet, muddy, super-steep road from the base to the top, where we were drilling, that we had to walk up every day — sometimes twice. I'm in pretty good shape, but if I never have to climb something like that again, I'd be happy. As always, a huge shout-out to our filming crew who pushed through in the freezing cold, rain and mud.
Continue reading "Owner's Manual Host Blog – Marcus Hunt on the Rock Quarry" »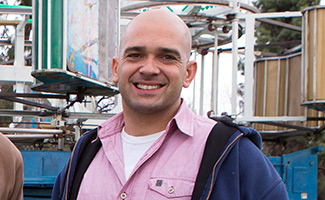 Owner's Manual host Ed Sanders discusses his behind-the-scenes experiences building and operating a carnival ride.
The bright lights, the smell of fried food and the crazy rides can only mean one thing: No, not Friday night at Marcus's house — I'm talking about the carnival!!! (Or, as we call it in London, the funfair!)
I've lost count of how many times I've been to the carnival. I love the carnival. (Except the rides that really just make you want to hurl, which is pretty much all of them!) Maybe it's been the fried food I've been enjoying all of these years. There's nothing better than something — could be anything — covered in batter and then deep-fried. Am I right, or am I right?
Unfortunately for me, this trip to the carnival wasn't going to be like any of the previous times, because me and old sweet-cheeks were going to be setting up a ride. Not just any ride, but a bloody big throw-your‐guts‐up, scare‐the-living-daylights-outta-ya ride!
Continue reading "Owner's Manual Host Blog – Ed Sanders on the Carnival" »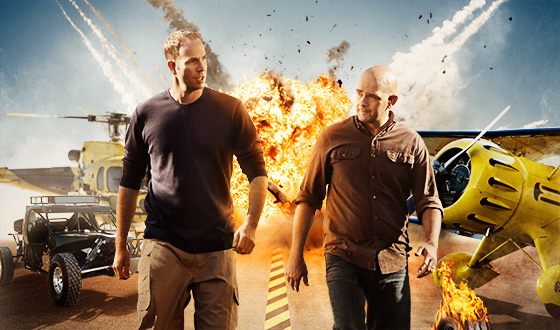 This Thursday at 10/9c, Ed Sanders and Marcus Hunt attempt to assemble a carnival ride then operate dangerous mining equipment during the two-episode season finale of AMC's Owner's Manual. For a sneak peek of what lies ahead for both men, check out these Owner's Manual photos, then read behind the scenes accounts from Marcus (assembling a carnival ride) and Ed (blasting rock in a quarry).
Want to hear about the Owner's Manual hosts' experiences from earlier this season? Check out personal blog posts by both Ed Sanders and Marcus Hunt then test your knowledge of carnivals and rock quarries with the Owner's Manual Ultimate Fan Games.
The Owner's Manual Season Finale begins at 10/9c on Thu., Sep. 19.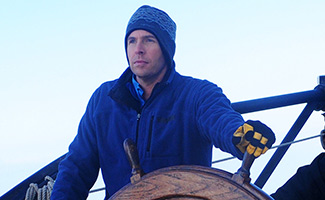 Owner's Manual co-host Marcus Hunt discusses his behind-the-scenes experience operating the Tall Ship Bill of Rights.
One word… EPIC. What an amazing adventure. These past few days gave me a taste of what it must have been like when explorers, traders and pirates spent months in the open ocean. Captain Taylor and the crew of the Bill of Rights were amazing, and they showed both Ed and me how important communication and speed were when it came to rough seas, and properly navigating and getting back to port safely. I grew up boating, fishing and sailing, but operating a Tall Ship was nothing like what I knew.
My first sailing experience came when I was around 12 years old, when my brother's friend gave me his old 14 ft catamaran with a torn sail. A roll of duct tape and a few hours later, my friends and I were full blown captains. Ha. I learned about wind direction, tacking and technique, which helped on the Tall Ship, but having to learn a whole new vocabulary of commands and needing a full crew to raise sails, change direction, etc. was a new experience. It's one thing to sail a lightweight, 14 ft boat in perfect conditions, but to sail a 120 ton, 136 ft Tall Ship in heavy winds, cold pouring rain, and with waves smashing over the bow… EPIC.
Continue reading "Owner's Manual Host Blog – Marcus Hunt on Tall Ships" »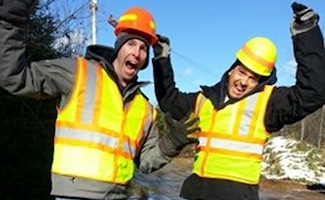 This week, USA Today notes the availability of Owner's Manual on Hulu. Plus, The Oregonian sides with Marcus. Read on for more:
• USA Today reports that the Owner's Manual season premiere, "Stunt Plane," is now available on Hulu.
• The Oregonian, spotlighting this week's Owner's Manual episode "Yarder," thinks it's always better to consult the manual.
• The Seattle Times and Winnipeg Free Press featured Owner's Manual in this week's TV picks.
• The Houston Chroncle includes the Owner's Manual Sept. 26 season finale in its list of notable September TV events.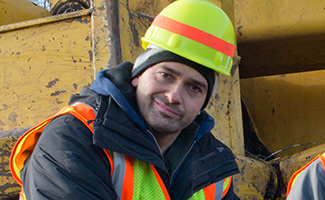 Owner's Manual co-host Ed Sanders discusses his behind-the-scenes experience logging in Oregon.
London, England is a concrete jungle. The last time someone saw a tree was back in the last millennium, around 1066 A.D. I believe it was King Harold II, just before he was killed by William the Conqueror's army, who said at the time to his royal aide, "My dear humble servant, what is that thing way over there on the horizon?" The royal aide replied, "That would be what the kids nowadays are calling a tree!"
I would not lie to you, my friends. That is written somewhere in a book that they stopped printing some time ago and that I was once told about in a pub by a drunk guy's fiancée's sister.
It has to be true… There aren't any trees in London. The first tree I ever saw was when me and me old China, Marcus, took up this challenge in Oregon where they grow trees like London grows concrete. Seriously, I have never seen so many trees in one place at one time. What's even cooler is the fact that for every tree the company we worked with cut down, a new one was automatically planted! Great stuff, eh?
Continue reading "Owner's Manual Host Blog – Ed Sanders on Logging" »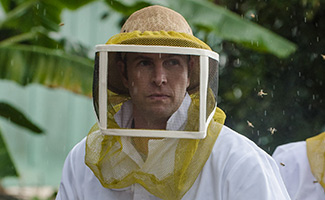 Owner's Manual co-host Marcus Hunt discusses his behind-the-scenes experience brewing beer in Hawaii.
Of all the places to film an episode, Kona, Hawaii was a pretty good one. You would think that with a nice hotel on the ocean, huge pool and gorgeous weather, we'd film a little, relax a little and so on. Not so much. The amount of work that goes into making a 30 minute show would amaze you. This crew is up by around 4:30AM, returning only for a shower, dinner and bed.
I love machines and processes, so I was excited to see how beer is made. What was cool about going to a smaller brewery was that our experts really were hands-on with not only the process, but also the flavors. They did extensive research and testing with a variety of hops and ingredients. When it came time for Ed and me to make beer, every measurement and all the process times had to be precise. I learned two major things about hops: 1. It only takes a small amount to drastically change the taste of 1,200 gallons of beer, and 2. Don't put them in your mouth. BLAHHHHH. Of course, Ed said, "I wonder what they taste like," and I said, "I'll try one." DUMB. Water, soda, candy, lunch, dinner… None of these things got rid of that awful taste. Anyway…
Continue reading "Owner's Manual Host Blog – Marcus Hunt on Brewing Beer" »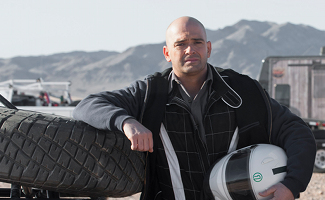 Owner's Manual co-host Ed Sanders discusses his behind-the-scenes experience off-road racing in the Nevada desert:

When you think of Las Vegas, you think showgirls, gambling and late nights! One thing you might not think of are 300 horsepower dune buggies that can eat up the Nevada desert quicker than my old mate Marcus can clear his plate at a casino buffet — and believe me he can. I've seen him!
That was this week's challenge… No, not watching my slender buddy stuff his face at a Vegas buffet, but dune buggy racing with the amazing team over at Zero One Odyssey Racing. I honestly thought that this was one challenge me old mate could handle without having to read a manual. But no!!! He honestly wants to take a manual in the car with him. How the bloody hell are you supposed to race a car across the desert with an owner's manual stuffed in your face? I know there's a law against driving while holding a cell phone, but is there a law that prohibits a dune buggy driver from reading a manual while doing 70 mph? My goal is to stay in front of old sweet-cheeks, especially when he's reading his manual!
Continue reading "Owner's Manual Host Blog – Ed Sanders on Off Road Racing" »