Movie History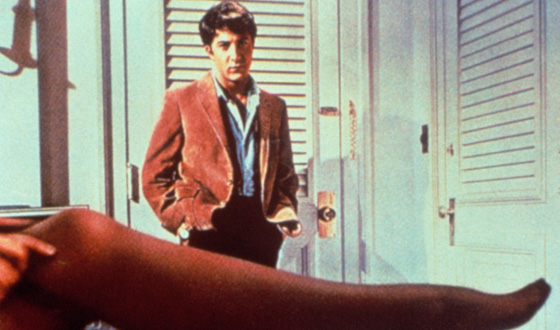 Sure, you could buy a fedora and a gray flannel suit, light up a Lucky Strike at your next business meeting, and start keeping a fully stocked bar at your cubicle but there are easier ways to get your fix of 1960s culture between airings of Mad Men. Look no further than these quintessential movies of the era, selected by Filmsite.org's Tim Dirks. Whether it's bad behavior in the corporate boys club (The Apartment), high-society carousing in New York City (Breakfast at Tiffany's), or Freudian dilemmas of Hitchcockian scope (Marnie), these iconic '60s movies deliver the goods and then some. (One of them even served as the inspiration for a Sterling Cooper ad campaign: Bye Bye Birdie.) Want to see what else made the list?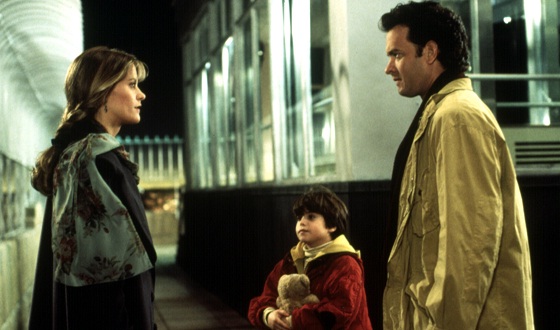 Hollywood constantly outputs romantic tales by which to live vicariously: Star-crossed lovers in Titanic, love with a perfect stranger in Sleepless in Seattle, even a boyfriend back from the dead in Ghost. But while there are many great big screen love stories, which romance flick is the best?

Don't miss Sleepless in Seattle on Thu. Feb. 23 at 10:30/9:30c.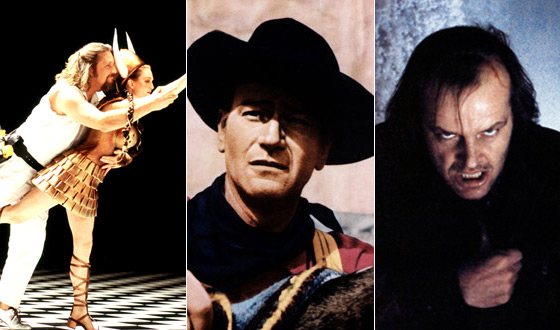 This year's Oscar Nominations in the Best Picture category (Hugo, The Artist, Moneyball) have a noticeably upbeat feel to them. That's a stark contrast to last year's which included 127 Hours and Black Swan. Which might have you puzzling: What happened to Drive, J. Edgar and Shame this time around? Did the Academy get it right or are these some serious omissions? If it's the latter, the directors and actors associated with these movies can take comfort that they're part of a long tradition of great movies snubbed by Oscar. Did you know, for instance, that Reservoir Dogs, The Searchers and Scarface garnered not a single nomination? Not even for sound editing or costumes? What's the best movie that never was nominated? Find out and weigh in with your own votes.

Check out the indisputably great but unnominated classic Rio Bravo when it airs on AMC on Sat. Feb. 25 at 2:30/1:30c.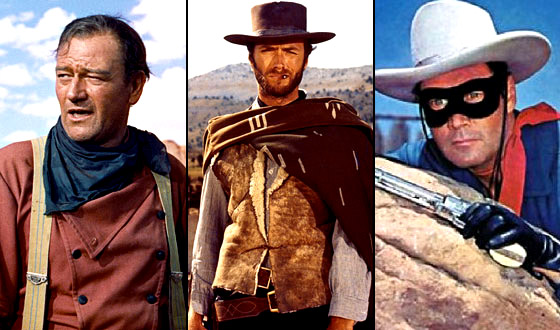 For over 100 years, Westerns have been a popular, uniquely American staple — although the genre has suffered both peaks and valleys in popularity. In fact, Westerns made up the dominant film genre from the beginning of cinema until about 1960, and they appear to be making an invigorating comeback, at least on TV. Modern movie remakes such as 3:10 to Yuma (2007) and the Coen brothers' True Grit (2010) have paid homage to their mid-twentieth-century predecessors. All Westerns embody a return to the bygone frontier: wide-open spaces, sturdy individualists, gunfighters, shoot-outs, larger-than-life good guys and bad guys, institutions such as the saloon (with bad girls), horse chases, cattle, and lawmen.
This quick guide provides a historical overview of the popular genre. (Perfect for fans of AMC's Hell on Wheels!)
1. Silent-Era Westerns
Edwin S. Porter's innovative 1903 short, The Great Train Robbery, marked the real birth of the genre. The earliest Western stars emerged: Gilbert M. "Broncho Billy" Anderson (the first cowboy hero), Tom Mix (an actual cowboy who often did his own stunts), and William S. Hart (a veteran of Thomas H. Ince's Westerns). The first sagebrush sagas were either filmed on soundstages or made on the East Coast, until the wide expanse of the West opened up for on-location filming. Many of the genre's greatest directors, such as John Ford, developed their craft and scored their first hits within the Western category. Even the cowboys' horses were superstars, such as Mix's "wonder horse," Tony. Some of the earliest traditional Westerns were based on Wild West pulp novels and stories, including the genre's first epic — the pioneer spectacular The Covered Wagon (1923).
Prime Examples: The Covered Wagon (1923), The Iron Horse (1924), and Tumbleweeds (1925).
2. B-movie Westerns
From the thirties to the late forties, inexpensive, formulaic B Westerns were churned out each year by the hundreds by lesser studios (Columbia, Universal, and Republic) — mostly for kiddie audiences at matinees. Some were multiple-chapter serials with cliff-hanger plots or series (a succession of films with familiar characters). They featured another round of clean-cut heroes: Hoot Gibson, Harry Carey, Ken Maynard, Tim McCoy, Buck Jones (the Red Rider), Bob Steele (the Two-fisted Hero of the West), William Boyd (Hopalong Cassidy), the Three Mesquiteers, and the Lone Ranger. "Horse operas" had crooning added; they were popularized by Gene Autry (the Singing Cowboy) and Roy Rogers (the King of the Cowboys), with his wife, Dale Evans. The frontier heroes usually represented the ideal masculine role model, never smoking, lying, drinking, swearing, having sex, or gambling. John Wayne was the only truly iconic figure to emerge from the simplistic plots.
Prime Examples: In Old Santa Fe (1934), The Desert Trail (1935), Tumbling Tumbleweeds (1935), Hit the Saddle (1937), Adventures of Red Ryder (1940), Border Patrol (1943), and King of the Cowboys (1943).
Continue reading "Movie History – A Quick Guide to Westerns" »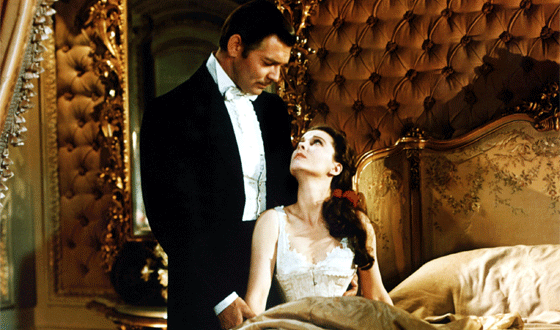 When it was published, in 1936, Margaret Mitchell's Gone With the Wind became a sensation — prompting David O. Selznick to pay $50,000 for the film rights (an astounding sum in those days for an unknown author's first book). Many thought the producer was insane — the movie earned the nickname Selznick's Folly — but the naysayers, of course, were proved wrong. By the time of the film's release, the novel had sold over 1.5 million copies, and MGM had created one of the greatest epics of all time. Since then, the film version of Gone With the Wind has grossed almost $200 million ($1.5 billion when adjusted for inflation). It has also given us two of the most iconic characters in movie history: Scarlett (Vivien Leigh) and Rhett Butler (Clark Gable).
Continue reading "Movie History – Are Gone With the Wind's Rhett and Scarlett Hollywood's Greatest Characters?" »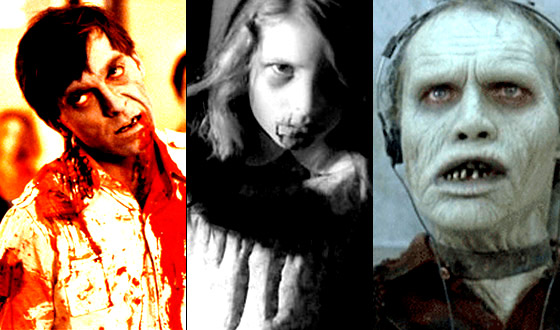 In the waning years of the sixties, George A. Romero ushered in a revolutionary new
horror subgenre of zombie pics. Stephen King praised him for taking the horror "out of Transylvania" and bringing it to modern-day America. Romero's first Dead film appeared in 1968, the same time as civil unrest, Black Power, student protests, the Vietnam War, fear of nuclear annihilation, and the assassinations of Robert Kennedy and Martin Luther King Jr. — all coupled with the idealistic innocence of the previous year's Summer of Love. Romero realized that his archetypal zombie narratives — with extreme blood, violence, and gore — could also provide subtextual commentary on societal themes. He recognized that the epitome of horror can be found in humanity itself. As Romero said, "I also have always liked the monster-within idea. I like the zombies being us." This tribute documents how the modern zombie era was ushered in, emphasizing unrelenting terror and assuring us that nothing would ever be the same again.
Night of the Living Dead (1968) – 'They Won't Stay Dead'
Romero's debut feature — the first of a canon of zombie classics — marked the rise of independent horror. These zombies were indiscriminate flesh-eating ghouls, not produced by voodoo rites or outer-space mutants, who lumbered stiffly out of their graves toward a barricaded house in rural Pennsylvania. Romero himself defined them as average-Joe "blue-collar monsters." The terror came from their relentless attack on fugitive survivors hiding to escape the zombies' infectious bites. The low-budget black-and-white film was made documentary-style, with natural lighting and a handheld camera to accentuate the besieged farmhouse occupants' visceral fear. Soon the threat was coming from inside the house too, with a struggle for power between a resourceful Black man (the lead!) and an impulsive family man. It showed violated bodies and families torn apart by the living dead, illustrating how nothing was sacred in contemporary society. (An adolescent girl killed her own mother with a garden trowel and then ate her.) Audiences were struck by the film's despairing tone, tragically ironic ending, and depiction of a lifeless dehumanized society.
Dawn of the Dead (1978) – 'When There's No More Room in Hell, the Dead Will Walk the Earth'
It would be another decade before Romero's sequel, which further redefined the genre. This was the most profitable of all of Romero's zombie films and the one that was received most favorably by critics. Four survivors sought refuge in a deserted suburban shopping mall from ravenous zombies — and from a gang of postapocalyptic bikers. The satirical film was a indictment of seventies consumerism, as it showed the group looting the mall and living the American Dream in a barricaded storage area, distracted by their material luxuries while undead danger lurked nearby. The biting social satire equated zombies with brainwashed automaton consumers slowly shuffling their way through malls as soothing Muzak played. Why did the zombies congregate there? As one character explained, "Some kind of instinct. Memory of what they used to do. This was an important place in their lives." Romero said in an interview, "I've always felt that the real horror is next door to us, that the scariest monsters are our neighbors."
Continue reading "Movie History – Master of Zombie Horror George A. Romero" »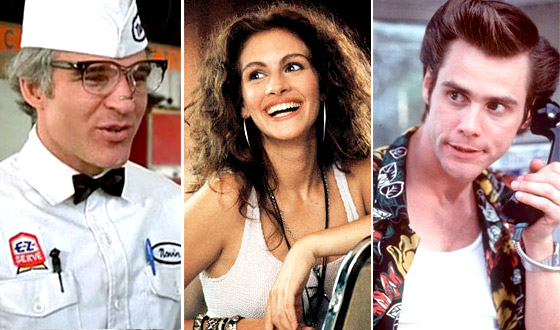 The most memorable or stereotypical typecast roles for movie stars — e.g., Bela Lugosi as Dracula or Johnny Weissmuller as Tarzan — will not be the focus of this article. Instead, it will be about the roles that either jump-started an actor's career or helped to make his or her career flourish in a new and startling way. Here are some primary examples.
Audrey Hepburn, Roman Holiday (1953)
Petite and delicate, Belgium-born actress Hepburn had only bit roles in a few obscure European films in the late forties and early fifties. It was her first American film that brought her to prominence, got her a Best Actress Oscar, and led to a decades-long career until her last film, in 1989.
Sean Connery, Dr. No (1962)
The Scottish actor has often been regarded as the greatest James Bond of all time (in six of the action films from 1962 to 1971 and another in 1983). Before his breakthrough role as agent 007, which brought him to international attention, he had floundered since 1957 in minor film and TV roles — notably as a romantic lead in the Disney live-action leprechaun film Darby O'Gill and the Little People (1959).
Continue reading "Movie History – Pretty Woman, Basic Instinct, and Other Movies That Changed Careers" »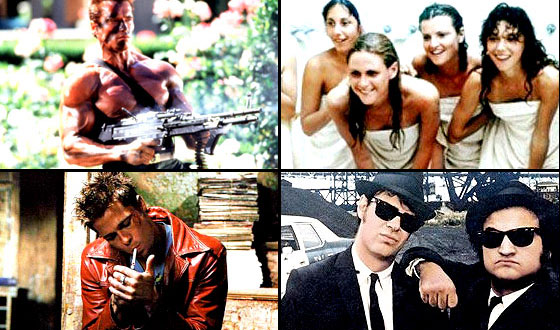 The terms "macho movie" or "guy movie" mean different things to different viewers, but there are some generally accepted testosterone-laden features that typify the genre: hot cars, do-or-die competitions, curvaceous co-stars, sexual initiations, road trips, and even a little bromance. You're also likely to find the plots spiced up by raunchy dialogue, aggressive slapstick, endless obscenities, ultraviolent fight sequences with high body counts, and scenes of female conquest with gratuitous nudity. The heroes — and anti-heroes — are often loners and mavericks, destined to be unapologetic about their behavior. Guy films may require you to leave your brain at the door since they're often devoid of character development and richly nuanced dialogue, but the best of the best will never put you to sleep either.
So what are the most prominent types of guy flicks out there?
1. Action (Also Secret Agent and Martial Arts)
This brand of guy movie is fueled by adrenaline rushes, acrobatic combat sequences, fiery crashes, and major explosions — often played as a race against time. With undercover intrigue complicated by double agents or vigilante plotlines peopled by killing machines and villainous bad guys, the action flick is also notable for its high-tech gadgetry, sexy cars, and sexier women.
Prime Examples: The Bourne Ultimatum, Grindhouse, Casino Royale, Crank, The Bourne Supremacy, Kill Bill: Vol. 2, Kill Bill: Vol. 1, The Bourne Identity, The Matrix, Mission: Impossible, Terminator 2: Judgment Day, Die Hard, Lethal Weapon, Predator, Commando, Rambo: First Blood Part II, The Terminator, The Road Warrior, Enter the Dragon, Goldfinger
2. Crime and Gangster
Although primarily associated with the Mafia, the crime pic can also address activities like drug dealing, heists, cover-ups, gambling, white-collar corruption, and the art of the con. Any tales of retribution often culminate in ugly violence while the rise-and-fall stories are likely to incorporate vendettas, executions, and sometimes even bloodbaths.
Prime Examples: Sin City, Training Day, Fight Club, Casino, Heat, Se7en, The Usual Suspects, Pulp Fiction, Reservoir Dogs, Goodfellas, RoboCop, Scarface, Taxi Driver, Death Wish, The Godfather: Part II, The Godfather, Dirty Harry, The French Connection, Shaft, Bullitt
Continue reading "Movie History – A Quick Guide to Guy Movies" »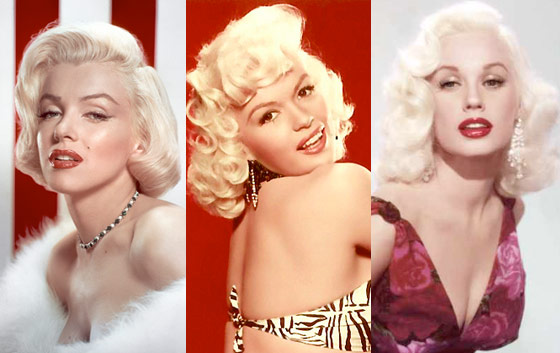 From Hollywood's earliest days, the maxim holds true: Sex sells. But it wasn't until the 1930s that actresses with sensational, come-hither sex appeal were publicized as "bombshells." In the days of big-screen glamour, shapely females — often with blonde hair — were the rage, often becoming popular, larger-than-life sex symbols.
Hollywood's First Bombshells
Deep-voiced, generously-proportioned Mae West could be considered Tinseltown's first bombshell but she was also a risqué Broadway playwright whose morals charges and obscenity controversies brought her continuous publicity. On screen, she became known for her wise-cracking "Diamond Lil" persona with raunchy double-entendres designed for men. Her bawdy one-liners in She Done Him Wrong (1933) and I'm No Angel (1933) were notoriously frank (i.e., "Why don't you come up sometime and see me? I'm home every evening").
Continue reading "Movie History – Ka-Boom and Va-Va-Voom… Bombshells From Mae West to Marilyn Monroe" »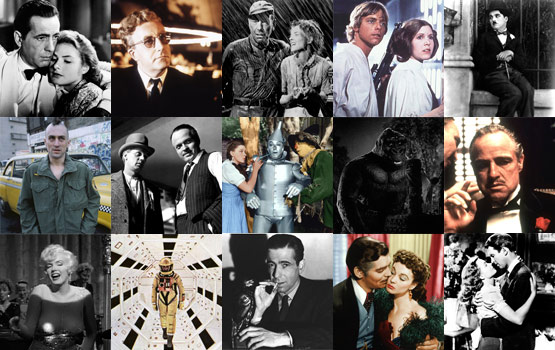 Filmsite was launched in May of 1996, when I first registered filmsite.org as a domain and set out to create a small non-profit site dedicated to great American film. It was a bygone time, fifteen years ago, when almost every conceivable domain name was still readily available for a small registration fee. I had been an amateur film buff for many decades when I decided to create an educational, inspiring resource that capitalized on my movie knowledge. The site was launched as an offshoot of my personal hobby of watching and collecting classic films on Blockbuster-rented VHS tapes, and on high-quality laser discs from retailer Tower Records — now both obsolete home video formats.
The Tech Environment When Filmsite Launched in 1996

At the time, I lived in downtown Palo Alto and worked in the heart of Silicon Valley. I was engaged full-time as a technology educator at San Jose, California's Tech Museum, running public programs, conducting computer classes, and teaching myself (and others) how to program in HTML. The site served as a way to practice webpage creation while reviewing the greatest English-language films of all time. Very few personally-created websites existed, and I decided to avoid the easy route that many Web authors took — posting a free site in a GeoCities neighborhood. I used Netscape as my Web browser (since Microsoft's IE didn't exist until late 1996), my e-mail client was Hotmail, and my preferred search engines were AltaVista, excite, and HotBot. I frequently visited Yahoo to see where Filmsite was being cataloged along with a burgeoning number of other Web sites. To put the era in its proper context, Netflix, Wikipedia, YouTube, Twitter, Facebook, Firefox, and even Google didn't exist, and blogs hadn't appeared. Amazon, eBay, and IMDb were still in their early development stages, and only 34 million American households had a computer.
Continue reading "Movie History – Looking Back at the First Fifteen Years of Filmsite.org (a.k.a. Greatestfilms.org)" »