Interviews
Game of Arms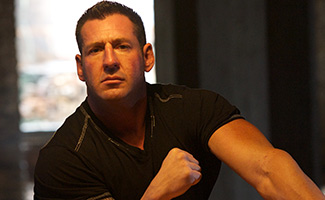 After serving time in federal prison, Bart Wood got his life back together and became a standout competitor. Watch his Erie Wrecking Crew meet the Kansas City Rolling Thunder on tonight's episode of Game of Arms.
Q: There are a lot of legends on the show, including Cobra Rhodes and Allen Fisher. Was there anyone you looked up to when you started wrestling?
A: Growing up in Erie, it was John Heynoski Sr. [John Heynoski Jr. is a Wrecking Crew teammate.] He was the toughest guy around. I tried to model myself after him. He actually became my teacher. And of course, we wound up having to pull each other years later.
Q: It's not often you have to compete against your coach. Were you psyched out?
A: It was very hard. He knew every trick I had, and I knew every angle he had. It was a hard match to referee because we were trying to anticipate what the other was doing in the grip. I snuck one win over on him, but he came back to beat me twice in the finals. He was a living legend in our area. [Having a well-known name] can absolutely psych people out. When people go up against Cobra or Travis Bagent, they're intimidated by the name alone.
Q: You're a father of five. Would you want to see any of your kids get into the sport?
Continue reading "Game of Arms Q&A – Bart Wood (Erie Wrecking Crew)" »
Game of Arms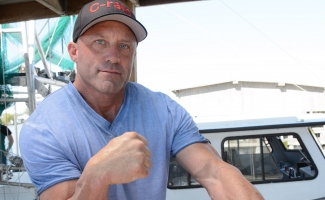 A Louisiana oil worker, Craig Tullier of the Baton Rouge Roughnecks talks about his bone-breaking profession and curling more than his body weight with just one hand. 
Q: Do wrestlers take on some of the characteristics of their cities?
A: The training can be different depending on the area. The New York guys tend to fight grips a lot more. With the California guys, I find they're looking to get an advantage however they can. Down here [in Baton Rouge], even though I approach the sport with technique, a lot of guys want to beat people with power. Sometimes it works, but in my book, you need to know how to take power from your opponent. Turbo and Chop are two of the more stubborn ones. [Laughs]. They go to the table with one mindset.
Q: Do you think people underestimate "Turbo" Borrow and "Chop" Bertrand because of their heavyset builds?
A: With those guys, it goes two ways. Someone might say, "Look at these guys, they're out of shape, they're not real athletes." But the other side sees them partying and drinking and thinks, "If they're doing that and winning, imagine if they got serious and trained." The public does like to see big, ripped up guys like me and [New York firefighter] Mike Ayello, but others want the flip side, the goofballs.
Q: You took a six-year break from the sport. What happened?
Continue reading "Game of Arms Q&A – Craig Tullier (Baton Rouge Roughnecks)" »
Game of Arms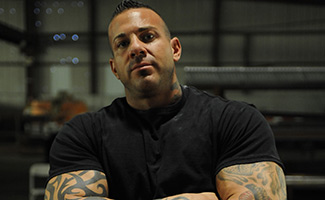 Bouncer-turned-cop-turned-firefighter Mike Ayello represents a sizable problem for anyone opposite him at the table. At 6'5" and 265 lb, he's one of New York City's most intimidating pullers. See if Ayello can help NYC Arms Control take out the Erie Wrecking Crew on tonight's Game of Arms, premiering at 10/9c on AMC.
Q: What got you into firefighting? Was it something you grew up wanting to do?
I was a New York City police officer before I was a firefighter. One day, I was walking my beat in a blizzard. It was f—ing freezing out and I was passing by the fire house. Their door was open and someone said, "Dude, are you nuts? Come inside. It's two degrees out." I sit down and they're having filet mignon. I thought, "I'm on the wrong job."
Q: Do you think being a firefighter helps your arm wrestling game?
A: Absolutely. I'm in a ladder company. The Jaws of Life weighs 80 lb and I'm carrying it with one hand. The gear on my back weighs 70 lb. Everything all day is about hands and wrist. You're climbing a ladder with your tools in one hand and holding on with the other.
Q: It's dangerous work. Have you ever been in a bad spot?
Continue reading "Game of Arms Q&A – Mike Ayello (New York City Arms Control)" »
Game of Arms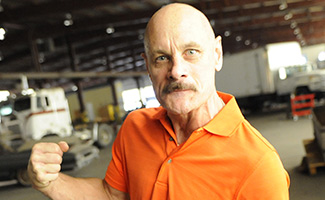 The average career of an NFL athlete spans just six years: Allen Fisher has been at the top of his sport for 34. Since turning pro in 1980, the 58-year-old has pulled thousands of matches, making him one of the most seasoned athletes on any team. Watch him compete on tonight's Game of Arms, premiering at 10/9c on AMC.
Q: It's practically unheard of for an athlete in any sport to go for as long as you have in arm wrestling. What's the secret?
A: Staying intact. I've never had some of the surgeries these guys have had. My diet is strict compared to most. I try to get nutrition not from supplements but mainly good, whole foods. Some people say it's 70% diet, 30% training. For me, it's more like 80/20. I also listen to my body. A lot of guys will push through pain, but I believe more in controlled pain. I would rather lose than be in a position where I'm in pain on the losing side. It's just one match.
Q: What about training? On the show, we see you gripping the steering wheel while driving. It seems like you'll use anything that's around to get a workout in.
A: Part of it is that I have to fidget with something or I can't pay attention. We just had a family meeting and I was taking a phone charger and tearing it apart. I've bent steering wheels in cars. I've broken gear shifters. I've broken the throttle on motorcycles from gripping. Right now I'm taking popsicle sticks and seeing if I can twist them with just my thumb and index finger.
Q: I think the takeaway here is not to hand you any small animals.
A: Well, I used to work with window glass, which is very thin, so I know when to be careful.
Q: Your wife was also a professional arm wrestler. Is that how you two met?
Continue reading "Game of Arms Q&A – Allen Fisher (Sacramento Arm Benders)" »
Comic Book Men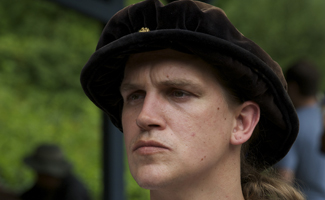 Jason Mewes, a.k.a. Silent Bob's partner in crime, Jay, talks about his relationship with Kevin Smith and how Jay and Silent Bob would fair on The Walking Dead and Breaking Bad.
Q: How often do you hang out at the Stash?

A: Every time I go back [to New Jersey], I go to the Stash, at least a few times. I have a couple of nieces and nephews, and they like to go by and get comics and check out the store and stuff.  There's a really cool arcade right down the street from the Stash, with a ton of old stand up video games, and they also have like five TVs with an Xbox and PS 3. I'll bring my nieces and nephews to the Stash, and we'll hang out, and check out comics and action figures and then we'll walk down to the arcade.
Q: You've worked with Kevin for 20 years. How has your creative partnership changed? 
A: Now, it's nice, Kevin comes up with ideas and will ask my opinion, or I'll tell him my ideas and we'll have a back and forth. I feel like the first ten years — I was younger in the beginning with Clerks and Mallrats, and for Dogma… I was a mess, so I would say in the first ten years, it was more about him being like, 'Hey, you gotta be on the straight and narrow if you want to do this movie, and get your act together.' Now, I feel he actually asks my opinion on stuff. For example, he gave me the Jay and Silent Bob's Super Groovy Cartoon Movie script and told me to go do something with it. It used to be more like a younger brother and an older brother, to where I feel like now it's more of a partnership. It's been really nice, and a big change.
Q: How do you think Jay and Silent Bob would fare on some other AMC shows like The Walking Dead?
Continue reading "Comic Book Men Q&A – Jason Mewes" »
Game of Arms
Missouri's Bill Logsdon credits drywall installation and bow-hunting for his success in arm wrestling. Catch Logsdon in action against the Sacramento Arm Benders on tonight's Game of Arms, airing at 10/9c on AMC.
Q: There must be a story behind the nickname, "Hands of Steel."
A: At the Arnold Classic one year, all of us were after-pulling when the competition was over, just messing around on the table. Someone tried to top-roll me, going over my fingers and bending my wrist, but I just stopped it. And the guy said, "He's got hands of steel." The other reason is, I've done drywall since I was 17. My right hand and wrist are like iron from running pans and knives. For the first few years of my career, I never even went to the gym.
Q: So wrestlers pull more after tournaments, just for fun?
A: It's real common. A lot of people use it as practice. Sometimes you only get two matches in a tournament, and you want more. Everyone from the best guy to the worst will do it. You can actually learn someone's technique — where they're vulnerable — and use it to take advantage the next time you wrestle them.
Q: Do you flip any kind of switch when you get to the table?
A: Absolutely. Some of my bigger matches, I'll train 12 weeks. There's definitely more focus. I'm usually laid back and easygoing, but when it's time to throw down, I go into a different mode. Everything slows down. You've got a split second to experience everything you've trained weeks for. I take big matches very, very seriously. For me, I'm better with more pressure. All my finishes are at the bigger events.
Q: You bow hunt a lot. Do you think that's helped your strength and leverage at the table?
Continue reading "Game of Arms Q&A – Bill Logsdon (Kansas City Rolling Thunder)" »
Game of Arms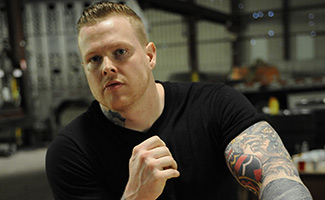 Rob Bigwood doesn't look like your average vegan: the 235 lb plant-based competitor can outmuscle opponents still digesting their pre-bout steaks. Catch Rob and the New York City Arms Control when they head to Kansas City to face the Rolling Thunder on Tuesday's Game of Arms, airing at 10/9c on AMC.
Q: When you made the decision to go vegan, were you worried it might impact your strength?
A: I was wrestling for years before I went vegetarian, and then vegan. I was actually going to give up arm wrestling because I really thought I'd become weak and didn't want to go through that. But when I gave up meat, I realized I was just as strong. I entered a New York tournament, the Big Apple Grapple, and placed second behind Travis Bagent. I think I placed with both arms. I beat some good guys. I knew before, but that was when I could prove it.
Q: Do you think there's a psychological component to it – some kind of meat propaganda you had to overcome?
A: It's such a huge misconception. I get just as much protein as anyone does. There's a ton of protein in beans, nuts, grains, oats. I don't need chicken when I can have a plate of tofu.
Q: So what do you eat?
A: In the morning, usually oatmeal with some nuts, or a banana and peanut butter shake. If I'm sore from training, I'll add some vegan protein. I'll drink almond or hemp milk. Lunch is a salad with tofu, sunflower seeds, nuts, vegetables. Same with dinner. But I'm kind of spoiled because there are so many great vegan places in New York.
Q: Did you get any eye-rolls when you made the switch?
Continue reading "Game of Arms Q&A – Rob Bigwood (New York City Arms Control)" »
Comic Book Men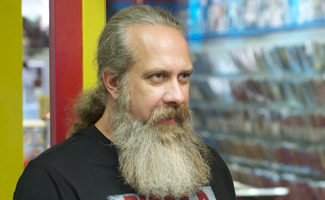 Comic Book Men star Bryan Johnson talks about his craziest interaction with a fan and his favorite guest star so far.
Q: You were once the manager of the shop when it first opened. How does a guy who's not into comics get that gig?
A: It's quite simple. You befriend a guy who buys a comic book store.
Q: So were you a good people person?
A: Not exactly… pretty terrible actually. Yeah, my shrink once said "Why do you keep getting jobs in retail?" And I said "Because Kevin opens retail stores!"
Q: You seem fairly unfazed by most of the items that come through The Stash. Is there one item that's come through that you've considered pretty cool?
Game of Arms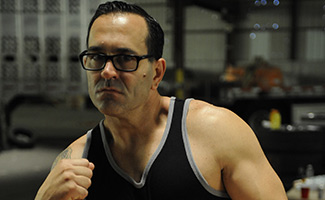 Arm wrestler and graphic designer Kevin Nelson talks comparisons to Clark Kent, betting on himself — literally — and more. Nelson takes to the table on Tuesday's Game of Arms, airing at 10/9c on AMC.
Q: You've got a pretty epic tattoo on your back of two dragons arm wrestling. How did you come up with that?
A: That's something I designed when I got into arm wrestling. As a kid, I was always into fantasy-type art. Dragons are significant in representing inner strength. In defeating a dragon, it's about defeating whatever's in your way. The design of the two dragons arm wrestling was to represent your strength in a battle against someone else.
Q: Do outside stresses distract you while arm wrestling, or is arm wrestling a distraction from the stress?
A: For me, I use arm wrestling as a vehicle to develop my human potential. I do best when my back is against the wall; when I need to win. I don't do as well if everything is going right. I believe we all have that caveman DNA, when we can't just accept working every day and need an outlet. Otherwise you internalize everything and explode.
Q: When did you feel your back was against the wall?
A: When I would enter a tournament and put up my own money. It didn't matter if times were rough. I still had to, and it's my money I'm losing, so I have to win. I think I do better under that kind of situation. If someone else puts it up? Then I might not do as well. It's like, so what, I lost someone else's money. But when you need to a pay a bill, or the money is for my children or my home, I can't lose.
Q: How does that change your thinking?
Continue reading "Game of Arms Q&A – Kevin Nelson (New York City Arms Control)" »
Game of Arms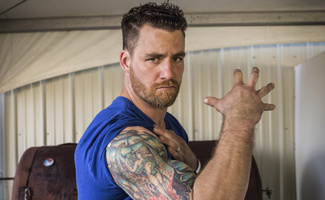 Working the night shift leaves Tom Nelson's days free to raise his two daughters and prepare for a score-settling showdown against arch-rival Travis Bagent on tonight's Game of Arms, airing at 10/9c on AMC.
Q: You come from a family of wrestlers, but it was your shift supervisor at UPS who really got you interested. What happened?
A: My whole family, all we did was arm wrestle, but I wasn't a professional. At UPS, I walked by my supervisor one day and he said, "You don't want none, kid. I got trophies." [Laughs] When I beat him, I was hooked. I started as an amateur in 1999.
Q: Out of everyone on the show, who comes closest to being your match?
A: Like who takes the most out of me to beat? Nick Zinna, for sure. We were just meant to arm wrestle each other. One match took so long that we actually took a break during it and just stood there talking. We should've walked away as a draw. We're so evenly matched, neither one of us has ever competed afterwards and won a match. It ended both of our days every time.
Q: There's a lot of energy and trash talk at these matches. Does that stay at the table, or does it remain heated afterward?
A: I would compare it to a fistfight in school. You're probably gonna be friends afterwards. Everyone hates each other until they compete. But win or lose, you're going to bring both of your levels up. I don't consider myself having losses, just learning lessons. The best in the world have lost a ton. Arm wrestling is one of the most humbling things you will ever do.
Q: You had a bad ATV accident 10 years ago. How serious was it?
Continue reading "Game of Arms Q&A – Tom Nelson (Sacramento Arm Benders)" »