Interviews
Comic Book Men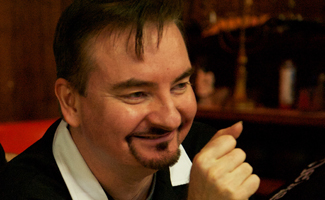 Brian O'Halloran, star of the Clerks movies, talks about his appearances on Comic Book Men, the craziest interaction he's had with a fan and what people can expect from Clerks III.
Q: How did you and Kevin Smith first meet?
A: Unlike most of the cast of Clerks, who had been friends with Kevin before, I met him during my audition for the part. I had been acting with a group in a neighboring town and heard about the audition. I just thought, "Oh, cool. I'll go check that out." I could tell immediately he was someone I wanted to work with and get to know better.
Q: Did you ever think that Clerks would become the huge phenom that it did?
A: Not at all. We got deferred pay and were promised a VHS copy of the film, which I still have… I thought it would just be something that I would show the VHS copy to all my acting friends, from time to time, and we would watch and think it was hysterical. I remember at the first screening, there were like 12 of us in the audience — 10 of which were those who made the movie. But, luckily, Bob Hawk from Sundance was there. It wasn't until Sundance when we saw it go gangbusters. The four screenings were sold out. And we thought, "OK, great! People are getting this. Wow, that's cool."
Q: What do you think was the secret to the movie's success?
Continue reading "Comic Book Men Q&A – Brian O'Halloran" »
Comic Book Men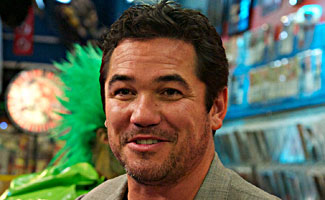 Dean Cain, star of Lois & Clark: The New Adventures of Superman, talks about his appearance on Comic Book Men as the guest of honor at Superman's 75th birthday party and his favorite version of Superman.
Q: Were you a Superman fan prior to Lois & Clark?
A: Well, I watched Super Friends as a kid and he was my favorite. He and Aquaman. I don't know why Aquaman. But those were my two favorite superheroes.
Q: Were you into comic books growing up?
A: I didn't really read comic books. It became much more so once I was cast as Superman. Actually, one of the first things I did with my son, when he was learning how to read was read him comic books. He loved looking at the art. He had seen the Superman stuff, so then we were looking at art work for something else and he liked it and took an interest and started reading the panels. So I just started getting him comic book after comic book. And now I can appreciate — as an adult, as a filmmaker, as an actor, and as a writer — seeing the way that these guys can craft these stories and create this art and give it a certain look and feel. It's amazing!
Q: Who plays the best Superman aside from yourself?
A: Without a doubt, my favorite was always Christopher Reeve. He was my Superman, growing up. He was the one I identified with the character and was the first one I saw as a live Superman. I based my Superman on the way that Christopher Reeve played Superman. But, I'd say the Clark Kent side was much more George Reeves. He was much more of a manly man, he was a cool Clark Kent. I played that side more like that… having that '50s style male-female banter with Teri Hatcher. And I have to say, I think Teri was the best Lois Lane ever!
Q: Kevin Smith credits you with revitalizing Superman, do you think the recent movies draw inspiration from your version of Superman?
Continue reading "Comic Book Men Q&A – Dean Cain" »
Comic Book Men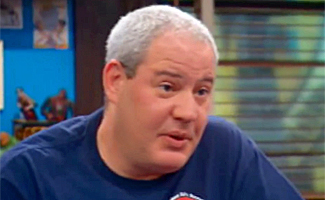 Jay and Silent Bob's Secret Stash employee "Sunday Jeff" talks about how he first met Walt and the coolest item he's seen come into the store.
Q: You started off as a customer at the Stash. What made you decide to start working there?
A: I was asked by Walt. This was when the store was in a different place, a much smaller location. Walt was really the only one working there. They ended up moving to the bigger store they're currently in now. Walt only had one or two days off a month, so he was looking for somebody to help out, and he happened to ask me. He turned his best customer into an employee.
Q: You're also a collector of rare toys. What's the rarest item you own?
A: That's tough, I've got a bunch of them. But one is an odd Indiana Jones — it's not an old toy, it's just not common. Back in the day, it was about a $7,000 figure. It was an import, so it was strictly limited to overseas. It was really a Japanese figure. There were only about 3,000 made, but they were never really sold in the United States, so that's what makes it so rare.
Q: When did you start collecting and why?
Continue reading "Comic Book Men Q&A – Sunday Jeff" »
Comic Book Men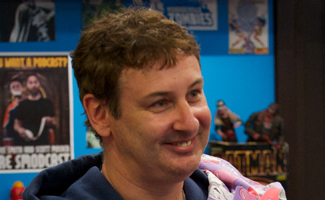 Comic Book Men star and Jay and Silent Bob's Secret Stash manager Walt Flanagan talks about creating the Cryptozoic Man comic book and meeting fans at Baltimore Comic-Con.
Q: What inspired the creation of the Cryptozoic Man character?
A: I was always interested in real-world monsters, ones that have a history of sightings. These aren't creatures of literature, these are creatures that are based on people's accounts of seeing them. No one has been able to prove that they don't exist, but no one has been able to prove that they do exist either. I once picked up this old Plastic Man cartoon from the '80s in a dollar store. In one of the episodes, there was this villain who turned into half-man, half-Bigfoot, and I just fell in love with that. So I thought I'd take that concept one step further and add these other creatures in — we'll make him one quarter man, and the rest made up of all these creatures.
Q: Have you ever had a creature sighting?
A: No, not as of yet. I mean, I'd love to, it's cool and spooky. But I'm definitely a non-believer.
Q: What was it like going through the creative process for Cryptozoic Man with the guys from the Stash?
A: It was a lot of fun. It wasn't like anything we'd done before. It was cool to throw stuff on the wall, see what sticks, and try to create a stew of something that everybody has a hand in.
Q: What were some of the more outlandish ideas that got thrown out there and by whom?
Continue reading "Comic Book Men Q&A – Walt Flanagan" »
Comic Book Men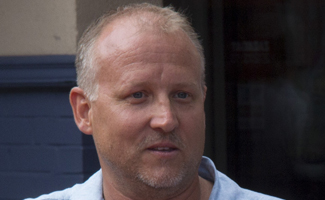 The Dukes of Hazzard enthusiast Tom Felice talks about his appearance on Comic Book Men and building his very own General Lee.
Q: When did you start collecting The Dukes of Hazzard memorabilia?
A: After I built the car. It was a green hunk of junk when I bought it. I originally bought the car to make a Daytona out of it. When my son was born, I totally changed gears and went in a different direction. My buddy sent me an email saying, "You can buy a sticker kit online for the General Lee." I said, "No way!" He said, "Yeah — the 01, the flag, you can buy it all for $65." A friend of mine did all the bodywork and paint on the car. The irony is the sticker kit that made me decide to do the car never ever ended up getting used because the painter decided to paint everything on my car instead. All the stickers ended up in my son's room, in the garage, all over the place in the house.
Q: How long did it take for you to convert that old Charger into the General Lee?
A: Altogether, it took two years and two months.
Q: What was your favorite moment from being on Comic Book Men?
Continue reading "Comic Book Men Q&A – Tom Felice" »
Comic Book Men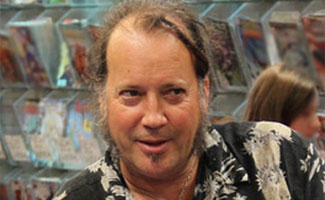 Comic Book Men's pop-culture merchandise expert Rob Bruce talks about being the Stash's resident authoriuty on obscure items and his own most treasured collectibles.
Q: How did you become such an expert on pop culture merchandise?
A: In my late 20s, I started doing some work for Sotheby's, dealing with mid-century furniture and pottery. I've always been into trying to figure out what something is and where it's from. I've built up certain collections over the years. I was really into things like Pez, before anyone even knew what Pez were. I remember seeing the original psychedelic eyeball Pez from the '60s — this was in the late '80s — and thinking, "Wow, this is really cool. They don't make things like this anymore." So it's always been a hunt. I always look at it like an archaeological, sociological fixation of "Why is this popular?" Through that, I can figure out the trends and know what's hot and what's not and manage to find some really cool things.
Q: For really obscure items that may not have a market value, do you have a formula for coming up with a price?
A: I can figure out the value of pretty much anything to a certain degree. I have an eidetic memory, so I tend not to forget things, and I have a pretty varied background. I can put pieces of the puzzle together. A lot of selling and collecting of pop culture items is really based on demography. You have a pool of collectors, the average age being 28 years old, so you look at a 28-year-old and see what it was that they were playing with as kids. Power Rangers are really big right now.
Q: How did you get hooked up with the guys at the Stash?
Continue reading "Comic Book Men Q&A – Rob Bruce" »
Comic Book Men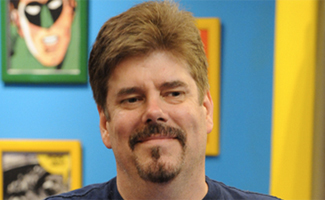 Michael Zapcic from AMC's Comic Book Men talks about getting recognized in public and restoring his home and memorabilia collection after Hurricane Sandy.
Q: How has being on TV for three seasons matched the expectations you had when you first agreed to be on the show?
A: It's been beyond what I thought it would be. I'd thought I'd just be a background guy who doesn't really say that much. I do, every once in a while, get a one-liner in — when Bryan shuts up long enough to let me.
Q: Are people recognizing you from the show?
A: Yes. It's very strange. I was going to renew my car registration, and the guy behind the counter was wearing an Aquaman shirt. He says, "Oh my god, I love your show!" So I say "Oh, that's great, thank you! Hey, can you waive the $46 re-registration fee?" And he says, "No, I can't do that. But I still like your show."
Q: You lost most of your memorabilia collection in Hurricane Sandy. How is your effort to rebuild going?
Continue reading "Comic Book Men Q&A – Michael Zapcic" »
Comic Book Men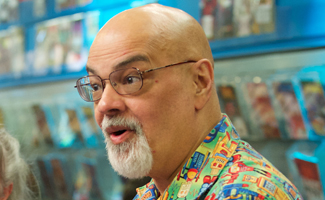 Legendary comic book artist George Perez talks about his guest appearance on Comic Book Men and the character he'd most like to draw.

Q: You've been drawing since you were five years old. When did your love of comics begin?
A: It was probably a little bit before that. I came from a Spanish-speaking household, so that's how I started learning to read English. I picked up a comic and just became totally mesmerized by the words and pictures — I believe it was an early Detective Comic with Batman. Then I started doodling pretty much right after that. It wasn't until I went to my first comic convention while I was in high school that I got to see actual comic book artists and original artwork in real life, up close. That was when I first realized that this is what I wanted to do for a living. Before that, I had these pipe dreams of becoming a comic book artist, but then it became an obsession.
Q: You've drawn so many iconic characters. Do you have a favorite to draw?
A: Oh, no. That's why I do so many team books. Otherwise, I'm choosing my children. Then it becomes like Sophie's Choice. That's the nice thing about team books, you draw one character and then there's another character right around the corner.
Q: Is there a character that you haven't drawn that you would like to?
Comic Book Men
Batman superfan Chris Weir talks about his appearance on Comic Book Men and building his very own Batcave.
Q: What started your fascination with Batman?
A: My dad's youngest brother, my uncle, is two years older than me, so we were more like brothers growing up. He liked the Batman character. We used to run around the yard at my grandparents' house playing Batman a lot. From that point in my childhood, I became fascinated with superheroes.
Q: So were you Batman or Robin when you two would play?
A: [Laughs] When I was little, I was Robin. There was a period when we got a new house and I befriended a neighbor who was a year younger than me. Then I graduated to Batman and he was Robin.
Q: How long did it take to build your Batcave? How much have you spent on it?
Continue reading "Comic Book Men Q&A – Chris Weir" »
Comic Book Men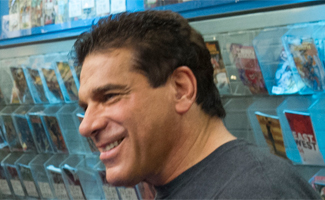 Lou Ferrigno, star of The Incredible Hulk TV series, talks about his appearance on Comic Book Men to train Bryan Johnson and life as a fanboy icon.
Q: How did you first meet Kevin Smith?
A: I met him a few years ago. I've seen him from time to time at different conventions. I've always loved his work. He's a wonderful director. I wish he'd direct some of the Hulk movies because he's very talented.
Q: Whose idea was it for you to train Bryan Johnson?
A: I think it was Kevin's idea. He suggested I go start with Bryan. I thought it was a great idea. That's what I do, I motivate people. That's my whole life. I think I can inspire people based on what I've done myself. I've dealt with obstacles, I know all the pitfalls. I know what it takes to maximize your body, your personal power, your mind and your passion. I'm a product of all that, and I've lived that life myself.
Q: Do you think you were able to motivate Bryan?
Continue reading "Comic Book Men Q&A – Lou Ferrigno" »