Game of Arms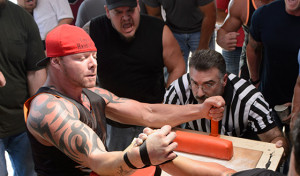 This week, Esquire reviews Game of Arms, while Paul Rudd and Adam Scott arm wrestle at an Oscar party. Plus, two Game of Arms teams get some publicity from their local media. Read on for more:
• Esquire talks up Game of Arms, commenting that "it's easy to get sucked into watching a bunch of guys out-dude one another."
• Arm wrestling finds its way to the Oscars as Paul Rudd and Adam Scott strike a pose at Vanity Fair's after-party, courtesy of a photo in TheWrap.
• The Erie (Pa.) Times-News interviews a member of an arm wrestling team that's competing on Game of Arms. He reveals, "You win your battles in the gym, not the day of the contest."
Continue reading "Esquire Checks Out Game of Arms; TheWrap Catches Paul Rudd, Adam Scott Arm Wrestling" »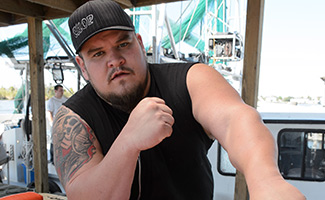 Super-heavyweight Louisiana native Chop Bertrand talks shrimping and being a left-handed competitor going against right-handed legends prior to his Roughnecks meeting the Kansas City Rolling Thunder.
Q: You're left-handed. How do you cope with having to go up against right-handers in the sport?
A: Well, I wrestle using both. I've finished as high as sixth in national competition with my right, but tournaments usually have left-handed divisions. My left is definitely stronger. I went three years undefeated on that side. In high school, even against guys five to six years older, I never came close to losing with my left.
Q: A lot of Louisiana wrestlers work highly physical jobs. It seems like that could be a problem if you're trying to recover or prepare for a tournament and want to stay fresh.
A: It's hard. Down south, we have so much raw power. Everyone has manual jobs. You get farm boys, offshore workers — I think I got my strength from oil work, but when you get back from a tournament and have to go in to your job, you wake up regretting life. Everything hurts. The muscle pains can stick with you for a long time. It takes me about a week to recover from wrestling.
Q: Do you do anything to speed it up?
Continue reading "Game of Arms Q&A – Matt "Chop" Bertrand (Baton Rouge Roughnecks)" »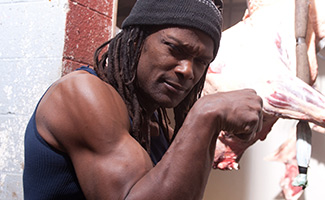 No one in arm wrestling is more well-traveled than gourmet chef Andrew "Cobra" Rhodes, a 35-year veteran of the sport who's been to six continents, appeared in Over the Top with Sylvester Stallone, and is notorious for winning David vs. Goliath matches at a compact 176 lb.
Q: Let's get the obvious question out of the way. Why "Cobra"?
A: It came from guys I trained with when I was 14 years old. Before [Michael] Jordan was wagging his tongue, I did that in competition. It would just come out during a match. And then my buddy said to me, "You're quick like a cobra."
A: But now you wear a mouth guard, which is unusual for arm wrestlers.
A: I once read when your jaw is relaxed, you get better performance. When your bite is set properly, you get more speed, more power, more flexibility. I'm not a spring chicken, so I'm always looking for natural ways to do better. In this sport, there's no wind that's going to blow a field goal to the left of a goal post.
Q: You worked as a chef for years. How did you acquire those skills?
A: I've trained with the most talented chefs you've ever met, but there's no degree on paper. I've been all over the world and to the good restaurants so I could spend time with the chefs there and take recipes back home. You go to Eastern Europe or Russia and get down with the Babushkas — the old ladies who do the real deal. I've got a cookbook waiting to be published. But I got out of it because the cooking business will kill you. It's high stress, man. Banging out those hours was not healthy.
Q: You've wrestled on six continents. Any good stories?
Continue reading "Game of Arms Q&A – Andrew "Cobra" Rhodes (Kansas City Rolling Thunder)" »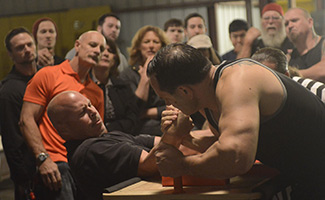 This week, Game of Arms distinguished itself as the highest-rated unscripted series premiere in AMC history, while The Daily Beast calls the reality show "fascinating." Plus, The New York Times previewed Game of Arms ahead of its Feb. 25 airing. Read on for more:
• The Daily Beast reviews Game of Arms, calling it "completely ridiculous—and so very fascinating."
• TheWrap reports that Game of Arms, which debuted Feb. 25, became the highest-rated unscripted series premiere ever on AMC — with one million total viewers, of which 626,000 were in the 18-49 year-old demographic.
• The New York Times highlights Game of Arms's Feb. 25 debut in its Television Week Ahead column.
Continue reading "Game of Arms AMC's Highest-Rated Unscripted Series Premiere; Show Fascinates Daily Beast" »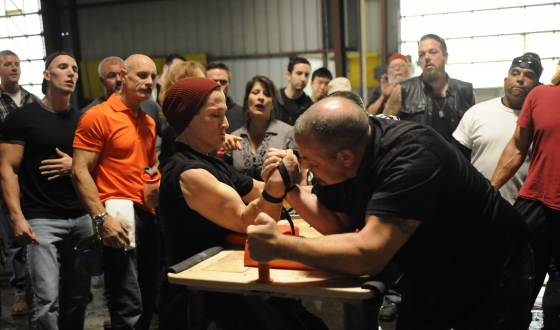 If you missed the epic match-up between the Sacramento Arm Benders and the New York City Arms Control during the Game of Arms premiere, you're in luck: The full episode "The Battle Begins…" is now streaming on amc.com. This is the only episode being made available without a log-in requirement. Future episodes of Game of Arms will be available on amc.com the day after broadcast and accessible via log-in for select cable providers.

Don't miss an all-new episode of Game of Arms this Tuesday at 10/9c on AMC.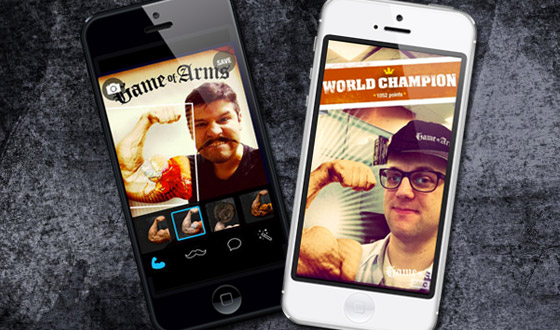 Think you've got what it takes to challenge the professional arm wrestlers on AMC's Game of Arms? One quick way to find out is with the new Arm Yourself App for iPhone and Android. Download the app, then shake your phone as hard as you can for 15 seconds. The strength of your shake will determine a virtual bicep which you can graft on to a selfie and share with your friends. Some will be contenders. Others will be legends. The time has come to flex.
Download the app for Android »
Kenny Hughes has arm wrestling in his blood: the California native learned the sport from his father and grandfather and entered his first tournament against adults at the age of 14. Now 32, the former prodigy is finding fresh motivation on Game of Arms, a new original series premiering tomorrow at 10/9c on AMC.
Q: You took fourth place in an amateur tournament at the age of 14. How do grown men react when they've been bested by a kid?
A: I would think it would bother them. [Laughs] I wouldn't want to lose to a 14-year-old! My dad originally took me to a tournament in Patterson, California, but I was too shy to wrestle there. I got over that barrier, got up my nerve in Lake Tahoe a couple months later and competed in the 132 lb class. I was able to beat grown men who had been doing it for years.
Q: Did you always want to wrestle?
A: It's all I wanted to do. I was completely invested in it. I was just naturally strong. It takes some people three or four years to get good — I started out good. I'd practice with my dad and work on techniques.
Q: Do you remember the first time you beat him?
A: I started beating him when I was about 15. It wasn't easy. I was 154 lb at the time and he was around 200. I think he was happy for me. I had wrestled him since I was a kid.
Q: Being a kid, was it easy to fool someone into thinking they could beat you?
Continue reading "Game of Arms Q&A – Kenny Hughes (Sacramento Arm Benders)" »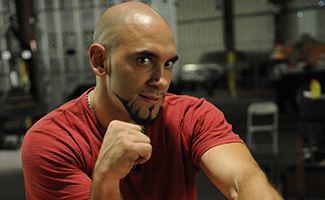 High school chemistry teacher Mike Selearis started competing in professional arm wrestling at the age of 16. Over twenty years later, Selearis has an entire school behind him in his efforts to be crowned champion in Game of Arms, a new original series premiering this Tue., Feb. 25 10/9c.
Q: Do you remember the first time you arm-wrestled anyone?
A: It was every day at the lunch table in junior high. A little group of four or five of us would be arm wrestling and challenging everyone. I would be one to say, "Come on, let's go." It got to the point where I was annoying people.
Q: What was your fascination with it?
A: It's weird to put into words. It's just the one-on-one competition in close quarters. There's no equipment, no ball to chase. The simplicity of it is what drew me in.
Q: What about your first professional experience?
A: I was 16 years old. It was a tournament in Flushing Meadow Park in Queens. Prior to hearing about it, I never knew arm wrestling was a sport. When I did, I knew I wanted to compete.
Q: Was this a teen division?
A: No. They went by weight classes. I was in the under-200 lb category and went up against professionals. I had my longest match ever and my shortest match ever there. I remember a guy sniffing ammonia, getting to the table, and bam — he put me down faster and harder than I had ever been hit before. He used to joke around and put his occupation down as "chicken farmer." I swore I'd beat him one day.
Q: Did you?
Continue reading "Game of Arms Q&A – Mike Selearis (New York City Arms Control)" »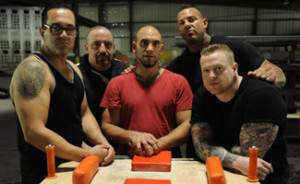 This week, one of the Game of Arms teams visits The Huffington Post to explain arm wrestling. Plus, Guyism is intrigued by AMC's arm wrestling tips. Read on for more:
• The Huffington Post interviews NYC Arms Control, one of the teams taking part in Game of Arms, and learns why the term "arm wrestling" is a misnomer.
• Guyism spotlights AMC's infographic on how to win at arm wrestling every single time, commenting, "Follow these tips and you'll be emasculating people left and right."
• Screen Crush gets a sneak peek at Travis Bagent, one of the competitors on Game of Arms.
Armwrestlers ONLY highlights AMC's website for Game of Arms, prior to the show's debut on Feb. 25.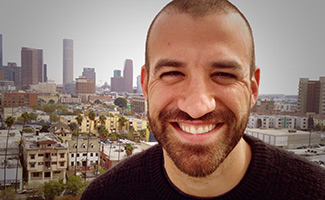 Executive producer Dan Ilani talks about what drew him into Game of Arms, a new original series premiering Tue., Feb. 25 10/9c on AMC.
Q: Do the families and friends of these athletes understand what's driving these arm wrestlers?
A: It's a mix. It permeates every aspect of their life — sometimes they get hired for a job because their boss thinks it's cool. Other times they get fired because they take too much time off.
Q: Did anything surprise you about the competitors?
A: Some of these guys are 57 years old and winning world titles. They're joining the sport later on in life. There's an inspirational quality to it. And it was interesting to see how they prepared. There's no training equipment you can go into a store and buy, so they all build their own. It goes from really primitive to really complex stuff — welding machines together, secret machines draped in sheets they won't let anyone see.
Q: What was it like to see your first live match?
Continue reading "Game of Arms Q&A – Dan Ilani (Executive Producer)" »