Freakshow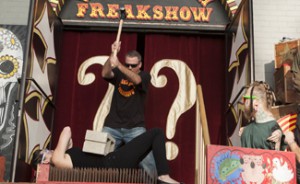 This week, Freakshow's cast portraits appear on TheWrap, while the Bearded Lady is featured on Shockya. Plus, TV Fanatic introduces yet another newcomer to the cast. Read on for more:
• TheWrap showcases the Season 2 portraits of Freakshow's cast, recommending that viewers "reacquaint yourself with the reality show's returning castmembers and meet the new ones."
• Shockya features one of Freakshow's new cast members: Jessa The Bearded Lady, a woman who claims to have the world's longest beard.
• TV Fanatic, spotlighting the man who holds the world record for the stretchiest skin on earth, says, "It's not a stretch to say that viewers are excited for the second season of Freakshow."
• Monsters & Critics, noting that Freakshow is based on Todd Ray's Venice Beach Freakshow, says that the "fertile grounds of Venice Beach are the new playgrounds for this fascination with human oddities."
To stay up-to-date with all the latest Freakshow news, sign up for the The AMC Weekly.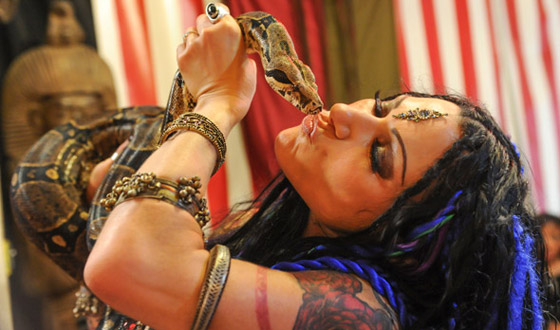 You can never be sure what to expect from Asia, Morgue and the rest of the shocking Freakshow family. But here's a sneak peek of some thrills and chills to come when Freakshow's Season 2 premieres on Tuesday, May 6…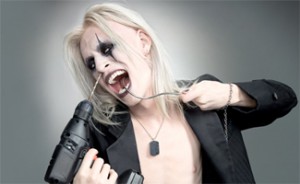 This week, Hypable readies itself for Season 2 with an exclusive clip of Morgue. Plus, TV.com announces Freakshow's May 6 premiere date. Read on for more:
• Hypable presents a video from Season 2 of Morgue performing a stunt where "the slightest wrong move will cause a lot of pain."
• TV.com reports on the May 6 debut of Freakshow's Season 2.
• Shockya features an exclusive Freakshow clip and observes, "AMC has a lot of compelling television, and this one certainly pushes the envelope in terms of showing how reality is sometimes even stranger than fiction."
To stay up-to-date with all the latest Freakshow news, sign up for the The AMC Weekly.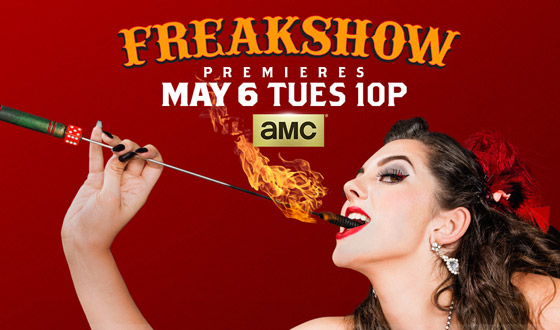 The Freaks are back! In anticipation of Freakshow's second season, billboards featuring cast members Asia, Morgue and Creature have been placed throughout Los Angeles and New York City. Check out these photos of the Season 2 billboards and don't forget to tune in to AMC on Tuesday, May 6th at 10/9c for the Freakshow premiere.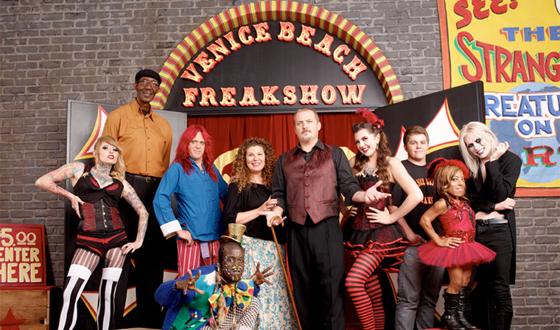 If you missed Ali's Wedding, Asia's first attempt at sword swallowing or any of the other Season 1 Freakshow highlights, no worries. For a limited time only, amc.com will stream all eight freaky episodes from Season 1 online.
You can also catch up with Todd, Asia, Morgue, and the rest of the Freakshow cast during back-to-back airings of Season 1, Episodes 1-4 on Tuesday, April 15 and episodes Season 1, Episodes 5-8 on Tuesday, April 22. Click here for the full Freakshow schedule and don't forget to tune in to the Season 2 Premiere on Tuesday, May 6 at 10/9c.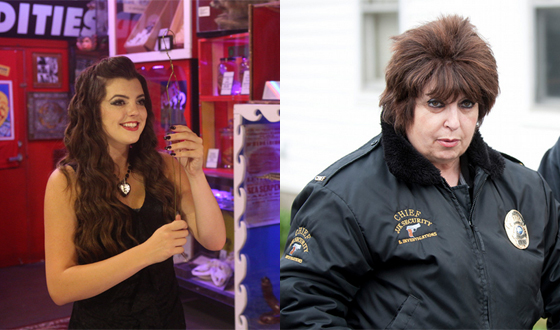 AMC announced today that its unique and unexpected unscripted series Freakshow and Small Town Security will premiere new seasons on Tue., May 6 at 10/9c and 11/10c, respectively, as part of AMC's new "strangest night on TV." Freakshow, will double the freak quotient with 16 new episodes, debuting two back-to-back at 10/9c and 10:30/9:30c, immediately followed at 11/10c with the Season 3 Premiere of Small Town Security, which will consist of eight half-hour episodes. Freakshow is executive produced by Todd Ray from Living Wonders and Greg Johnston from Endemol USA, and Small Town Security is executive produced by Ken Druckerman, Banks Tarver and Mike LaHaie of Left/Right Films.
Season 2 of Freakshow continues to explore the lives of Todd Ray and his Freakshow family, but delves deeper than just inside the doors of their Venice Beach business. The new season will cover the scouting of new talent, and cameras will take viewers inside the personal lives of Morgue, Asia and others, documenting their real, everyday struggles of balancing life, love and the Freakshow.
In the new season of Small Town Security, the unorthodox universe of JJK Security, the small, family-run security and private investigation company in Ringgold, GA, continues to expand as several new, out-of-this-world characters join the cast. Chief Joan Koplan, along with Dennis, Irwin, Christa, Brian and Joan's beloved dog Lambchop are also forced to contend with a series of unexpected shocks and developments — from dwindling business and serious health issues to Dennis's continued gender transformation and Joan's "speecy spicy" meatball musical performance. In Season 3, these curve-balls force our cast to lean on each other like never before.
Click here to learn more about Freakshow.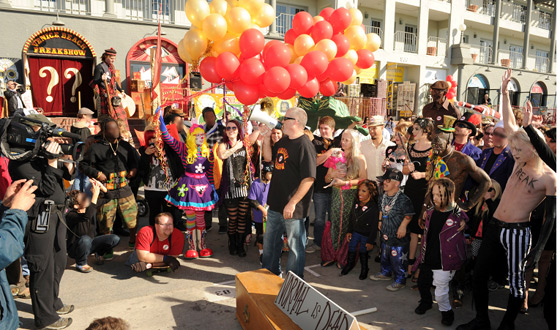 Want to find out what went into the making of AMC's Freakshow last year? Take a look at these behind-the-scenes photos of Amazing Ali, Asia Ray, George Bell, Marcus (a.k.a. "The Creature") and Morgue as they do everything from impale themselves to get ready for a wedding. Then check out  seven full episodes of Freakshow Season 1 on amc.com.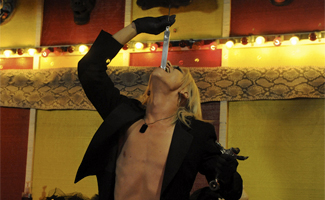 Hey Freakshow fans! Do you have an amazing or unusual talent? Have you practiced a sideshow act for years and need a place to demonstrate it? Were you born different or made yourself different (tattoos, body modifications, etc.) and want to share your story with the world? The Venice Beach Freakshow is looking for you! Little people, giants, freaks and geeks, sword swallowers, fire eaters, contortionists, stunt performers, magicians, mind readers, escape artists, clowns, stilt walkers, jugglers and more are welcome.
Join the Venice Beach Freakshow for open auditions on Wed., Sep. 18 at 11AM PT. The Venice Beach Freakshow is located at 909 Ocean Front Walk, Venice Beach, CA. Please RSVP by sending a short description, picture and/or video showcasing your talent to VeniceFreakshow@gmail.com. Auditions will be filmed for television.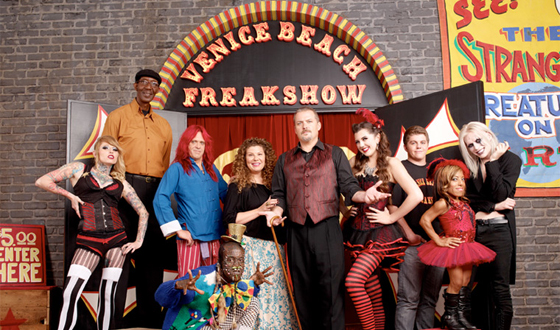 Curious about the AMC original series Freakshow? One way to learn more about it is to check out amc.com's interviews with the cast. Below is a sampling of what the members of the Freakshow family had to say — click on each cast member's name to read their entire Q&A.
"I've found that if you seek out the wonders of the universe, the doors open and they seem to be waiting on you." — Todd Ray
"I'm a nervous wreck whenever everybody does their stunts. I'm the one who always worries about everything: 'Are you saving your money?' Did you guys eat?'" — Danielle Ray
"I love when children say things, like 'Mommy, she's magic!' I love keeping that feeling in people, because sometimes as people get older, they lose their faith in magic." — Asia Ray
"The other day I was at the kitchen counter, eating a bowl of cereal next to a pig with its brain outside of its head." — Phoenix Ray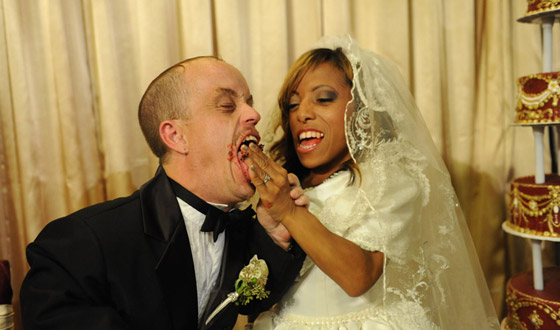 Encore presentations of Freakshow continue tonight on AMC with four back-to-back episodes beginning at 9/8c. At 10/9c, don't miss an encore of Episode 5, "The Littlest Wedding," in which Todd Ray throws a spectacular wedding for Amazing Ali at the Venice Beach Freakshow. Inspired by the famous wedding of sideshow legend Tom Thumb and attended by the entire Freakshow family, Ali's wedding was truly a unique event. Want to see more from the big day? Check out ten photos from Amazing Ali's wedding ceremony and reception.