Freakshow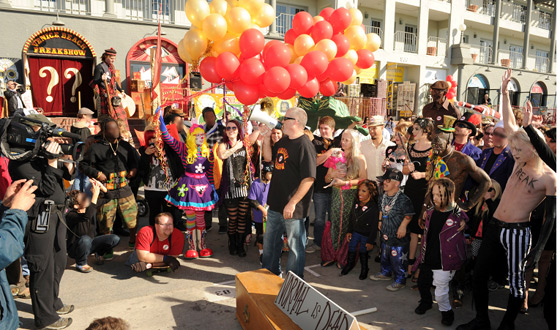 Want to find out what went into the making of AMC's Freakshow last year? Take a look at these behind-the-scenes photos of Amazing Ali, Asia Ray, George Bell, Marcus (a.k.a. "The Creature") and Morgue as they do everything from impale themselves to get ready for a wedding. Then check out  seven full episodes of Freakshow Season 1 on amc.com.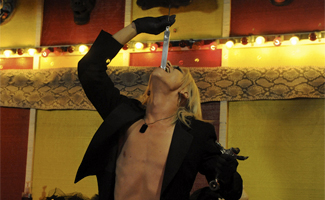 Hey Freakshow fans! Do you have an amazing or unusual talent? Have you practiced a sideshow act for years and need a place to demonstrate it? Were you born different or made yourself different (tattoos, body modifications, etc.) and want to share your story with the world? The Venice Beach Freakshow is looking for you! Little people, giants, freaks and geeks, sword swallowers, fire eaters, contortionists, stunt performers, magicians, mind readers, escape artists, clowns, stilt walkers, jugglers and more are welcome.
Join the Venice Beach Freakshow for open auditions on Wed., Sep. 18 at 11AM PT. The Venice Beach Freakshow is located at 909 Ocean Front Walk, Venice Beach, CA. Please RSVP by sending a short description, picture and/or video showcasing your talent to VeniceFreakshow@gmail.com. Auditions will be filmed for television.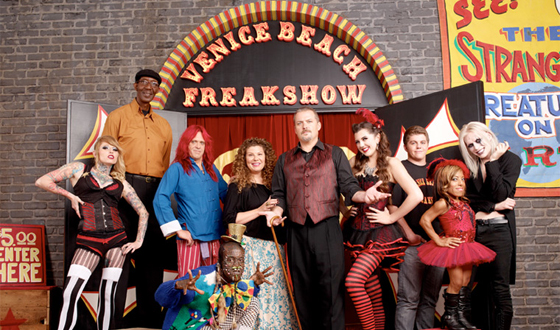 Curious about the AMC original series Freakshow? One way to learn more about it is to check out amc.com's interviews with the cast. Below is a sampling of what the members of the Freakshow family had to say — click on each cast member's name to read their entire Q&A.
"I've found that if you seek out the wonders of the universe, the doors open and they seem to be waiting on you." — Todd Ray
"I'm a nervous wreck whenever everybody does their stunts. I'm the one who always worries about everything: 'Are you saving your money?' Did you guys eat?'" — Danielle Ray
"I love when children say things, like 'Mommy, she's magic!' I love keeping that feeling in people, because sometimes as people get older, they lose their faith in magic." — Asia Ray
"The other day I was at the kitchen counter, eating a bowl of cereal next to a pig with its brain outside of its head." — Phoenix Ray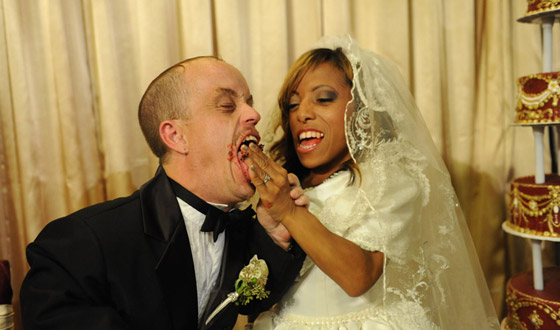 Encore presentations of Freakshow continue tonight on AMC with four back-to-back episodes beginning at 9/8c. At 10/9c, don't miss an encore of Episode 5, "The Littlest Wedding," in which Todd Ray throws a spectacular wedding for Amazing Ali at the Venice Beach Freakshow. Inspired by the famous wedding of sideshow legend Tom Thumb and attended by the entire Freakshow family, Ali's wedding was truly a unique event. Want to see more from the big day? Check out ten photos from Amazing Ali's wedding ceremony and reception.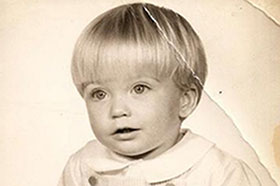 Many members of the cast of AMC's Freakshow are known for their distinctive appearance — Morgue's Goth look, Brianna's extensive tattoos, Murrugun's long red hair. Do you think you can you identify the members of the Freakshow cast from their childhood photos? Find out by taking this photo quiz.
Take Quiz »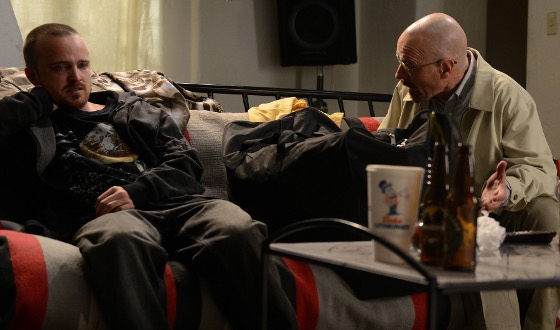 As part of its ongoing commitment to providing a place for original stories and characters that defy expectations, AMC made a number of announcements on the day of its Upfront. The network that currently boasts the most-watched drama series in basic cable history with The Walking Dead as well as one of television's most award-winning series with Mad Men, unveiled its second live after show, Talking Bad, numerous new projects in development, a first-look pact with Scott Free Productions as well as an overall deal with writer Rolin Jones, Spring and Summer programming premiere dates and several series renewals.
"Six years ago at AMC, we set a goal to create premium television on basic cable and we began to develop and nurture shows that would set us apart," said Charlie Collier, President and General Manager, AMC. "As we lay out the year ahead for advertisers at our 2013 Upfront, it is an honor to have such a breadth of development and programming to share and to be in business with such a high caliber of talent in front of and behind the camera."
Continue reading "AMC Announces Breaking Bad's Final Return Date, a New After Show, and More New Series" »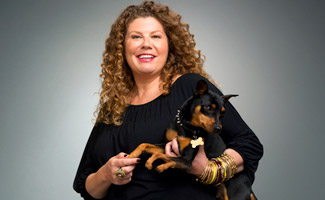 Freakshow's Danielle Ray is affectionately called "Mama" by her extended family of sideshow performers. In this interview with AMC, she discusses why she fell for her husband Todd and her favorite memory from working at the venue.
Q: You've been with Todd since you were 17 years old. Was it love at first sight?
A: Completely! And then as soon as I heard his accent, forget it. I was done. It was love.
Q: You're a sucker for a Southern accent, huh?
A: I'm from New York and I met him the week I turned 17. I had never really left New York my whole life — well, maybe once. Then when I met him, it was like this whole new world. We drove down to South Carolina. I remember, we hit Virginia and I was like, "Pull over! I'm feeling claustrophobic!" [Laughs.] I had never seen so many trees before.
Q: What made you decide that he was the man you were going to marry?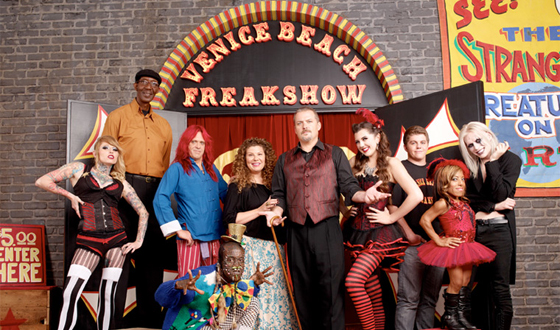 Season 1 of Freakshow has come to an end, but you can still spend a few more Thursdays with the Venice Beach Freakshow family: Starting tonight (Thu., Apr. 11) and continuing through Thu., May 2, catch four back-to-back episodes of Freakshow every Thursday night beginning at 8/7c. If you missed moments like Amazing Ali's wedding, the two-headed bearded dragon's birthday party, or the Freakshow Festival, now is your chance to catch them all again.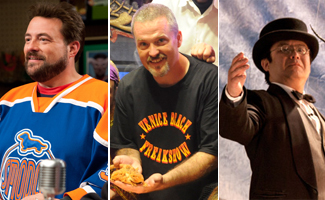 This week, Kevin Smith gives EPIX News a tour of Jay and Silent Bob's Secret Stash, and The Huffington Post checks out Freakshow frontman Todd Ray's two-headed animal collection. Plus, the Houston Chronicle highlights Immortalized's season finale. Read on for more:
• Kevin Smith gives EPIX News a tour of Jay and Silent Bob's Secret Stash, the shop at the center of Comic Book Men.
• The Huffington Post showcases Freakshow frontman Todd Ray's collection of two-headed animals, including two-headed turtle Teeny and Tiny.
• The Houston Chronicle highlights the Immortalized and Freakshow season finales in its "Watch This" column.
• The Star-Ledger chats with Ming Chen and Bryan Johnson at Asbury Park Comic Con about Comic Book Men, the future of comics, and how Chen first got Kevin Smith's attention.
Continue reading "Kevin Smith Gives a Tour of the Secret Stash; HuffPo Meets Todd Ray's Two-Headed Animals" »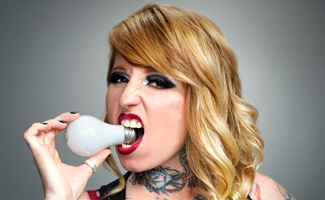 Freakshow's "Indestructible Woman," Brianna Belladonna, currently holds two world records for sword-swallowing. In an interview with AMC, she talks about the secret regimen that allows her to eat light bulbs and a death-defying stunt she'd like to try.
Q: One of your signature stunts is eating light bulbs. How did you teach yourself to do that stunt?
A: I sent out a couple of emails to performers, but no one got back to me. So I just looked stuff up. I watched the [performance artist] Todd Robbins video over a hundred times, of him eating a light bulb. I learned that glass is made of sand, that's melted into liquid, so you have to break it down to that same property. I remember my first time, I smashed up this lightbulb into these tiny pieces and I took the smallest piece. It took twenty minutes to finally put it in my mouth [Laughs]. Then I just kept carefully chewing to break it down. But I didn't swallow it. That was very scary to me. Not until I finally got in touch with a performer who told me that there's a regimen you have to follow beforehand so it doesn't cut up your insides.
Q: What's the regimen?
A: There's a diet you want to follow 24 to 48 hours beforehand. There have been times when I've gotten a call to do the stunt with less than that, so there are things I can do to compensate. I don't want to give away any trade secrets, but I will just say the diet involves a lot of carbs. And then there's stuff you have to do afterwards too.
Q: What other dangerous items do you eat?