Comic Book Men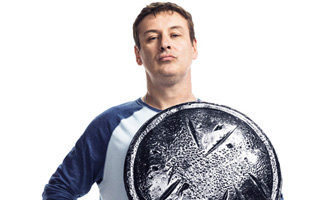 Walt Flanagan, star of AMC's Comic Book Men, talks about which moment from the show made him laugh the hardest and the rarest item he's seen come into the store.

Q: You challenge the guys to perform stand up comedy at The Stash in Episode 403. Who do you think has the most potential as a stand up comedian?
A: Positively, without a doubt, Bryan. The other efforts were admirable and it's not easy to go up there and try to make people laugh – so I'm not disparaging Mike or Ming's efforts, but I think Bryan may have a leg up on the guys in the stand up department.
Q: Speaking of comedy, what moment from the series so far made you laugh out loud the hardest?
A: I'd have to go back to Season 2. It was when we had just gotten back from the auction [Season 2, Episode 2, "My Big Fat Geek Wedding"] and we were letting Robert Bruce tally up the booty that we had gotten. We had a bet going on for which team could bring back the better booty and Robert chose our stuff as more prize-worthy. Mike and Ming started arguing amongst each other and that's still my favorite moment. They turned on each other so quickly!
Q: On camera, you always seem focused on the bottom line… Has Comic Book Men attracted more customers to The Stash?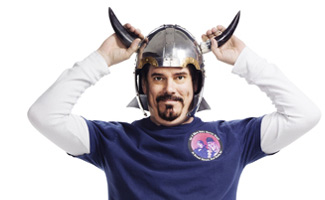 Michael Zapcic, star of AMC's Comic Book Men, talks about what being a comic book man really means and the most interesting thing he's learned about Ming.
Q: Ming chose you for who he'd want on his team during a zombie apocalypse. What kind of skills would you bring to the table?
A: I've got an arsenal in my house. It's kind of funny. My children are into martial arts, so they're dealing with nunchucks and swords. We've bought them actual swords. In my wife's car, she's got a complete set of emergency flares, road signs and everything she needs. I also put in a machete, just in case.
Q: Hey, you never know when you'll need a machete, right?
A: Exactly! The one thing that's most important is I have a plan. I'm the kind of guy who likes to think about stuff before it happens. I'd rather have a plan and not need it than need a plan and not have it. We were caught in Hurricane Sandy and we weren't prepared for everything. Now I've got an emergency preparation plan that can pretty much be used for almost any situation. It's not necessarily a zombie apocalypse plan, but it can be used for that. It's fun to think about it.
Q: If you had to pick any superhero to back you during an apocalypse, who would it be and why?
Continue reading "Comic Book Men Q&A – Michael Zapcic" »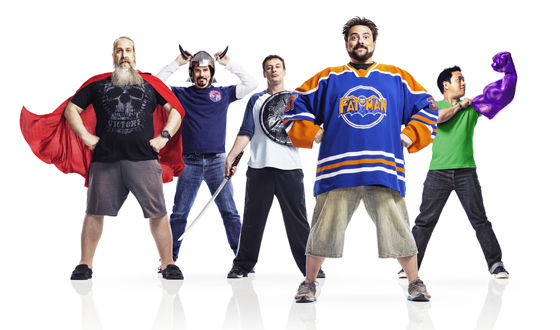 This Sunday at Midnight/11c, Kevin Smith and the guys from Jay and Silent Bob's Secret Stash return to AMC. Looking for ways to geek out until then? Here are eight ways to get ready Comic Book Men's return.
1. Watch a trailer for the new season of Comic Book Men.
2. Catch up on (or relive) Season 3 with full episodes on amc.com.
3. Read an interview with Kevin Smith who shares what fans can look forward to in the new season.
Continue reading "Eight Ways to Get Ready for the Comic Book Men Season 4 Premiere" »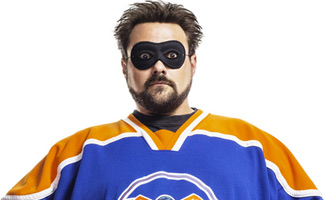 Kevin Smith, star of AMC's Comic Book Men, talks about a celebrity guest that fans can look forward to in Season 4 and which superheroes the guys from the Stash would play in a movie.

Q: What can fans expect during the upcoming season of Comic Book Men?
A: This year, we find our niche. We let our geek flag fly. In the past, we held back a little because we wondered if anyone would understand who or what we're talking about, but this season, we went for it. There are a lot of guest stars including DMC from Run DMC, which was awesome for me. My jaw hit the ground. He had some amazing stories about selling comic books to buy his turntables. Stuff like that is heaven to me.
Q: Is there a moment from the first 3 seasons that made you laugh out loud?
A: The beauty of the show is you get to see me laugh out loud during the podcast sequences. There have definitely been moments, like the Trivia Chew-Off we did last year, I thought were really hysterical. Walt has some crazy one-liners and when the boys sit around the store, that's the stuff that makes me laugh the hardest. To be fair, they're all my friends. I've found them funny for years.
Q: Any plans to live-tweet this season? What do you enjoy most about interacting with fans in real time?
Continue reading "Comic Book Men Q&A – Kevin Smith" »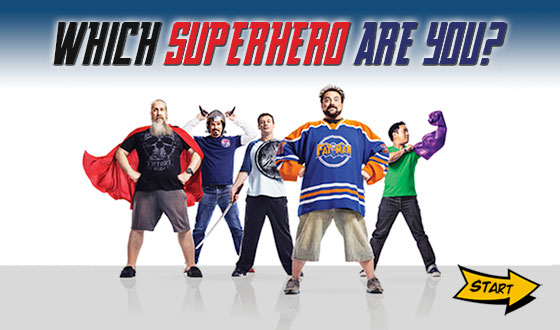 Every comic fan has asked themselves the question one time or another: Which superhero would I be? Now you can get a definitive answer with Comic Book Men's "Which Superhero Are You?" Quiz. Just answer seven questions and you'll find out your true superhero identity. Then share your results with your friends (don't worry, this identity doesn't have to be secret!)

Comic Book Men returns Sun., Oct. 12 at midnight/11c on AMC.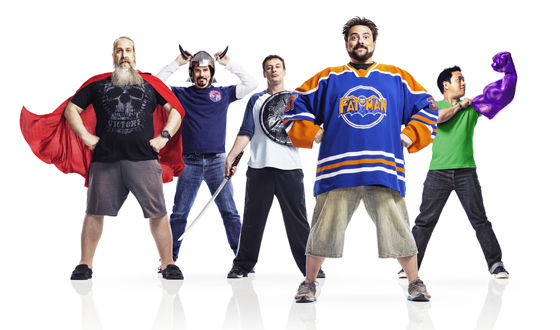 Longing for the return of Kevin Smith and the super-team from Jay and Silent Bob's Secret Stash? Have no fear: Ming, Bryan, Mike and Walt are mere weeks away from saving the day when Season 4 premieres on Oct 12. In the meantime, check out new shots of the guys posed and ready for action in this all-new Comic Book Men cast gallery.

Comic Book Men returns Sunday, October 12 at Midnight/11c.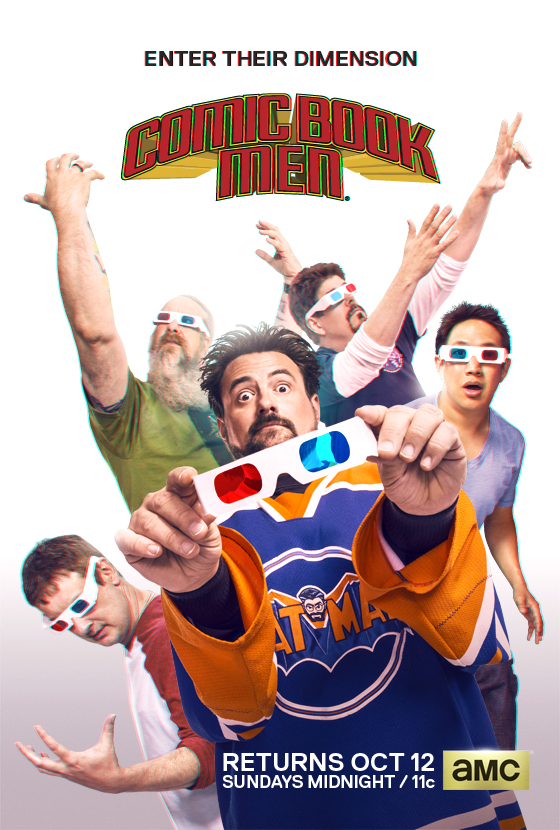 Today AMC unveiled the official Season 4 poster for Comic Book Men, in glorious 3D. So break out your 3D glasses and enter the world of Kevin Smith and the gang from Jay and Silent Bob's Secret Stash.
Comic Book Men returns Sun., Oct. 12 at Midnight/11c on AMC.
Catch up on Comic Book Men Season 3 with full episodes on amc.com. (Log-in required)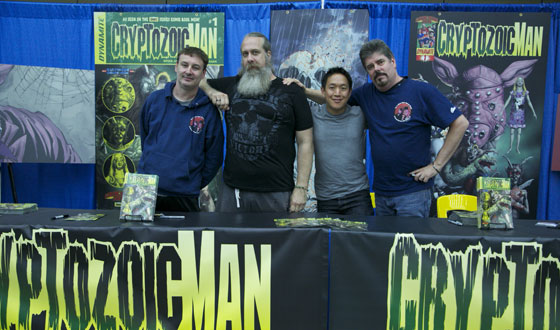 Comic Book Men returns for Season 4 on Sunday, October 12th. Can't wait that long to see your favorite fanboys again? You're in luck: the first eight episodes of Season 3 are available on amc.com with your cable provider log-in. Ration yourself one episode at a time or binge your way through the batch until September 13th, when the second half of Season 3 will become available.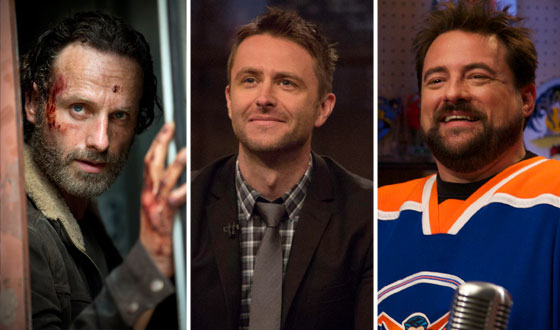 AMC announced today from Comic-Con International in San Diego, CA the premiere of The Walking Dead season five on Sunday, October 12 at 9pm ET/PT.  As in previous seasons, the series' fifth season of 16 episodes will air in two-parts with the first eight hours kicking off October 12 and the final eight episodes returning February 2015.  Following The Walking Dead will be the season premieres of AMC's unscripted series Talking Dead, hosted by Chris Hardwick (Nerdist), at 10pm ET/PT and Comic Book Men at midnight ET/PT.  Internationally, The Walking Dead will return to audiences in 125+ FOX International Channels (FIC) markets within 24 hours of the U.S. broadcast, as part of FIC continued commitment to broadcast the series near date-and-date globally.
"From the opening tease in the premiere onward, season 5 is without question the most ambitious and satisfying season this amazing team has ever crafted" said Charlie Collier, AMC president. "In the zombie apocalypse, event television is alive and well, and I am proud to acknowledge that this uniquely talented writing staff, production team and cast have once again raised the bar (and the crossbow)."
The season premieres of The Walking Dead, Talking Dead and Comic Book Men will coincide with AMC's Zombie Apocalypse Week, from Monday, October 6 through Sunday, October 12, as well as the network's annual blockbuster marathon of thriller and horror films, AMC Fearfest.  Celebrating its 18th year, AMC Fearfest will feature themed programming and more than 70 films, running from Friday, October 17 through Friday, October 31.
Today at 12:20pm PT is AMC's The Walking Dead Comic-Con panel event, moderated by Hardwick, and season five trailer premiere in Hall H.  Following the event, the trailer can be viewed here.
At AMC's The Walking Dead booth (#4237), fans can stop by to take photos of themselves within a recreation of Terminus, the infamous setting from the season four finale, in which Rick and his group are currently being held captive. Also at AMC's booth, from 1:50 – 2:50pm PT, there will be an autograph signing with the cast and executive producers.
Also on Friday, July 25 from 6:35 – 8:10pm PT in Hall H Kevin Smith will reveal a new video and discuss the fourth season of his unscripted series Comic Book Men, during his annual Comic-Con panel.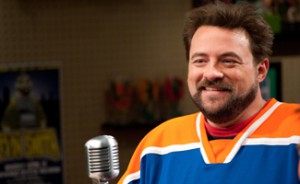 This week, Tusk's Haley Joel Osment talks about the movie and what Kevin Smith is like as a director, while Nerd Reactor takes a look at the Season 3 finale. Plus, Clerks is considered one of the best movies made for $1 million or less. Read on for more:
• Haley Joel Osment, who stars in Kevin Smith's Tusk, tells A.V. Club that the movie has the potential to be one of the director's "most broadly appealing films" with "the perfect midnight monster movie kind of vibe."
• Nerd Reactor previewed the Season 3 finale with a clip of Kevin Smith, et al., talking about Stretch Armstrong.
Continue reading "Haley Joel Osment Talks Up Kevin Smith's Tusk; Nerd Reactor Checks Out Season 3 Finale" »