Comic Book Men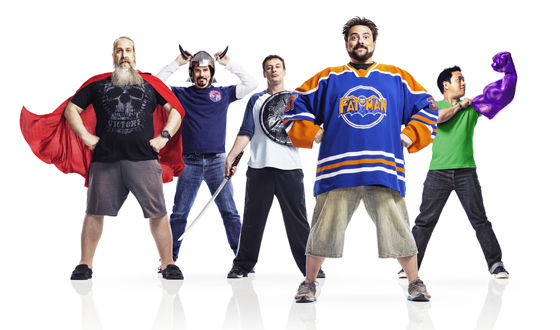 Longing for the return of Kevin Smith and the super-team from Jay and Silent Bob's Secret Stash? Have no fear: Ming, Bryan, Mike and Walt are mere weeks away from saving the day when Season 4 premieres on Oct 12. In the meantime, check out new shots of the guys posed and ready for action in this all-new Comic Book Men cast gallery.

Comic Book Men returns Sunday, October 12 at Midnight/11c.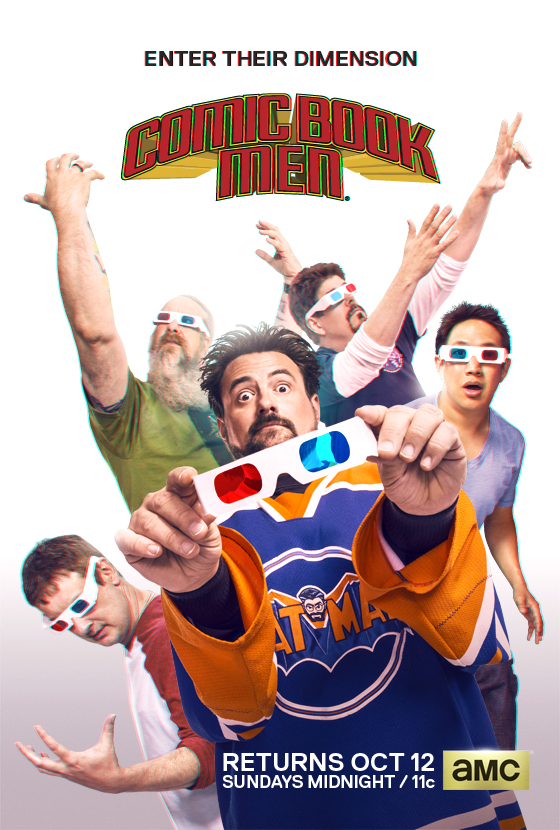 Today AMC unveiled the official Season 4 poster for Comic Book Men, in glorious 3D. So break out your 3D glasses and enter the world of Kevin Smith and the gang from Jay and Silent Bob's Secret Stash.
Comic Book Men returns Sun., Oct. 12 at Midnight/11c on AMC.
Catch up on Comic Book Men Season 3 with full episodes on amc.com. (Log-in required)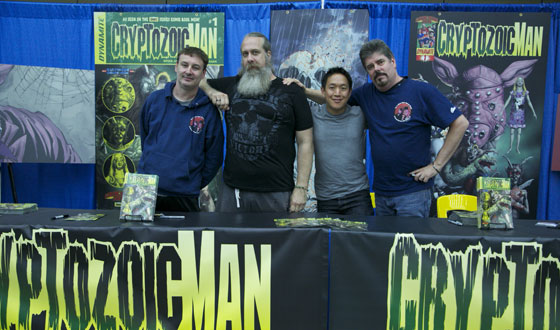 Comic Book Men returns for Season 4 on Sunday, October 12th. Can't wait that long to see your favorite fanboys again? You're in luck: the first eight episodes of Season 3 are available on amc.com with your cable provider log-in. Ration yourself one episode at a time or binge your way through the batch until September 13th, when the second half of Season 3 will become available.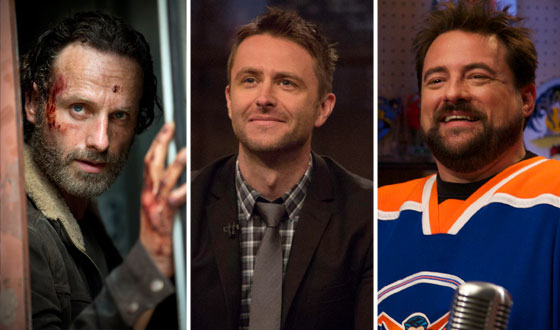 AMC announced today from Comic-Con International in San Diego, CA the premiere of The Walking Dead season five on Sunday, October 12 at 9pm ET/PT.  As in previous seasons, the series' fifth season of 16 episodes will air in two-parts with the first eight hours kicking off October 12 and the final eight episodes returning February 2015.  Following The Walking Dead will be the season premieres of AMC's unscripted series Talking Dead, hosted by Chris Hardwick (Nerdist), at 10pm ET/PT and Comic Book Men at midnight ET/PT.  Internationally, The Walking Dead will return to audiences in 125+ FOX International Channels (FIC) markets within 24 hours of the U.S. broadcast, as part of FIC continued commitment to broadcast the series near date-and-date globally.
"From the opening tease in the premiere onward, season 5 is without question the most ambitious and satisfying season this amazing team has ever crafted" said Charlie Collier, AMC president. "In the zombie apocalypse, event television is alive and well, and I am proud to acknowledge that this uniquely talented writing staff, production team and cast have once again raised the bar (and the crossbow)."
The season premieres of The Walking Dead, Talking Dead and Comic Book Men will coincide with AMC's Zombie Apocalypse Week, from Monday, October 6 through Sunday, October 12, as well as the network's annual blockbuster marathon of thriller and horror films, AMC Fearfest.  Celebrating its 18th year, AMC Fearfest will feature themed programming and more than 70 films, running from Friday, October 17 through Friday, October 31.
Today at 12:20pm PT is AMC's The Walking Dead Comic-Con panel event, moderated by Hardwick, and season five trailer premiere in Hall H.  Following the event, the trailer can be viewed here.
At AMC's The Walking Dead booth (#4237), fans can stop by to take photos of themselves within a recreation of Terminus, the infamous setting from the season four finale, in which Rick and his group are currently being held captive. Also at AMC's booth, from 1:50 – 2:50pm PT, there will be an autograph signing with the cast and executive producers.
Also on Friday, July 25 from 6:35 – 8:10pm PT in Hall H Kevin Smith will reveal a new video and discuss the fourth season of his unscripted series Comic Book Men, during his annual Comic-Con panel.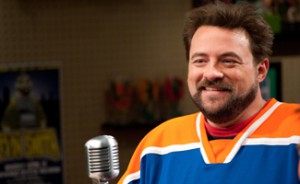 This week, Tusk's Haley Joel Osment talks about the movie and what Kevin Smith is like as a director, while Nerd Reactor takes a look at the Season 3 finale. Plus, Clerks is considered one of the best movies made for $1 million or less. Read on for more:
• Haley Joel Osment, who stars in Kevin Smith's Tusk, tells A.V. Club that the movie has the potential to be one of the director's "most broadly appealing films" with "the perfect midnight monster movie kind of vibe."
• Nerd Reactor previewed the Season 3 finale with a clip of Kevin Smith, et al., talking about Stretch Armstrong.
Continue reading "Haley Joel Osment Talks Up Kevin Smith's Tusk; Nerd Reactor Checks Out Season 3 Finale" »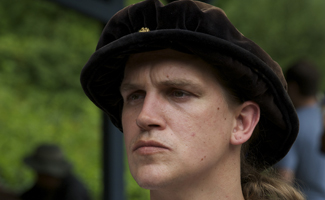 Jason Mewes, a.k.a. Silent Bob's partner in crime, Jay, talks about his relationship with Kevin Smith and how Jay and Silent Bob would fair on The Walking Dead and Breaking Bad.
Q: How often do you hang out at the Stash?

A: Every time I go back [to New Jersey], I go to the Stash, at least a few times. I have a couple of nieces and nephews, and they like to go by and get comics and check out the store and stuff.  There's a really cool arcade right down the street from the Stash, with a ton of old stand up video games, and they also have like five TVs with an Xbox and PS 3. I'll bring my nieces and nephews to the Stash, and we'll hang out, and check out comics and action figures and then we'll walk down to the arcade.
Q: You've worked with Kevin for 20 years. How has your creative partnership changed? 
A: Now, it's nice, Kevin comes up with ideas and will ask my opinion, or I'll tell him my ideas and we'll have a back and forth. I feel like the first ten years — I was younger in the beginning with Clerks and Mallrats, and for Dogma… I was a mess, so I would say in the first ten years, it was more about him being like, 'Hey, you gotta be on the straight and narrow if you want to do this movie, and get your act together.' Now, I feel he actually asks my opinion on stuff. For example, he gave me the Jay and Silent Bob's Super Groovy Cartoon Movie script and told me to go do something with it. It used to be more like a younger brother and an older brother, to where I feel like now it's more of a partnership. It's been really nice, and a big change.
Q: How do you think Jay and Silent Bob would fare on some other AMC shows like The Walking Dead?
Continue reading "Comic Book Men Q&A – Jason Mewes" »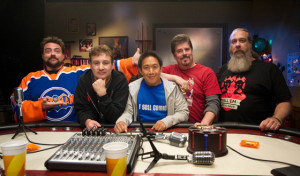 This week, Comic Book Men has been renewed for another season, according to The Hollywood Reporter, while the unscripted series is also getting a companion show. Plus, an update on the making-of Clerks movie that will feature a Kevin Smith cameo. Read on for more:
• The Hollywood Reporter reports that Comic Book Men has been renewed for Season 4.
• TV Guide adds that AMC has greenlighted a companion series for Comic Book Men, as well as a late-night talk show featuring Kevin Smith.
• Flickering Myth has an update on the crowdfunding campaign for Shooting Clerks, a story about the making of Kevin Smith's Clerks, as well as a sample scene from the movie.
Continue reading "THR Reports on Comic Book Men Renewal; TV Guide on Comic Book Men Spin-Off" »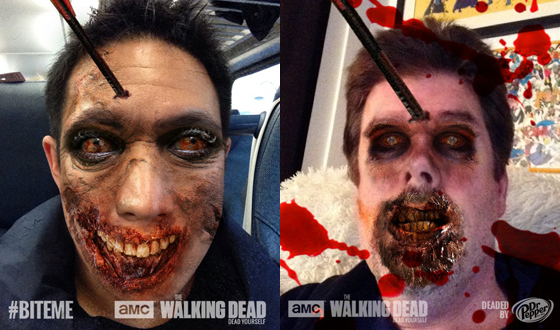 This Sunday, Comic Book Men and The Walking Dead end their seasons on-air. In honor of that, Comic Book Men stars Ming Chen and Michael Zapcic have transformed themselves into walkers via AMC's Dead Yourself App for iPhone, Android and Facebook.
Click here to see a LARGER VERSION.
Want to see what you can make look like a walker? Head to DeadYourself.com.
Comic Book Men's Season 3 Finale airs this Sunday Midnight/11c.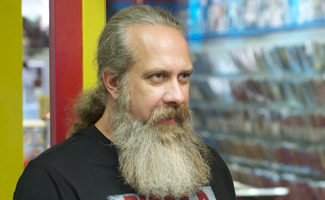 Comic Book Men star Bryan Johnson talks about his craziest interaction with a fan and his favorite guest star so far.
Q: You were once the manager of the shop when it first opened. How does a guy who's not into comics get that gig?
A: It's quite simple. You befriend a guy who buys a comic book store.
Q: So were you a good people person?
A: Not exactly… pretty terrible actually. Yeah, my shrink once said "Why do you keep getting jobs in retail?" And I said "Because Kevin opens retail stores!"
Q: You seem fairly unfazed by most of the items that come through The Stash. Is there one item that's come through that you've considered pretty cool?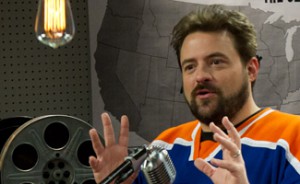 This week, The Dissolve takes an in-depth look at Kevin Smith's career as a director, while Open Culture checks out a short that Smith made as a student. Plus, Smith was in Sun Valley to celebrate Clerks. Read on for more:
• The Dissolve takes a look at Kevin Smith's movie career through the lens of Clerks and Mallrats.
• Open Culture spotlights Kevin Smith's first movie, Mae Day: The Crumbling of a Documentary, describing it as "short but talkative, jocular, by turns placid and vitriolic."
• At the Sun Valley Film Festival, which celebrated Clerks' 20th anniversary, Kevin Smith tells Idaho's KMVT that the movie "inspires you to try it yourself and what better way to kind of disseminate that message than at a film festival."
• For a recap of Season 3, Episode 14, "Batcycle on Broad," check out Graphic Policy.
To keep up-to-date with the latest Comic Book Men news, sign up for the Comic Book Men newsletter.