Comic Book Men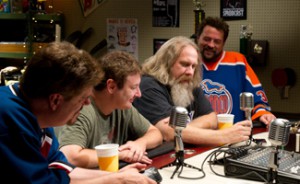 This week, Monsters & Critics recommends watching Comic Book Men. Plus, a Virginia comic book fan shows up at the Stash. Read on for more:
• Comic Book Men's next episode, "The Esposito Collection," is one of Monsters & Critics' TV picks this week.
• The Virginian-Pilot talks to Virginia Beach's Mike Federali about his appearance, selling Hellboy's gun, on Comic Book Men.
• For recaps of Season 3, Episode 12, "Trivia Chew-Off," check out ComicBook.com and Graphic Policy.
To keep up-to-date with the latest Comic Book Men news, sign up for the Comic Book Men newsletter.
This week, AMC's head honchos speak with TheWrap about Comic Book Men's fans, while a Kevin Smith biopic is getting the crowdsourcing treatment. Plus, Smith will be at the Sun Valley Film Festival. Read on for more:
• AMC's Charlie Collier and Joel Stillerman chat with TheWrap about Comic Book Men as "a show that's engendered a lot of passion" and has "touched a nerve with a lot of people out there, especially in the creative community."
• According to /film, two Kevin Smith fans have turned to crowdsourcing to fund a biopic of the director, a project that Smith endorses.
Continue reading "AMC Bosses Appreciate Comic Book Men Fan Base; Kevin Smith Biopic Getting Crowdsourced" »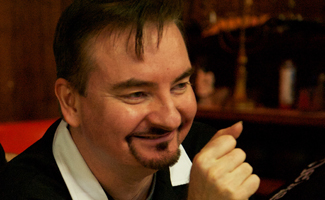 Brian O'Halloran, star of the Clerks movies, talks about his appearances on Comic Book Men, the craziest interaction he's had with a fan and what people can expect from Clerks III.
Q: How did you and Kevin Smith first meet?
A: Unlike most of the cast of Clerks, who had been friends with Kevin before, I met him during my audition for the part. I had been acting with a group in a neighboring town and heard about the audition. I just thought, "Oh, cool. I'll go check that out." I could tell immediately he was someone I wanted to work with and get to know better.
Q: Did you ever think that Clerks would become the huge phenom that it did?
A: Not at all. We got deferred pay and were promised a VHS copy of the film, which I still have… I thought it would just be something that I would show the VHS copy to all my acting friends, from time to time, and we would watch and think it was hysterical. I remember at the first screening, there were like 12 of us in the audience — 10 of which were those who made the movie. But, luckily, Bob Hawk from Sundance was there. It wasn't until Sundance when we saw it go gangbusters. The four screenings were sold out. And we thought, "OK, great! People are getting this. Wow, that's cool."
Q: What do you think was the secret to the movie's success?
Continue reading "Comic Book Men Q&A – Brian O'Halloran" »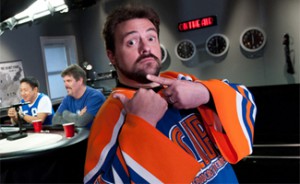 This week, The Globe and Mail gleans Kevin Smith's tips for success, while the Stash gets a visit from Nichelle Nichols. Plus, a comic book shop owner thinks Comic Book Men has made comics more acceptable. Read on for more:
• The Globe and Mail learns Kevin Smith's top five secrets to success.
• ComicBook.com highlights Nichelle Nichols' visit to Comic Book Men.
• The Auburn (Wash.) Reporter interviews a local comic book shop owner who credits a show like Comic Book Men with making comics less geeky and uncool.
• ComicBook.com has some Clerks III details from Kevin Smith.
Continue reading "Kevin Smith's Secrets of Success in Globe and Mail; Nichelle Nichols Visits the Stash" »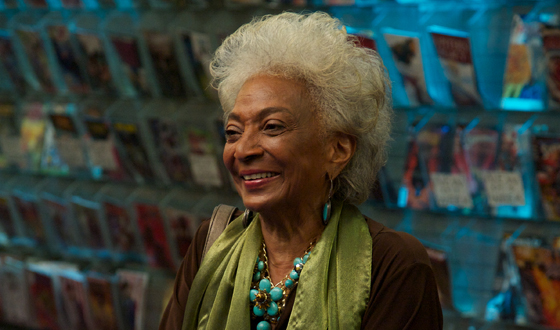 Another special guest is about to visit Jay and Silent Bob's Secret Stash on Comic Book Men: Nichelle Nichols (Nyota Uhura from the original Star Trek). Every Trekkie loves her. How could they not? But there's more to Nichols than meets the eye. Here are six things all but the most devoted Trekkies may not know…
1. Martin Luther King, Jr. Convinced Her to Stay on Star Trek
After the first season of Star Trek, Nichols left the show for a Broadway play. A few days later, MLK encouraged Nichols to stay on Star Trek, calling her stereotype-busting character an inspiration. Nichols recalls King saying, "This is why we are marching. We never thought we'd see this on TV."  Inspired by his words, Nichols rescinded her resignation. The rest is TV history.
2. She's a Fashion Icon
Before Nichols, women in scifi generally looked like conservative housewives. Uhura brought a bit of the swinging '60s to the 23rd century with her miniskirts and thigh-high boots. Her fashion style would go on to influence other intergalactic franchises, from the 1970s Battlestar Galactica to the 21st century's Star Trek reboot.
Continue reading "Six Things You Didn't Know About Star Trek's Nichelle Nichols" »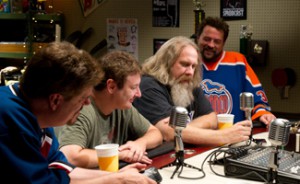 This week, Bryan Johnson wins kudos from Zap2it for his kryptonite costume, while Kevin Smith conducts a Reddit AMA. Plus, Sony buys the rights to Smith's Tusk. Read on for more:
• Commenting on Dean Cain's visit to Jay and Silent Bob's Secret Stash, Zap2it says, "Bryan Johnson dressed as kryptonite is pretty perfect."
• Kevin Smith participates in a Reddit Ask Me Anything where, among other things, he revealed that he'll shoot Comes the Krampus before Clerks III.
Continue reading "Zap2it Applauds Bryan Johnson; Kevin Smith Does Reddit Q&A" »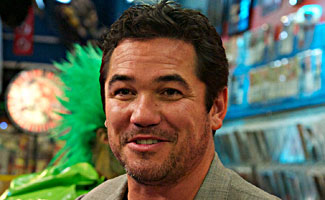 Dean Cain, star of Lois & Clark: The New Adventures of Superman, talks about his appearance on Comic Book Men as the guest of honor at Superman's 75th birthday party and his favorite version of Superman.
Q: Were you a Superman fan prior to Lois & Clark?
A: Well, I watched Super Friends as a kid and he was my favorite. He and Aquaman. I don't know why Aquaman. But those were my two favorite superheroes.
Q: Were you into comic books growing up?
A: I didn't really read comic books. It became much more so once I was cast as Superman. Actually, one of the first things I did with my son, when he was learning how to read was read him comic books. He loved looking at the art. He had seen the Superman stuff, so then we were looking at art work for something else and he liked it and took an interest and started reading the panels. So I just started getting him comic book after comic book. And now I can appreciate — as an adult, as a filmmaker, as an actor, and as a writer — seeing the way that these guys can craft these stories and create this art and give it a certain look and feel. It's amazing!
Q: Who plays the best Superman aside from yourself?
A: Without a doubt, my favorite was always Christopher Reeve. He was my Superman, growing up. He was the one I identified with the character and was the first one I saw as a live Superman. I based my Superman on the way that Christopher Reeve played Superman. But, I'd say the Clark Kent side was much more George Reeves. He was much more of a manly man, he was a cool Clark Kent. I played that side more like that… having that '50s style male-female banter with Teri Hatcher. And I have to say, I think Teri was the best Lois Lane ever!
Q: Kevin Smith credits you with revitalizing Superman, do you think the recent movies draw inspiration from your version of Superman?
Continue reading "Comic Book Men Q&A – Dean Cain" »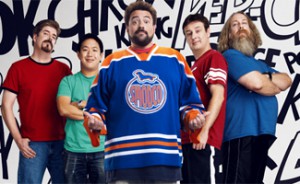 This week, ComicBook.com likes what it sees from the rest of Season 3, while Superman and Lieutenant Uhura are set to guest-star on Comic Book Men. Plus, Kevin Smith writes another screenplay. Read on for more:
• Previewing the rest of Season 3, ComicBook.com declares, "Kevin Smith and the Secret Stash staff are pulling out all the stops for the rest of Season 3."
• Two upcoming guest stars are Dean Cain (Lois and Clark: The New Adventures of Superman's Man of Steel) and Nichelle Nichols (Star Trek's Uhura), according to ComicBook.com.
Continue reading "ComicBook.com Impressed by Rest of Season 3; Superman and Star Trek's Uhura to Guest Star" »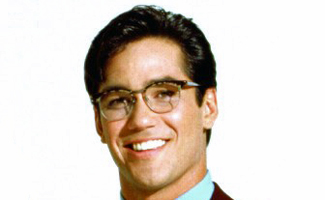 In the newest episode of Comic Book Men, guest star Dean Cain stops by Jay and Silent Bob's Secret Stash to celebrate Superman's 75th birthday. As Superman on Lois & Clark: The New Adventures of Superman, Cain brought an element of fun to both Superman and his alter ego, Clark Kent.  Kevin Smith himself credits Cain with revitalizing the character but is Cain the greatest man ever to wear the red cape? No doubt, some remain eternally loyal to the classic stoicism of Christopher Reeve while others prefer the chiseled jaw of relative newcomer Henry Cavill in Man of Steel? Who's the best Superman in your humble opinion? Choose wisely…
Cast your vote now!
Comic Book Men returns this Sunday at Midnight/11c on AMC.