Broken Trail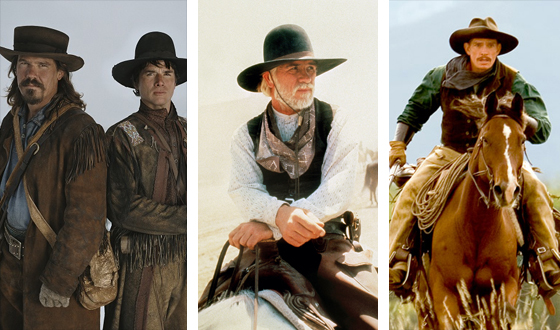 You've already seen every Western starring Clint Eastwood and John Wayne. You watch The Rifleman on AMC religiously on Saturday mornings. You're a bona fide Western lover to be sure but have you seen all the top miniseries of the genre too? Check out these great star-studded, multi-part excursions into the Old West then take a shot at choosing a favorite. (All were Emmy nominees; some were Emmy winners.)
Broken Trail (2006)
A weathered cowboy (Robert Duvall) saddles up with his estranged nephew (Thomas Haden Church) to wrangle 500 mustangs from Oregon to Wyoming. Along the way, the pair rescues five young Chinese girls from slavery and display acts of bravery and rough-riding that would make John Wayne proud.
Emmy scorecard: 16 nominations; 7 wins
Comanche Moon (2008)
In this prequel to the hit Lonesome Dove, Steve Zahn (Sahara) and Karl Urban (Star Trek) play the younger versions of Gus McCrae and Woodrow F. Call, respectively, during their Texas Ranger days. Val Kilmer also stars as their captain who leads the hunt for a horse thief. The stampedes and horse chasing are some of the best ever on TV.
Emmy scorecard: 5 nominations; 0 wins
Continue reading "5 Western Miniseries for Your Must-See List" »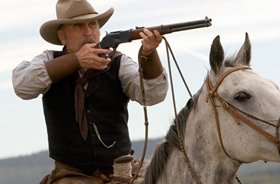 Let's hear it for Robert Duvall and Broken Trail for keeping the Western alive! Why does Print (Duvall) stop a man on the trail and
shoot him? What news does he deliver to his nephew, Tom? Duvall has said that this is the end of a trilogy for him. What are the other two movies? Prove you know Tom and Print's precarious journey.Take Quiz »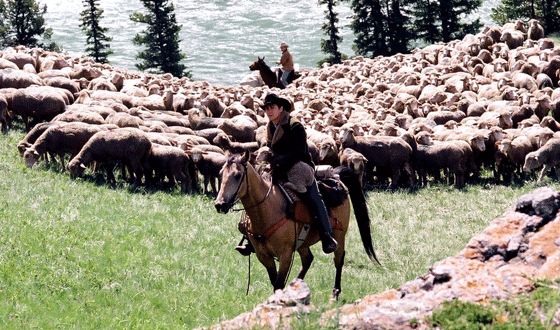 The popularity of bromances like I Love You Man didn't begin and end with comedies. With a few exceptions, the finest Westerns of the 21st-century have focused on the world of male bonding: Viggo Mortensen and Ed Harris, Christian Bale and Russell Crowe, Heath Ledger and Jake Gyllenhaal… These all-star pairings have helped the form come a long way from its collective dry spell in the 1980s. Here's hoping for another great decade as we toast the top Westerns of the aughts.
10. Hidalgo (2004)
Here's a motif that often gets short shrift in Westerns: The romance between rider and
horse. With his trusty steed Hidalgo, Frank Hopkins (Viggo Mortensen) embarks on an incredible race to prove his mustang's prowess against the best Arabian horses. This lush and exotic adventure yarn, based on a true story, recalls the best old-time Western serials. The nostalgia factor helps this one scratch onto the list in tenth place.
9. Australia (2008)
Baz Luhrmann put frontier themes through a postmodern kaleidoscope with this highly stylized western/melodrama/romance/war movie. Luhrmann threw everything but the kitchen sink at the viewer, and it makes for invigorating, if exhausting, viewing. That said, you won't soon forget it, and the movie is a nice reminder of Australia's own cowboy traditions.(It's true! They have some of their own!)
Continue reading "The Western Isn't Dead! Here Are the Top Ten of the Last Decade" »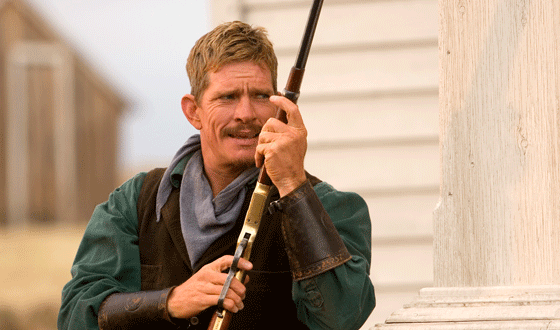 Every Lone Ranger needs his Tonto, every Cisco Kid his Pancho. Along with a horse, pistol, and lariat, having a trusted comrade is a necessity on the open frontier — that is, if you don't want to wind up with a bullet in your back. Here are some of the West's most notable sidekicks.
10. Tom Harte (Thomas Haden Church) in Broken Trail (2006)
Like many a sidekick actor, Church has made an admirable if undersung career in non-starring roles. Look at his dazzling turn as a philandering fiancé in Sideways or his long tenure as grease-monkey Lowell in the sitcom Wings. In Broken Trail, he keeps up the act as Robert Duvall's nephew, in the sort of generational conflict that Westerns are made of. (See Montgomery Clift in Red River.) Still, he's something of a rare visitor to the Wild West, so he just scratches onto this list in tenth place.
9. Curley Burne (DeForest Kelley) in Warlock (1959)
Believe it. Before Kelley was muttering "Damn it, Jim" as Dr. McCoy in Star Trek, he was a ubiquitous second banana in Westerns. In Warlock,
the gun-toting Curley Burne is one of the slimiest men you've ever seen
walking in a ten-gallon hat, doing dirty work for a local outlaw. Just
as cowboys need their sidekicks, villains need their henchman. Despite his immoral ways, he sleazes into ninth places thanks to the novelty factor.
Continue reading "Broken Trail and The Wild Bunch Would Be Nothing Without Their Sidekicks" »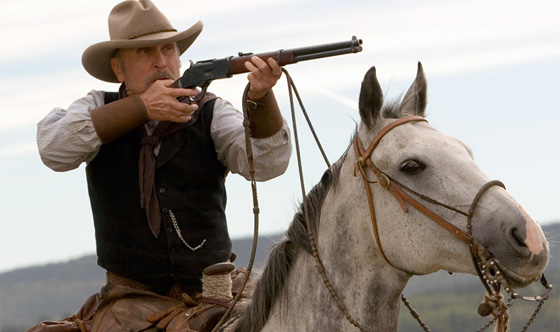 Award-winning actor Robert Duvall has left his footprints all over the Wild West. Watch Lonesome Dove and you'll see an actor radiating dependability and timeworn wisdom! But the actor's early Western career narrates a different history… one of lawlessness, corruption, and murder! Say what you want about Duvall's Western career, but he can hardly be accused of playing the same character over and over again. Just take a look at this rap sheet…
Broken Trail (2006)
In this critically-beloved miniseries that comes courtesy of AMC (ahem), Duvall shrugs off the delinquency of his past to follow the cowboy code, and passes with flying colors. While he's ferrying a shipment of horses across the frontier, Duvall rescues five Chinese women being used as sex slaves. It seems like that the women don't take kindly to being referred to by numbers, but it's clear that Bobby's heart is in the right place.
Open Range (2003)
Duvall here plays "Boss" Spearman opposite Kevin Costner. He's a crusty old coot — a type Duvall perfected in his late career — who wants to preserve the frontier's open range. In a way, Duvall's old-timer reminds us of another late period performance: John Wayne's portrayal of Rooster Cogburn, Duvall's nemesis in True Grit. The similarities even extend to injuries. Duvall fractured his ribs during the filming, a feat that the Duke matched in a mishap during lensing of The Undefeated.
Continue reading "Beyond Broken Trail and Lonesome Dove – The Cowboy Career of Robert Duvall" »
The storyline propelling Broken Trail concerns a horse drive from Oregon to Wyoming. But the movie also tackles the rough lives of women in the Wild West as some fell into prostitution out of necessity, and others were forced into it. In this video, the cast talks about how the film banished stereotypes of bar girls in sexy corsets.
To learn more about Broken Trail, click here.