Awards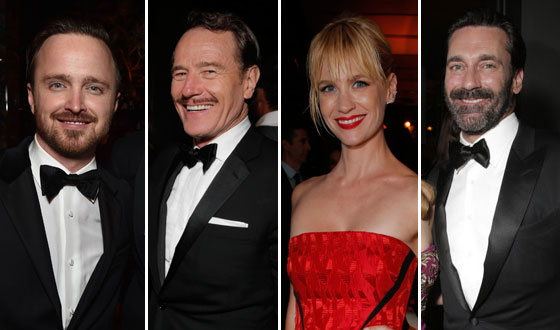 AMC had a lot to celebrate after the Emmys, with Breaking Bad taking home five awards, including Outstanding Drama Series, Outstanding Lead Actor, Outstanding Supporting Actor and Outstanding Supporting Actress. It's no wonder then that the AMC/IFC Emmy Awards After Party was all smiles for the Breaking Bad and Mad Men cast and creators, which included guests Bryan Cranston, Jon Hamm, Aaron Paul, January Jones and more. Check out the photos from the glamorous shindig here.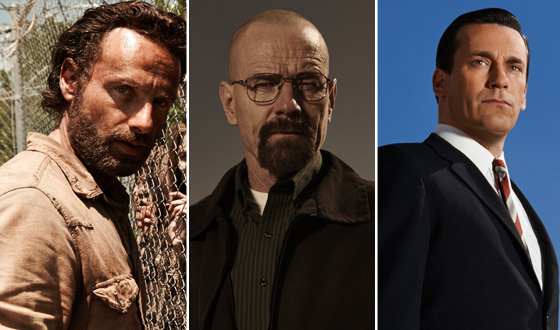 The Academy of Television Arts & Sciences announced this morning the 66th Annual Primetime Emmy® Award nominations, recognizing AMC with 26 nominations, making it the only cable network to ever garner two series nominations in the best drama category for three consecutive years. In addition, AMC is the only cable network (tied with HBO) to garner double nominations in the drama series category five times.
Mad Men, which reigns as the only television series in cable history to win the Emmy® for Outstanding Drama Series four years in row (2008, 2009, 2010 and 2011), continues to be the most Emmy® nominated basic drama series on television with a total of 105 nominations. Mad Men is also the only cable series to ever receive seven consecutive nominations for Outstanding Drama. This year the series garnered eight nominations, including Outstanding Drama Series, Outstanding Lead Actor for Jon Hamm, Outstanding Supporting Actress for Christina Hendricks and Outstanding Guest Actor for Robert Morse.  The series also received multiple nominations for Outstanding Art Direction, Outstanding Costumes, Outstanding Hair Styling and Outstanding Makeup. (Click here to read more about Mad Men's nominations.)
AMC's Breaking Bad garnered the most Outstanding Drama Series nominations for Basic Cable and the most nominations in the series' history with 16, including three-time Emmy winner Bryan Cranston for Lead Actor, two-time Emmy winner Aaron Paul for Outstanding Supporting Actor and a second consecutive nomination for Emmy Award winner Anna Gunn for Outstanding Supporting Actress. Vince Gilligan was nominated for Outstanding Directing and Writing for the Season 5, Episode 16, "Felina" and Moira Walley-Beckett was nominated for Outstanding Writing for the Season 5, Episode 14, "Ozymandias." The series also garnered nominations for Michael Slovis for Outstanding Cinematography as well as nominations for Casting, Single Camera Picture Editing, Sound Editing, Sound Mixing, Makeup and Prosthetic Makeup. (Click here to read more about Breaking Bad's nominations.)
The Walking Dead received two nominations, including Outstanding Special Visual Effects and Outstanding Sound Editing. (Click here to read more about The Walking Dead's nominations.)
The tallies for nominations by show are:
Breaking Bad = 16 nominations
Mad Men = 8 nominations
The Walking Dead = 2 nominations
"It's wonderfully gratifying to see programming about which we, at AMC, are so passionate — Breaking Bad, Mad Men and The Walking Dead – recognized by Academy Members, especially in such an enormously competitive environment," said Charlie Collier, President of AMC. "That Breaking Bad and Mad Men are two of the six nominees in the Outstanding Drama category- Breaking Bad with an opportunity to defend last year's win, for its historic final eight episodes, and Mad Men nominated for the seventh year in a row having won four times in the past; we're humbled and appreciative. We are also so appreciative and proud of the individual nominations for the actors, writers, directors and creative professionals who have made these unforgettable shows so unique. We are thankful Academy members have honored these series with these nominations."
For a complete list of AMC's Emmy nominations, check out the Television Academy's press release here.
The 66th Annual Primetime Emmy Awards will be broadcast live Monday, August 25 at 8/7c on NBC.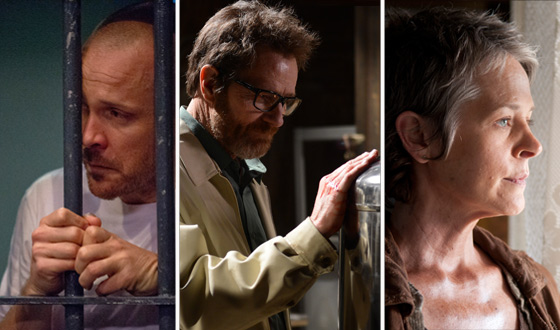 Today the Broadcast Television Journalists Association has announced their nominees for its fourth annual Critics' Choice Television Awards and AMC's Breaking Bad, The Walking Dead, and The Killing were nominated for six awards collectively.
Breaking Bad is nominated for Best Drama Series, competing against HBO's Game of Thrones and True Detective, CBS's The Good Wife, Showtime's Masters of Sex, and FX's The Americans for the top spot. Bryan Cranston has also been nominated for Best Actor in a Drama Series alongside Hugh Dancy (NBC's Hannibal), Freddie Highmore (A&E's Bates Motel), Matthew McConaughey (HBO's True Detective), Matthew Rhys (FX's The Americans) and Michael Sheen (Showtime's Masters of Sex).
Breaking Bad's Aaron Paul received a nomination in the Best Supporting Actor category alongside The Killing's Peter Sarsgaard. Together, they'll compete against The Good Wife's Josh Charles, Justified's Walton Goggins, Ray Donovan's Jon Voight and Boardwalk Empire's Jeffrey Wright for the award.
In the Best Supporting Actress category, Breaking Bad's Anna Gunn received a nomination alongside The Walking Dead's Melissa McBride. Also nominated are The Good Wife's Christine Baranski, The Americans' Annet Mahendru, Sons of Anarchy's Maggie Siff and Scandal's Bellamy Young.
The winners will be announced during a ceremony Thursday, June 19th at the Beverly Hilton Hotel in Los Angeles.
Small Town Security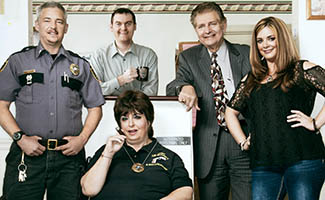 GLAAD has announced the nominees for their 2014 Media Awards, and for the second straight year, AMC's Small Town Security has been nominated for Outstanding Reality Program. The series will face off against Fuse's Big Freedia: Queen of Bounce, WE tv's Cyndi Lauper: Still So Unusual, Sundance Channel's Dream School and Lifetime's Project Runway for the award.  The GLAAD Media Awards recognize and honor media for their fair, accurate and inclusive representations of the lesbian, gay, bisexual and transgender community and the issues that affect their lives.
The GLAAD Media Awards will be held in Los Angeles on Sat., Apr. 12 at the Beverly Hilton and in New York on Sat., May 3 at the Waldorf Astoria.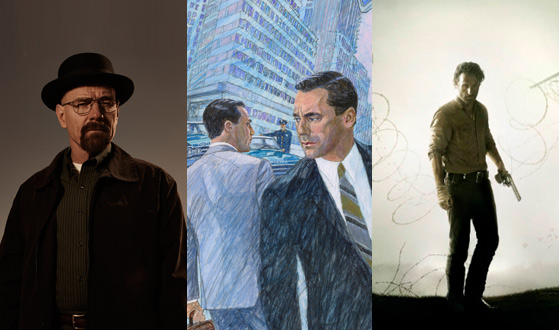 Mad Men
 and 
Breaking Bad
 are both nominated for Best Drama Series
 and will
 compet
e
 against Showtime's 
Masters of Sex
, Sundance Channel's 
Rectify
, Netflix's 
House of Cards
 and FX's 
The Americans
.
Mad Men
's Jon Hamm and 
Breaking Bad
's Bryan Cranston 
will face 
for the drama category's Best Actor award against Jeff Daniels from HBO's 
The Newsroom
,
 Kevin Spacey from Netflix's 
House of Cards
,
 Aden Young from Sundance Channel's 
Rectify
,
 and Michael Sheen from Showtime's 
Masters of Sex
.
For Best Supporting Actor, 
Breaking Bad
's Aaron Paul, 
Mad Men
's James Wolk, and 
The Killing
's Peter Sarsgaard compete against Nikolaj Coster-Waldau from HBO's 
Game of Thrones
,
 Jimmy Smits from FX's 
Sons of Anarchy
 and Jon Voight from Showtime's 
Ray Donovan
.
The Walking Dead
 is in the running for Best Genre Series against HBO's 
Game of Thrones
, FX's 
American Horror Story
, ABC's 
Once Upon a Time 
and 
Marvel's Agents of S.H.I.E.L.D.
,
and BBC America's 
Orphan Black
.
The Satellite Awards are presented by the International Press Academy (IPA), an entertainment media association with voting members worldwide who represent domestic and foreign markets via print, 
TV
, radio, blogs and other content platforms for virtually every notable outlet.
The awards will be presented during a ceremony on Sun., Feb. 23.