4th and Loud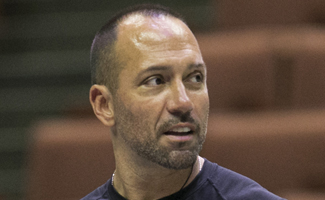 4th and Loud's Aaron Garcia, the LA KISS quarterback, talks about breaking a passing record set by John Elway and hearing KISS for the first time live. 
Q: You broke John Elway's high school football passing record. While Elway was an owner of an AFL team, did you ever have an interaction with him about that?
A: We had chances when we played against the Colorado Crush, the team that he owned at the time. I don't know if we had that conversation specifically, but I know it was something people always documented. It was a pleasure and an honor to meet him and to compete against [his team] at the time.
Q: Co-owners Paul Stanley and Gene Simmons were an integral part of getting you to come play for the LA KISS. Did they promise you fame and fortune?
A: No, they didn't. They were very personable. I was very pleasantly surprised at the conversation that we did have. Something that I've always known as an athlete [is if] I came in there, tried to turn that thing around and win games, a lot of good things would've happened, not just for myself but for all the players on the LA KISS. Unfortunately, once I got there, we weren't able to turn the season around, but also [Paul and Gene] went out on tour, so there wasn't a lot of interaction after that point, and I wish I could've talked to them more. I think it's great the amount of commitment they've put into this league, and I really hope they're able to turn things around and make that a great franchise in the future.
Q: Taking over for another QB mid-season has got to be tough. Did you find there were chemistry problems from the get-go, or did you feel comfortable in your new role?
Continue reading "4th and Loud Q&A – LA KISS's Aaron Garcia (Quarterback)" »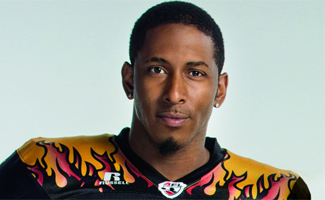 4th and Loud's Donovan "Captain" Morgan, the LA KISS's star wide receiver, talks about his fiery post-game locker room speeches and whether or not he'd make a good rock star.
Q: When you first heard about your old friend Bob McMillen coaching a team co-owned by members of the rock group KISS, what did you think?
A: At first, I thought maybe I don't know if this is going to last; I don't know if this team is really going to become a part of the AFL. But once I've seen that everything was official, and it was in Los Angeles and it was owned by Paul Stanley and Gene Simmons, it kind of was surreal. It was kind of one of those things: "Do they really know anything about football? Are they really going to come to the games?" And all that was proven right to me. They really did know nothin' about football, but they were coming to the games and wanting to learn more about Arena Football. And just having Bob as the head coach solidified everything.
Q: Who is the easier guy to get along with: Bob McMillen, the player, or Bob McMillen, the coach?
A: [Laughs] I mean, I would say Bob McMillen as a coach, because Bob McMillen as a player, you got to see this fire in him… He was much more animated as a player than he is as a coach. He was one of those passionate, fiery guys on the field.
Q: You were a co-captain of the LA KISS this season. What characteristics do you think make the best team captains?
Continue reading "4th and Loud Q&A – Donovan Morgan (Wide Receiver)" »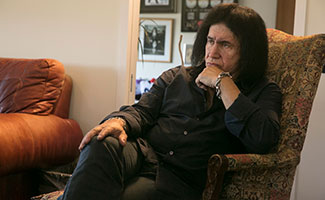 This week, TV Geek Army and TV Ruckus are enjoying 4th and Loud. Plus, The Logan Banner is hooked on the show. Read on for more:
• TV Geek Army touts 4th and Loud as "a reality show I like quite a lot."
• "It's actually been a fun reality show—Gene Simmons knows reality TV," TVRuckus says of 4th and Loud.
• The Logan (W. Va.) Banner is "hooked" on 4th and Loud and explains why.
To stay up-to-date with all the latest 4th and Loud news, sign up for The AMC Weekly.
4th and Loud's Kenny Spencer, the LA KISS kicker, talks about his relationship with an LA KISS girl and some "fatherly advice" he received from Paul Stanley and Gene Simmons.
Q: Did you grow up on KISS?
A: No, [but] you heard 'em every now and then, like, in a movie or a show. But after starting to play for the team and hearing them do their thing… they know what they're doing. That's why they're rock legends and in the Rock and Roll Hall of Fame.
Q: Is the relationship you had with one of the LA KISS girls still going on, or is it over? 
A: No, it's not really…we're just friends… It wasn't a big deal. She dances for the team, and it's frowned upon that the players date the dancers. But it was never frowned upon to hang out and have fun together, you know? So, we had fun and we hung out and we had a good time, and we're still really good friends. She did her job, I did my job, and there was one game I missed those three PATs, and they thought that that was the reason. I'm like, Dude, a girl's not going to be a reason for me messing up some PATs. When I step on that damn field, that's football, not a chick. I just f*cked up, you know?
Q: Paul and Gene met with you about the issue, too. What did you get out of that conversation with them?
Continue reading "4th and Loud Q&A – Kenny Spencer (Kicker)" »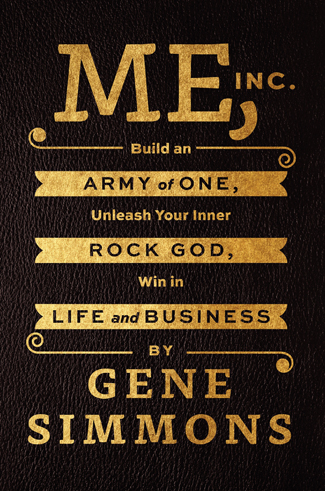 4th and Loud star Gene Simmons's band KISS did not become one of the most successful rock groups in history by accident. Long before they first took the stage, Gene Simmons and Paul Stanley had a clear-cut operating plan for their business. Over the past forty years, KISS has sold over 100 million CDs and DVDs worldwide and manages over 3,000 licensed merchandise items. In addition to KISS, Simmons's lucrative ventures include two hit TV shows, co-ownership of the LA KISS, a restaurant chain and a record company. A recipient of the Forbes lifetime achievement award, this executive runs all of his businesses on his own — no personal assistant, few handlers and as little red tape as possible.
In his new book Me, Inc., available October 21, Simmons gives aspiring entrepreneurs the critical tools they need to succeed. Simmons teaches you how to build a solid business strategy, network like hell, harness the countless tools available in the digital age and be the architect for the business entity that is you.
Click here to learn more and order your copy of Me, Inc.
Catch Gene Simmons in 4th and Loud Tuesdays at 10/9c on AMC.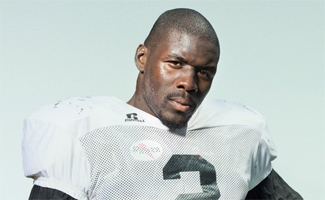 4th and Loud's Beau Bell, starting linebacker for the LA KISS talks about playing with his brother BJ and the bone-shattering hit he laid on the Spokane Shock's quarterback.
Q: LA KISS co-owners Brett Bouchy and Schuyler Hoversten said that you were the first guy they signed to the team. What drew you to the LA KISS? 
A: Honestly, I was already out here coaching, and I thought it would be real fun to play in front of my family and friends; I hadn't played in front of them in 10 years.
Q: You were a coach? Who were you coaching for?
A: Yeah, I'm still coaching the defensive line at Santa Ana College.
Q: It must've been strange having your brother BJ Bell at training camp, trying out for the team alongside you. Was he a welcome addition to camp, or did you find him to be a distraction?
Continue reading "4th and Loud Q&A – Beau Bell (Linebacker)" »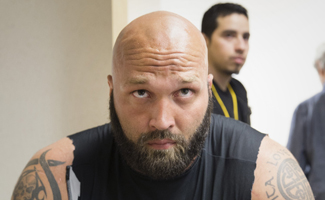 4th and Loud's Joe Mortensen, the LA KISS linebacker-turned-fullback, discusses his friendship with quarterback and "class act" JJ Raterink and how much Assistant Coach Walt "Hous" Housman loves his cat.
Q: An expansion team is basically a random bunch of guys that haven't been signed by other teams and such. What was the chemistry like this season on the LA KISS? 
A: Up and down the roster, I don't think we had a bad team. If anything, it was chemistry on the field that was hurting us. Some guys didn't really know the game that well, at first, [and] our offensive line didn't play that well. It was my third year playing arena, [and] I had been playing defense my whole life, and it was my first year playing fullback. You know, teams like Arizona and San Jose, Pittsburgh and Cleveland, those guys have been together for three or four years… we had a short mini-camp, and we were bringing guys in and out all throughout the year, so it was tough.
Q: You had to be pretty close to JJ Raterink, considering you were literally defending him as a fullback during games. What kind of relationship did you have with him as a player?
Continue reading "4th and Loud Q&A – Joe Mortensen (Fullback)" »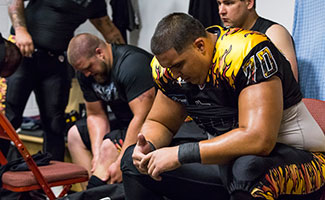 This week, Entertainment Weekly tests Gene Simmons' pop culture personality. Plus, ArenaFan thinks this is a good time to start watching 4th and Loud. Read on for more:
• Gene Simmons takes Entertainment Weekly's Pop Culture Personality Test and reveals how he won a Twist Championship in school and that he frequently binges on marathons of The Twilight Zone.
• After watching "The Fall Guy," ArenaFan says, "If you think things have already been bad enough and love to see yelling and screaming, this would be the time to begin to follow the show."
• TVRuckus' recap of this week's episode, "The Fall Guy," remarks, "Fans of 4th and Loud saw less of owners Gene Simmons and Paul Stanley this week and more of the L.A. KISS arena football team."
To stay up-to-date with all the latest 4th and Loud news, sign up for The AMC Weekly.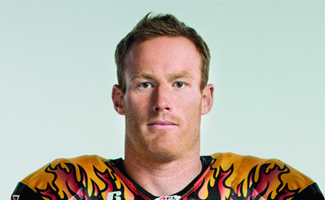 4th and Loud's JJ Raterink, quarterback of the LA KISS, talks about his ups and downs during the team's inaugural season and what it's like being a part of the KISS brand.
Q: So it's the offseason for you at this point. What do you do for a living when you're not playing AFL football?
A: I actually work for a software company. We do tracking software for car dealerships… I travel all around the country, and I go into stores and train new salespeople and managers how to use the software.
Q: In the Series Premiere of 4th and Loud, Colt Brennan is the favorite for the starting quarterback job, but has to retire due to lingering injuries. Did you ever think you'd wind up as starting QB for the LA KISS? 
A: When they did sign Colt, I knew that the name was going to be a big draw, and I knew that was probably going to be something I was going to have to overcome personally to play. Having been a rookie myself, I know that the game is a lot faster than people realize, especially at that position. So it's not that I was sitting there waiting for him to fail or get his opportunity and not succeed. I just know how difficult it is for a first-time guy to get that opportunity. But my mindset the whole time was that I was going to be playing.
Q: There must've been a tremendous amount of pressure on you to succeed.  
Continue reading "4th and Loud Q&A – JJ Raterink (LA KISS Quarterback)" »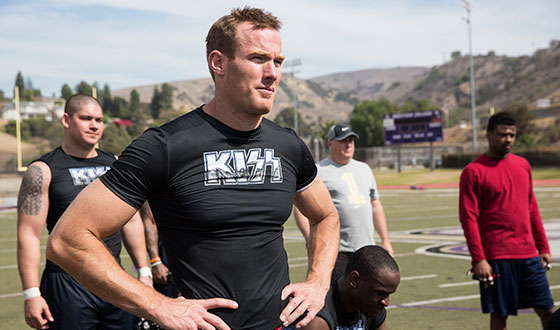 If you haven't tuned into AMC's newest series, 4th and Loud, it's not too late to get into the game. This Sunday at 2PM/1c, AMC will air the first three episodes of 4th and Loud back-to-back. Catch up with the LA KISS coaches, players, and of course, owners Paul Stanley and Gene Simmons. Then, tune in on Tuesday, September 2 at 10/9c for the latest touchdowns, concerts and more.
Full episodes of 4th and Loud are also available online. (Log-in required)
Click here for the full schedule of 4th and Loud on AMC.