4th and Loud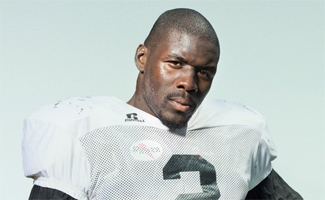 4th and Loud's Beau Bell, starting linebacker for the LA KISS talks about playing with his brother BJ and the bone-shattering hit he laid on the Spokane Shock's quarterback.
Q: LA KISS co-owners Brett Bouchy and Schuyler Hoversten said that you were the first guy they signed to the team. What drew you to the LA KISS? 
A: Honestly, I was already out here coaching, and I thought it would be real fun to play in front of my family and friends; I hadn't played in front of them in 10 years.
Q: You were a coach? Who were you coaching for?
A: Yeah, I'm still coaching the defensive line at Santa Ana College.
Q: It must've been strange having your brother BJ Bell at training camp, trying out for the team alongside you. Was he a welcome addition to camp, or did you find him to be a distraction?
Continue reading "4th and Loud Q&A – Beau Bell (Linebacker)" »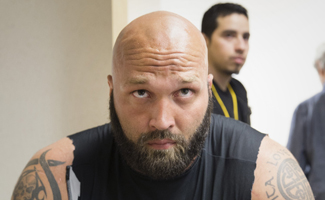 4th and Loud's Joe Mortensen, the LA KISS linebacker-turned-fullback, discusses his friendship with quarterback and "class act" JJ Raterink and how much Assistant Coach Walt "Hous" Housman loves his cat.
Q: An expansion team is basically a random bunch of guys that haven't been signed by other teams and such. What was the chemistry like this season on the LA KISS? 
A: Up and down the roster, I don't think we had a bad team. If anything, it was chemistry on the field that was hurting us. Some guys didn't really know the game that well, at first, [and] our offensive line didn't play that well. It was my third year playing arena, [and] I had been playing defense my whole life, and it was my first year playing fullback. You know, teams like Arizona and San Jose, Pittsburgh and Cleveland, those guys have been together for three or four years… we had a short mini-camp, and we were bringing guys in and out all throughout the year, so it was tough.
Q: You had to be pretty close to JJ Raterink, considering you were literally defending him as a fullback during games. What kind of relationship did you have with him as a player?
Continue reading "4th and Loud Q&A – Joe Mortensen (Fullback)" »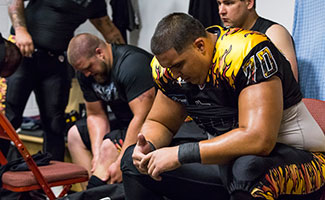 This week, Entertainment Weekly tests Gene Simmons' pop culture personality. Plus, ArenaFan thinks this is a good time to start watching 4th and Loud. Read on for more:
• Gene Simmons takes Entertainment Weekly's Pop Culture Personality Test and reveals how he won a Twist Championship in school and that he frequently binges on marathons of The Twilight Zone.
• After watching "The Fall Guy," ArenaFan says, "If you think things have already been bad enough and love to see yelling and screaming, this would be the time to begin to follow the show."
• TVRuckus' recap of this week's episode, "The Fall Guy," remarks, "Fans of 4th and Loud saw less of owners Gene Simmons and Paul Stanley this week and more of the L.A. KISS arena football team."
To stay up-to-date with all the latest 4th and Loud news, sign up for The AMC Weekly.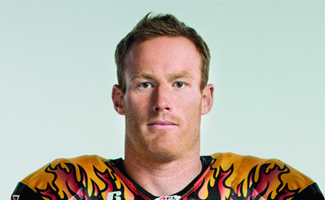 4th and Loud's JJ Raterink, quarterback of the LA KISS, talks about his ups and downs during the team's inaugural season and what it's like being a part of the KISS brand.
Q: So it's the offseason for you at this point. What do you do for a living when you're not playing AFL football?
A: I actually work for a software company. We do tracking software for car dealerships… I travel all around the country, and I go into stores and train new salespeople and managers how to use the software.
Q: In the Series Premiere of 4th and Loud, Colt Brennan is the favorite for the starting quarterback job, but has to retire due to lingering injuries. Did you ever think you'd wind up as starting QB for the LA KISS? 
A: When they did sign Colt, I knew that the name was going to be a big draw, and I knew that was probably going to be something I was going to have to overcome personally to play. Having been a rookie myself, I know that the game is a lot faster than people realize, especially at that position. So it's not that I was sitting there waiting for him to fail or get his opportunity and not succeed. I just know how difficult it is for a first-time guy to get that opportunity. But my mindset the whole time was that I was going to be playing.
Q: There must've been a tremendous amount of pressure on you to succeed.  
Continue reading "4th and Loud Q&A – JJ Raterink (LA KISS Quarterback)" »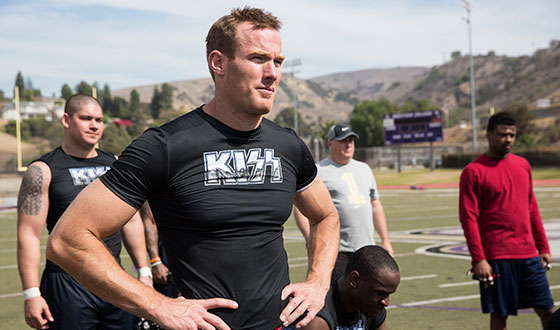 If you haven't tuned into AMC's newest series, 4th and Loud, it's not too late to get into the game. This Sunday at 2PM/1c, AMC will air the first three episodes of 4th and Loud back-to-back. Catch up with the LA KISS coaches, players, and of course, owners Paul Stanley and Gene Simmons. Then, tune in on Tuesday, September 2 at 10/9c for the latest touchdowns, concerts and more.
Full episodes of 4th and Loud are also available online. (Log-in required)
Click here for the full schedule of 4th and Loud on AMC.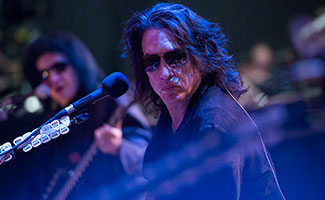 This week, Gene Simmons discusses why KISS makeup has no place in arena football, while TV Ruckus touts 4th and Loud. Plus, The Week spotlights the show. Read on for more:
• Gene Simmons tells the New York Daily News why the LA KISS players don't wear the trademark KISS makeup when they play: "For one thing, you've got to earn it. Secondly, it's got to be real football, not stuff going into everybody's eyes while they are running on the field and getting tackled."
• TVRuckus assesses 4th and Loud: "So far, it is interesting…If you want to see a Gene Simmons/Paul Stanley reality series, yes, it's worth a look."
• The Week spotlights 4th and Loud, concluding that it "isn't cheesy, wisely focusing on the players — a scrappy group of undrafteds and has-beens looking for their break…" [No link]
Continue reading "Gene Simmons Talks KISS Makeup With Daily News; TV Ruckus Touts 4th" »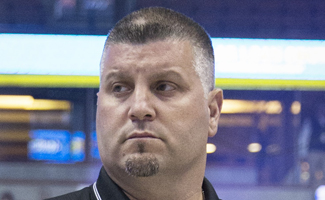 4th and Loud's Bob McMillen, head coach of the LA KISS, talks about what he's learned from co-owners Paul Stanley and Gene Simmons and his favorite guilty pleasure. 
Q: You've been a player and coach in the AFL for 18 years. Did you ever think you'd end up working for and with members of an internationally renowned rock band? 
A: To be able to work with Paul and Gene is actually really surreal. I mean, it's amazing that these are guys I grew up listening to and now they're my bosses. They're just a bunch of regular guys. Everything Paul and Gene have accomplished in those 40 years of being together, [and] they're just normal guys and very smart business guys. And they really, really enjoy watching and being a part of the Arena Football League. Having those guys in your corner makes everything a lot easier.
Q: You just called Paul and Gene your "bosses," but it seems they've given you quite a bit of control over the football team. 
A: That was one of the things that drew me to come to the KISS. I sat down with Paul and Gene and Brett [Bouchy], and one of the things I asked for was full autonomy to run the football side of things. I wanted to be able to do it my way, and they agreed to it. Paul and Gene [said], "We're not football guys. If you ask us to help you on the football side of things, we can't do that. But what we can do is promote us and make this into the biggest thing in the Arena Football League."
Q: Before the LA KISS, you coached for the Chicago Rush. What's the one thing you miss most about working in Chicago? 
Continue reading "4th and Loud Q&A – Bob McMillen (Head Coach)" »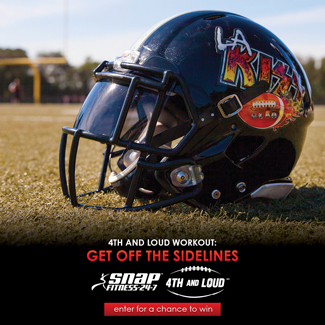 Snap Fitness and AMC's 4th and Loud are partnering to launch a Get Off the Sidelines campaign that will include free workouts and the 4th and Loud Workout: Get Off the Sidelines Sweepstakes.
Snap Fitness trainers collaborated with LA KISS quarterback, J.J. Raterink, to develop the 4th and Loud Workout: Get Off the Sidelines 4-week fitness program. Check out the four installment video series featuring Raterink at www.snapfitness.com/4thandloud, the Snap Fitness YouTube channel. The workout is free to Americans ready to get off the sidelines and get active.
Continue reading "Snap Fitness to Offer Free 4th and Loud Workout and Chance to Meet Paul Stanley and Gene Simmons" »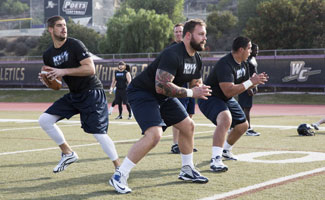 This week, The Washington Post watches Colt Brennan, a former Washington Redskin, on 4th and Loud, while Gene Simmons talks to SportsGrid about reality TV. Plus, Simmons tells Postmedia News about the LA KISS' first season. Read on for more:
• The Washington Post watches the 4th and Loud premiere because Colt Brennan, a former Washington Redskin, is "a focal point" of the episode.
• Gene Simmons tells SportsGrid about 4th and Loud, saying, "This is not reality TV. This is reality."
• Promoting 4th and Loud, Gene Simmons talks to Canada's Postmedia News about LA KISS' first season.
Continue reading "Washington Post Watches Colt Brennan on 4th; Gene Simmons Talks Reality TV" »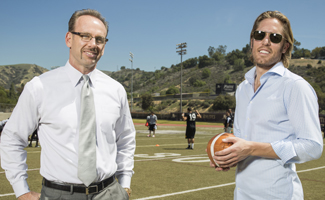 LA KISS president/co-owner Schuyler Hoversten and managing partner/co-owner Brett Bouchy, stars of 4th and Loud, talk about working in the Arena Football League with rock stars Paul Stanley and Gene Simmons.
Q: Have you guys painted your faces, donned black spandex, and joined the KISS Army?
Schuyler Hoversten: No, I became a fan of KISS after having worked for Gene and Paul. And actually, I had never gone to a full-blown KISS concert until the Forum in Los Angeles just a couple of weeks ago. Prior to that, I was just a fan of Gene and Paul. I was just blown away with how they approached business and the entertainment business.
Brett Bouchy: [Schuyler] obviously grew up in a different time than I did. I was born in '69, and my older brother… was a huge KISS fan. I'll never forget in 1979, he went to go see them in concert, and my parents deemed me too young at 10 to go, and I literally thought about running away. My brother called me when they announced their reunion tour, and he said, "Listen, I'm going to get tickets in the first couple of rows, and we're going to fly to Detroit to see the first concert." It was in Tigers Stadium. He talked me into going. It was in 1996, it was sold out, 50,000 people. So I went to that concert, and I'll never forget it. To be working with the guys [in KISS] almost 20 years later is crazy.
Q: How did each of you end up working with the LA KISS? Did you receive a phone call from Paul and Gene, or was it something more formal?
Continue reading "4th and Loud Q&A – Schuyler Hoversten and Brett Bouchy (LA KISS Co-Owners), Part I" »