Showville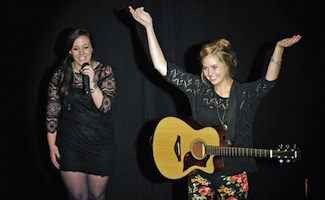 In Episode 2 of AMC's Showville, the residents of Kingston, Rhode Island chose the singer-songwriter duo Hannah and Connor as the winner of the local talent contest. In this interview, Hannah Gang and Connor Fisher discuss their college all-nighters writing music and their recording and touring plans.
Q: You met in college. What made you decide to start performing music together?
Connor: We were in the same peer advising group in Berklee [College of Music] and neither of us knew anyone. It ended up we both had fallen behind in our harmony class.
Hannah: We just kind of looked at each other one day and said, "Hey, do you want to study together?"
Connor: So she comes over to my apartment and she picks up my guitar and starts playing. I think it was Sublime or something, so we realized we liked a lot of the same music… Hannah was like, "Do you want to write a song together really quick? I've been working on something and I like your voice."
Hannah: We stayed up until six in the morning. Time just flew by. That's when we wrote the song "My Love," the one we performed on the show.
Q: You both inherited musical talent from your parents. Did anyone else in your families try out for Showville?
Hannah: No. But Mrs. Fisher did get get her fifteen minutes of fame. She loved it.
[Both laugh]
Connor: While we were in the green room waiting to go on, I was getting texts from friends saying that my mom was downstairs pumping everybody up: "Woo! Woo! Woo!"