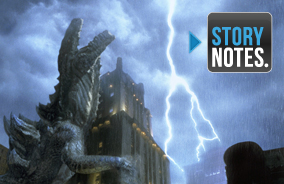 Weeknights during prime time on AMC, you can catch Story Notes — real time trivia and facts about your favorite movies! Below is the online version of the Story Notes for Godzilla.
Anthology Notes
Godzilla is the 23rd movie to star the creature since his debut in Gojira (1954).
In the past, Godzilla has been nearly impossible to defeat. He survived being completely submerged in magma in Godzilla vs. Mothra: Battle for Earth (1992).
The only time Godzilla attacks NYC before this movie was in Destroy All Monsters (1968).
This isn't the first time Godzilla has had offspring. Son of Godzilla was released in 1967.
The next movie in the monster franchise was Godzilla 2000, produced in Japan.