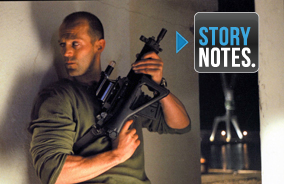 Weeknights during prime time on AMC, you can catch Story Notes — real time trivia and facts about your favorite movies! Below is the online version of the Story Notes for The Transporter.
Anthology Note
The Transporter's success led to sequels in 2005 and 2008.
Automotive Notes
Jason Statham's car is a one-of-a-kind BMW 7 Series.
The body of Frank's car might be a 735i, but the V12 under the hood is only available on the 750i.
Award Note
Action director Cory Yuen has been choreographing fights for over 40 years. He's been nominated 14 times for Best Action Choreography at the Hong Kong Film Awards.
Biographical Notes
When Jason Statham was a kid, he wanted to be a race car driver.
Frank's client is played by artist Didier Saint Melin. His paintings have been displayed at museums around the world.