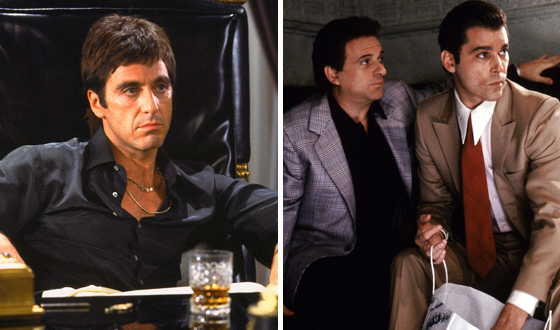 Being a real mob movie fan means watching movies like Scarface, GoodFellas and the The Godfather trilogy over and over (which you can do all this weekend during AMC's Mob Week). It also means immersing yourself so much in the genre that you know everything there is to know about Tony Montana, Henry Hill and the Corleones. Think you're in that class? Test your knowledge of your favorite big screen crime families, gangsters, and wise guys with these ultimate fan games online…
Donnie Brasco
Johnny Depp's arrest in 1994 helped him get cast. What was he arrested for?
GoodFellas
GoodFellas received six Oscar nods, but only won one award. What was it?
Scarface
Which Tony Montana one-liner made AFI's 100 Years 100 Movie Quotes list?
The Godfather, Part 1
Francis Ford Coppola wasn't the first choice to direct The Godfather. Who was?
The Godfather, Part II
Actor Joe Pesci was considered for which role in this Godfather sequel?
The Godfather, Part III
Which star from the first two movies did not return for the third installment?
The Godfather Trilogy
Which pic in the franchise earned the most Oscars?
The Untouchables
Which actor did director Brian De Palma have to pay $200,000 for not casting?
Don't miss AMC's Mob Week which continues through Sun., Aug. 5.
Click here for more Ultimate Fan Trivia Games.
Continue reading "Think You Know Scarface and GoodFellas? Prove It With Mob Week's Ultimate Fan Games" »