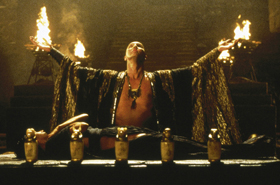 The Mummy delivers romance, adventure, CGI, and a pretty handsome mummy, too. Yet how well do you know what went on behind the scenes as well as in front of the camera for this blockbuster? What Oscar nominee did an uncredited rewrite, for instance? And what are the mummy's last words in the film? Prove you know!Take Quiz »
Tonight's 8PM | 7C broadcast of The Mummy includes AMC's Story Notes, which pairs real-time on-air trivia about your favorite movies with online quizzes for you and your friends.
To challenge yourself with more movie trivia, try our Super Movie Quiz.