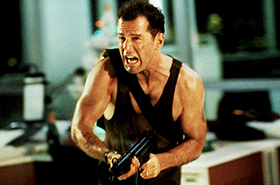 Die Hard wouldn't be the same without John McClane's one-liners but do you know which one is repeated in all four Die Hard movies? And while you can credit the power of those zingers to Bruce Willis's delivery, how much do you know about his unique shooting schedule? (He shot most scenes at night.) See if you can survive a Die Hard trivia challenge.Take Quiz »
Tonight's 8PM | 7C broadcast of Die Hard includes AMC's Story Notes, which pairs real-time on-air trivia about your favorite movies with online quizzes for you and your friends.
To challenge yourself with more movie trivia, try our Super Movie Quiz.