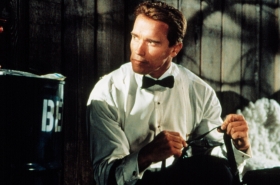 Schwarzenegger's movies kick total butt, as do his cheesy one-liners and shaky command of the English language. Which Arnold character says, "Thank you for the cookies. I look forward to tossing them"? In which movie does Arnold utter the famous line, "I'm the party pooper"?Take Quiz »
To challenge yourself with more movie trivia, try our Super Movie Quiz.
Check out True Lies, playing tonight on AMC, at 10:30 PM | 9:30C, and tomorrow, at 2:30PM | 1:30C.
Check out Eraser, playing Friday, June 11, on AMC, at 11PM | 10C.