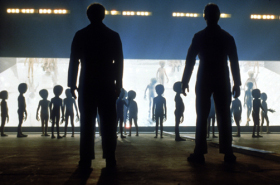 Obsessed with UFOs? How about with UFO movies? Maybe you've never actually experienced a "close encounter," but at least you can try to ace all of the questions in our Close Encounters of the Third Kind
quiz. Look to the skies, and remember — we are not alone. Take Quiz »
Bonus question: In what objects does Roy see the image of Devil's Tower?
Answer correctly by Noon ET | 11C on Monday, November 17 and you'll be entered in a random drawing for an AMC backpack with a Classic Spielberg Films DVD prize pack that includes Close Encounters of the Third Kind, E.T., Saving Private Ryan, Schindler's List and Jaws.
Bonus Answer: 1. Shaving Cream, 2. Mashed Potatoes, 3. Mud, 4. Television
Winner: jking2717