Comic Book Men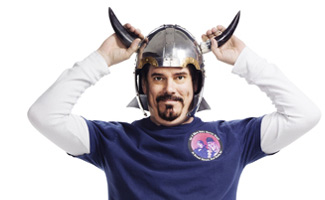 Michael Zapcic, star of AMC's Comic Book Men, talks about what being a comic book man really means and the most interesting thing he's learned about Ming.
Q: Ming chose you for who he'd want on his team during a zombie apocalypse. What kind of skills would you bring to the table?
A: I've got an arsenal in my house. It's kind of funny. My children are into martial arts, so they're dealing with nunchucks and swords. We've bought them actual swords. In my wife's car, she's got a complete set of emergency flares, road signs and everything she needs. I also put in a machete, just in case.
Q: Hey, you never know when you'll need a machete, right?
A: Exactly! The one thing that's most important is I have a plan. I'm the kind of guy who likes to think about stuff before it happens. I'd rather have a plan and not need it than need a plan and not have it. We were caught in Hurricane Sandy and we weren't prepared for everything. Now I've got an emergency preparation plan that can pretty much be used for almost any situation. It's not necessarily a zombie apocalypse plan, but it can be used for that. It's fun to think about it.
Q: If you had to pick any superhero to back you during an apocalypse, who would it be and why?
Continue reading "Comic Book Men Q&A – Michael Zapcic" »