4th and Loud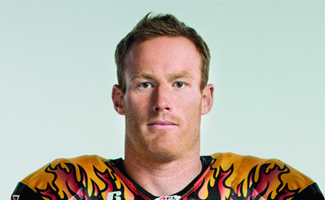 4th and Loud's JJ Raterink, quarterback of the LA KISS, talks about his ups and downs during the team's inaugural season and what it's like being a part of the KISS brand.
Q: So it's the offseason for you at this point. What do you do for a living when you're not playing AFL football?
A: I actually work for a software company. We do tracking software for car dealerships… I travel all around the country, and I go into stores and train new salespeople and managers how to use the software.
Q: In the Series Premiere of 4th and Loud, Colt Brennan is the favorite for the starting quarterback job, but has to retire due to lingering injuries. Did you ever think you'd wind up as starting QB for the LA KISS? 
A: When they did sign Colt, I knew that the name was going to be a big draw, and I knew that was probably going to be something I was going to have to overcome personally to play. Having been a rookie myself, I know that the game is a lot faster than people realize, especially at that position. So it's not that I was sitting there waiting for him to fail or get his opportunity and not succeed. I just know how difficult it is for a first-time guy to get that opportunity. But my mindset the whole time was that I was going to be playing.
Q: There must've been a tremendous amount of pressure on you to succeed.  
Continue reading "4th and Loud Q&A – JJ Raterink (LA KISS Quarterback)" »