Comic Book Men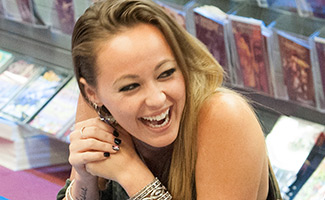 Comic Book Men guest star Ashley Greene talks about what it's like to be Kevin Smith's assistant, her role on Jay and Silent Bob's Top 5 Comics Countdown and how she got so good at closing deals.
Q: What's the best part of being Kevin's assistant?
A: I have the most fun when we're filming. I really want to act; that's been my dream ever since I was two and a half years old. When we're on set, I see all these amazing actors and actresses perform and I get to see Kevin direct. Kevin's sets are so amazing. People always walk out of there saying, "I've never been on such a cool set. I wish I could work with Kevin all the time." He just sets such a good mood. Plus, he gave me a small scene in Yoga Hosers with his daughter, Harley Quinn, and Johnny Depp's daughter and son. He's definitely opening doors and being his assistant is definitely benefiting.
Q: What do you think is different about Kevin's style that makes it much more relaxed?
A: Kevin always says he's an editor, not a director, which we all know is absolutely crazy. But I think he means that instead of telling the actors what to do, he lets the actors make choices on their own. If he wants them to do something different, he'll shout it out. But he lets the actors play and have fun, and he keeps his calm. Every time someone comes to set for the first time, he always announces it to the whole crew and makes everyone feel special and important.
Q: Why did Kevin ask you to spend a week across the country at the Secret Stash?
Continue reading "Comic Book Men – Q&A With Ashley Greene" »