Game of Arms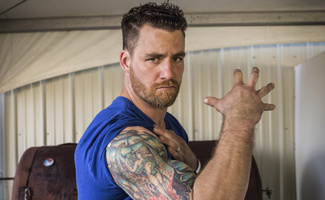 Working the night shift leaves Tom Nelson's days free to raise his two daughters and prepare for a score-settling showdown against arch-rival Travis Bagent on tonight's Game of Arms, airing at 10/9c on AMC.
Q: You come from a family of wrestlers, but it was your shift supervisor at UPS who really got you interested. What happened?
A: My whole family, all we did was arm wrestle, but I wasn't a professional. At UPS, I walked by my supervisor one day and he said, "You don't want none, kid. I got trophies." [Laughs] When I beat him, I was hooked. I started as an amateur in 1999.
Q: Out of everyone on the show, who comes closest to being your match?
A: Like who takes the most out of me to beat? Nick Zinna, for sure. We were just meant to arm wrestle each other. One match took so long that we actually took a break during it and just stood there talking. We should've walked away as a draw. We're so evenly matched, neither one of us has ever competed afterwards and won a match. It ended both of our days every time.
Q: There's a lot of energy and trash talk at these matches. Does that stay at the table, or does it remain heated afterward?
A: I would compare it to a fistfight in school. You're probably gonna be friends afterwards. Everyone hates each other until they compete. But win or lose, you're going to bring both of your levels up. I don't consider myself having losses, just learning lessons. The best in the world have lost a ton. Arm wrestling is one of the most humbling things you will ever do.
Q: You had a bad ATV accident 10 years ago. How serious was it?
Continue reading "Game of Arms Q&A – Tom Nelson (Sacramento Arm Benders)" »