Comic Book Men
Bryan Joh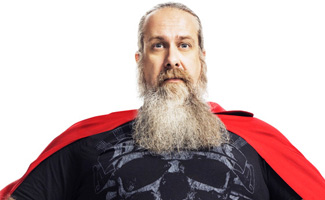 nson, star of AMC's Comic Book Men, talks about his experience at BronyCon and his favorite thing about spending time at the Stash.
Q: You're a long-time friend of Kevin and have appeared in several of his films. What still manages to surprise you about him after all these years?
A: I would say his output. I'll be honest – when he made Clerks, and you see that kind of laze throughout the movie, that's the way we were: slackers. We hung around doing nothing. In the last couple of years, his creative output is nothing less than astonishing. As he's gotten older, he's even more ambitious and prolific.
Q: Does hosting the podcast "Tell 'Em Steve-Dave!" with Walt help for appearing on the show together?

A: I've known Walt since fifth grade and we've been really good friends. When people find out I used to work at Quick Stop with Kevin, they write it off as a crappy job, but aside from Comic Book Men, it was the best job I ever had because you got to hang out with your friend all day. At the time, you didn't realize it, but all those conversations we had were practice. Us sitting around and having conversations was our [version of] college. I think the podcast helps in terms of reacting faster than you might otherwise. My job is to basically make fun of people, so I have to be on point and think about where I'm going to interject. Knowing Walt for so long definitely helps in terms of playing off of each other.
Q: Although you're not an official employee at the Stash, what is your favorite thing about spending time there?
Continue reading "Comic Book Men – Q&A With Bryan Johnson" »