Game of Arms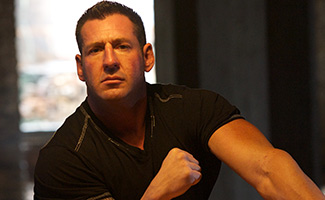 After serving time in federal prison, Bart Wood got his life back together and became a standout competitor. Watch his Erie Wrecking Crew meet the Kansas City Rolling Thunder on tonight's episode of Game of Arms.
Q: There are a lot of legends on the show, including Cobra Rhodes and Allen Fisher. Was there anyone you looked up to when you started wrestling?
A: Growing up in Erie, it was John Heynoski Sr. [John Heynoski Jr. is a Wrecking Crew teammate.] He was the toughest guy around. I tried to model myself after him. He actually became my teacher. And of course, we wound up having to pull each other years later.
Q: It's not often you have to compete against your coach. Were you psyched out?
A: It was very hard. He knew every trick I had, and I knew every angle he had. It was a hard match to referee because we were trying to anticipate what the other was doing in the grip. I snuck one win over on him, but he came back to beat me twice in the finals. He was a living legend in our area. [Having a well-known name] can absolutely psych people out. When people go up against Cobra or Travis Bagent, they're intimidated by the name alone.
Q: You're a father of five. Would you want to see any of your kids get into the sport?
Continue reading "Game of Arms Q&A – Bart Wood (Erie Wrecking Crew)" »