The Final Episodes
Sundays 10/9c
Music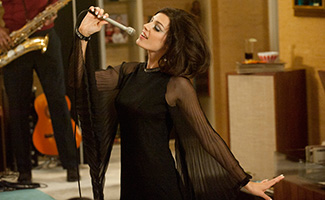 This holiday season, you can settle around the fireplace with Mad Men Christmas: Music from and Inspired by the Hit TV Series on AMC. The 12-track release, available on CD exclusively at Target stores nationwide (and in Canada wherever you buy your music), features several iconic 1960s Christmas tracks and one previously unreleased remix of "Zou Bisou Bisou" as performed by Megan Draper (Jessica Paré) in the Season 5 premiere.
Mad Men Christmas opens with the Mad Men theme song "A Beautiful Mine" by RJD2, followed by Jessica Paré in an exclusive remix of the French pop tune "Zou Bisou Bisou" (Scotch + Sofa remix) by IAMX. The album continues with many of the era's best-loved Christmas songs, including Dean Martin's "Baby It's Cold Outside," Rosemary Clooney's "White Christmas," Tony Bennett's "Have Yourself a Merry Little Christmas," Otis Redding's "Merry Christmas Baby" and Vince Guaraldi's "Christmas Time Is Here," to name a few.
To listen to the new "Zou Bisou Bisou" remix by IAMX (Scotch + Sofa), click here.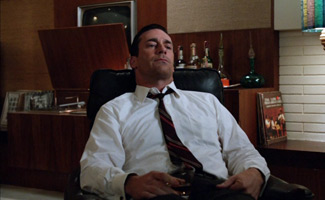 Mad Men Season 5 just wouldn't have been the same without the music. Consider unforgettable moments like Megan singing "Zou Bisou Bisou," Don putting on The Beatles record, and Nancy Sinatra's "You Only Live Twice" playing over the closing scene of the finale. Warning: This list of songs from Season 5 may trigger serious audio recall.
Episode 1-2, "A Little Kiss"
"Ebb Tide (Marea Baja)" – Ken Griffin
"The 'In' Crowd" – Billy Page
"Walk on By" – Burt Bacharach
"Zou Bisou Bisou" – Gillian Hills
"You Don't Have to Say You Love Me" – Dusty Springfield
Episode 3, "Tea Leaves"
"Sixteen Going on Seventeen" – The Sound of Music
Episode 4, "Mystery Date"
"He Hit Me (It Felt Like A Kiss)" – The Crystals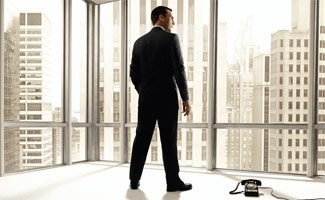 Did a song playing in the background of some scene in Mad Men Season 4 strike a chord with you? (Forgive the pun.) Remember hearing "(I Can't Get No) Satisfaction" as Don walked out of the Athletic Club? Or "I Got You Babe" when Don gazed out his window in the season finale? Trigger more audio recall by perusing this list of memorable songs from a memorable season.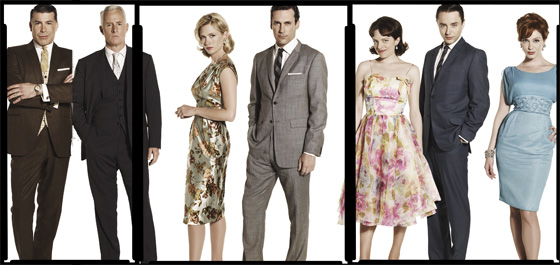 Sure you're obsessed with the music on the series this Season. But ever wondered what sort of songs the characters of Mad Men would tune into on the AM dial? Starting this week, the iTunes store is featuring individual playlists for seven of the show's main players: Betty
Draper, Don
Draper, Salvatore
Romano, Roger
Sterling, Joan
Harris, Peggy
Olson and Pete
Campbell. You can also listen to samples of these music tracks on each of the relevant character profile pages.
Since these lists were compiled by creator Matthew Weiner, producer Scott Hornbacher, composer David Carbonara and music supervisor Alexandra Patsavas among others, they actually provide you with fresh insight and a knowing nod: Patsy Cline's "Too Many Secrets" is on Betty's list; "I'll Be Seeing You," by Liberace is on Sal's. Other stars of a bygone era include Dean Martin, Ella Fitzgerald and The Platters.
The playlists (which each contain five songs) are now available on iTunes. The Season 3 DVD set will also include a special insert with tracks and downloads.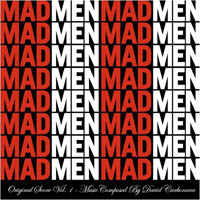 Given the many queries we receive each year about the music on the series, here's our expanding list of the tunes you've heard in Season 3. Not every episode uses outside music, but here are the ones that did. Be sure to check back because we'll be updating this list throughout the season.
Episode 2, "Love Among the Ruins"
"Bye Bye Birdie" – Ann-Margaret
"To Be Loved" – The Pentagons
Episode 3, "My Old Kentucky Home"
"Memories of You" – Ben Webster
Episode 6, "Guy Walks Into an Advertising Agency"
"Come On Twist" – Jody Reynolds
"Song to Woody" – Bob Dylan
Episode 7, "Seven Twenty Three"
"Darling Say You Love Me" – The Ramblers
"I Followed My Heart" – Pete Mann
"Sixteen Tons" – Tennessee Ernie Ford
Episode 8, "Souvenir"
"There's A Small Hotel" – Bobby Van and Kay Coulter

Episode 13, "Shut The Door. Have a Seat."
"Shahdaroba" – Roy Orbison
And to find out more about music from past seasons, check out these links:
• Season 1 Music List »
• Season 2 Music List »
Better yet, head to the AMC store to order Music from the Series, Volume 1.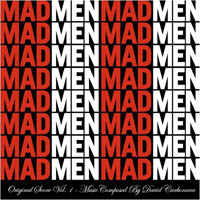 Sure, you can sing the theme song in your sleep and have hummed along to the pop tunes that sometimes accompany the closing credits, but the music of Mad Men is so much more than that. From the hauntingly spare track that accompanied Don's Kodak pitch in the Season 1 finale to the catchy bossa nova heard recently in last week's encore presentation of "The New Girl," composer David Carbonara's contributions to the series are practically another cast member. Don't believe us? Check out Mad Men: Original Score, Vol. 1… available for purchase and download.
Can't get enough of the music you hear on Mad Men? We've had many requests for information about the music used on the series and in its promos. Here's a list of the music from Season 2. We'll keep this list up to date as each episode airs. Click here for a list of all the music from Season 1.
Music from the Title Sequence (all episodes):
RJD2 – "Beautiful Mine" (Instrumental Version)
Music from Episode 1:
Chubby Checker – "Let's Twist Again"
Rimsky-Korsakov – "Song of India" aka "Song of the Indian Guest"
Music from Episode 2:
Baby Washington & The Plants – "Congratulations Honey"
George McGregor & The Bronzettes – "Temptation Is Hard to Fight"
Kyo Sakamoto – "Sukiaki"
Music from Episode 3:
Jack Jones – "Lollipops & Roses"
Music from Episode 4:
Perry Como – "The Blue Room"
Music from Episode 5:
Percy Faith and his Orchestra – "Theme From A Summer's Place"
Music from Episode 6:
The Decemberists – "The Infanta"
Music from Episode 7:
The Pentagons – "I'm in Love"
Brenda Lee – "Break it to Me Gently"
Music from Episode 8:
Peter, Paul & Mary – "Early in the Morning"
Music from Episode 9:
Helene Smith – "Pot Can't Talk About the Kettle"
Marilyn Monroe – "I'm Through with Love"
Music from Episode 10:
The Gigalo's – "Swingin' Saints"
The Tornados – "Telstar"
Music from Episode 11:
Johnny Mathis – "What'll I Do?"
Music from Episode 12:
The Sevilles – "Treat You Right"
George Jones – "Cup of Loneliness"
Music from Episode 13:
Acker Bilk – "Stranger On the Shore"
Remember to check back for updates.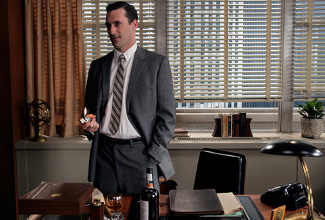 We've had many viewers request information about the music used during Mad Men and its promos. Here's a list of all the music that we've used so far:
Music from the Promos:
Amy Winehouse – "You Know I'm No Good"
Music from the Title Sequence (all episodes):
RJD2 – "Beautiful Mine" (Instrumental Version)
Music from Episode 1:
Don Cherry – "Band of Gold"
Robert Maxwell – "Shangri-La"
Gordon Jenkins – "Caravan"
Vic Damone & Percy Faith – "The Street Where You Live"
Music From Episode 2:
The Andrews Sisters – "I Can Dream Can't I"
The Cardigans – "The Great Divide"
Music From Episode 3:
Bobby Vinton: "PS I Love You"
Music From Episode 4:
Bob Newhart – "Driving Instructor" (Comedy Bit)
Ella Fitzgerald – "Manhattan"
Music From Episode 5:
Miles Davis – "Blue in Green"
Aquatones – "You"
Percy Faith – "Non Dimenticar"
Music From Episode 6:
Original Cast Recording – "Babylon" (Written by Don Mclean)
Music From Episode 7:
Bud Powell – "There Will Never Be Another You"
Luiz Bonfa – "Night and Day"
Rosemary Clooney – "Botch-A-Me" (Ba-Ba-Baciami Piccina)
Music From Episode 8:
Miles Davis – "Concierto De Aranjuez" (Adagio)
Rinky Dink – "Choo Choo Cha Cha"
Chubby Checker – "The Twist"
Music From Episode 9:
Bobby Helms – "My Special Angel"
Music From Episode 10:
The McGuire Sisters – "Volare"
Music From Episode 11:
Astrud Gilberto – "Agua de Beber"
Julie London – "Fly Me to the Moon"
Music From Episode 12:
Yma Sumac – "Gopher Mambo"
Frankie Laine – "Metro Polka"
Music From Episode 13:
Bob Dylan – "Don't Think Twice, It's Alright"