Returns April 5 at 10/9c for the
Final Episodes
Interviews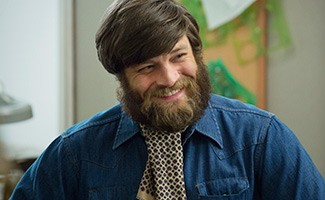 Jay R. Ferguson (Stan Rizzo on AMC's Mad Men) speaks to amc.com about what Stan's beard represents and his character's evolving relationship with Peggy Olson.
Q: How would you characterize Stan and Peggy's relationship and how it's evolved over the years?
A: I would say they are as close as a guy and a girl could get without being romantically involved. The trajectory has been really fun for both of us…starting with a very clear line drawn in the sand and a very competitive back-and-forth for supremacy that, of course, she won. And her being in his life helped him to accept that women could be in a place of power.
Q: Do you see Stan ever settling down?
A: That's tough because, right where we are in the context of the show's time and what year it is, it was certainly not a time when people were eager to settle down. It was almost quite the opposite. But I don't know! I mean, listen, the right girl, the right situation, he's getting a little older. He certainly looks the part for the time, the counterculture part of society, where he would be very much into that whole part of society that was a little bit more free. But, then again, he sometimes says things that make you feel like, well, maybe it's just a little bit more of a show. Who knows!
Q: Do you miss the creative lounge?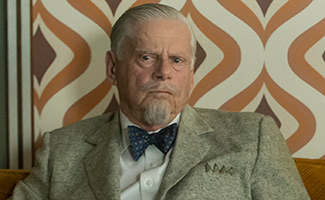 Robert Morse (Bertram Cooper on AMC's Mad Men) discusses his character's final dance number, as well as the first computer he ever saw.
Q: How did you find out that Bert Cooper would be dying in this episode?
A: Matthew Weiner came to me and said, "Bobby, I want to talk to you… You're going to pass away in this episode. I'm sorry." I said, "I perfectly understand." And he said, "By the way, I've always wanted to have you sing. That's what I remember you from, all your Broadway and theater days. When I hired you, always, in the back of my mind, I wanted you to sing a song, but there was never a place to do it." And then he came up with this idea. He said, "I am going to make you come back in the last shot in the picture and sing a song to Don." [Morse sings] "The moon belongs to everyone. The best things in life are free." They had this wonderful choreographer, Mary Ann Kellogg, whom I knew very well, and hired four or five beautiful dancers who would play secretaries… I dance with them and also sing to Don, and it's a whole production. I went and learned the song, and I went into the studio and we recorded it with a huge orchestra. Then we rehearsed it on the set for a couple of days, away from everybody else. Nobody knew what was going on… It was just a lovely way, a sweet way, for dear Matt to send me off.
Q: What's it been like keeping Cooper's death a secret?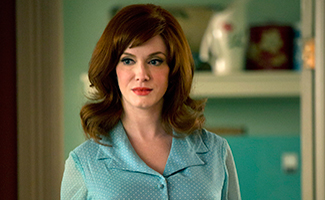 Whether she's teasing the men at the office or calling Don out for his selfish behavior, Mad Men's Joan Harris has proven she's not to be trifled with. AMC asked actress Christina Hendricks to share her insights on some of her character's most memorable moments. Find out what makes these scenes special and watch clips of some of the moments themselves.
Joan and the Two-Way Mirror - Season 1, Episode 6, "Babylon"
I love the Belle Jolie lipstick scene, where Joan leans over and shows the men her derriere. I thought that was a great Joan moment. It showed how powerful and in control of the situation she was. She knew there were men on the other side saying despicable things, and she took it into her own hands and made it her joke and made it her moment. I thought that I was a defining moment for her character.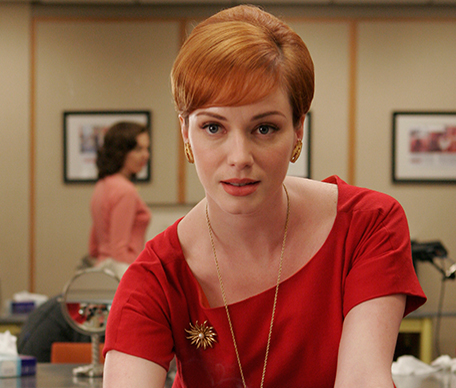 Continue reading "Christina Hendricks on Six of Her Favorite Joan Scenes" »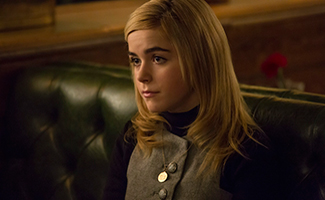 Throughout Mad Men's seven seasons, Sally Draper has grown from a little girl playing space invaders into a rebellious, rule-breaking teenager. AMC asked actress Kiernan Shipka to share her thoughts on some of her character's most memorable moments. Find out what makes these scenes special to Kiernan and watch clips of some of the moments themselves.
Sally Playing in the Dry Cleaning Bag - Season 1, Episode 2, "Ladies Room"
That was my first day on set, so that's my first ever memory of Mad Men, of being on set and working with people on that set. So that's personally what sticks out to me the most, and also it's hysterical that Betty is more worried about her clothing being on the floor than her daughter having a plastic bag over her head. I still laugh at that scene.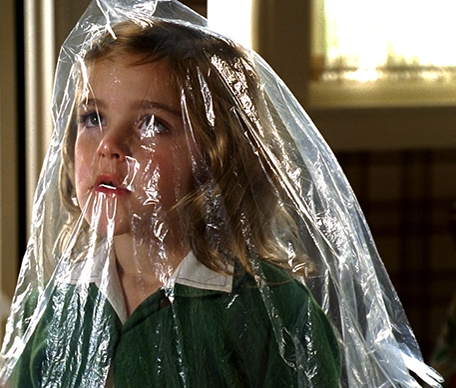 Continue reading "Kiernan Shipka on Six of Her Favorite Sally Scenes" »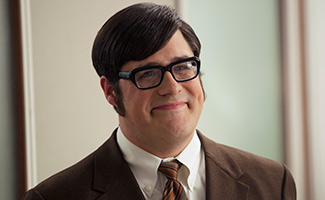 In this interview, Rich Sommer (Harry Crane on AMC's Mad Men) discusses partnership at SC&P and his ever-evolving relationship with Don Draper.
Q: Harry's in talks to become a partner. Congrats! What was your reaction when you found out?
A: Excited. It's probably not going to change much for me as an actor, but I've been rooting for Harry every step of the way and certainly since day one.
Q: You've said before you see Harry as a supporting character. Did you hope that aspect of being on the show would change?
A: Not really, no… I know who the show is about and I know Harry's position in it and I'm very happy with Harry's position in it. If Harry Crane suddenly kicked everyone out and it suddenly became the Harry Crane Agency, it still would be a show about Don Draper. [Laughs]
Q: What do you think the Harry Crane Agency would look like?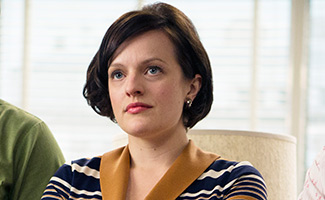 From stripping down to smoking up, Mad Men's Peggy Olson has proven herself capable of the unexpected. AMC asked actress Elisabeth Moss to share her insights on some of the character's most memorable moments. Find out what makes these scenes special and watch clips of some of the moments themselves.

Basket of Kisses - Season 1, Episode 6, "Babylon"
That was the first inkling that I had that my character was going to be something more than a secretary. It really was. It was the first time I was like, "Oh, I have a story. This is cool." I've loved working with Freddie Rumsen, who is played by Joel Murray, and I've always had a special relationship with him. It felt like the beginning of something and I was very aware of it.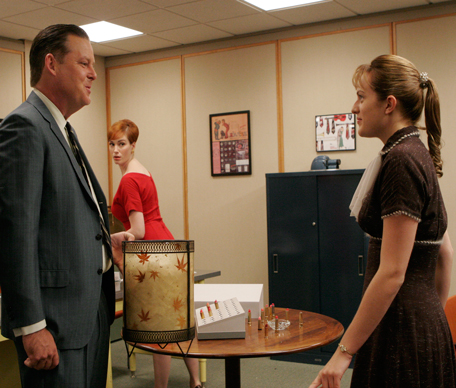 Continue reading "Elisabeth Moss on Five of Her Favorite Peggy Olson Scenes" »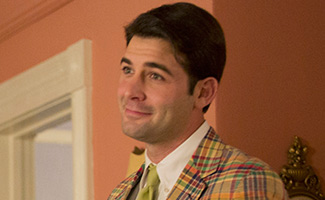 James Wolk, who plays Bob Benson on AMC's Mad Men, talks about his return to the series, his character's big proposal and the infamous short-shorts.
Q: How did you find out Bob Benson would be back, and were you surprised to get the call?
A: I had an inclination he'd come back based on the story really being left very open-ended last season. That being said, you know Matthew Weiner and the creators really do a great job with always bringing in new story lines so I wasn't certain of anything… I made sure my expectations were low so I wouldn't let myself down, and I was thrilled when I found out that I would be able to come back on to reprise the role.
Q: Bob talks with the GM rep about temptation in NYC. Did you learn anything interesting about what it was like to be gay in the 1960s?
A: The interesting thing is that Bob never explicitly comes out on the show…but there's certainly some very substantial dialogue that points towards it. I think it's really interesting why they wrote it like that, keeping that question mark up in the air but obviously really pointing towards that. The GM executive, it's very clear in that scene that him and Bob are guys looking at an issue from different sides of it. This guy even tries to say to Bob, "You know if you ever have any trouble…" and I think Bob says something like, "I'm not of your stripe." And you know, even to another man who's obviously homosexual, Bob is not letting that secret out. I think it's clear in this episode that he definitely has these kinds of thoughts but what I think is interesting is that he never says it overtly… I have to imagine that it was incredibly difficult then. Incredibly difficult.
Q: Did you have any idea that Bob would propose to Joan?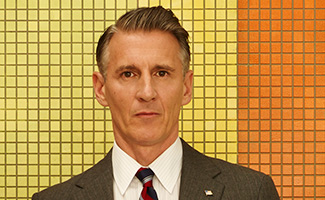 In this interview, Christopher Stanley (Henry Francis on AMC's Mad Men) talks about the dynamics of Henry and Betty's marriage and why Betty should never serve rumaki again.
Q: How much did you know about the politics around the Vietnam War and President Nixon's stance on it?
A: I was a kid then, a little bit younger than Bobby [Draper], and of course I've read and seen some things about it. I knew that this period of time, 1969, 1970, we're starting to see a new conservativism in the wake of the 1968 Democratic convention. I knew that we were going through a shift culturally, politically, things were about to change. I remember feeling that very much as a young kid. I knew there was a very hotly contested debate about whether to pull out of Vietnam, that Nixon wanted to do it, a lot of people didn't. It was a fascinating time, that period of time after we lost the Kennedys and Martin Luther King, Jr.
Q: What did you think of Henry's reaction to Betty's dinner party conversation?
A: For political wives, as well as husbands if we're talking about today's political culture, there's a hard and fast rule that they do not express their opposing political opinions in front of their constituents. It's a real no-no, you know? It's not that Betty's opinion was invalid. We've seen Henry in the past really value her opinion. But what happens is she expresses that opinion publicly and she misrepresents him and then when he expresses to the couple what his stance is in terms of being supportive of the president, Betty calls him out and says, "Since when?" And that's what he's upset about. He's not upset about the fact that she has this opinion… For Henry, I think, it's another display of her lack of awareness, her lack of empathy and her selfishness.
Q: Henry is probably the kindest and most patient husband on Mad Men. How different was it to play him in Season 7, Episode 5, "The Runaways," when he got angry with Betty?
Continue reading "Q&A – Christopher Stanley (Henry Francis)" »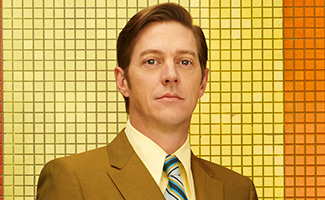 In this interview, Kevin Rahm, who plays Ted Chaough on AMC's Mad Men, talks about kissing Elisabeth Moss (Peggy Olson) and his worst romantic mishap.
Q: In the span of a season, Ted went through a merger, an affair and a move to the West coast. Do you even try to guess what's going to happen to Ted at this point?
A: I don't try to guess at all because there's no telling what they're going to do. I did not see the merger coming… It's funny, Elisabeth Moss knew about it before I did and she said, "When you read that script you're going to be really happy." And then she said, "Wait, wait, not the first thing, the second thing," because the first thing was that I kissed her. She didn't want me to think I was going to be happy because I got to kiss her. She knew I was going to be really happy about the second thing, the merger.
Q: When did you find out that Ted's place in Season 7 was secure? What was your reaction?
Continue reading "Q&A – Kevin Rahm (Ted Chaough)" »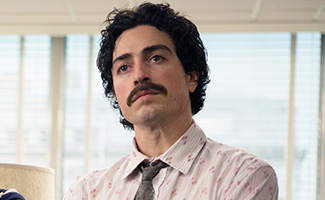 In this interview, Ben Feldman, who plays Michael Ginsberg on AMC's Mad Men, discusses his character's mental breakdown and his prediction for the final scene of the series.
Q: Ginsberg seems like one of the only people happy to see Don back in the office… 
A: Yeah, 100%. I think the office was heading in a direction away from creativity and the world that Ginsberg excels in and the kind of world that he came into… It would have been an incredible relief for him to see a piece of that old world show up again. And then almost in the same episode to take that away with a giant scary robot has got to be a scary thing.
Q: The presence of the computer has a really negative effect on Ginsberg. Was that a common reaction in that era?
A: As far as responding to and going crazy because of the machine — there's only so much research you can do to try to figure out Ginsberg and eventually you have to go, "This guy is not something I can research, he's sort of his own thing." … I used to get asked that a lot: "What about this? Was this common? Did you find this while looking at the '60s?" No, none of it. Ginsberg's a lunatic.
Q: What piece of technology today has a comparable effect on people?