The Final Episodes
Sundays 10/9c
Interviews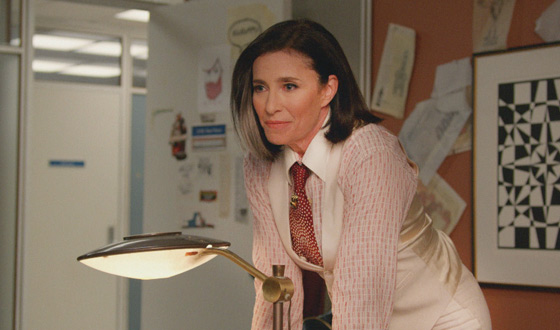 Actress Mimi Rogers, who played Pima Ryan in Episode 709 of AMC's Mad Men, talks about keeping her role on the show a secret and putting together a tailored wardrobe.
Q: How were you approached to play the part of Pima? What was your first reaction when you heard the news?
A: I went in and auditioned for Matthew Weiner and his gang. It was an interesting situation because I saw a number of other women there and – in terms of the wardrobe and look – all of the ladies seemed to have gone in one direction, which seemed a little bohemian. I had gone in a very graphic and bold direction. I thought, "Well I either got it really right or really wrong." [Laughs] I got to see how top secret the whole Mad Men process is because I was given my scenes, but was not given the entire script. I knew who I was going to be and what I was going to be doing, but I didn't know for sure who I would be doing it with in terms of the regular cast members.
Q: Were you a fan of the show?
A: Oh, yes! I'm a huge fan. I've been binge-watching and staying up way too late at night because I just had to see what would happen in the next episode. I was totally immersed.
Q: Was it hard keeping your role a secret? Who was the hardest person to keep it from? When could you finally tell someone?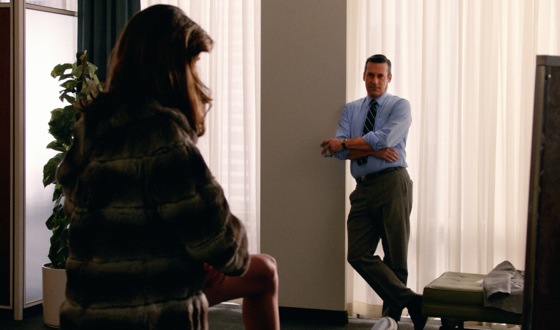 Jon Hamm has inhabited Don Draper for seven seasons. Now, he gives his take on the Final Episodes, including what has — and hasn't — changed since he first took on the role.
Q: What do you think Don has learned about women and relationships over the course of the series?
A: That maybe he's not very good at them. I hope he's learned that, because that seems to be what everyone else has learned. Don is searching for something and has been for a long, long time. I don't think he knows what he's searching for, I just think he knows he's searching for something… and I think people can resonate with that feeling of being dissatisfied and wondering what's at the root of it. I think that's why we have a billion-dollar-a-year psychotherapy business — figuring out what it is that's getting them through the day.
Q: Do you enjoy playing a character who's unraveling?
Continue reading "Mad Men Q&A – Jon Hamm (Don Draper)" »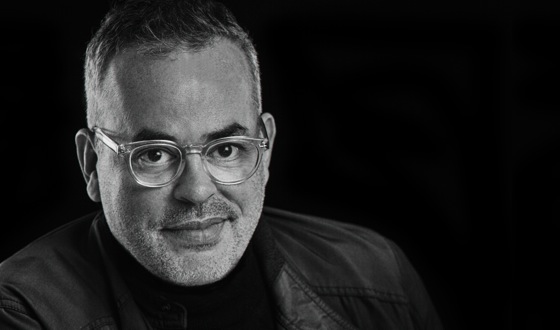 What would Mad Men be without advertising? Josh Weltman, Mad Men's ad consultant and Co-Producer, talks about the ad-making process, those memorable campaigns and how Mad Men has changed the ad industry.
Q: You have been Mad Men's ad consultant for all seven seasons and have worked in the ad industry for 25 years. How did you get involved with the show? 
A: I met [Matthew Weiner] when he was working on The Sopranos… When he found out I worked in advertising, he gave me the pilot to read and I was amazed. It was spot-on. I began to talk about my experiences working in an advertising agency and why I felt that people who had tried to portray what advertising is about in movies and television never really quite got it.
Q: What was the biggest misconception portrayed on movies and TV before the show?
Continue reading "Mad Men Q&A – Series Advertising Consultant and Co-Producer Josh Weltman" »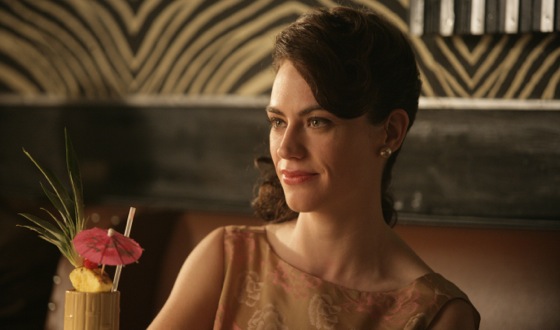 Maggie Siff, who plays Rachel Menken on AMC's Mad Men, talks about Rachel and Don's compatibility and returning to the show in little more than a chinchilla coat for Episode 708.
Q: It's been a while since Rachel uttered the words to Don: "This was a dalliance, a cheap affair. You don't want to run away with me; you just want to run away." Were you surprised she didn't go with Don back in Episode 112?
A: I think Matt [Weiner] really honored her integrity when he wrote that scene. I wasn't exactly surprised because I knew that the arc of the character was one season. I think she really sees something about Don that she didn't see before and she can't live with it. If she was a little bit weaker within herself, she might have stayed, but [Matt] really honored her strength of character in that moment.
Q: You've talked about keeping up with the show after you left. Have you had any revelations about Don and Rachel's relationship since appearing on the show — things that you may not have realized at the time?
A: At the time, I knew — in terms of the arc of the series — Don Draper would have a lot of women to burn through, so I was curious to see what his trajectory would be in terms of his extramarital relationships and how things would transpire with Betty. I actually have found myself to be very surprised at all the twists and turns and people he's turned to. Looking back on it, I feel like Rachel was really a match for him in terms of strength. I felt that then as well, but it still feels true.
Q: Don has certainly had his share of love interests over the years. What makes Rachel different?
Continue reading "Mad Men Q&A – Maggie Siff (Rachel Menken)" »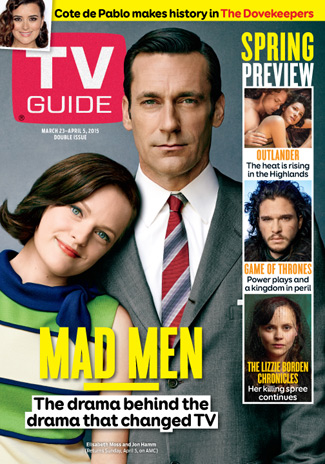 Doug Brod, Editor in Chief of TV Guide Magazine and TVInsider.com, talks about Mad Men's impact on television history; working on a special cover for the publication; and how he's similar to Roger Sterling.
Q: Do you remember watching the pilot episode? What were your predictions when you saw it? Did you think the show was going to become the phenomenon it's become?
A: I actually caught up with the show after it had already become a phenomenon. People had told me about the show and knew that I really love that era and depictions of that era – Manhattan, Madison Avenue, advertising – I just love that milieu. I finally caught up with the first three seasons on DVD that I borrowed from a friend and then I began watching the show live with Season 4.
Q: What's your favorite thing about the era?
A: Totally, superficially, I love the clothing. [Laughs] I love the way the guys dress, I love the cars. I was born in the '60s, so I remember a little bit from my very early life. I really like the way things looked back then.
Q: How do you think Mad Men has evolved over the years, and what do you think are some of the influences it's had on television history?
Continue reading "Q&A – Doug Brod (Editor-in-Chief, TV Guide Magazine and TVInsider.com)" »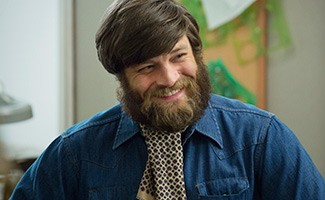 Jay R. Ferguson (Stan Rizzo on AMC's Mad Men) speaks to amc.com about what Stan's beard represents and his character's evolving relationship with Peggy Olson.
Q: How would you characterize Stan and Peggy's relationship and how it's evolved over the years?
A: I would say they are as close as a guy and a girl could get without being romantically involved. The trajectory has been really fun for both of us…starting with a very clear line drawn in the sand and a very competitive back-and-forth for supremacy that, of course, she won. And her being in his life helped him to accept that women could be in a place of power.
Q: Do you see Stan ever settling down?
A: That's tough because, right where we are in the context of the show's time and what year it is, it was certainly not a time when people were eager to settle down. It was almost quite the opposite. But I don't know! I mean, listen, the right girl, the right situation, he's getting a little older. He certainly looks the part for the time, the counterculture part of society, where he would be very much into that whole part of society that was a little bit more free. But, then again, he sometimes says things that make you feel like, well, maybe it's just a little bit more of a show. Who knows!
Q: Do you miss the creative lounge?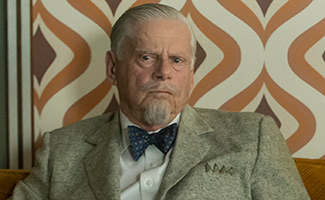 Robert Morse (Bertram Cooper on AMC's Mad Men) discusses his character's final dance number, as well as the first computer he ever saw.
Q: How did you find out that Bert Cooper would be dying in this episode?
A: Matthew Weiner came to me and said, "Bobby, I want to talk to you… You're going to pass away in this episode. I'm sorry." I said, "I perfectly understand." And he said, "By the way, I've always wanted to have you sing. That's what I remember you from, all your Broadway and theater days. When I hired you, always, in the back of my mind, I wanted you to sing a song, but there was never a place to do it." And then he came up with this idea. He said, "I am going to make you come back in the last shot in the picture and sing a song to Don." [Morse sings] "The moon belongs to everyone. The best things in life are free." They had this wonderful choreographer, Mary Ann Kellogg, whom I knew very well, and hired four or five beautiful dancers who would play secretaries… I dance with them and also sing to Don, and it's a whole production. I went and learned the song, and I went into the studio and we recorded it with a huge orchestra. Then we rehearsed it on the set for a couple of days, away from everybody else. Nobody knew what was going on… It was just a lovely way, a sweet way, for dear Matt to send me off.
Q: What's it been like keeping Cooper's death a secret?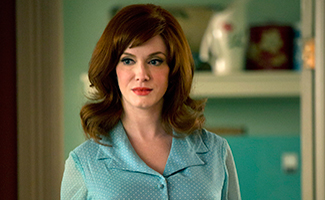 Whether she's teasing the men at the office or calling Don out for his selfish behavior, Mad Men's Joan Harris has proven she's not to be trifled with. AMC asked actress Christina Hendricks to share her insights on some of her character's most memorable moments. Find out what makes these scenes special and watch clips of some of the moments themselves.
Joan and the Two-Way Mirror - Season 1, Episode 6, "Babylon"
I love the Belle Jolie lipstick scene, where Joan leans over and shows the men her derriere. I thought that was a great Joan moment. It showed how powerful and in control of the situation she was. She knew there were men on the other side saying despicable things, and she took it into her own hands and made it her joke and made it her moment. I thought that I was a defining moment for her character.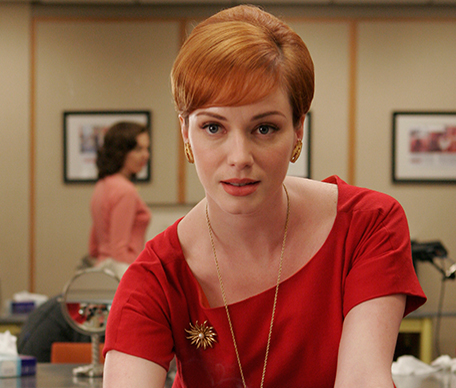 Continue reading "Christina Hendricks on Six of Her Favorite Joan Scenes" »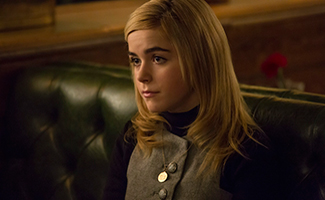 Throughout Mad Men's seven seasons, Sally Draper has grown from a little girl playing space invaders into a rebellious, rule-breaking teenager. AMC asked actress Kiernan Shipka to share her thoughts on some of her character's most memorable moments. Find out what makes these scenes special to Kiernan and watch clips of some of the moments themselves.
Sally Playing in the Dry Cleaning Bag - Season 1, Episode 2, "Ladies Room"
That was my first day on set, so that's my first ever memory of Mad Men, of being on set and working with people on that set. So that's personally what sticks out to me the most, and also it's hysterical that Betty is more worried about her clothing being on the floor than her daughter having a plastic bag over her head. I still laugh at that scene.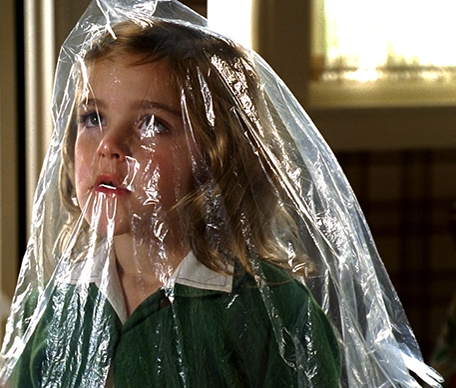 Continue reading "Kiernan Shipka on Six of Her Favorite Sally Scenes" »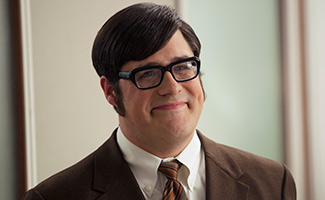 In this interview, Rich Sommer (Harry Crane on AMC's Mad Men) discusses partnership at SC&P and his ever-evolving relationship with Don Draper.
Q: Harry's in talks to become a partner. Congrats! What was your reaction when you found out?
A: Excited. It's probably not going to change much for me as an actor, but I've been rooting for Harry every step of the way and certainly since day one.
Q: You've said before you see Harry as a supporting character. Did you hope that aspect of being on the show would change?
A: Not really, no… I know who the show is about and I know Harry's position in it and I'm very happy with Harry's position in it. If Harry Crane suddenly kicked everyone out and it suddenly became the Harry Crane Agency, it still would be a show about Don Draper. [Laughs]
Q: What do you think the Harry Crane Agency would look like?