Fashion File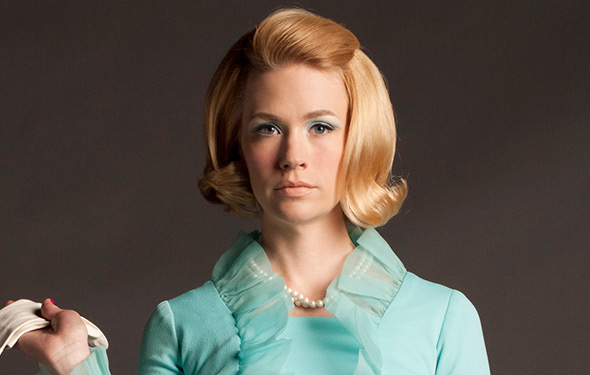 Mad Men's award-winning costumes have garnered plenty of press over the years but the show's look rises above the neckline as well. Mad Men blogger Faran Krentcil spoke with makeup department head Lana Horochowski and hair department head Theraesa Rivers about what goes into the look of some of the show's leading ladies. Flip through for their responses.




To get more Mad Men content, sign up for the weekly Mad Men Memo.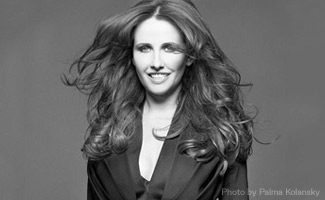 In Part II of this interview, fashion blogger Faran Krentcil interviews Mad Men costume designer Janie Bryant about the meanings of certain colors and Megan's "Sharon Tate" T-shirt. 
Q: How do you dress an entire army of secretaries for every single episode?
A: It's a huge challenge; it really is. How it works is that I have a woman's costumer that helps me with the female background players. We build a "closet" for all the background secretaries. Each one gets four to five costumes for each season — and by season, I mean winter, spring, summer, fall. And those costumes rotate for each scene. My woman's background costumer has to make sure that the costumes the secretaries are wearing aren't conflicting with my principal cast. She has to come to me and say, "What's Joan wearing today? Who do we have in the office today?" She has to make sure that the background costumes don't conflict or match or rival with the principal cast's costumes.
Q: Wow…
A: Also, it's very important that each of the secretaries have their own characters. We have a sexy one, a school marm, a very fashionable one. We create personas for each of these background players through their costumes, and we keep "who they are" very consistent.
Q: Fans comment on the site wondering if specific colors have meanings. For example, if a character wears black, he's about to die or destroy a relationship.
A: What do you think?
Q: I think there's been a lot of blue and green, and whenever characters wear it, they seem to be breaking rules…
Continue reading "Q&A – Janie Bryant (Costume Designer), Part II" »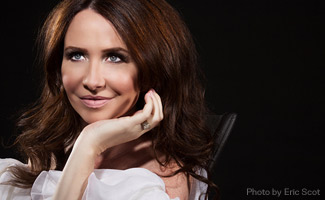 In Part I of this interview, fashion blogger Faran Krentcil interviews Mad Men costume designer Janie Bryant about Peggy's fashion progression and the challenges of outfitting Bob Benson.
Q: There have been hundreds of tweets about Peggy's sexy date dress from the Season 6 Finale. Can you tell us about it?
A: Peggy has an amazing costume arc for that whole episode. I felt so strongly about getting just the right dress because the script was so amazing for her character. I wanted her costumes to build along with her storyline. So when we first see Peggy, she's in the gray three-piece suit — it's a gray-and-yellow windowpane design. That scene was so sad for Peggy; she feels such disappointment and so let down when she sees Ted with Nan and the kids. So I wanted to start her out in something that evokes disappointment and sadness. But then she comes back so strong in that date dress. It's a very sexy low-cut, V-neck, saucy little mini-dress… It was a very important moment for Peggy because I could show her as we'd never seen her before… Of course, in my imagination she's going to go out and buy a new number for this very moment in the office. So it was an opportunity for Peggy to buy something really modern; totally of the moment. She bought that dress the day before she wore it.
Q: What about Peggy's now-famous pantsuit?
A: When I read the script, I kept seeing her in pants in that scene. I went to Matthew [Weiner] and talked to him about letting her wear pants to work for the first time. It's a very important moment for Peggy, being in Don's office. She's there over the holiday weekend, so it's not like everyone's there working. So she could "sneak it in," so to speak. But more importantly, I felt like, "Okay, you've come a long way baby." And the pantsuit was to celebrate and acknowledge her whole amazing arc of the whole season. Time has passed, and Peggy has grown into this incredible businesswoman. And also the colors were important, too. The pantsuit was this dark intense orange, black, and white houndstooth and I loved how it really spoke to the whole entire meaning of Mad Men and the symbolic way it references the black, white, and red colors in the show's theme… It spoke to the strength of the show, and the strength of those colors, and that moment for Peggy and all of what she's been through.
Q: Let's talk about Harry Crane…
Continue reading "Q&A – Janie Bryant (Costume Designer), Part I" »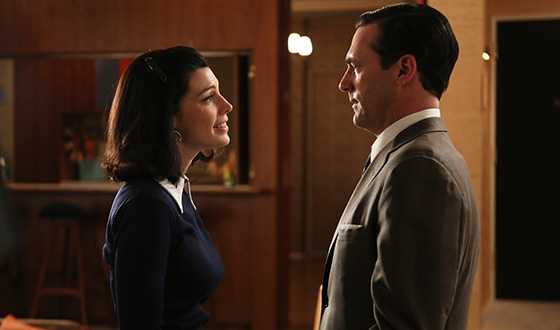 This season tracked Don as he repeated — then started to shatter — his usual cycle of lies. "I want to stop doing this," Don resolved at the end of "The Doorway." By the time he brings his kids to the abandoned rooming house where he spent his own adolescence, there's a sense that maybe Don's pattern of deception will finally end.
For much of this season, costume designer Janie Bryant has highlighted the theme of history repeating itself via the characters' clothes. For the season finale, she pulls out all the stops, and it's really fun to track.
One of my favorite moments of deja vu came from Young Dick Whitman, who sports a blue Fair Isle sweater and knee-high socks while miserably shuffling onto his Pennsylvania porch. Later in the episode, and well in the future, his daughter Sally answers her dorm room pay phone… in a blue Fair Isle sweater and knee-high socks. It's not a coincidence Sally's suspended from school for the exact same reason Don gets "suspended" from SC&P: Her fake identity is revealed, she gets drunk in front of authority figures, and she throws away a really good opportunity. Betty says "the good is not beating the bad." If she means her "perfect" influence isn't overpowering Don's destructive influence, she's right — all you have to do is look at their corresponding teen knitwear.
Continue reading "The Mad Men Fashion File – The Circle Game" »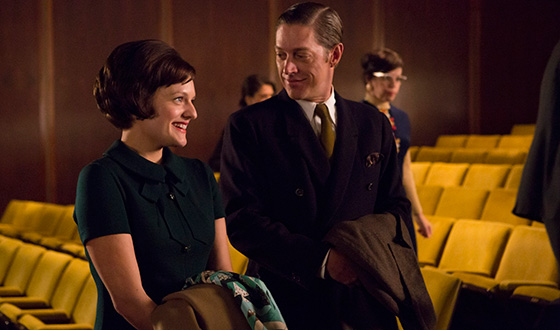 Don't adjust your television set: There's nothing wrong with Peggy's orange checked bow or Bob's striped green tie. But if you think you've seen those costumes before — just in different colors — you're absolutely right.
Each of these outfits has an evil twin that costume designer Janie Bryant ties back into the character's story arc. Peggy's original checked pussy bow was purple, and she wore it first while flirting with Ted (while on the phone with Stan!) in Episode 4, "The Collaborators." It appears again in Episode 9, "For Immediate Release," as Peggy learns Don and Ted have forged a shaky (and career-changing) alliance. Both episodes were before Ted and Peggy's pivotal kiss this season — and before Don had wrecked their relationship. After compromising the love of his real daughter, Don acts out on his "work daughter" — and boom, Peggy goes (literally) hot under the collar. Her neckline changes from purple to orange.
Peggy's second costume inversion comes from her blue suit with green trim. Remember when she wore a green suit with blue trim last week while navigating Mrs. Campbell's dementia and Pete's dinner table teasing? It's all fun and games until it's true, and then the mood (and the suit) darkens. (One more note on Peggy's blue costume: It's the same one she sports in the Season 6 Premiere when she deftly saves the day with her "Lend Me Your Ears" campaign — but only after almost losing her temper with the clients.)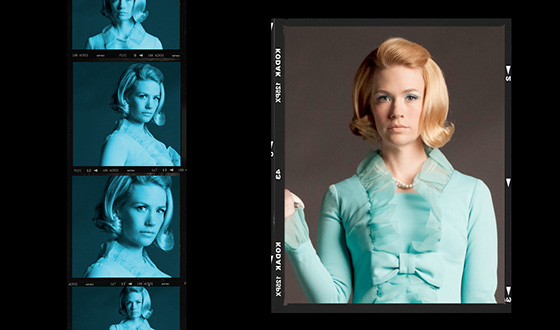 As Mad Men Season 6 progresses deeper into the 1960s, so do the characters' fashions. Brighter colors, shorter skirts, and longer hair are at the forefront. Plus, there's no shortage of funky patterns. To learn more about this season's distinct look, check out the following online content:
1. Season 6 Fashion Photos: A collection of iconic photography featuring Don Draper, Megan Draper, Peggy Olson, Joan Harris, Roger Sterling, Betty Francis and Pete Campbell.
2. The Mad Men Fashion File: Fashion blogger Faran Krentcil's analysis of Emmy Award-winning costume designer Janie Bryant's fashion choices.
3. Janie Bryant Video Interviews: The Mad Men costume designer takes you into the wardrobe room where she breaks down the costumes from each episode.
Mad Men airs Sunday nights at 10/9c on AMC.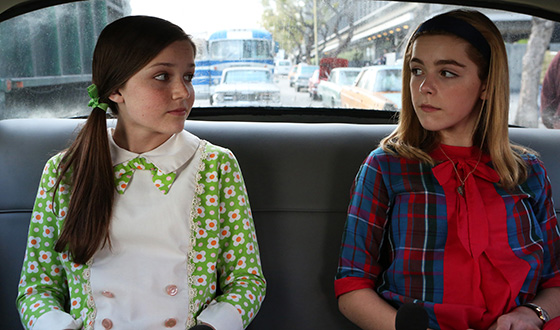 There's an old joke that people eventually start to look like their pets. In the Mad Men world, nobody resembles their cat, but costume designer Janie Bryant makes sure that key characters coordinate with their office (or in Betty's case, her kitchen). Peggy's a prime example: Once she got promoted to copywriter, she wore dresses that blended into the chairs. And all this season, we've noted that Ted's "groovy" brown suits line up perfectly with Sterling Cooper & Partners' wood-paneled walls.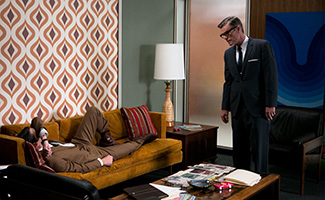 Now we see Ted hiding out with Jim in the SC&P version of the Bat Cave: Ted's office. Ted's mustard and chestnut hues blend straight into the dizzy wallpaper; Jim's blue suit sinks precisely into the graphic blue print hanging behind him. This is their space, for their opinions, and it couldn't get any clearer if Ted hung a sign proclaiming "NO DRAPERS ALLOWED" on the door.
Unfortunately, nobody posted a "NO SALLYS ALLOWED" sign on the 16th floor of her apartment building, but Sally should have known she didn't belong in the Rosen house anyway: Their walls are muted brown and orange, and her costume is bright red and blue. (Maybe she chose it to match Mitchell's red shirt!) Aside from making us squirm and scream "Don't go in there, Sally!" at the TV, this episode did a fantastic job of delineating children from adults.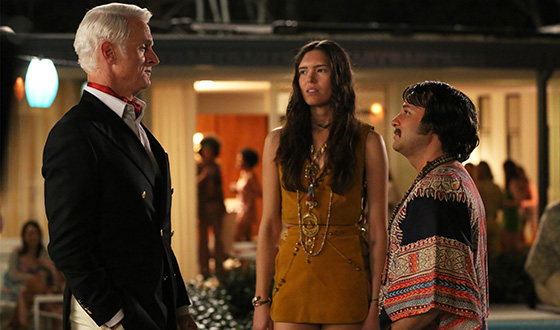 "It's a revolt!" cries Pete Campbell, and it's amazing. Outside, the Chicago riots are raging near the Democratic convention. Inside, the servants of the old regime — secretaries, to be exact — are taking over big business. And California has turned from Don's one true home into a hipper, richer, and even more brutal playground than Manhattan. "Be slick, be glib, be you," Roger instructs Don on the plane. If only he knew…
To show the New Order slowly emerging, costume designer Janie Bryant relies on contrast. She's taken the Old Guard — the white male executives — and kept them in an archetypal uniform, the suit and tie. Then she surrounds these "stiffs" with challenging patterns and shapes. Danny — sorry, Daniel — Siegel at the pool party is a great example: He's wearing red, white and blue, the same colors in Roger's crisp ensemble, but Danny flaunts them on a loose caftan with love beads and a moustache. Roger's main accessory is a red cravat, while Danny's is a willowy hippie named Lotus! Dressed in our national colors, each man seems to be his own American dream, and each other's American nightmare.
We should note that for the first time ever, "California Don" isn't a man wearing cardigans and easy smiles. He's a shark out of water, fumbling through meetings, tripping across parties, and watching the small people in his life, people like Megan and Sally and Peggy (people he thought he could control) grow taller and more powerful than he is. Alice in Wonderland doesn't need Danny to make it into a movie — it's already happening here.
There was a big payoff this week, as viewers finally got their "Jumping Off Point": Don face down in a pool as if he'd stepped into his own botched Hawaii pitch. I loved the shot right after, when Roger's clothes are soaked through too, and you realize he jumped into the pool to save Don. It's especially satisfying combined with Joan's fantastically mean snap at Peggy: "You were so brave. Letting Don carry you to the deep end of the pool." Maybe, but Don's the one who needs to be hauled out of it.
Continue reading "The Mad Men Fashion File – Got a Revolution" »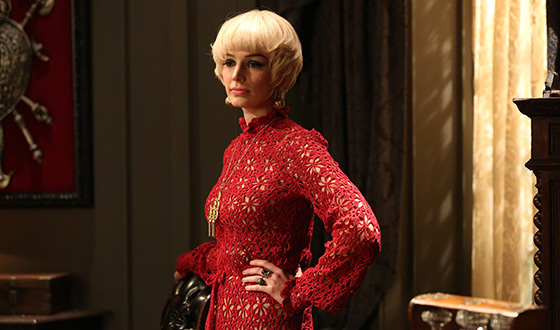 Could designer Janie Bryant have chosen a better costume to open "The Better Half" than Peggy's split-seam jacket? It neatly divides her into two pieces, which is great because she's torn professionally (Don vs. Ted), socially (work life vs. home life), and emotionally (boss vs. boyfriend). With this costume, Peggy isn't wearing her heart on her sleeve — she's wearing it across her entire chest. If I had to place a bet, I'd say she's sticking to Team Chaough: After all, he's wearing a yellow shirt that coordinates with her mustard-hued dress. Don's still in black, white, and gray.
The "split in two" theme continues with Megan's new blonde wig, and her soap opera role as twins who are "two halves of the same person. They want the same thing, but they're trying to get it in different ways." Which sounds a lot like Megan and Peggy… or Joan and Peggy… or even Don and Betty, who clearly "out" themselves as twisted soul mates during their tryst. Since each bares a piece of themselves to the other, it's fitting they're both literally bare. And one more brilliant match-up in this episode: Roger Sterling and his grandson are dressed in big-and-little versions of the same suit. When Margaret fumes about letting "a four year old watch another four year old," she has the visual to prove it.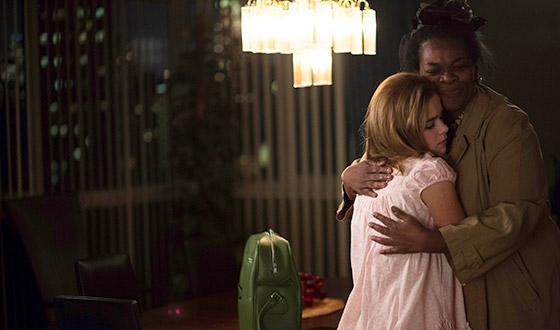 What's the easiest way to show characters in hazy states of reality? Dress them normally…then surround them with people wearing pajamas. That's the brilliant tactic costume designer Janie Bryant uses in this speed-fueled episode, where most events could be hallucinations, and even by the end, some did-they-or-didn't-they moments still hover. (Hey Ken, can you really tap dance?!)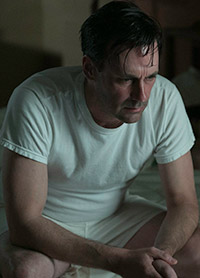 The nightgown-and-day-clothes juxtaposition starts early: Don stands outside Sylvia's door, fully dressed. He even wears a hat and overcoat. Meanwhile, Sylvia's on the other side of the door wearing a pink quilted robe and a sleepy blue turban. Next, Young Dick Whitman and his Evil Stepmother are covered up and conservative, while surrounded by prostitutes in silk nighties and open kimonos. This motif gets even more dizzy when the scene is inverted so far that Young Dick is dressed — and wearing suspenders – in Aimee's bed, while she walks around in a slip. Later, Sally's wearing a pink nightie when her reality is totally tipped over by Fake Grandma Ida, who's fully dressed, also with an overcoat and hat. (Is the similarity to Don and Sylvia earlier just coincidence?) And after Don collapses, we see him in his undershirt — undressed, but not exactly pajama-ed — next to Megan's bright green negligee. Sitting up in bed, Don looks like he's in limbo. Is he dreaming? Is he dying? Is it daytime? Is it night? The T-shirt could be worn at any time…and just like Ginsberg's Cheshire Cat reference, Don's consciousness doesn't know if it's coming or going.
Continue reading "The Mad Men Fashion File – In Your Dreams" »