The Final Episodes
Sundays 10/9c
Fashion File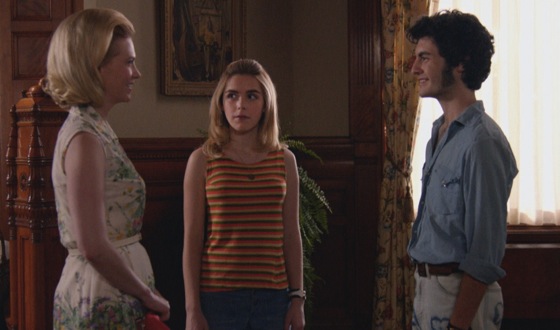 I keep forgetting guys in the '70s had jeans I would still wear now.  Witness Glen's to-die-for bell bottoms, with bleached-out flowers that Paula probably drew herself on the ride to Castle Francis. Joan's babysitter had a very similar pair; they could have probably swapped if they wanted.  That kind of gender fluidity is interesting to see in an episode that starts with Joan in a nightgown that might as well be a Grecian goddess disguise, right down to her shockingly intact up-do. (Fun fact: hair spray was the best selling beauty product of the 1960's.)  But Joan was never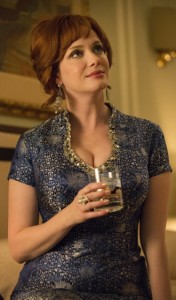 one to subvert her anatomy, or the social expectations that come with it. She swans into the LA office in curve-hugging pink, and the midnight blue date dress with a plunging jeweled collar was a Cinderella dress come to life.
Joan's not exactly rags to riches, and her "magic" is part sex appeal, part brain power. But it was still interesting to watch Joan steer a man into a (dare we say it?) fairytale ending. Something fun, though: Joan's costumes are still pure femme fatale, but her business trip behavior was all Don Draper. She beds an attractive stranger, gives side-eye to satellite employees, and orders the French toast. Boom. Of course, in the Don Draper version, he never sees his liaison again… but Joan has other goals besides a giant, empty apartment.  (PS, the realtor of said giant empty apartment looked like a junior varsity Betty Draper, right? The charm bracelet was an amazing touch.)
As long as we're on the Second Sex train, I was distressed by Peggy's pastel blue-and-pink striped suit. Its nursery colors were a far cry from her brighter, bolder choices, and they seemed to scream "it's a boy!" and "it's a girl!" Besides hinting at Don's unsaid interrogation—Creative direction! Fame! What about motherhood, Peggy?!—they also hinted at the career cage she's in: be a woman in the office…until you need to be a man. You know the last time we saw that pastel blue color on Peggy? When she wanted to run away to Paris… but left her passport at the office. No fun.
Did seeing Glen all grown up make you feel old?  Then seeing Don flirting with one of Sally's friends must have made you feel ancient.  Don's view from the restaurant table was an interesting survey of youth, though: at 16, some girls are still children, and others want to be all grown up.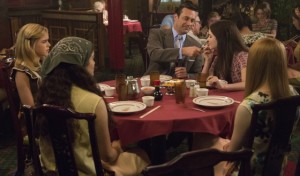 The costumes reflected that, with Carol in a bright floral dress you might see on Meredith, and Sarah in a full-on Megan Draper tunic and eyeliner. As for Sally, her brown ruffled dress was sweet, young, super-cute…and perfectly matching Glen's brown patterned polyester shirt in the previous scene. Interesting.
If we're really on Sally, though, her tell-tale costume piece isn't the dress, it's the Tiffany locket Don got her ages ago for Christmas. If she really wanted to go far away from her parents and never come back, wouldn't she have yanked it off already, and traded it for weed?  But Sally's parents are tied to her, too: In Betty's little foray into youth quake mode, she's sporting Sally's blonde hair flip—the one she donned with her lifeguard uniform last year. At least where costumes are concerned, Sally's chained to Don, and Betty's pinned to Sally. Who's surprised? (Not you, because you're smart.)
Let's conclude with Bobby Draper. I love that he wants to watch The Brady Bunch, because let's face it: the kid is Greg Brady's pint-sized stunt double. The wide-leg striped pants. The ringer t-shirts. It's beyond adorable. Hey Gene: Sally and Bobby are both style stars now. Time to step up, little man.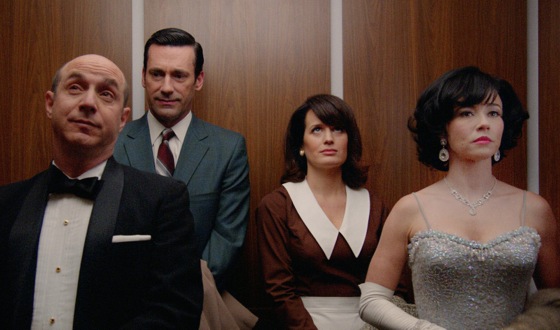 Fire and brimstone, cigarettes and stilettos — in this episode of Mad Men, they're basically all the same. Biblical notions of justice and vengeance come raging through Don's life. There's often an eerie quality to the show that hints at ghosts or spirits—but this time around, it's a lot of saints and Satans… in satin.
Continue reading "The Mad Men Fashion File, Episode 709 – The Church of Don Draper" »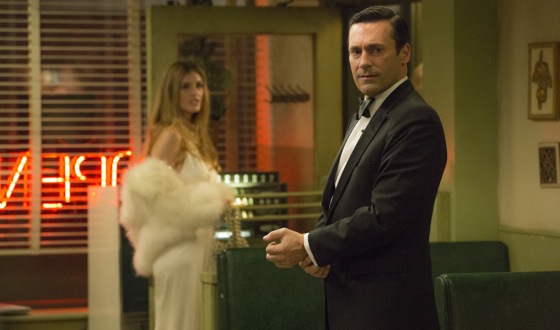 It's Season 7 and Don Draper is still selling fur, smoking Lucky Strikes, and having anonymous sex. He's still the office's creative overlord. And he's still kept awake by Rachel Menken.  Is that all there is? Hardly. Because here's the thing: Although situations seem familiar, they're actually kind of … the opposite. It's as if we're looking into a magic mirror, and seeing almost what we expect, but things have been flipped — they're stranger and scarier — and that's largely thanks to the costumes.
Let's start with Don's TWA stewardess, who arrives in an aqua dress—a similar shade to Diana's old-school waitress uniform—and strips down to matching underwear. She spills wine, which looks like blood, on the carpet, then tries to clean up the mess while undressed. Megan did a similar thing last year in her black bra and underwear. Now it's happening again… but with a blonde in blue panties, instead. (The lingering chandelier earring on the floor was a nice touch. Usually, men try to hide their mistresses' jewelry from their wives. This time, it was the other way around.) Continue reading "The Mad Men Fashion File, Episode 708 – Mirror, Mirror" »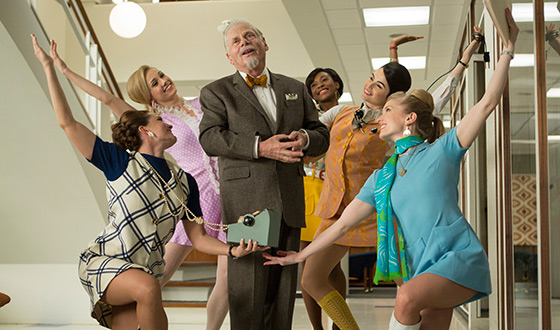 There are very few guarantees in Mad Men, but here's one: As the social fabric of the '60s changes and twists, the actual fabric of the costumes does, too.  In this episode we have Sally admiring Betty, Peggy revealing a major crack in her armor, and Joan becoming a true part of the SC&P boardroom, all through small changes in their wardrobe. And Don? Well, that's the thing about being the center of a universe: The world revolves around you, but that means you have to stay still (and so do your sharp gray suits).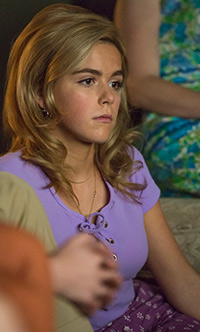 Judging from Twitter, everyone was pretty excited about Sally's transformation into Lifeguard Barbie. It's pretty significant that Mad Men Costume Designer Janie Bryant started Sally in a plaid shirt (Don's traditional at-home print) and then "graduated" her to a violet top and floral-print miniskirt that echoed the purple flowers on Betty's summer dress. I thought it was really interesting that Sally's hair was styled like her mother's, and not like Colleen Corby, who was Seventeen magazine's in-house model at the time. (There's an entire Pinterest board for the magazine's 1969 issues, by the way, and the fashion is amazing.) But maybe it's not so surprising that Sally's going for a Betty vibe when trying to attract male attention — she's seen her mom do it quite successfully. Sally's also being schooled at Miss Porter's, a suburban Connecticut enclave of all things preppy and posh, and the influence of Jackie O's alma mater is certainly showing. Lily Pulitzer attended, too, which reflects nicely in Betty's bright floral dress during the moon landing — and in Peggy's bathrobe, a wannabe version of the rich-mom staple.
Barbie made her first Mad Men appearance this week. Though she was kept (literally) under wraps, it was enough to underscore a major message: Women should be seen — and dressed, and undressed, and dressed again — but treated as objects and not respected as equals. It happened to Peggy in the office. It happened to Joan in her living room. It happened to Trudy when Pete called out her "debutante maneuvers" in the ultimate double standard. And it happened to Megan and Bonnie when each was instructed to "go shopping."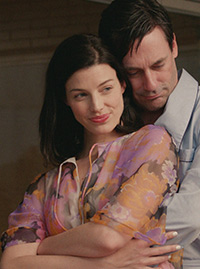 So let's say you were a child in 1969, and you did go shopping, specifically for a Barbie dress. You would have found a popular one called Barbie Flower Wower, which was short, billowy, and covered in acid green, hot pink, and powder blue blossoms. It is unnervingly close to the dress Bonnie wore on the plane, and even more similar to the "mini" robe Megan wears on Don's balcony… And to both men, their partners are merely living dolls.
I'm sure you noticed the color story Mad Men Costume Designer Janie Bryant tells in this particular episode. Every time a woman's power was subverted or undermined, she was costumed in hues of blue. You can trace it like a pulsing line through the story: Joan wears blue when Bob proposes, Trudy wears it when Pete implodes, Peggy and Bonnie sport the shade while being chastised publicly in the SC&P offices. But I think that's only half the idea.
Continue reading "The Mad Men Fashion File – Valley of the Dolls" »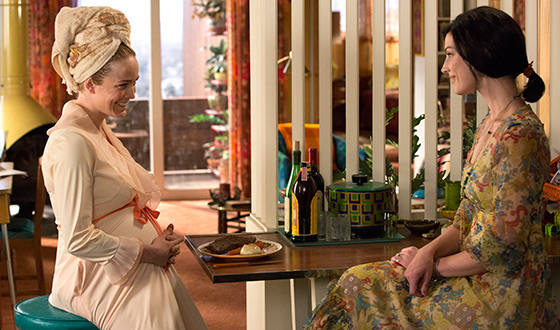 Remember last week's ties to 2001: A Space Odyssey? They're back again this week in the boldest way: The secretary Ginsberg is staring at, the one who "belongs to" the computer… She's in a powder-pink suit in the exact same shade that the space stewardesses wear in Kubrick's iconic movie. When Ginsberg says, "What am I, Cassandra?" he's not exactly predicting the future — he's seeing an imaginary version of it from the movies. He's also going crazy, but we've seen that coming for a while… What we haven't seen is Don and Meredith falling into a clumsy kind of sync — something revealed by both their banter and their color palettes: She's wearing a daisy yellow dress; he's got yellow stripes on his tie like a bumble bee. Shirley has a fun moment, too, in her criminally short minidress that looks almost exactly like Joan's. If Dawn's costumes say Peggy is her career role model, then Shirley has been eyeing the firm's only female partner, right down to the pink lipstick.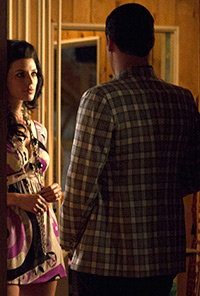 But the real costume story this episode is the contrast between Megan and Stephanie. One is a wealthy second wife playing at being bohemian, sliding turquoise rings next to her engagement diamonds and sporting a psychedelic Pucci-like dress to her house party. The other is an actual "dirty hippie," complete with matted hair, nicotine-stained cuticles, and a conspicuous baby bump underneath her ratty crochet cardigan. "You're so beautiful," Megan tells Stephanie, but her style — not her face — are really what's throwing Megan into a place of deep insecurity.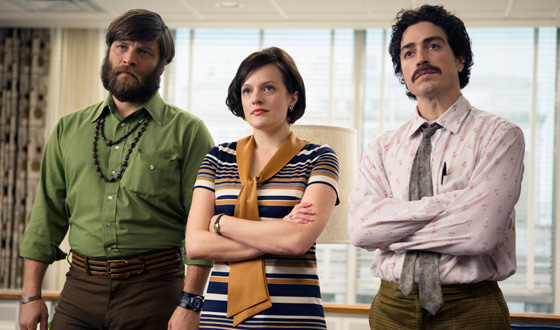 Out with the old and in with the miniskirts?
That type of changing of the guard is what's happening from the get-go of "The Monolith," starting with Pete Campbell learning that his (soon-to-be ex) father-in-law has suffered a heart attack and retired. "It doesn't mean anything," Pete assures Bonnie Whiteside, after he expresses concern in front of a potential client… but we know he's lying. The king is dead — and Pete will be damned if Bob Benson gets the crown.  Bonnie Whiteside's costume helps this theme unfold: With her regal posture, dangling baubles, elaborate collar, and tall, hair-sprayed coif that shimmers in the moonlight, Bonnie recalls Marie Antoinette's giggly, expensive image—which works rather well for Pete's potential coup d'etat.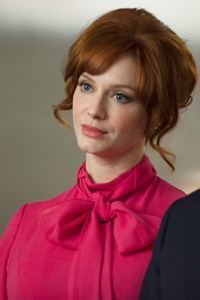 Back in the office, an IBM computer takes over the creative lounge, and Ginsburg loudly gripes, "They're trying to erase us." Somehow, that seems unlikely, at least from a visual point of view—with Peggy's orange take on a sailor dress, Stan's love beads and army work shirt, and Ginsberg's countless clashing patterns, the three are quite unforgettable… as is Joan's lipstick-hued dress, which many women (myself included) would buy right this minute if we could.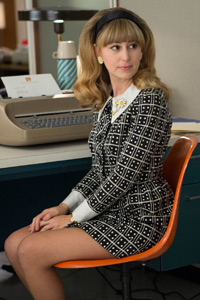 As long as we're in the office: Anyone else obsessed with the new comedy duo of Don-and-Meredith? What a delicious mismatch. Between her relentless cheer and his deadpan stare, there's a wealth of awkward moments (Don: "How was your weekend?" Meredith: "Wouldn't you like to know?"). Their costumes naturally reflect the total disconnect: Meredith wears artificially bright florals, with dandelion yellow hair, daisy earrings, and a brooch to match. Her A-line dresses constantly give her the appearance of an overgrown child, and her perma-grin adds to the illusion. Meanwhile, Don's ash-gray suits and gutter-blue ties ground him in a grim reality—and the "dead man's office that you now inhabit."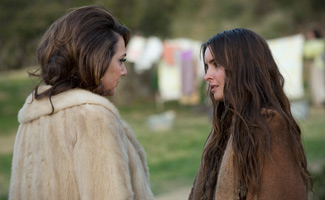 Another great contrast this episode was with Margaret (Marigold?) and Mona. Both wore pelts, but Mona's fur was expensively lush, while M / M was bundled in a buckskin poncho that looked hand-sewn. Both are bitter women, but how they shield their hearts is completely opposite—at least from the literal scope of outerwear. And when Roger falls into the mud in his suit, taking M / M down with him?  That was literal, too—the epitome of airing some dirty laundry.
Finally, since this episode was called "The Monolith," and its themes revolved around machines—actual ones, but also social mechanisms and family units—I did some research on the 1968 film 2001: A Space Odyssey, which features advanced alien machines called (yes) Monoliths. The costumes in the film, designed by Hardy Amies, were extremely focused on the idea of a uniform—the idea being that in outer space, one has less personal space, and therefore needs all-purpose outfits. (The men in Space Odyssey were also deprived of neckties, as they would float upwards in zero gravity!) Amies based many of the women's costumes on stewardess uniforms and secretarial outfits. Men wore actual suits and also space suits.  So when Freddie Rumsen tells Don "get in uniform" and "do the work," it's more of a small step—not a giant leap for mankind—that ties the two together.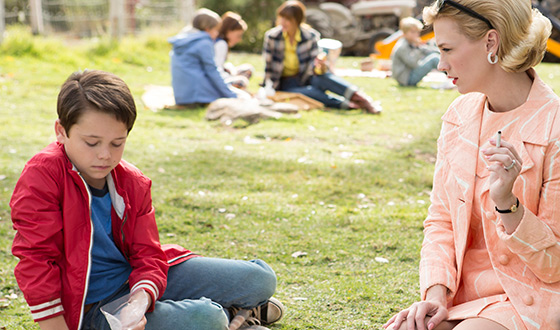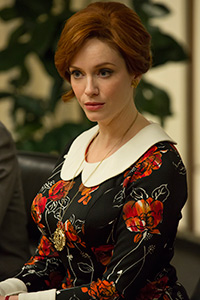 "I'm wearing boots," Joan announces upon entering Cooper's office, and if there's ever been a moment where costume, dialogue, and theme collide on Mad Men, this might be it. Until now, Joan has been basically immune to trends. Megan inhales them, Sally acknowledges them, and even Peggy dabbles in hemlines and patterns. But Joan's silhouette stayed steady, and her luscious figure remained reined in by pencil skirts and smartly subdued silks — until now. Here is Joan 2.0 in a minidress with bright red floral print, a wide white Peter Pan collar and a tamer version of Sally's verboten go-go boots. And still Don Draper, sitting in the next room, remains the same.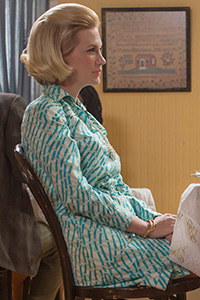 There were many cringe-inducing moments in Don's return visit to SC&P, but if you need any more reminders that the office and its players have moved on without him, just look at the costumes — especially Joan's homage to the Youthquake. Peggy has a nifty wardrobe trick here, too: Her turquoise suit is the same hue as Betty's aqua dress, which ties the characters together. The two women serve as opposite forces in the show's "work vs. motherhood" theme, but both are bitterly disappointed in Don — and also in themselves.  When Betty asks Henry why the kids don't love her and Peggy fumes about her missing Clio nomination, both are in the same color and feeling similar pangs of insecurity.
Continue reading "The Mad Men Fashion File – I Believe in Yesterday" »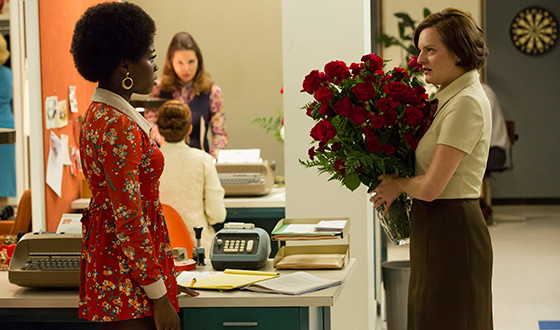 It's a Valentine's Day episode, and Mad Men costume designer Janie Bryant has done something brilliant — she's pulled the costumes into couples. Witness Don and Sally, who mirror each other twice: Once in their first scenes of the episode, when Don sports his blue plaid bathrobe in his empty apartment, and Sally wears her own plaid housecoat in her dorm room. You'll notice as well that, on the bed, Sally's friend sports a quilted night dress much like Betty's… while Sally wears pajama pants. The father-daughter duo coordinate again in their last scene together, where the Drapers wear shades of gray — the color of both moral ambiguity and cigarette ashes.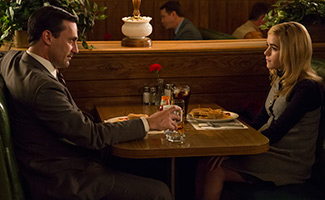 At the office, there's another costume comparison: Peggy and Dawn. Dawn's navy blazer and broad Peter Pan neckline follow Peggy's serious (yet slightly schoolgirl) take on office attire. Is Dawn doing it on purpose? We might never know, but she did get a new office this episode… Did you see how she smiled when she sat behind her new desk? It seemed like a callback to Peggy sitting in Don's chair at the end of Season 6. Dawn also reminds me a bit of this famous Glamour College cover from 1968, which features model Katiti Kironde in a crisp white shirt and polished scarf — a very Dawn ensemble, indeed.
Continue reading "The Mad Men Fashion File – War of the Roses" »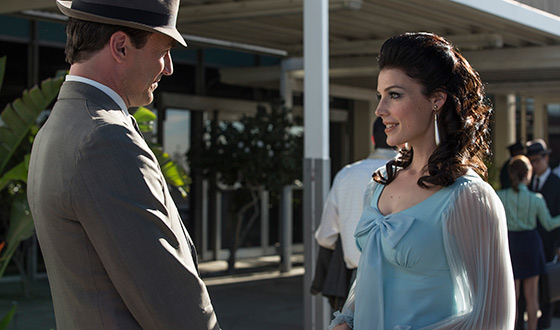 In his 1969 inaugural address, Richard Nixon said, "We find ourselves rich in goods but ragged in spirit." That sentiment might apply to Don Draper and Megan's new mega-TV, and it isn't the only thing Nixon's ceremony shares with the Season 7 Premiere: They're both draped from start to finish in red, white, and blue:
• Ken's first office tantrum frames him in white, Joan in royal blue, and Clara in blood red.
• Megan's casual Canyon costume is a men's tuxedo shirt (braless), a lipstick-red scarf, and a turquoise necklace with bell bottom blue jeans.
• Peggy and Stan's coffee-pot pow-wow puts them in maroon and white (her) and red and indigo (him).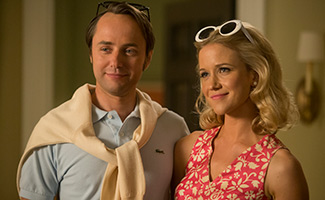 • Pete's Lacoste polo is baby blue, and his over-the-shoulders sweater is cream with cherry red and navy striping. His checked trousers match.
• Bonnie Whiteside (a ringer for Betty Draper) is in a hot pink and white printed jumpsuit.
• Roger's brunch tie features an appropriately psychedelic paisley print in red, white, and blue.
• On the plane, Lee Cabot (in a precursor to Diane von Furstenberg's 1974 wrap dress) is draped in navy and beige. Her plane blanket is the color of Warhol's Campbell's Soup can.
• Peggy's final outfit is a perfect match for the American flag — and it's even got military detailing on the front!
Continue reading "The Mad Men Fashion File – American Dreams" »