The Final Episodes
Sundays 10/9c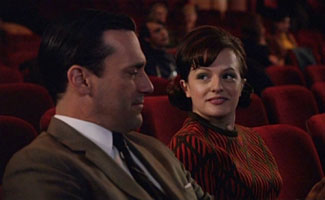 This week, major media outlets are buzzing about news of the Season 6 premiere date announcement, with Matthew Weiner sharing bits of information about Season 6 with several publications, including Entertainment Weekly and The New York Times, and Elisabeth Moss chatting about Mad Men with Access Hollywood. Read on for more Mad Men news:
• Entertainment Weekly, writing about Mad Men's Apr. 7 return, chats with Matthew Weiner, who promises that "the audience is in for quite a ride."
• The New York Times also speaks with Matthew Weiner, who describes Season 6′s two-hour premiere as "a movie" in which "we can create the atmosphere and vibe of the season."
• Matthew Weiner promises TV Guide that the show's entire cast, including Elisabeth Moss and January Jones, will be back for Season 6.
• Matthew Weiner shares ten facts about Season 6 with The Daily Beast.
Continue reading "Matthew Weiner Talks Season 6 with EW, NY Times, TV Guide and The Daily Beast" »