The Final Episodes
Sundays 10/9c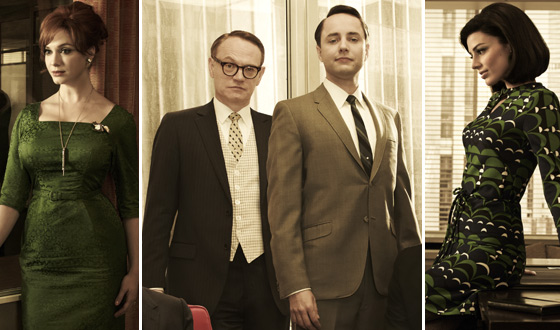 If you've always wished you could dress like a Mad Men character and have been searching for the perfect opportunity, Halloween is a timely option. Not only can you imitate one of the show's iconic styles, you can really go all out: hair, makeup, candy cigarettes, maybe even a homemade SCDP business card. Here are three Halloween looks inspired by Mad Men — make sure you tweet @MadMen_AMC with a picture of your costume triumph!
The Youthquaker: Taking a cue from Megan's miniskirts and Sally's moon boots, this costume is fun, flirty, and perfect for the dance floor.
Dress: You need a really short hemline for this look. If it's long enough to pass a school dress code, it probably won't work here. Look for baby-doll dresses with fluted or bell sleeves. This Alice + Olivia dress combines the perfect '60s silhouette with a psychedelic pattern, but it's about $400. If you're not shopping with Megan's budget, try this ASOS version for $40 instead.
Accessories: Amazon sells $50 white shiny go-go boots, and Marc Jacobs has a high-fashion version for about $640. Pair them with giant plastic earrings and a candy-colored clutch. (Since it's Halloween, you can add a Ring Pop, too!)
Makeup: Black liquid eyeliner, false black eyelashes, and nude lipstick are mandatory! Try this Mad Men eye makeup tutorial from The Wall Street Journal to get the look.
Continue reading "The Mad Men Fashion File's Halloween Costume Guide" »