The Final Episodes
Sundays 10/9c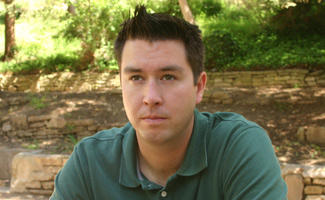 Christopher Gay is an editor for AMC's Mad Men. In this exclusive interview with AMCtv.com, he talks about his Emmy nomination for Season 5′s "Far Away Places" and reveals the most difficult part of editing an episode.
Q: Congratulations on your recent Emmy nomination! How did you find out you were nominated?
A: Thank you very much! I have a two year old, and it was a rare morning where he decided to sleep in, so we slept in. I woke up, walked downstairs to make some coffee, and casually checked my phone. I had emails from people who work on Mad Men saying congratulations. I had a nice night's sleep, slept in, and kind of forgot about it, which was great. It was a shock and a thrill.
Q: What do you think distinguishes the editing in "Far Away Places"?
A: Men Men, editorially, is very clean and classic. The reason I submitted "Far Away Places" is because in Mad Men standards, it's about as flashy as you can get. There's the LSD sequence and the three different story lines that all re-start at a certain moment. From an editing standpoint, I thought it was more of a standout episode. This one had a little more flair, and sometimes that's what people recognize in editing because it's kind of an unseen craft.
Q: What's the trick to making each of those story lines have a different character's perspective?
A: That was definitely one of the challenges — trying to be clear about things without spoon-feeding the audience. Narratively speaking, we wanted the stories of these three relations of Peggy, Roger, and Don to be their own story. We wanted to give you a little bit more each time you saw each of the three story lines so that when you got to the third one, everything totally made sense. I've talked to people and they've had to watch it a few times to fully digest.
Also, the score in the episode is pretty unique and more tonal and atmospheric than what we normally do. It's a guide, too, that helps you feel when one story is ending and another is coming in and knowing that the shift is happening. I think the score and the sound design definitely helped guide the narrative.
Q: Is there any edit in "Far Away Places" that you're particularly proud of?
Continue reading "Q&A – Christopher Gay (Emmy-Nominated Editor)" »