Season 7 Premieres
April 13 10/9c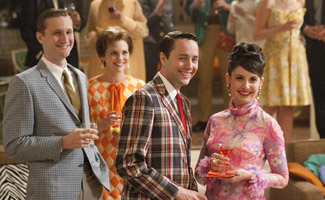 With the Season 5 premiere just days away, Newsweek went all out with a retro Mad Men edition; Entertainment Weekly and Rolling Stone offer glowing advance reviews of the premiere; and GQ features John Slattery on its cover. For more of this week's Mad Men coverage, keep reading.
• Newsweek honors Mad Men with its latest issue, designed to hark back to the 1960s.
• Newsweek's vintage issue caught the eye of Indiewire and the Hollywood Reporter, while Ad Age invites readers to vote for their favorite 1960s ad from Newsweek.
• Rolling Stone, Bloomberg News, the Hollywood Reporter and Entertainment Weekly [no link] give the premiere episode high marks.
• GQ profiles John Slattery for its cover story, calling him indispensable. Also, check out a behind-the-scenes video of Slattery goofing around for the mag's cover shoot.
• Matthew Weiner and the Mad Men cast sit down for an interview with Matt Lauer on Today (via Indiewire). "The characters have realistic problems," Weiner says of the show's appeal.
• Jimmy Pardo jokes with Jon Hamm in the Conan dressing room and suggests they become the next Batman and Robin.
• Vulture pits Mad Men against Buffy the Vampire Slayer in a competition for the greatest TV drama of the past 25 years. (Mad Men won.)
• TV.com presents a Venn diagram of Don Draper's "ladysphere," including sections for family, love/sex and business.
• Mad Men is also in contention for best on-air drama in Zap2It's annual TV Show March Madness tournament.
• In an interview with The Huffington Post, Matthew Weiner explains his decision to make the Season 5 premiere two hours long. He also breaks down his 10-month production timeline.
• ShortList interviews Vincent Kartheiser and John Slattery, who reveals a classic Roger one-liner that was cut from the very first episode of the show.
• The Wrap draws parallels between Don's "Why I'm Quitting Tobacco" op-ed letter and the recent New York Times op-ed letter from an unhappy Goldman Sachs employee.
• Lucky, Jezebel and E! analyze the fashions from Mad Men's red carpet premiere. "Modernity rules," Jezebel proclaims.
• The Associated Press (via the San Francisco Chronicle) predicts how the fashions will evolve in Season 5, from shorter skirts to thicker eyelashes.
• The New York Times surveys the various ways that marketers and media companies have taken advantage of Mad Men fever.
• Ad Age compiles a guide to its coverage of Mad Men and Mad Men-era articles, including Season 4 recaps and coverage of the show's ad campaigns.
• Indiewire comments on the latest Season 5 trailer: "The spot reminds us of all of the great, morally conflicted times we have shared together with the employees of Sterling Cooper." The site also analyzes the new Season 5 cast photos.
• Business Insider puts together a slideshow comparing ads (Kodak, Jantzen, Right Guard and others) created for Mad Men with the ads that actually ran in the 1960s.
• David Droga, creative chairman of ad agency Droga5, compares today's advertising industry with that of the '60s: "We might not dress as snappy as them, but I feel like there's more interesting things going on this year."
• Matthew Weiner responds to the controversy surrounding the "falling man" ad campaign for Mad Men.
• Adweek interviews Andrew Cracknell, a real-life 1960s ad man who revisits his experiences in his book, The Real Mad Men.
• The Denver Post commends the new line of Mad Men-inspired clothes from Banana Republic.