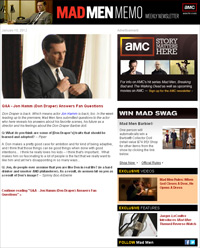 Those of you who subscribe to the Mad Men newsletter already know that it's the best way to find out all the latest info on your favorite series, not to mention easy access to interviews, games, contests and more. Well, this week the best gets even better as the Mad Men newsletter becomes the Mad Men Memo, a weekly email newsletter that delivers the same crowd-pleasing content plus swag giveaways — like Mad Men Barbie dolls.
Being a Mad Men Memo subscriber means you're automatically entered to win. So what are you waiting for? Sign up today and get weekly news and prize opportunities delivered directly to your inbox.
Posted by Ashley Shaw
January 18, 2012 9:00 AM
Features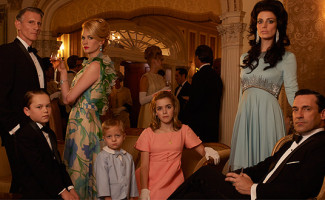 The nomination is one of five garnered by AMC this year.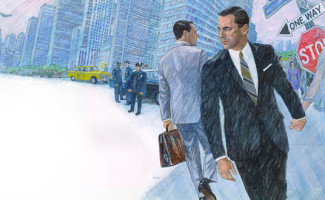 Winner of 3 Golden Globes and 4 Emmys for Best Drama, Mad Men Season 6 is now available on Blu-ray and DVD.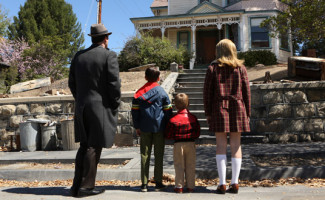 Do you know what was going on outside the offices of Sterling Cooper & Partners during Season 6? Which popular British band kicked off its first American tour that year? Play the Ultimate Fan Game, then challenge your friends on Facebook to win badges.
Recent Activity on AMC for
Mad Men
Mad Men Categories
online staff
Mac McKean, SVP, DIGITAL MEDIA

Drew Pisarra, VP, DIGITAL MEDIA

Monica Bhatia, DIRECTOR OF TELEVISION EVERYWHERE

Nick Bridger, DIRECTOR OF ENTERTAINMENT APPLICATIONS

Lee Dayton, SENIOR PRODUCER

Tim Dirks, SENIOR EDITOR & FILM HISTORIAN

John Frankfurt, DIRECTOR OF ONLINE DEVELOPMENT

Erica Kelly, COORDINATOR OF DIGITAL MEDIA

Khalilah Martin, MANAGER OF DIGITAL PRODUCTION

Steve Marzolf, DIRECTOR OF DIGITAL VIDEO

Clayton Neuman, DIRECTOR OF DIGITAL CONTENT

Evan Scott, MANAGER OF DIGITAL VIDEO

Ashley Shaw, MANAGER OF DIGITAL MEDIA

Yoshitaka Ito, DEVELOPER
blogs
Editors
Cory Abbey
,
Elizabeth Cline
,
T Sahara Meer
Contributors
Shavonne Bell
,
Christine Fall
,
Lee Helland
,
Mina Hochberg
,
Carolyn Koo
,
Faran Krentcil
,
Daniel Mangin
,
Eli Rosenberg
,
Robert Silva
,
Alex Zalben
More on AMC
RSS Feeds
Visit More AMC Blogs