The Final Episodes
Sundays 10/9c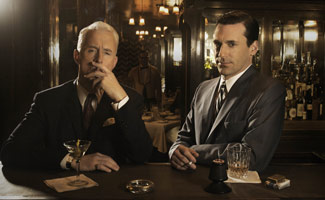 Jon Hamm was anointed one of "sexiest men alive" for 2010 from a magazine that should know! Meanwhile, John Slattery has also had a high profile week, thanks to the publication of Sterling's Gold and a guest spot on 30 Rock.
• People magazine has published this year's "Sexiest Man Alive" issue, and Jon Hamm landed a spot on the list.
• If you ever wanted to hear John Slattery speak with a New England accent while wearing diapers, 30 Rock has answered your prayers. TV Guide "cheered" Slattery for "his sidesplitting turn as a true madman," and HitFix.com called the Mad Men actor "hilarious."
• Roger Sterling's autobiography, Sterling's Gold, hit bookstores this week, and Entertainment Weekly and Vanity Fair agree that "nobody does bons mots like Roger does 'em."
• John Slattery talks to NPR's All Things Considered about Sterling's Gold, quoting some of his favorite lines from the book.
• Jon Hamm guest-stars on the inaugural episode of the web series Backwash. Sporting a full beard and glasses, he introduces a "Masterpiece Theater" spoof.
• In a segment about eco-friendly living, Vincent Kartheiser tells MSNBC that he plans to have no kids. "I've been a vegetarian for four years and I have chosen not to have children, which are both green choices in my life," he says.
• In an interview with Southern California Public Radio, John Slattery says he plans to adapt "Squirrel Cop," a story from radio show This American Life, into a short film.
• Fans at NYmag.com competed to coin the best Roger Sterling-ism. Sharing the winning spot is the following: "There are three things every little boy dreams of getting to say when he grows up: 'stop the presses,' 'follow that cab,' and 'your money's on the dresser.'"
• Jon Hamm continues his comedy spree on the Adult Swim web series Children's Hospital, in which he makes a cameo appearance.
• Janie Bryant talks to the Associates Press about her new book, The Fashion File. One piece of advice? "Check the back view in the mirror."