The Final Episodes
Sundays 10/9c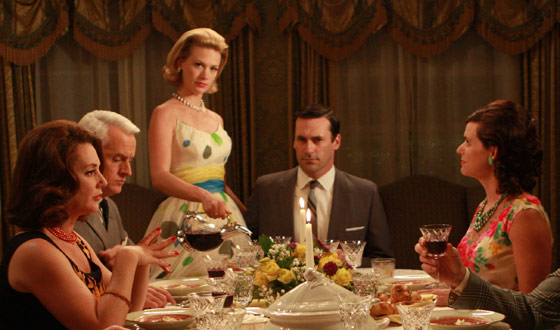 With the season of eating upon us, the time has come to revisit some noteworthy meals depicted on Mad Men through its four seasons. Whether the occasion is a first date, a dinner party, a Thanksgiving supper with the in-laws or a simple picnic, Mad Men always adds plenty of drama to the art of dining:
1. Season 1, Episode 7 "Red in the Face"
A surprise dinner with the boss rarely ends well. When Roger crashes the Drapers' dinner, Betty is left without a steak. "I'm a vegetarian sometimes," she says, making light of it. The evening ends with Roger "parked in the wrong garage" when he hits on Betty. Afterwards, Don accuses Betty of throwing herself at Roger: "I don't like being treated that way in my home. I know what I saw."
2. Season 1, Episode 7 "Red in the Face"
Don and Roger gorge themselves on oysters, alcohol and cheesecake, as Roger marvels, "You keep matching me like this, you'll have an ulcer of your own any day now." Back in the building, Hollis — in a stunt engineered by Don — informs the two men that the elevators are out of service. They are forced to climb the stairs and, upon reaching the Sterling Cooper office on the 23rd floor, Roger vomits at the feet of their clients: Nixon's ad men. Ah, sweet revenge!
3. Season 1, Episode 11 "Indian Summer"
Peggy goes on a date with Carl that ends up with the two trading insults. "So, you drive a truck…" Peggy says. "Advertising doesn't work on me," Carl responds. "It's just a lot of people screaming at you from the walls and the TV." Later Carl cracks, "You can act like you're from Manhattan, but you don't look like those girls." Ultimately, Peggy storms out of the restaurant. Who'd blame her?
4. Season 2, Episode 3 "The Benefactor"
An elegant dinner at Lutece with Don, Betty and their guests — Jimmy and Bobbie Barrett and Mr. and Mrs. Utz (a.k.a. Hunt and Edith Schilling) — ends less than elegantly. Jimmy, who is supposed to apologize for making fun of Mrs. Schilling, spends most of the meal flirting with Betty. Don follows Bobbie to the powder room and takes matters into his own hands — grabbing her hair, reaching up her skirt and threatening, "I will ruin him. Do what I said." Needless to say, Jimmy does as told.
5. Season 2, Episode 4 "Three Sundays"
Father Gill dines with the Olsons, an honor for the Catholic family. The young priest begins the meal, "Oh Lord, thank you for this wonderful feast. Thank you for these people and this parish and their home." Peggy's mother responds, "That was beautiful. Are you going to say grace now?"
6. Season 2, Episode 7 "The Gold Violin"
Ken is the celebrated dinner guest at Sal and Kitty's apartment, but the occasion goes awry when Sal focuses entirely on Ken throughout the meal and dismisses his wife's attempts at conversation. After Ken declines Kitty's offer of a slice of pie for dessert and leaves, Kitty breaks down and asks Sal, "Do you even see me here?"
7. Season 2, Episode 7 "The Gold Violin"
A Sunday afternoon picnic in the park with the Drapers. "We should do this more often," Betty sighs. "We should only do this," Don replies. When they're finished, Don tosses his beer can onto the lawn and Betty scatters all their trash on the ground. At least Don's new Cadillac is still clean.
8. Season 2, Episode 8 "A Night to Remember"
A dinner party gone horribly wrong. Trouble starts when Betty introduces her internationally-themed menu to the guests and the mention of "a frosted glass of beer from Holland" prompts Duck to say admiringly that Don "said you were the market, and you are." After everyone leaves, Betty first accuses Don of embarrassing her. "You knew I would buy that beer… You all laughed," she says. And then she accuses him of sleeping with Bobbie Barrett. By the end of the episode, she's telling Don not to come home.
9. Season 2, Episode 11 "The Jet Set"
Don is a stranger in a strange land when he dines with a self-styled group of nomads in Palm Springs. Mexican food (peppers filled with cheese) are on the menu, the conversation touches upon the group's lack of professions and the game Places is played with great enthusiasm. Don's contribution of "Oslo" is roundly applauded and his "date" Joy rewards him with passionate kisses as the game continues.
10. Season 2, Episode 12 "The Mountain King"
Trudy's dinner is the victim in this argument between the Campbells — a memorable meal that didn't quite happen. "Listen to me very carefully. We are not adopting a child. That's final." Pete declares. "You don't speak to me that way," Trudy retorts. With that, Pete flings the roast chicken off the balcony. Trudy storms into the bedroom.
11. Season 3, Episode 3 "My Old Kentucky Home"
In another revealing dinner party, Joan and Greg host his boss and colleague and their wives for a buffet supper in the apartment. During the conversation, Joan learns of a problem with Greg's work. Embarrassed, Greg tries to distract everyone by insisting that Joan perform for the group: "Joanie has many, many talents. You should play for them." She protests, "No." Ignoring her, Greg fetches her accordion and insists, "Come on, just sing a little something." She gives in, serenading the group with "C'est magnifique."
12. Season 4, Episode 1 "Public Relations"
Ah, Thanksgiving memories! Betty, Sally and Bobby join the Francis clan for Turkey Day. After Sally tells Henry's mother that she doesn't like the food, Betty takes matters into her own hands and forces a spoonful of sweet potatoes into Sally's mouth; Sally promptly gags and spits it out. "She might have a fever," says Betty, as she rushes Sally away from the table.
13. Season 4, Episode 3 "The Good News"
What better way to spend New Year's Eve than dinner and a movie (and escorts)? Don and Lane repair to a steakhouse where they have a heart-to-heart about Lane's crumbling marriage. When the food arrives, Lane takes the "beautiful piece of American meat" on his plate, puts it over his crotch, stands up and exclaims, "I got a big Texas belt buckle. Yee-haw!"
14. Season 4, Episode 7, "The Suitcase"
Don takes Peggy to a Greek diner for an informal and impromptu birthday meal. The two share a relaxed, honest conversation, ranging from Don's experience in Korea to the fact that both of them saw their fathers die. Peggy also confides just how important her work is. Don and Peggy beat a hasty retreat when Peggy sees what looks like a dog in the painting of the Acropolis over their table. Says Don, "That's a roach. Let's go someplace darker."
15. Season 4, Episode 8 "The Summer Man"
Betty, Henry and political aide Ralph Stuben run into Don and Bethany on a date at a restaurant. Betty drinks too much and seethes throughout the entire meal, complaining afterwards to Henry, "I can't believe you made me sit there and look at them." Regarding Don, he says, "He's taking up too much space in your life. Maybe in your heart."
Have a favorite Mad Men meal that wasn't mentioned? Let us know in the comments section below.