The Final Episodes
Sundays 10/9c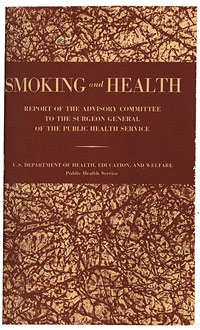 On Jan. 11, 1964, Surgeon General Luther Terry issued a landmark report titled "Smoking and Health," which conclusively linked smoking with lung cancer, among other diseases. "Cigarette smoking is causally related to lung cancer," the 150,000-word report concluded, estimating that average smokers were nine to ten times more likely than non-smokers to contract lung cancer. The risk for heavy smokers, it found, was twenty-fold.
In a country of nearly 70 million smokers, the report was a bombshell. Cigarette sales plummeted in the first quarter of 1964 — an estimated $45 million was lost in January alone — and the Federal Trade Commission announced hearings to impose trade regulations on cigarettes. Meanwhile, cities and states began raising cigarette taxes and formulating local regulation of cigarette ads.
In April, in an effort to preempt harsher regulations by the FTC, the top U.S. cigarette companies released an eight-page advertising code outlining a list of self-regulating measures. The code assured that "cigarette advertising shall not represent that cigarette smoking is essential to social prominence, distinction, success or sexual attraction." More specifically, companies agreed they would no longer use athlete testimonials and would refrain from appealing to people under the age of 21.
Eventually, Congress intervened on the FTC's efforts and on Jul. 27, 1965, President Lyndon B. Johnson approved the Federal Cigarette Labeling and Advertising Act, which required cigarette packages to bear warning labels. The act did not, however, require the warning labels to appear on ads, and it barred the FTC from regulating cigarette advertising until Jul. 1, 1969. It also prohibited state and local government from requiring further health warnings. The legislation was a disappointment to many tobacco critics, who believed that it served mainly to protect the cigarette industry. Rep. John Moss of California said the health message was merely being delivered "in whispered tones to the man and woman already hooked."
After the 1964 report was issued, tobacco companies started mass-producing filtered cigarettes, which soon comprised 70% of the U.S. market. In January of 1965, Lucky Strike announced flavored and filtered cigarettes and promoted them in a multi-million dollar ad campaign. American Tobacco, the parent company of Lucky Strike, tested tobacco-flavored filters and dispatched its famous spokesman, Lee Aubrey "Speed" Riggs, to hawk them in the South. Worried by the damaging effects of the Surgeon General's report, tobacco companies also began diversifying to shore up their finances. American Tobacco, for example, acquired Consolidated Foods Corporation.
Though cigarette sales rebounded within several months, the Surgeon General's report nevertheless had a profound effect on American attitudes toward smoking. In 1969, the FTC finally banned cigarette ads from television and radio.