The Final Episodes
Sundays 10/9c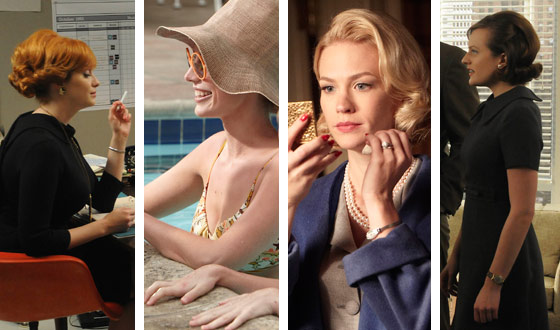 What a great episode for the women: Each of them gets their own triumph, or at least their own truth, at some point in the story. But despite their very different arcs, the female leads have one thing in common… Except for Megan, none of the women wears much color. That's long been a trait with the Sterling Cooper Draper Pryce execs, but now it's not just Don and the boardroom draped in gray, blue, and beige; it's their female counterparts too, as if something beautiful is somehow seeping out of them. Of course, that's kind of true, at least for the moment. Megan is taking all the attention, both in the bedroom and in the office, leaving the other women as shadows around Don's sunny "new" life. Sure, Peggy wears a red-and-beige-spotted blouse at the beginning of the episode, but it's under a gray vest and the colors are the same as her office's walls and chairs, making her (once again) blend into the background. And even Stephanie, who's younger and more forward than any other girl on the show, sports dark jeans and an off-white eyelet top — a California uniform without the oranges, yellows, and greens you see outside.
What a contrast Stephanie's laid-back no-big-deal youth is to Megan's heightened dewiness. One California scene has her dressed like a girl's ballerina fantasy — white sundress, full painted skirt, pink hair-ribbon, and pink lipstick. She looks positively ready to burst or to float away on a hundred sparkly balloons, as if being fresh and beautiful is the only thing that can save Don's world. She continues the streak with her black beaded cocktail dress — with a cutout diamond at the bust instead of a softer keyhole — and the yellow, floral-print cotton shift she wears to Disneyland. And check out Megan in the pool in a bikini. Immediately, we flashed back to Betty Draper in the same outfit and Don's scowl of, "Take that off; you're my wife." Well, not anymore.
When I saw Megan in the two-piece bathing suit, I scrawled "gutsy" down in my notebook. We haven't even seen the girl in a miniskirt yet, and she's packed this itty-bitty teeny-weeny garment into her suitcase. But some think I've been too hard on the future Mrs. Draper. Playwright Karen Hartman may have put it best when she told me: "You're conflicted about Megan because she's the girl who wants it all. She likes work, she likes children, and she doesn't appear to have to choose." She certainly doesn't have to choose in the wardrobe department: a bikini and Jane Birkin-esque floppy hat one minute and a coral boatneck dress with work-appropriate long sleeves in the next. And when Don tells Peggy that his new fiancée "reminds me of you," we have to smile. After all, Megan's been subtly mirroring Peggy's outfits for weeks. Meanwhile, for those who want to copy Megan I'd suggest this crepe dress by Michael Kors, which is just modest enough to warrant some liquid eyeliner and huge drop earrings.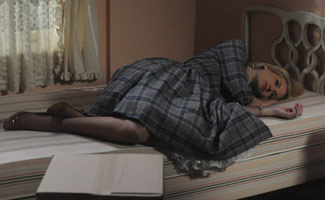 As for the former Mrs. Draper, Betty had one of my favorite scenes ever when she curled up on Sally's bare mattress. Take a look and you'll notice it's almost a mirror image of last week's episode, when Sally lies down on her bed crying. Betty's even wearing a blue plaid dress that's a grown-up version of her daughter's, further drawing parallels between Betty's frustrated, out-of-control state and that of a child trapped in mid-tantrum: a grown woman in the sixties, confined to a tiny pink room. At the close of the episode, putting Betty in the blue cashmere coat she's had since Season 1 was a nice way to end her time in Don's house. Everything is so different, but she hasn't changed.
One relationship that seems to have made a lot of progress, though, is Joan and Peggy's. Their conference in Joan's office was hysterical, and the two career women in tight black dresses looked like a coven of modern witches, especially with the smoke from their cigarettes rising up from their hands. Joan might keep a cigarette as her accessory, but the pencil skirts will have to go once she really starts showing. We hope we'll get to see her wardrobe choices as she gets further into her pregnancy, but for now it's good-bye.