The Final Episodes
Sundays 10/9c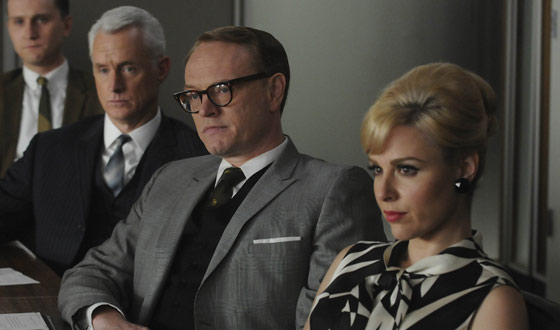 In "Blowing Smoke," cigarette campaigns and ruinous addictions both stoke the plot and influence the costumes. When Don Draper wrote an anti-tobacco manifesto for the New York Times, he didn't just have an ironic cancer stick in his hand. He also had an ash-colored suit and tie that referenced his nicotine clouds, Roger's "black spot on the X-ray" comment, and the boardroom suggestion that the agency was "decaying." In fact, a quick survey of the SCDP senior partners in their first meeting in this episode shows them all in various shades of gray, black, and white — skeleton colors, if we're being honest. Add Faye Miller at the end of the table with a jagged black-and-white blouse, and the bleak at-death's-door vibe is palpable. They look like a pile of bones.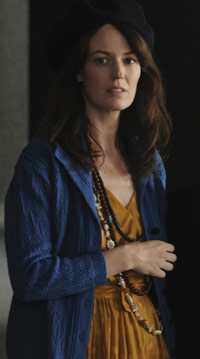 But the SCDP crew isn't alone in their withering wardrobe. Midge was always tiny, but her new outfit emphasizes her new and scary deterioration. The blue cardigan is a brilliant storm-sky color, but it's huge and emphasizes the malnourished and sick state of the once-beautiful bohemian. And though her beaded necklace is very fashionable, it adds to her broken vibe — each ceramic piece seems lopsided and cracked, as if it used to be a better piece of jewelry that shattered.
Sally also gets caught in some tough situations this time, and her outfits — mostly plaid with stiff A-line skirts — look like little cages holding her body into something more rigid than she is. Even the cute embroidered suspenders on her first outfit were constrictive and a neat metaphor for the cute, tidy way she's trying to hold her anger inside. Of course, Sally can't be contained — something we realize when she's crying on her bed in a black-and-blue dress (bruise colors) while surrounded by the pink bedroom that Betty's assigned to her. Betty sports pink and light purple throughout the episode with one exception: when she's visiting Dr. Edna her dress has black-and-white polka dots with a scalloped hem, carrying over from last week's theme of adult characters in outfits that look meant for children. Perched on the doctor's giant chair, surrounded by teddy bears and toys, Betty looks like a doll trying to blend in with all of the other childhood ephemera.
Peggy also wears polka dots, at least in her first scene, but she's not the only one sporting red and white with a pussy bow. Megan — once again — sports a prettier version of the office uniform, complete with a silk necktie of her own, and a hairstyle so overdosed on Aqua Net it rivals Peggy's perky flip. Many women's magazines say, "Dress for the job you want." It seems Megan is styling herself for Peggy's position, albeit the taller, sexier, flirtier version. By outfit number two, Peggy's also dressing like someone else — the boys. Her black short-sleeved dress with embroidered stripes resembles the heap of mod polos that Rizzo keeps wearing, and the long neckline accent looks like Ken Cosgrove's and Pete Campbell's plunging skinny ties. Let's see Megan try and find the Barbie version of that.
Finally, an observation about Dr. Edna: Doesn't she look like an unsexed version of Joan? She's got the coloring, the proportions, and the hairstyle, along with Joan's perceptive mind and ability to really listen. What she doesn't have — not at all — is a streak of vamp or vixen, which is what makes Joan both so powerful and so incapable of being a friend to many women in the office. Dr. Edna, meanwhile, takes her peach blouses and her pink tweed pencil skirts and makes it her business on every level.