The Final Episodes
Sundays 10/9c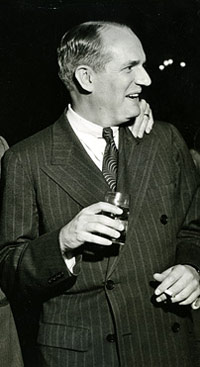 On Sep. 18, 1964, ad man Emerson Foote shocked Madison Avenue when he stepped down from his $150,000 position as chairman of McCann-Erickson. "I will not have anything to do with any advertising agency which promotes the sale of cigarettes," said Foote, a former chain smoker and a member of President Lyndon B. Johnson's Commission on Heart Disease, Cancer and Stroke. Foote's announcement came eight months after the release of the Surgeon General's report linking cigarettes with lung cancer. "I happen to agree with the Surgeon General's report," Foote said.
Foote already had a checkered history with the tobacco industry. During the '40s, he handled the American Tobacco account as a partner at Foote, Cone and Belding — he was considered one of the few ad men capable of handling George Washington Hill, the famously irascible president of American Tobacco. After Hill passed away in 1948, however, Foote, Cone and Belding resigned the $12 million account — reducing the firm's billings by 20% — due to "general disagreement over policies." It was the largest account any agency had ever voluntarily resigned. American Tobacco passed its Lucky Strike account on to BBDO and its Pall Mall account to Sullivan, Stauffer, Colwell & Bayles.
Following his resignation from McCann-Erickson, Foote became a vocal opponent of cigarettes. In Nov. 1964, he was appointed chairman of the National Interagency Council on Smoking and Health. Foote criticized the advertising industry's self-regulating "advertising code" for not going far enough, and pushed tobacco companies to cease advertising altogether. "I am always amused by the suggestion that advertising, a function that has been shown to increase consumption of virtually every other product, somehow miraculously fails to work for tobacco products," he said. Foote passed away in 1992.